Heart-pounding
Sacred Heart survives early scare, beats LaFayette to earn sixth straight trip to Final Four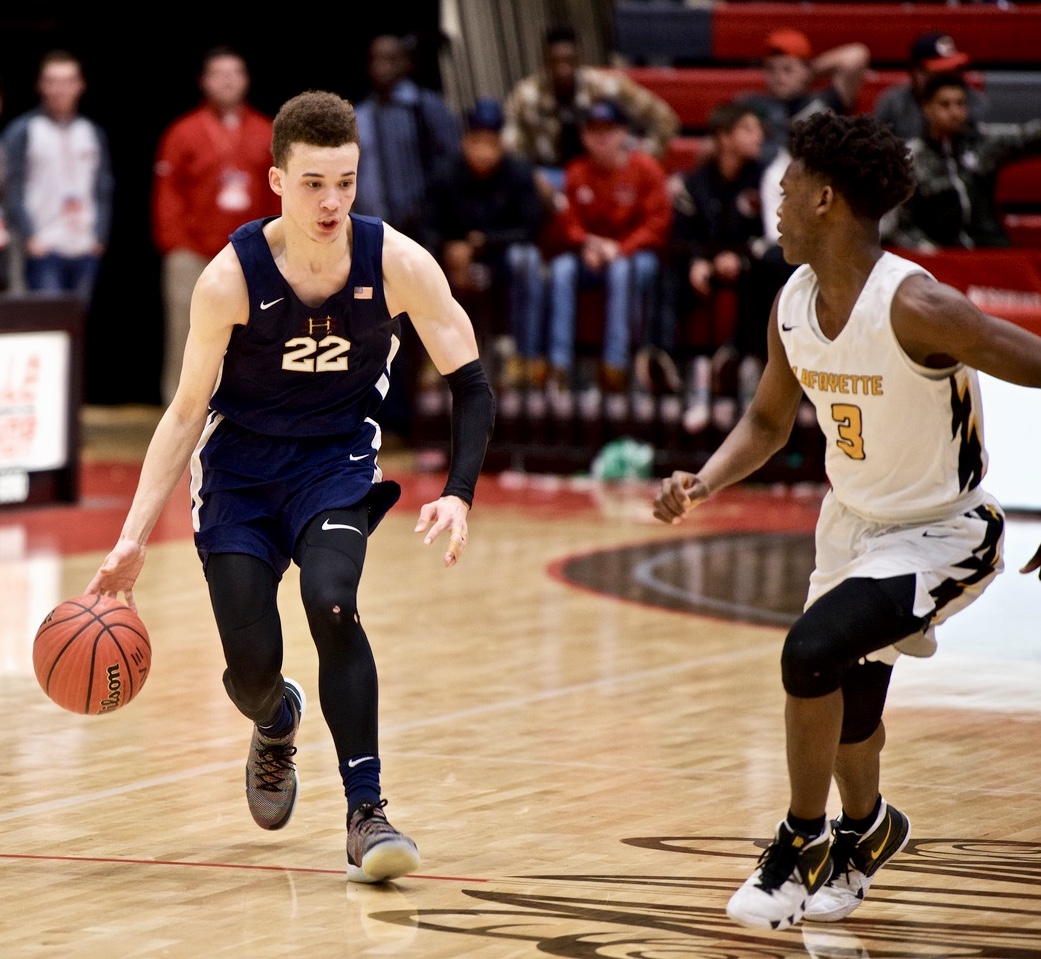 By Al Muskewitz
East Alabama Sports Today

JACKSONVILLE — The last time Jayden Stone held an MVP trophy in this building it didn't feel very valuable.
The Sacred Heart junior was most valuable player of the Calhoun County Tournament, but his team walked out of the Pete Mathews Coliseum feeling the sting of losing in the finals.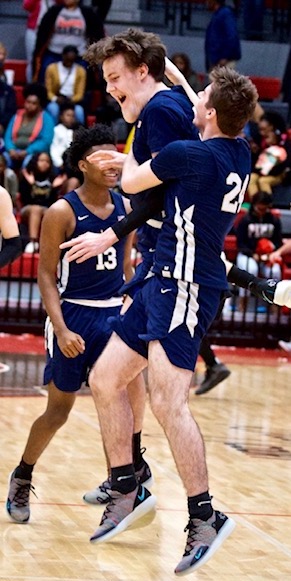 On this night, Stone was the MVP and his team was the Class 2A Northeast Regional champions.
The Cardinals (21-10) secured their sixth straight berth in the state Final Four, surviving an early scare to turn back LaFayette 55-50 at Jacksonville State. They will be looking for their first 2A state title after winning the last four in 1A when they play Southwest Regional champion Calhoun (27-7) in the state semifinals in the BJCC Monday at 7:30 p.m.
"It speaks volumes for the program," Sacred Heart coach Ralph Graves said of the program's run getting to Birmingham. "Of course you've got to have players, but to sustain success of getting there is not easy, especially when you know everyone is gunning for you.
"Nobody wants to see someone on top for a long time and we know that. But we want to be on top … Those kids had a goal of making it back to Birmingham and I'm just proud this group got to go. It's a whole new group that's going down. It'll be new for them and you want them to experience what the state has to offer down there. … We've only been telling them what it's like, so now they get to see what it's like."
Sacred Heart and Calhoun played in the Dwight Madison Roundball Classic in Montgomery in December with Calhoun winning 71-65 to snap the Cardinals' 64-game winning streak against same-classification in-state opponents.
"We owe them," Graves said.
Early on it didn't look like the Cardinals would be making it. LaFayette jumped out to a 13-1 lead before Stone hit their first field goal — a 3-pointer — with 3:34 left in the quarter. The Cardinals missed their first seven shots from the field and were just 3-of-12 while falling behind 20-12, but Khalil Watkins said there was no pressure.
After the Bulldogs (28-5) grabbed the early lead they started getting away from what got them there and the Cardinals climbed back into the game. The Cardinals also locked down defensively, taking away transition layups and holding a team that scored 99 points in the regional semifinals to half that total, two single-digit quarters and only four fast-break points.
They used a pair of 9-0 runs in the second quarter to take a 34-28 lead at halftime and never trailed again.
"It was a scare for y'all, we've been in that situation before," Graves said of the start. "You kind of know when you come out in the first quarter a lot of times everybody is playing off adrenaline. It was like 8-0 or 10-0 and I looked up at the clock and there was still six minutes to go in the first quarter. You've still got a whole game to play. To sustain that kind of intensity and those runs is pretty hard. We took the punch and hit back. That's what champions do."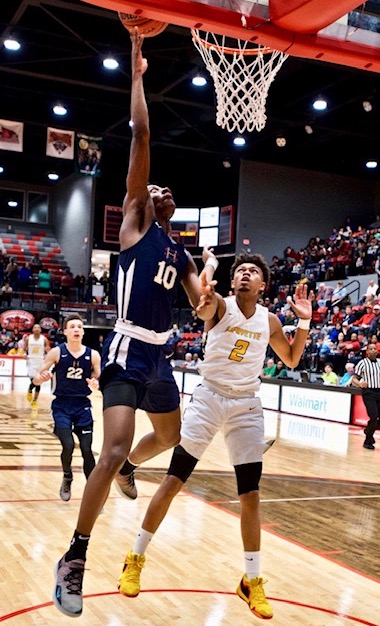 Caleb Brown capped the first 9-0 run with a layup to tie the game at 23. His layup with 1:01 left in the half put the Cardinals ahead for good and his three-point play with 3.8 seconds left produced their halftime lead.
"Caleb plays well when we get out and run," Graves said. "That's who Caleb is and that's what we have to do."
The game stayed close in the second half. The Cardinals didn't score a field goal in the fourth quarter, but still maintained the lead.
The Bulldogs had a chance to tightened it up a couple times in the final three minutes, but in one particular two-minute stretch had a layup go down and out and followed it with two suspect 3-pointers. Bulldogs coach Obadiah Threadgill said one more pass on a couple shots could have made a difference in the game, but he wasn't going to "eat their lunch" for taking an open look.
"I was happy we gave ourselves a chance to be competitive right there at the end," Threadgill said. "We just came a little short."
Brown finished with seven points and five rebounds. Aaron Moore came off the bench to battle Bulldogs big man Antavious Woody and finished with nine points and 13 rebounds.
Stone had 22 points and six rebounds to collect another MVP award. He was joined on the all-tournament team by Watkins, who had 16 points, four assists and three steals in the game.
"The main goal is to win the Northeast Region, so I'm glad we did that," Stone said. "This is just a bonus for me. It feels good … but I'm just really ecstatic we got the win. That's the main thing."
Sacred Heart 55, Lafayette 50
SACRED HEART (21-10) — Khalil Watkins 4-11 7-8 16, Allen Marshall 0-0 1-2 1, Caleb Brown 3-6 1-4 7, Jayden Stone 7-16 5-8 22, Steven Landers 0-4 0-0 0, Jack Miller 0-3 0-0 0, K.D. Harris 0-0 0-0 0, Aaron Moore 4-6 1-2 9. Totals 18-46 15-24 55.
LaFAYETTE (28-5) — Matavais Burton 1-10 5-6 7, Corey Boston 6-13 3-3 16, Markevious Moore 3-6 0-0 6, Jordan Wallace 4-10 1-1 10, Antavious Woody 3-7 1-2 7, Jordan Walker 1-1 0-0 2, Keandrae Peterson 0-0 0-0 0, Jadarious Crim 0-0 0-0 0, Jaques Boston-Gaines 0-3 0-0 0, Shealey Mekevion 0-0 0-0 0, JaMaiae Daniels 0-0 0-0 0, Jematheus Reese 1-2 0-0 2. Totals 19-52 10-12 50.
Sacred Heart 12 22 12 9 — 55
LaFayette 20 8 9 13 — 50
3-point goals: Sacred Heart 4-17 (Watkins 1-6, Brown 0-1, Stone 3-7, Landers 0-2, Miller 0-1); Lafayette 2-16 (Burton 0-6, C. Boston 1-3, Moore 0-3, Wallace 1-4). Rebounds: Sacred Heart 36 (Moore 13); Lafayette 31 (Woody 10). Total fouls: Sacred Heart 12, Lafayette 21. Officials: Ken Washington, Anthony Dupree, Rip Nabors. All-Tournament Team: Jayden Stone, Sacred Heart (MVP); Khalil Watkins, Sacred Heart; Antavious Wood, Lafayette; Corey Boston, Lafayette; Parker Godwin, Fyffe; Hunter Vest, North Sand Mountain.