Bearing down
Piedmont makes defending champion Plainview work for a third straight trip to the Class 3A Final Four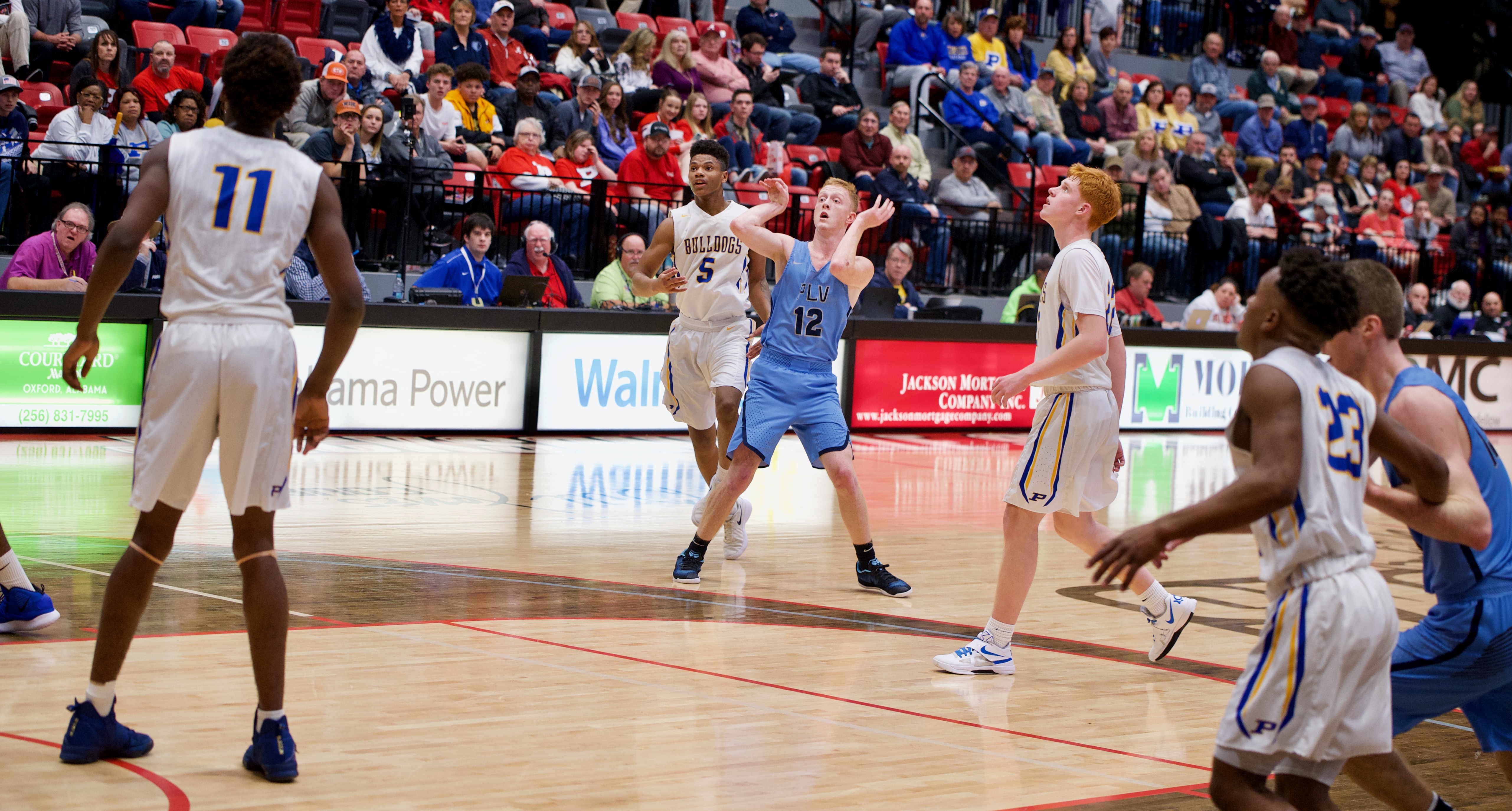 By Al Muskewitz
East Alabama Sports Today
JACKSONVILLE — The message that flashed across the phone just before the game began gave an ominous warning.
"Lightning detected in your area."
The National Weather Service office didn't know the half of it.
Plainview, a team that lives and dies by the 3-pointer and does much more, hit three straight 3s out of the gate, had 11 in the game and hit them when they needed them most in holding off Piedmont 57-45 Wednesday for another Class 3A Northeast Regional title.
The Bears (30-4), defending 3A state champs, were 11-of-25 from behind the arc. They hit four in the first quarter and seven in the first half.
"That's who we are," Bears coach Robi Coker said. "The way these guys shoot the basketball is special … It seems like every time it comes time they deliver. They've been doing it their whole lives. Hopefully they can do it for about seven more days."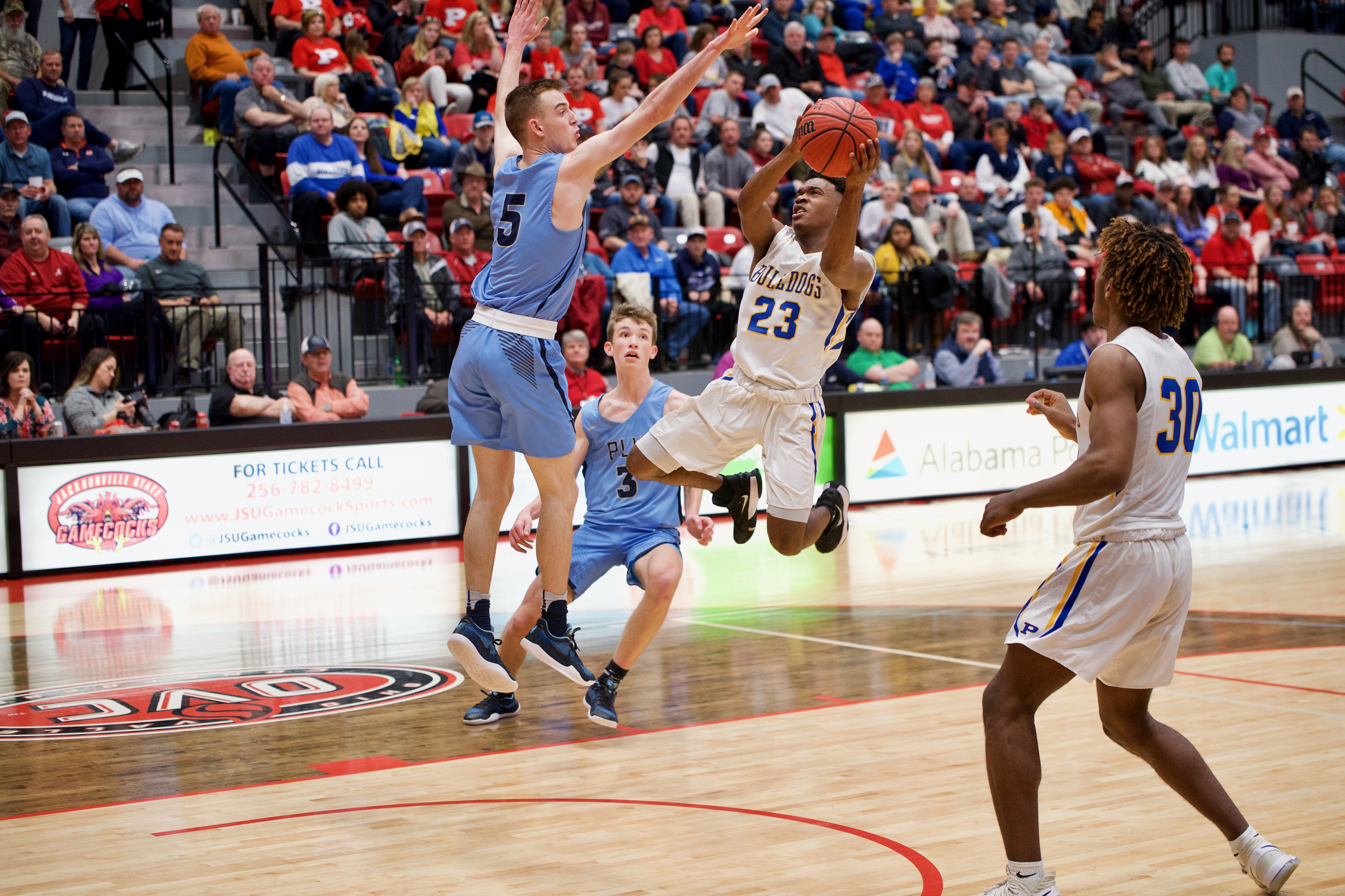 Six different Bears hit a 3 against Piedmont. Haden White had five (on nine shots), tournament MVP Caden Millican had two.
The Bears use the 3-pointer the way a football team uses a swing pass in the backfield to keep the chains moving. They have so much movement in their offense it's impossible to get to the open guy.
"It's 1 through 10, 11, 12; they all can do it," Piedmont coach JoJo Odam said. "It's not like you can say let's guard this guy or that guy. Any of (Coker's) 10 or 11 guys can shoot it. That's what makes them so dangerous."
White opened the game with back-to-back 3s and Millican nailed one right behind him.
Every time Piedmont put something together, the Bears hit a 3. The Bulldogs cut their deficit to 39-32, White hit back-to-back 3s. They got it back to 47-40, Dane Haymon turned them back. They made it 50-44 in the fourth quarter, Cole Millican made it rain.
"It was tough," Piedmont junior sixth-man Silas Thompson said. "You see it all the time; they hit 25 3s, they hit 23 3s, they hit 20 3s, they put up 104 on this team, 105 on that team. When you finally get to see it and you make that one mistake it's 3 … They're a good team."
The Bears needed more than their 3-point shooting to earn their third straight trip to the Final Four.
The Bulldogs have fallen behind early a lot this season and came back many times. They almost did again here, rallying from as many as 18 down in the first half to get within six with five minutes to play, but never got closer.
They frustrated the Bears with a matchup zone in the third quarter to get back in the game, an idea Odam got from watching their game against Talladega in last year's TV24 holiday showcase on this very floor. The Bears got out of rhythm and passive against it and the Bulldogs made it interesting.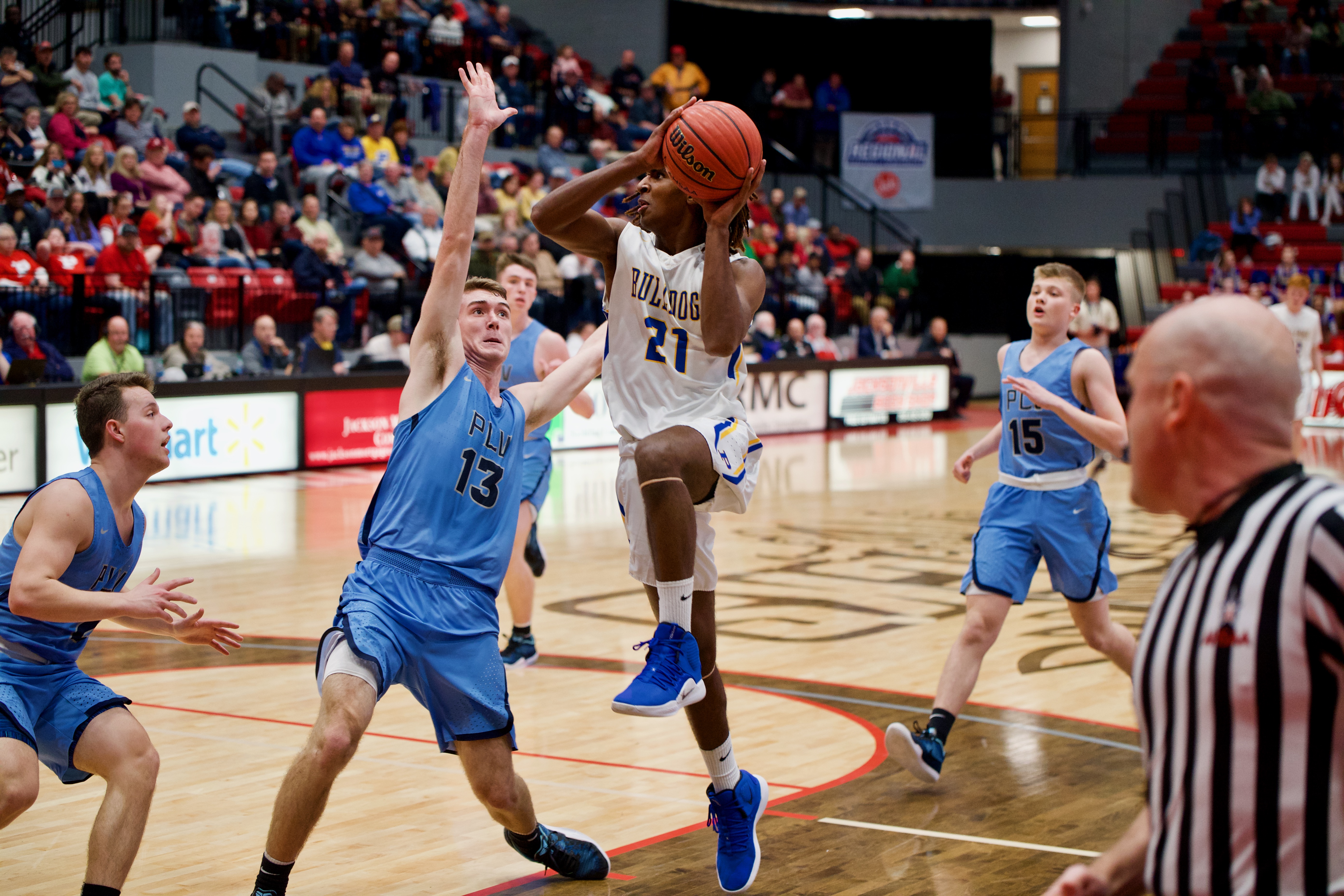 They held the Bears without a field goal until 2:30 remained in the third quarter. Of course, it was a 3 – by White. And then another. The first four of their six buckets in the second half were all 3s.
"We work on our shot a lot in practice," White said. "Whenever it just comes down to it, I think we know we need to step up and make the big shots."
Still, the Bulldogs held Plainview to eight points in the third quarter and fewer points in the second half than the Bears scored in either of the first two quarters.
The Bulldogs ended the season 23-6 in Odam's first year as head coach, which got underway basically a week after most of his players had just played in the state championship football game.
"It was a fun ride," he said. "They set a high bar. It was a really, really fun bunch, a really, good fun year this year.
"As far as what we thought going into the year, I don't know if we exceeded expectations, I guess we probably did if you told us we'd be 23-6, but it was a good run."

Plainview 57, Piedmont 45
PLAINVIEW (30-4) – Tristan Willingham 2-3 0-0 5, Dane Haymon 1-2 2-2 5, Haden White 5-10 0-0 15, Caden Millican 5-10 0-0 12, Koby Tinker 3-11 2-2 8, Cole Millican 3-4 0-0 7, Jackson Hosch 1-1 2-2 5, Andrew McLaughlin 0-0 0-0 0, Jonah Williams 0-0 0-0 0, Jathan Underwood 0-2 0-0 0, Grant Sanders 0-0 0-0 0. Totals 20-43 6-6 57.
PIEDMONT (23-6) – Carl Myers 3-9 1-2 10, Kaedon Jenkins 1-3 1-1 3, Delo Foster 2-2 0-0 4, Alex Odam 4-13 0-0 9, T.J. Fairs 4-10 0-0 11, Elijah Johnson 0-0 0-0 0, Silas Thompson 3-6 2-2 8, Malachi Jackson 0-0 0-0 0, Jakari Foster 0-0 0-0 0, Sean Smith 0-0 0-0 0. Totals 17-43 4-5 45.
Plainview 20 19 8 10 – 57
Piedmont 12 12 16 5 – 45
3-point goals: Plainview 11-25 (Willingham 1-1, Haymon 1-2, White 5-9, Ca. Millican 2-5, Tinker 0-6, Co. Millican 1-1, Hosch 1-1); Piedmont 7-22 (Myers 3-7, Jenkins 0-2, Odam 1-5, Fairs 3-7, Thompson 0-1). Rebounds: Plainview 29 (Ca. Millican 9); Piedmont 19 (Foster 11). Total fouls: Plainview 11, Piedmont 7.
All-Tournament Team: Caden Millican, Plainview (MVP); Haden White, Plainview; Alex Adam, Piedmont; Silas Thompson, Piedmont; Jaylon Hicks, Fultondale; Raiden Morgan, Hanceville.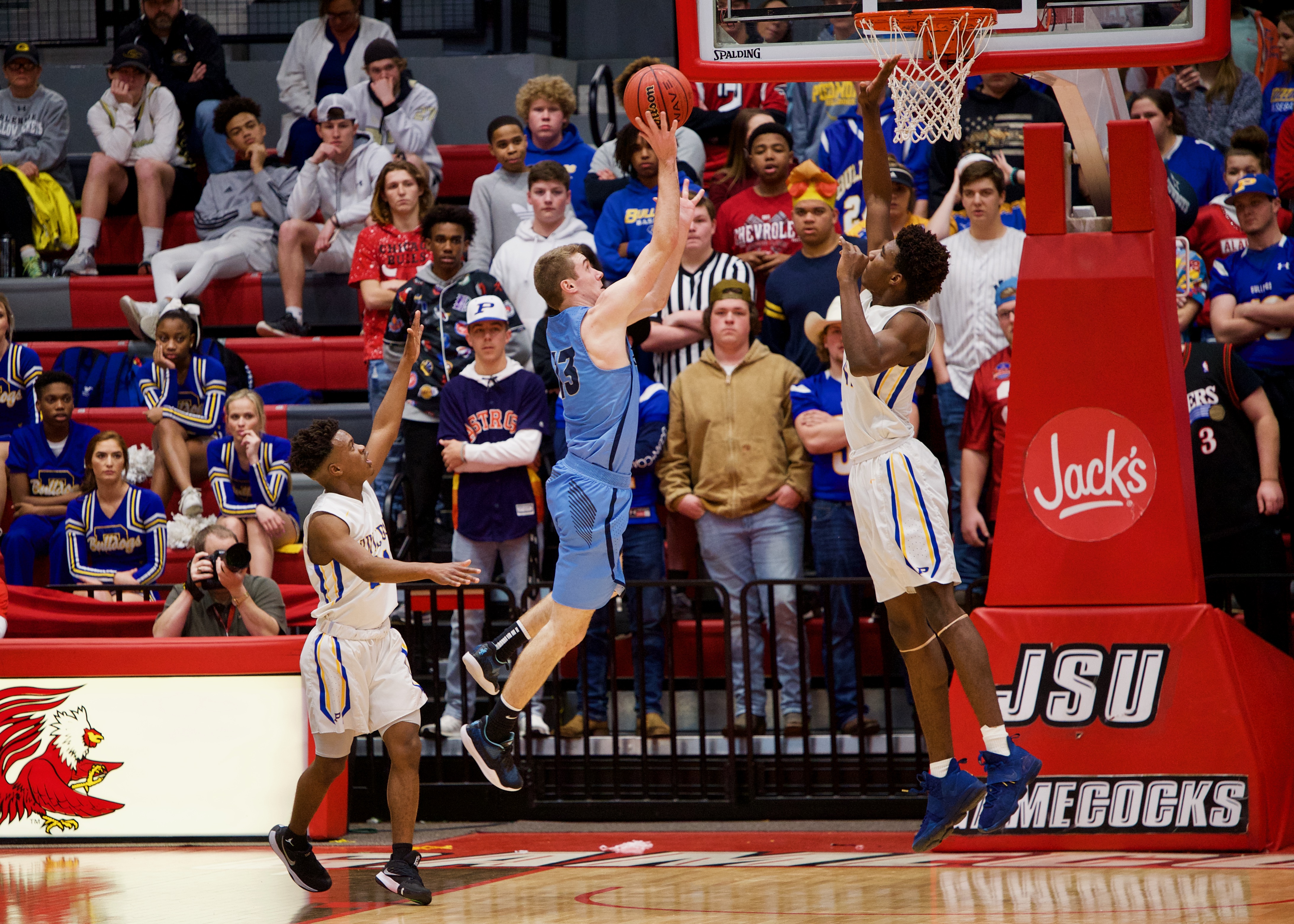 To see more photos from the game visit www.bjfranklin.smugmug.com