Wanting more
Updated: February 11, 2019
Anniston's girls look strong in routing Jacksonville to reach Northeast Regional, but Bullock looking for more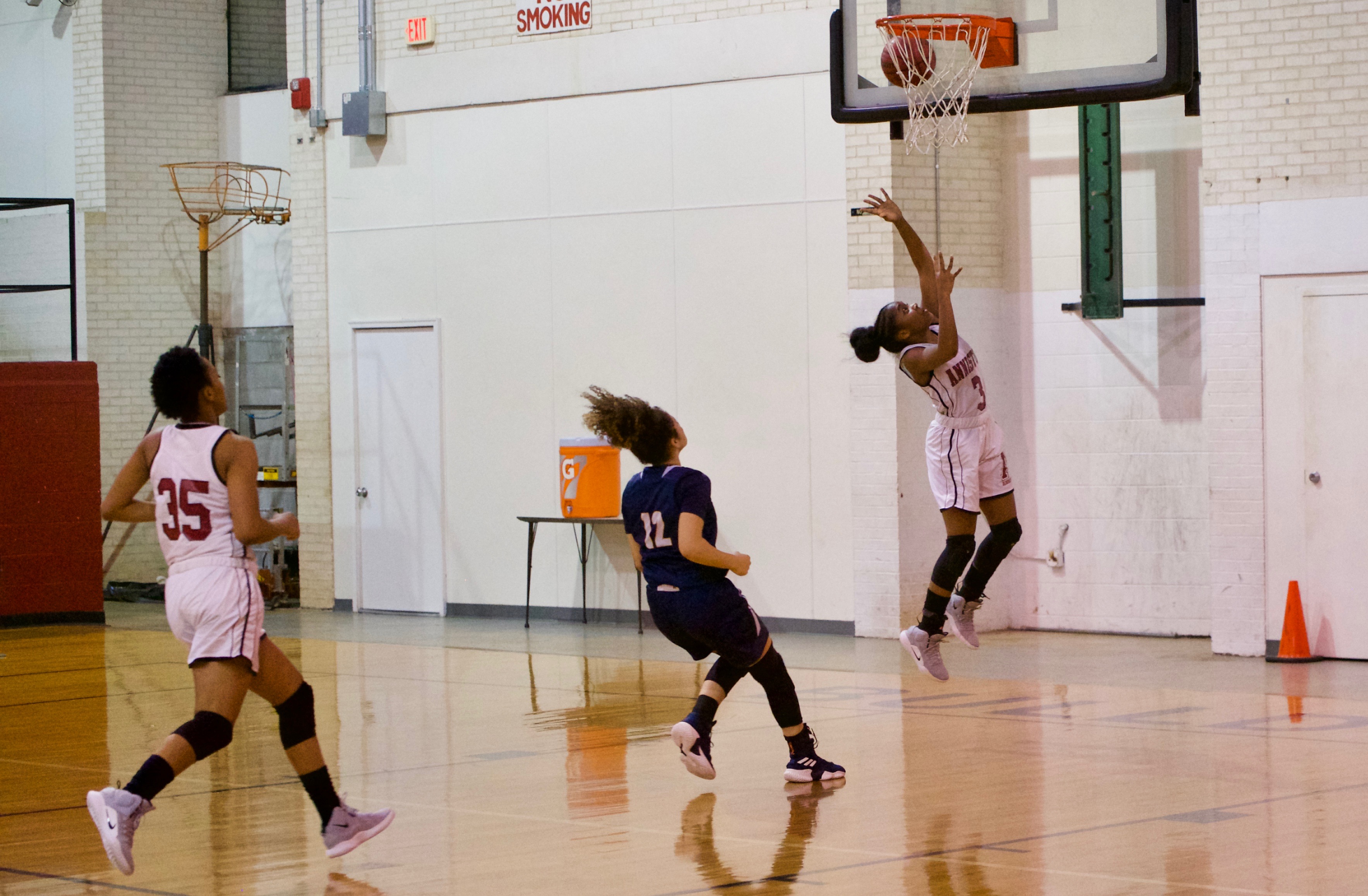 By Al Muskewitz
East Alabama Sports Today

Usually, Eddie Bullock waits until his Anniston girls basketball team is in the dressing room before addressing the issues of the game, but this message was too important to wait.

The Lady Dawgs had just crushed Jacksonville 71-16 in the Class 4A subregion round Monday to earn another trip to the Northeast Regional, but as impressive as they may have looked in building that margin there was a point Bullock needed to emphasize to his team.

It had to do with playing to 00:00 every game regardless of the score. The goal Monday night was to hold Jacksonville to 15 points. Sarah Quinn's 3-pointer with 20 seconds to play kept that from happening.

"My goal was to hold them under 15 points, that was my goal defensively," Bullock said. "We held them to 27 (last week) and cut it in half to 15 this time. I'm telling them in order to send a message for a state playoff run we've got to hold them and when I put my second unit in I expect them to do the same thing.

"We've got to play to triple zeroes on the clock. It wasn't so much that we didn't challenge like we typically do and that's what I'm trying to get them to do. I don't care who we put in the game we're going to play full speed from start to finish.

"We didn't make our goal. It wasn't to embarrass them. Our goal is we have to set a tone that defensively we're going to control the game because if you come out and your shots are off you can still control the game defensively. We proved that against Spring Garden stalling the ball."

Anniston now plays Oneonta in its regional opener at JSU Tuesday at a time to be determined. Oneonta beat DAR 58-34.

Jacksonville's Patience Carr scored the first basket of the game and Aly Meagher scored the last basket of the first half, but in between – and after that – there was a whole lot of Anniston.

The Lady Dawgs held Jacksonville without a field goal between those two first-half baskets and opened a 34-11 halftime lead. They held the Golden Eagles to five points over the final two quarters and only Amarie Curry's third-quarter basket until Quinn's open 3-pointer.

"Tonight was just all about getting to the next level and trying to win state," guard Allasha Dudley said. "Just a reminder of last year (when they lost to Handley in the area championship game) that we can't let anybody come into our house and beat us. Last year we had that game but we didn't come out and play hard.

"We knew they were going to come in and play hard because they didn't have anything to lose, so we knew we had to put them away early. Coach says it's not going to be a first-quarter game, we've got to play the whole game. We know if we play hard defensively we're going to make it to the next level."

Asia Barclay led Anniston with 18 points on 9-for-12 shooting from the floor; the Beast Off The Bench had 16 points in the second half. Dudley had 15 points, six steals and seven assists. Tekyia Jackson had 11 points, Toniah Foster had nine points and eight rebounds, and Kiana Montgomery had seven rebounds and six blocked shots.

"Asia is a beast, that's my beast who comes off the bench, her and Kyia Jackson," Bullock said. "And I mean beast with capital letters. When they come in they are game changers. Defensively, they bring that energy."

"I just hustled on defense and offense, just to make the team better, because we're trying to win state," Barclay said. "Our mindset is set on state, winning that championship."

Anniston forced Jacksonville into 36 turnovers – 15 from steals – off which the Lady Dawgs scored 18 points. They just came in waves.

"They're so good, not just 1 through 5, they're so good off the bench, and we're not just there to be able to handle their pressure and it catches up to you," Jacksonville coach Tres Buzan said. "I thought we had a good plan going in, we were just unable to handle their pressure and that's what it boils down to.

"They're good at the guard spots, especially (Dudley), but they're killers down low. They're just so devastating down low. We drive it down and get ahead, then the next thing it gets swatted into the stands. If you can't handle their pressure and you can't matchup down low with them I don't know how you score on them."

Anniston 71, Jacksonville 16
JACKSONVILLE – Patience Carr 1-5 5-5 7, Sarah Quinn 1-7 0-2 3, Amarie Curry 1-3 0-0 2, Brenna Stone 0-2 2-2 2, Aly Meagher 1-1 0-0 2, Rayla Broom 0-4 0-0 0, TiAsia Williams 0-6 0-0 0, Amia Montgomery 0-2 0-0 0, Rebekah Gannaway 0-4 0-0 0, Malijah Goggins 0-2 0-0 0, Khadajah Richardson 0-0 0-0 0. Totals 4-36 7-9 16.
ANNISTON – Asia Barclay 9-12 0-0 18, Allasha Dudley 6-22 0-0 15, Tekyia Jackson 4-6 3-4 11, Toniah Foster 2-7 5-5 9, Anna Garrett 4-6 0-0 8, Jordyn Johnson 2-3 1-2 6, Kiana Montgomery 2-6 0-0 4, Airriana Colley 0-2 0-0 0, Measia Kelley 0-0 0-0 0, Khyla Garrett 0-0 0-0 0, Shiwanna Jackson 0-0 0-0 0, Charliese Simmons 0-0 0-0 0, Tiauna Thomas 0-0 0-0 0. Totals 29-64 9-11 71.
Jacksonville 7 4 2 3 – 16
Anniston 17 17 24 13 – 71
3-point goals: Jacksonville 1-18 (Carr 0-1, Quinn 1-6, Broom 0-2, Williams 0-5, Gannaway 0-3, Goggins 0-1); Anniston 4-14 (Dudley 3-9, Foster 0-1, Johnson 1-2, Colley 0-2). Rebounds: Jacksonville 29 (Broom 7); Anniston 43 (Foster 8, Montgomery 7). Total fouls: Jacksonville 10, Anniston 12. Officials: Burns, Williams, Scott.