Saks stuns second seed
Updated: February 7, 2019
Zay Elston hits seven 3s, scores 30 as Wildcats upset Weaver in area tournament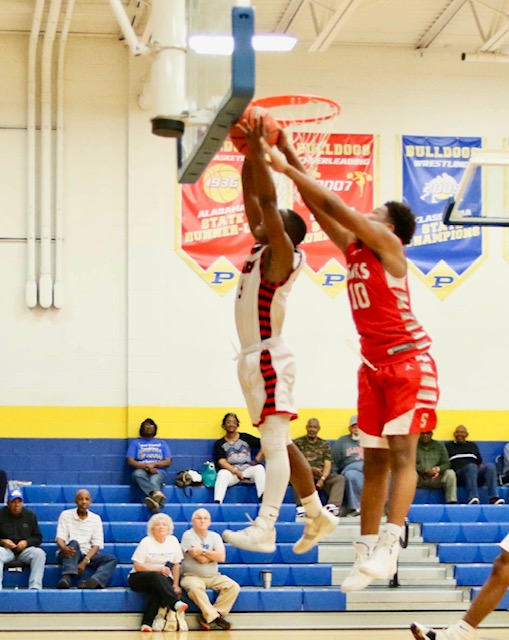 By Al Muskewitz
East Alabama Sports Today

PIEDMONT — Saks won only five games in the regular season this year, but the Wildcats found a way to win in the playoffs when it meant the most.

The Wildcats stunned second-seeded Weaver 64-61 Thursday night in the Class 3A Area 11 tournament at Piedmont High School.

They now play top-seeded Piedmont for the area title Saturday with an unexpected berth in the sub-region tournament already in hand. The host Bulldogs crushed Pleasant Valley in the other semifinal, 73-45.

The winner of Saturday's game will host Area 15 runner-up Sylvania, while the loser will travel to defending state champion Plainview.

Saks' wins this year have come in two-game area sweeps of PV and winless Wellborn – the play-in opponents in the five-team area tournament – and two-win Cleburne County.

"We've played better lately and had chances at home against White Plains and Alexandria, two good teams that we've lost games similar to this down the stretch," Saks coach Jonathan Miller said. "The big thing tonight is we made plays down the stretch to win the game.

"In previous games we hadn't made those plays. It's good to break through and make big plays down the stretch."

None were bigger than Zay Elston's long 3-pointer in the final minute. The junior led all scorers with a career-high 30 points. He hit seven 3-pointers, including a bomb with 40 seconds left that gave the Wildcats the lead for good 63-61.

"I don't even know what it was," said Elston, who figured he'd never made more than three of four 3s in a game before. "In warmups my shot was falling so I knew I'd have a good game with shooting. I just kept hitting 3s so I knew I was going to get in the game and hit them."

Elston hit three 3s in the first half and had three more in the third quarter to help the Wildcats stay close. His go-ahead 3 came from way beyond the arc right after the Bearcats missed a chance to extend the lead from the foul line.

"The whole time Shamar (Spinks) had been playing me tight and I knew if I had gotten a little space I was going to hit it," he said. "I knew we could beat them. We haven't been playing like we should be playing this whole year and tonight we did. It's pretty exciting."
 
Weaver had two chances for tying baskets in the final five seconds but misfired on both.

Spinks was short on a 3-point attempt with 5.1 seconds left. Then after Saks' Daveon Dukes missed the front end of a one-and-one with 2.9 seconds left, Taylor Deck's fired a hurried 3-pointer that was short at the horn.

Weaver won the two regular-season meetings by 6 and 8 points, but this one started out not looking close. The Bearcats used a 9-0 run in the first quarter to open an early 13-6 lead, but the Wildcats came back with two quick buckets, including Elston's first 3, and it was game-on.
 
The biggest lead either team enjoyed after that was Saks' five-point edge twice in the final two minutes of the first half. It fluctuated between one and three points throughout the final five minutes of the game.
 
"We played them tough at Weaver this month and I think our kids were confident," Miller said. "Even though winning only five games we've managed to keep this thing together. The kids still believe in themselves and what we're doing and it just showed out there tonight."
 
Before Saks' Elston got going, it was another Elston that was bringing the crowd to its feet. Weaver post Amardric Elston was wowing the crowd with his play in and around the basket. He had six points in the first quarter and finished with 20 points.
 
"Give credit to Saks," Weaver coach Marcus Herbert said. "They came out and never quit playing. No. 10 (Elston) was hot; he played tremendously tonight. We just got outplayed. I thought we had a good game plan, but Saks played hard, they played good. The 3-ball was falling for them and we had some turnovers that were costly. The ball just didn't bounce out way."

Saks 64, Weaver 61
SAKS – Tyler Smith 5 0-2 10, Zaejuan Johnson 3 0-1 6, Daveon Dukes 2 2-6 6, Zay Elston 10 3-6 30, Benji Wilson 1 4-4 6, Kyle Goedde 0 0-0 0, Pat Williams 1 0-0 2, Jordan Cosper 2 0-0 4, 
WEAVER – Taylor Deck 1 2-2 5, Brandon Heath 1 0-1 2, Robert Gaines 5 0-0 11, Shamar Spinks 6 2-5 15, Gary Wallace 0 0-0 0, DeAndre McCain 2 0-0 6, Amardric Elston 9 2-7 20, Colby Thompson 1 0-0 2. Totals 25 6-15 61,
Saks                13        20        17        14        –          64
Weaver          16        14        19        12        –          61
3-point goals: Saks 7 (Z. Elston 7); Weaver 5 (Deck, Gaines, Spinks, McCain). Fouled out: A. Elston. Total fouls: Saks 16, Weaver 17. Officials: Ned, Dupree, Childs.