Relay redemption
Ohatchee's 4×200 relay team experiences sweet thrill of victory after agony of defeat a year ago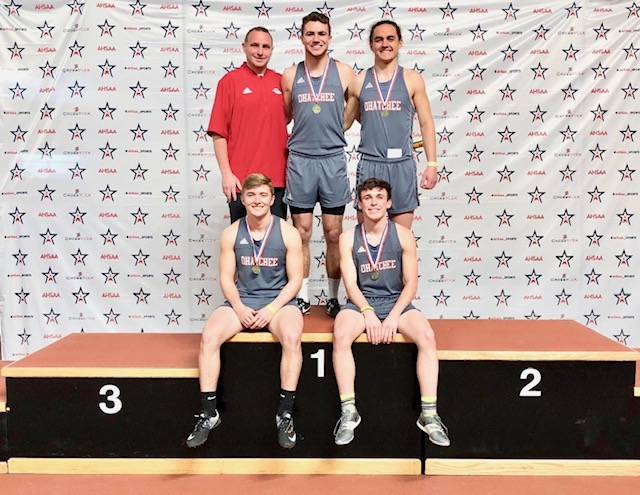 By East Alabama Sports Today
 
BIRMINGHAM – Ohatchee's 4×200 indoor relay team waited a year for redemption and when it came their way Friday the Indians didn't drop the baton.
 
A year ago, the Indians went into the State Indoor Track & Field Championships as the favorite in the 1A-3A relay, but never got the chance to live up to it, dropping the baton on the first exchange.
 
This year they were true at every turn and won the race that got away from them a year ago, roaring from behind at the Birmingham Crossplex to not only win but threaten the state record.
 
The team of Cam McCombs, JSU cross country signee Blake Noah, Ryker Lambright and Grayson Alward brought it home in 1:36.08, missing the state record (1:34.94) by less than two seconds.
 
"There was a lot of redemption there," Ohatchee coach Casey Howell said. "You could tell a big difference in the approach this year. Last year it was all they talked about; they knew they were going to win it.
 
"That experience I think humbled them. It was a completely different atmosphere leading up to it this year. Nobody was really talking. It was kind of silent, just a calmness we were about to go do it."
 
The Indians had to run down the leaders to win it. They were about 20 yards behind Winfield after the first leg, but Noah, the county boys cross country champion who pleaded for a spot on the relay, closed the gap by the end of the second leg. 
 
Lambright caught his man and it was all up to Alward. The Indians' anchor passed his man at the first turn and it clear sailing to the finish line.
 
"I asked them all when they knew we were going to (win it)," Howell said. "Ryker said as soon as I handed the baton to Grayson.
 
"There was a lot of redemption there."
 
Although there were no other winners Friday, several Calhoun County athletes scored points for their teams in the meet's first day.
 
Pleasant Valley's Brenna Harris was fourth in the 1A-3A girls pole vault (9-0).
 
Ohatchee's Gracie George was third in the 1A-3A girls shot put (29-2.5).
 
White Plains' Savannah Yates was third in the 4A-5A girls pole vault (9-6).
 
Alexandria's Kalee Johnson was third in the 4A-5A girls shot put (35-4).
 
Piedmont's Matthew Pfledderer was seventh (11-6) and Ohatchee's Brody Hester eighth (10-6) in the 1A-3A boys pole vault.
 
Oxford's Devion Ball was seventh (20-2.75) and Jequan Ball eighth (20-0.25) in the 6A boys long jump. 
 
Ohatchee's Jayda Fair was fifth in the 1A-3A girls 3200 (12:13.68).
 
Alexandria was fifth in the 4A-5A girls 4×200 relay (1:51.79).
 
Oxford was seventh in the 6A boys 4×200 relay (1:36.03).
 
Alexandria's Abby Nunnelly was sixth in the 4A-5A girls 3200 (12:23.92).
 
In the girls team standings, Ohatchee is seventh in 1A-3A and Pleasant Valley is 10th, Alexandria is seventh in 4A-5A and White Plains is 13th.
 
In the boys team standings, Ohatchee is fifth in 1A-3A and Piedmont is 14th, Oxford is 12thin 6A.