Dawgs with capital D
Updated: January 25, 2019
Anniston smothers Oxford with a strong defensive presence to reach another county tournament final, but the Lady Dawgs seek better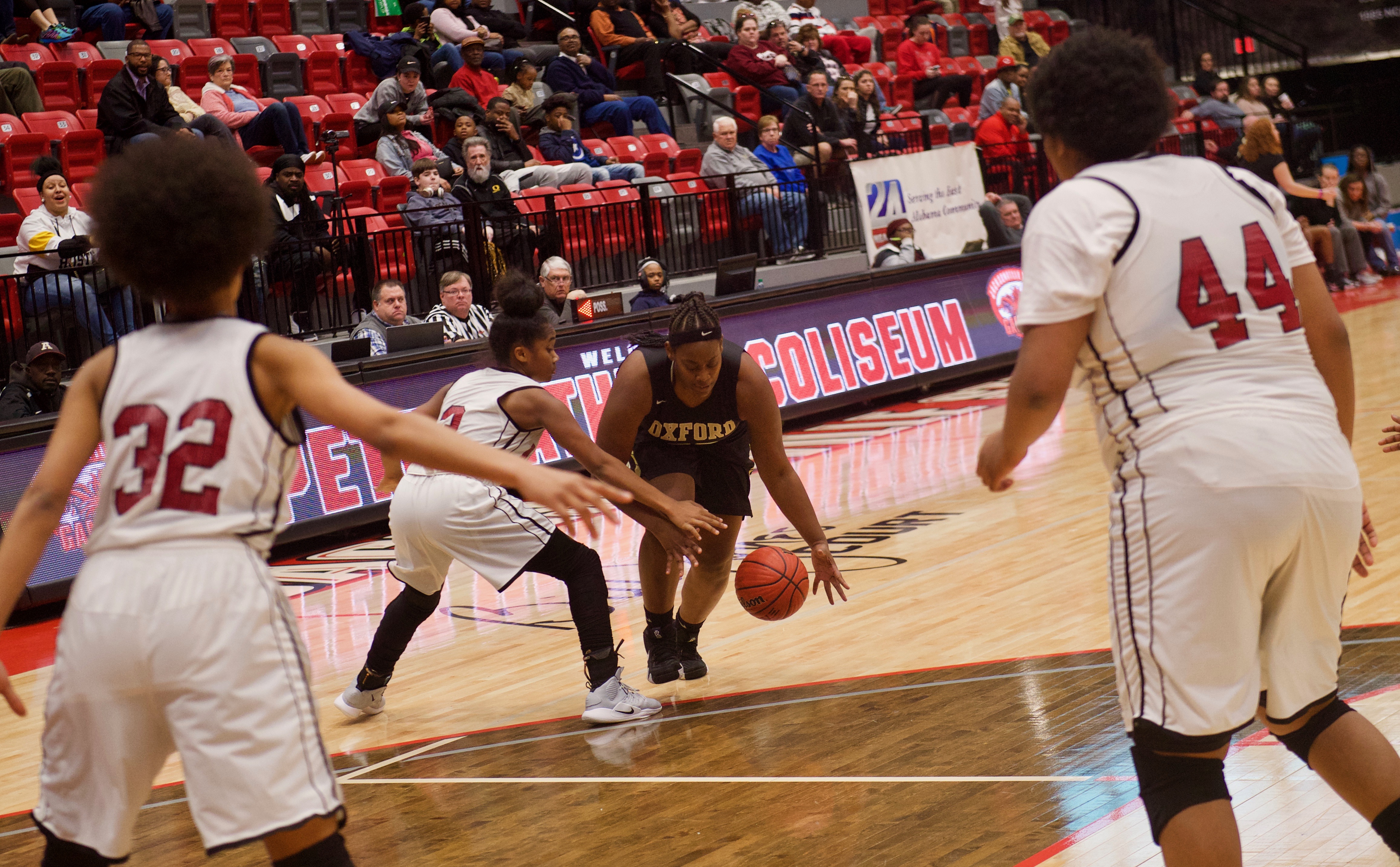 CALHOUN COUNTY TOURNAMENT
At Jacksonville State
Friday's games
Anniston 52, Oxford 18
Sacred Heart 48, Weaver 32
Saturday's game
Girls championship, Anniston vs. Sacred Heart, 6 p.m.

By Al Muskewitz
East Alabama Sports Today

JACKSONVILLE – It's always defense first around the Anniston girls basketball team, so you'll have to excuse Lady Dawgs coach Eddie Bullock if he seemed a little critical when it might have looked from the stands his defenders played a near-flawless game.

There was a lot to like about the way Anniston shut down Oxford 52-18 in its Calhoun County Tournament semifinal game Friday.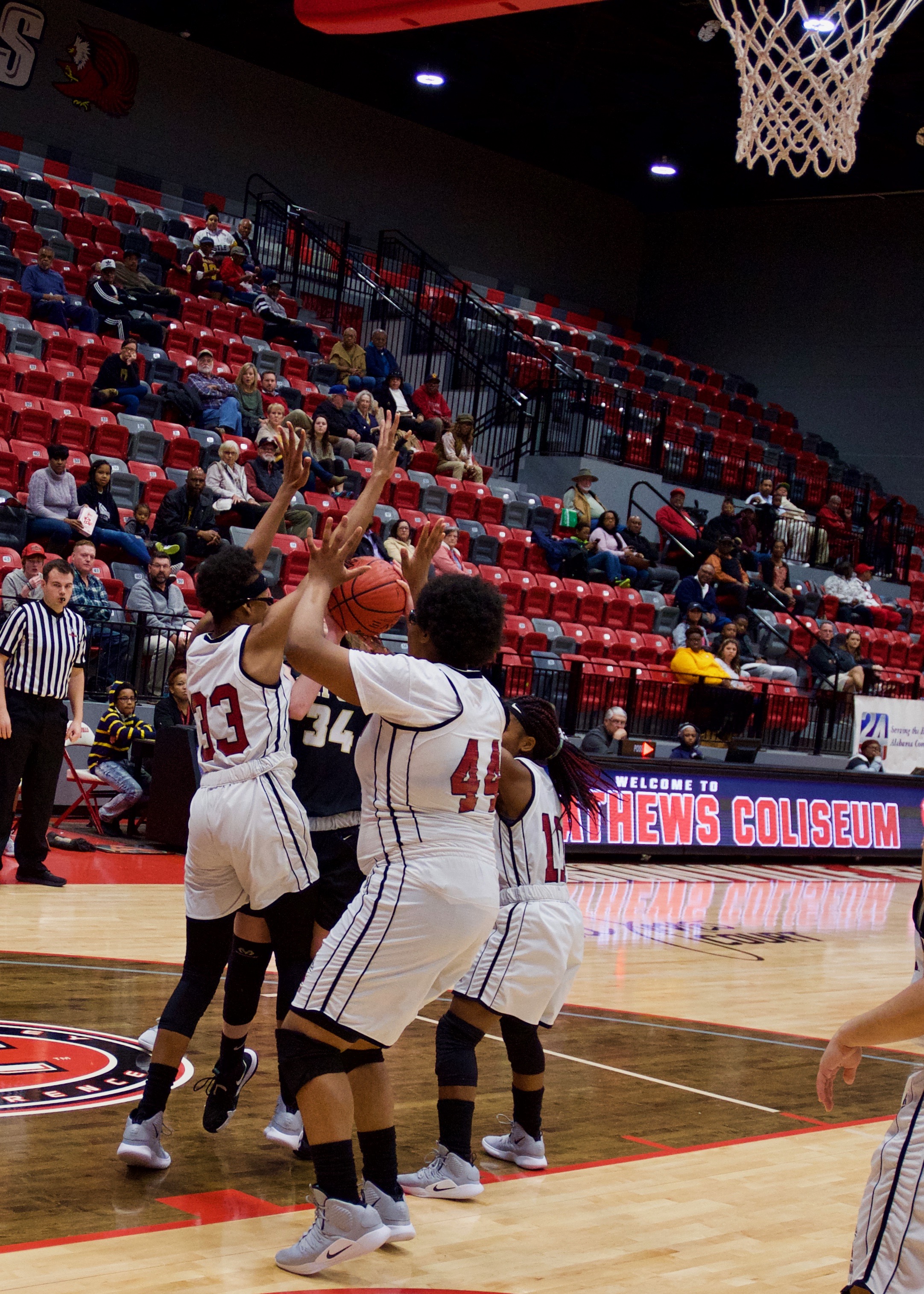 The Lady Dawgs held Oxford scoreless in the second quarter, without a field goal for 16 and a half minutes into the third quarter, recorded 23 steals and eight blocked shots.

"We still gave up some uncontested shots," Bullock said. "I know that sounds like I'm being a little greedy, but I'm being totally honest with you. We had an opportunity to actually be better than that.

"That's what I try to tell them. Don't let sleeping dogs awaken. You want to put them away. That's what we've got to learn."

The Lady Dawgs started right from the get-go, but they couldn't convert the early turnovers they created and the game remainder tight for about the first four minutes. A bucket by Lauren Ellard gave Oxford a 6-5 lead with 4:11 to go in the first quarter, then the Lady Jackets didn't score from the field again until Justyce Smith's inside basket with 4:19 to go in the third quarter.

By then, Anniston had opened a 33-13 lead.

"I love the pressure that we put on them, but we still, in order to win a state championship, we've got to play better than that," Bullock said. "The better the teams are, the easier it is for them to get shots. If you're giving up easy ones to a team that may not be state championship caliber it gets tougher when you get against a team that's a great team.

"I played shooting guard in college but I'm always defense first. If the other team can't score you can't lose. I'm always trying to find ways to tweak the defense and keep them motivated because I think we can score when we get ready."

Allasha Dudley and Toniah Foster led the offense Anniston did generate with 14 and 13 points, respectively. They combined for 15 points in the 26-2 spree that gave them a 33-9 lead early in the third quarter.

On the defensive side, Dudley had six steals, Foster had seven rebounds and three steals, Kiana Montgomery had four steals, five rebounds and six blocks shots.

"We're expected to go out there and play hard defense," Foster said. "Defense wins games, so that's our main focus when we approach a game."

The top-seeded Lady Bulldogs will be seeking their 19thcounty tournament title and third in a row when they play Sacred Heart at 6 p.m. Saturday.

"They want us, so we're going to give them a show," said Dudley, who played for the Lady Cardinals before transferring to Anniston.

Anniston 52, Oxford 18
OXFORD – Kiki Woods 0 0-0 0, Kaleah Taylor 0 0-1 0, Sara Paulson 0 0-0 0, Jayma Gibson 1 0-0 3, Ashley Jackson 1 0-1 2, Akirea Robinson 1 0-0 2, Lamya McGrue 0 0-1 0, Lisa Montgomery 1 0-0 2, Lauren Ellard 1 0-0 2, Justyce Smith 1 4-6 6, Amirea McLeod 0 1-2 1. Totals 6 5-11 18.
ANNISTON – Allasha Dudley 6 1-2 14, Measia Kelley 0 0-0 0, Anna Garrett 0 0-0 0, Jordyn Johnson 1 0-0 2, Airrianna Colley 0 1-2 1, Tekyia Jackson 3 2-4 8, Kiana Montgomery 2 4-6 8, Asia Barclay 3 0-0 2, Toniah Foster 4 5-7 13. Totals 19 13-21 52.
Oxford 8 0 7 3 – 18
Anniston 15 13 16 8 – 52
3-point goals: Oxford 1 (Gibson); Anniston 1 (Dudley). Fouled out: Garrett. Total fouls: Oxford 17, Anniston 15.