Weaver, Sacred Heart reach girls semis
Updated: January 24, 2019
County girls: Lady Bearcats, Lady Cardinals to meet after winning defensive battles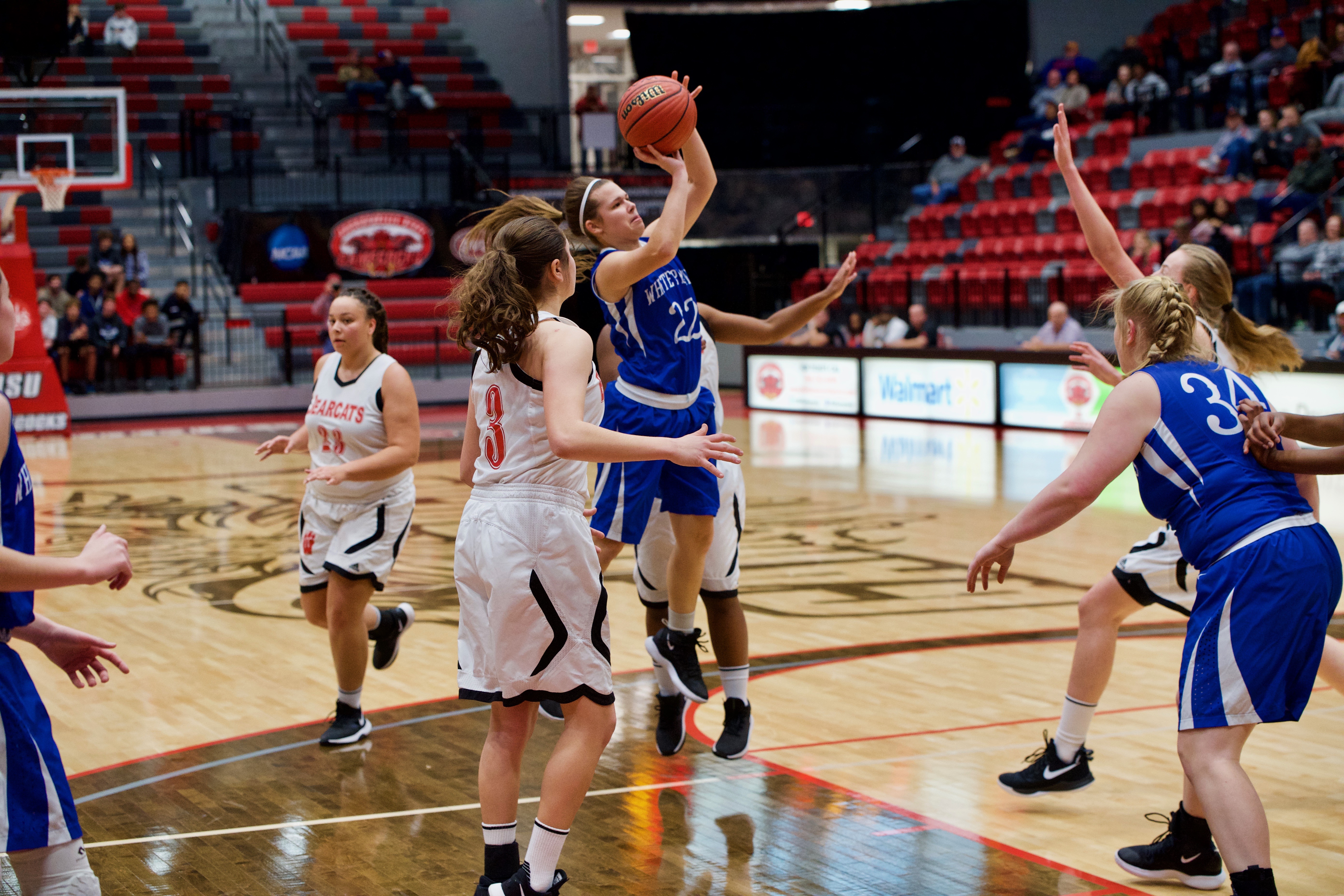 CALHOUN COUNTY TOURNAMENT
At Jacksonville State
Thursday's games
Weaver 39, White Plains 24
Sacred Heart 40, Alexandria 28
Friday's games
Anniston vs. Oxford, 4 p.m.
Weaver vs. Sacred Heart, 7 p.m.
Saturday's game
Girls championship, 6 p.m.

By Brant Locklier
For East Alabama Sports Today

JACKSONVILLE — Second-seeded and second-ranked Sacred Heart shut out Alexandria for 15 minutes into the third quarter while scoring 12 unanswered points and pulled away late to take a 40-28 victory in the final game of Thursday's Calhoun County Tournament card.

Kayleigh Steen and Kaitlin Harvey buried two 3-pointers midway through the fourth quarter to pull the Lady Cubs (5-14) within four, 28-24. But three turnovers and a huge 3-pointer by freshman Jortaysia West with 1:57 to go — the Lady Cards' only 3 of the game — ended the threat.

It is believed to be the first 20-win season for Sacred Heart (20-2), according to Lady Cardinals' coach Marcus Harrell; they have not lost in the new year.

It is the first time they've made it to the county tournament semifinals. They play third-seeded Weaver in Friday's 7 p.m. semifinal.The Cardinals never really got it going offensively from the outside as they only had one 3-pointer fall all night – West's shot in the fourth quarter.

"It was a grind out there, but all the tournament games are a grind as everybody is giving it their best shot," Harrell said. "I think our kids came out nervous and the size of the arena kind of threw our shots off. Hopefully we will get over that for next game."

The Lady Cubs had the same trouble.

"We played good defense, just missed a lot of shots," Alexandria coach Craig Kiker said. "I thought our offense was OK, we turned the ball over too much, but had plenty of opportunities. They just didn't go in."

The first quarter went exactly as the smaller Lady Cubs wanted. They were limiting the taller Cardinals to shooting long 3s that were not going in, while they were pounding the glass for big rebounds.

Unfortunately for the Lady Cubs, they turned it over seven times in the quarter and all six of their points came on a pair of 3s from Steen. Sacred Heart's Ayanna Foster scored all of her team's points in the quarter that Alexandria led 6-4.

It got worse for the Lady Cubs in the second quarter as they were outscored 10-0 and turned the ball over 10 times.

"The defense played very well tonight," Harrell said. "We had to make no adjustments with that at all."

Meanwhile, Sacred Heart got on the boards and began working the ball inside. Serena Hardy had a couple of offensive rebounds for four points and the Lady Cardinals stretched their lead to 14-6. Alexandria out-rebounded Sacred Heart 22-21 in the first half.

"Their effort was great and it is most nights," Kiker said. "You've just got to be able to put the ball in the basket a little bit better. That's what it boiled down to."

Kameron Simpson sparked Alexandria in the third quarter with a couple of steals, two 3-point buckets and eight points. Foster answered for Sacred Heart with four to maintain an eight-point lead entering the fourth quarter. Foster ended up with a game-high 16 points.

Sacred Heart 40, Alexandria 28
ALEXANDRIA (5-14) – Sarah Pelham 0 0-0 0, Kayleigh Steen 3 0-1 9, Kaitlyn Harvey 1 0-0 3, Madison Jones 0 0-0 0, Kameron Simpson 3 0-2 8, Tori Brewster 0 0-2 0, Aleirra Bradford 0 0-0 0, Ashley Phillips 1 2-2 4, Maggie Phillips 2 0-0 4. Totals 10 2-7 28.
SACRED HEART (20-2) – Alisia Person 1 0-0 2, Myiah Harris 2 1-2 5, Ayanna Foster 7 2-3 16, Cearia Jenkins 1 0-0 2, Joelle Tillery 1 0-0 2, Jordan Sabree 3 0-0 6, Serena Hardy 2 0-0 4, Alyssa Bell 0 0-0 0, Elizabeth Morris 0 0-0 0, Jortaysia West 1 0-0 6. Totals 18 3-5 40.
Alexandria 6 0 10 12 – 28
Sacred Heart 4 10 10 16 – 40
3-point goals: Alexandria 6 (Steen 3, Harvey, Simpson 2: Sacred Heart 1 (West). Total fouls: Alexandria 10, Sacred Heart 11.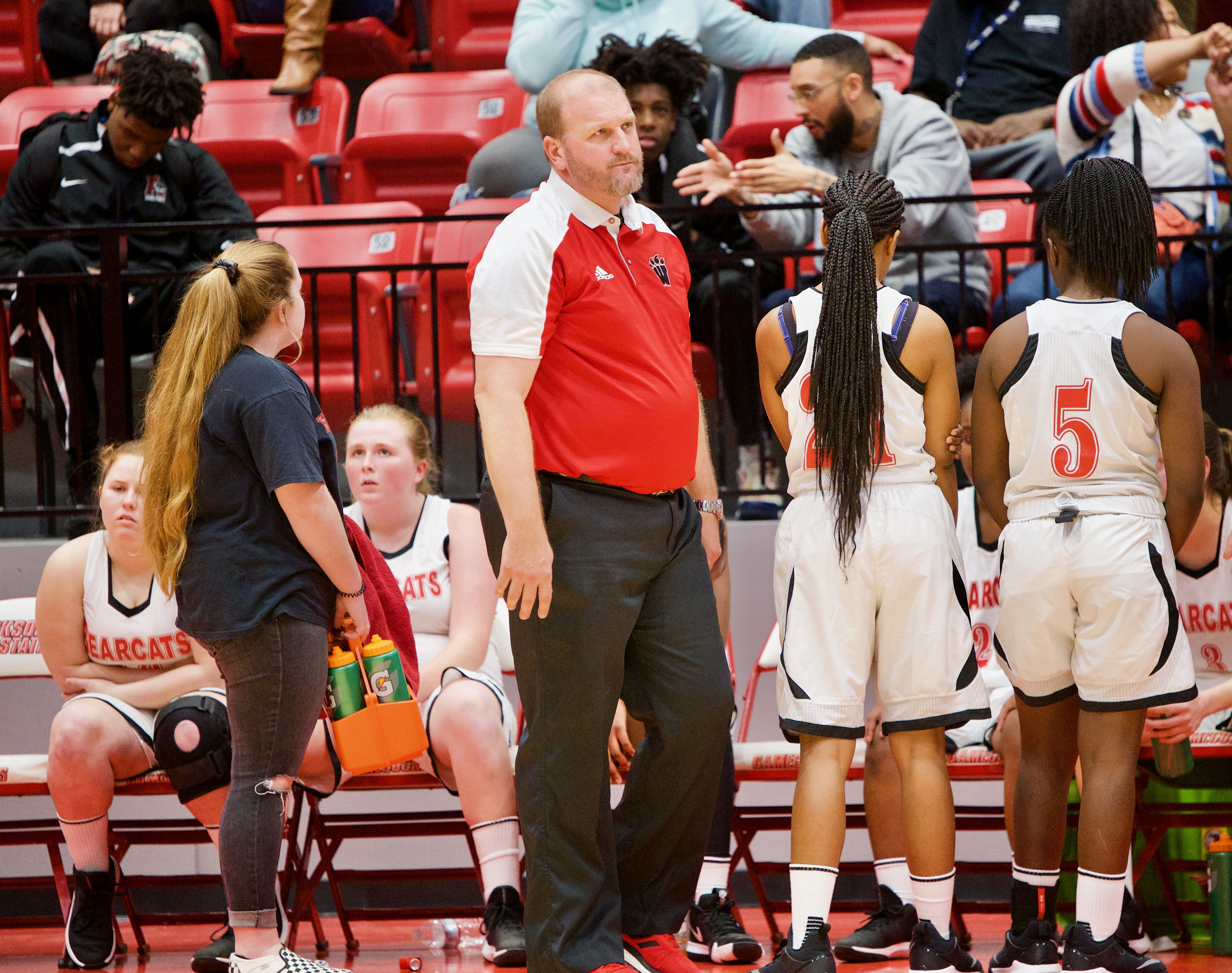 Hubbard gets Weaver going
JACKSONVILLE — Kiese Hubbard came off the bench late in the third quarter and scored five points and a steal as third-seeded Weaver broke out of a 17-17 tie and pulled away from White Plains 39-24 to earn a spot in Friday's semifinals against the Sacred Heart.

"She did a great job in there and got us going," Weaver coach Gary Atchley said. "I could not take her out for a while after that.

The Lady Bearcats ended the game with eight straight points.

It will be Weaver's second semifinal appearance in three years. In 2017 it lost to Wellborn and the Lady Bearcats expect to have a tough hurdle to overcome on Friday night.

"Hopefully we will play better than we did two years ago," Atchley said.

But they'll have to do it without one of their main players. Abby Gaines, their 3-point threat, suffered a high-ankle sprain midway through the fourth quarter.

Although Atchley didn't know her status immediately after the game, later he said she'd be out perhaps not to return until the area tournament.

Gaines caught fire in the last minute of the opening quarter, as she buried a 3-pointer and a conventional bucket to give the Bearcats an 11-4 lead after one quarter. The lead could have been bigger, but the Bearcats hurt themselves with seven first-quarter turnovers against a scrappy Wildcat defense.

She made another in the second quarter as the Lady Bearcats extended the lead to nine.

The Lady Wildcats were held to just one field goal until the 1:43 mark of the second quarter. Lily Ponder connected on a field goal Jocelyn Harris followed with another as they scored six straight points to end the half down by just three points.

Weaver ended up with 20 turnovers, but only one in the final quarter while White Plains turned it over nine times.

"I do not know what it was," Atchley said. "Maybe it was the big court, maybe we were rusty or maybe it was White Plains. They always do something that gives you problems as they are well coached."

Great rebounding offset the turnovers as Maleah Foster hauled down 10 boards. Haley Homesley had eight, Caleigh Cortez seven and Trinity Pulliam had six.

"Foster really played a great game for us on the boards," Atchley said.

Jocelyn Harris had 10 rebounds and nine points to lead White Plains.

Weaver 39, White Plains 24
WHITE PLAINS – Callyn Martin 2 0-0 5, Ary Rosario 0 2-2 2, Camden Wilson 0 0-0 0, Lily Ponder 2 2-2 6, Adriana Sotelo 0 0-0 0, Jocelyn Harris 4 1-5 9, Angel Bozarth 0 2-2 2, Kaylee Johnson 0 0-0 0.
WEAVER (14-5) – Caleigh Cortez 3 2-4 8, Kiese Hubbard 1 3-3 5, Loralei Brown 0 0-0 0, Maleah Foster 1 0-0 3, Trinity Pulliam 1 1-3 3, Abbie Gaines 4 0-0 11, Dijinea Anderson 0 0-0 0, Amira Carter 3 0-0 6, Haley Homesley 1 1-1 3.
White Plains 4 9 4 7 – 24
Weaver 11 5 10 13 – 39
3-point goals: Weaver 4 (Gaines 3, Foster); White Plains 1 (Martin).

Here is the girls' lineup for Friday's F&M Bank 3-Point Shootout:

Halftime of 5:30 p.m. game
Allasha Dudley, Anniston
Sarah Quinn, Jacksonville
Chandler Dorsett, Pleasant Valley
Sydney Prater, Piedmont
Akiera Robinson, Oxford
Halimah Binyamin, Saks
Emily Sills, Faith Christian

Halftime of 8:30 p.m. game
Abby Gaines, Weaver
Myiah Harris, Sacred Heart
Kayleigh Steen, Alexandria
Callyn Martin, White Plains
Itiania Weatherly, Wellborn
Sidney Hancock, Jacksonville Christian
Tori Vice, Ohatchee
Victoria O'Neill, Donoho