Coming out party
Updated: January 24, 2019
County boys: Sacred Heart's Stone, Anniston's Kite enjoy big success in first Calhoun County Tournament experience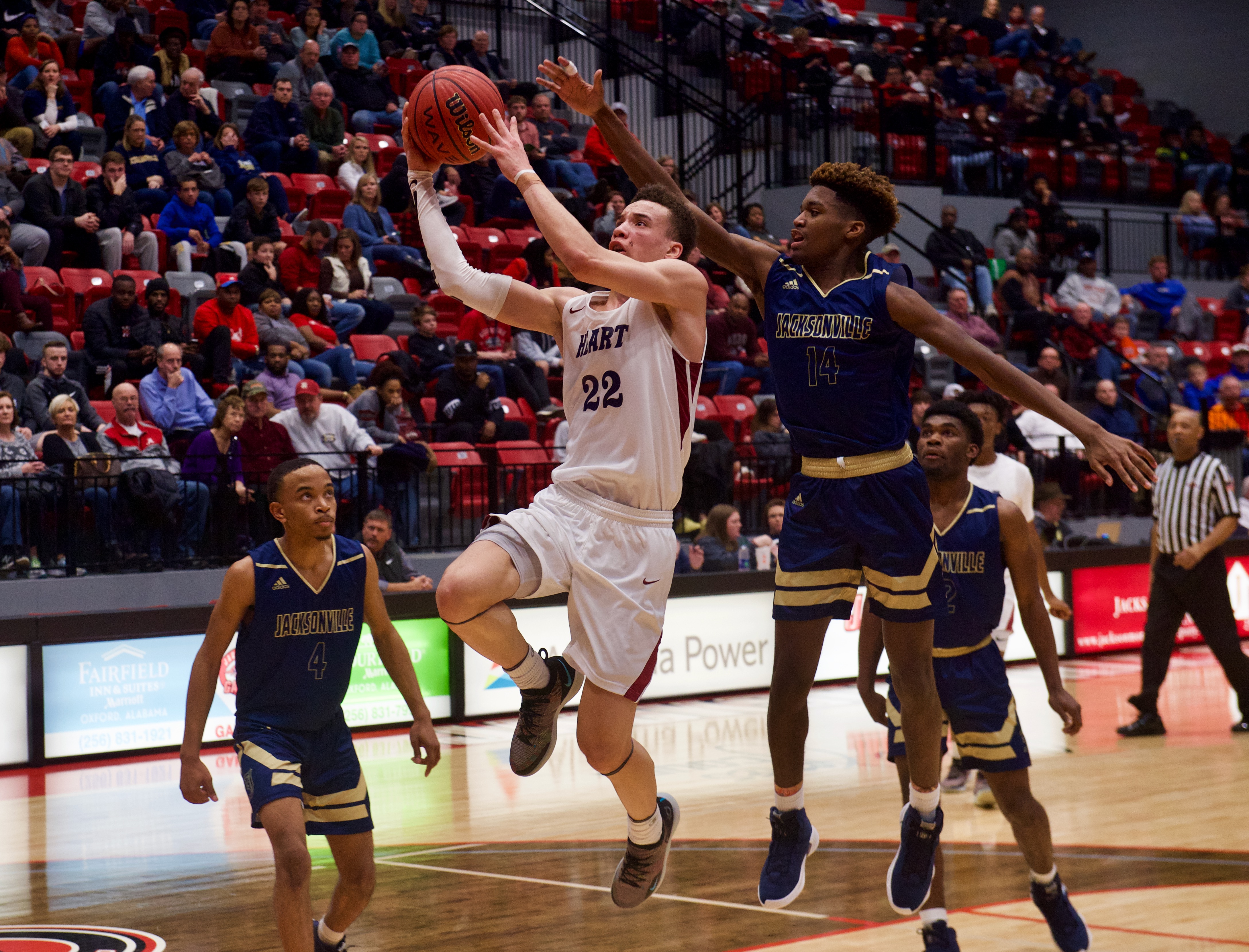 CALHOUN COUNTY TOURNAMENT
At Jacksonville State
Thursday's games
Anniston 47, Weaver 45
Sacred Heart 71, Jacksonville 60
Friday's games
Piedmont vs. Oxford, 5:30 p.m.
Anniston vs. Sacred Heart, 8:30 p.m.
Saturday's game
Boys championship, 8 p.m.

To see more photos from Thursday's two games, visit www.bjfranklin.smugmug.com 

By Al Muskewitz
East Alabama Sports Today
 
JACKSONVILLE – Jayden Stone has been attracting attention all season long wherever Sacred Heart has played, but he had his coming-out party in Calhoun County Thursday night and it didn't disappoint.
 
The junior forward with a wheelbarrow full of Division I offers already had 30 points, 14 rebounds, eight assists and three steals as the second-seeded Cardinals got past Jacksonville 71-60 for a spot in Friday night's county tournament semifinals against Anniston.
 
Stone was 13-of-26 from the floor that included several dunks. Khalil Watkins (15) and Aaron Moore (14) also scored in double figures for the Cardinals Together, the three were a combined 26-fo-43 from the field as the Cardinals shot 59 percent as a team.

The Cardinals always draw a crowd, but undoubtedly the crowd in Pete Mathews Coliseum wanted to see this Australian phenom they had been hearing so much about.
 
Speaking to local media for this first time this season, Stone said he was looking forward to his first county tournament game without getting too hyped and really just wants to be one of the guys.
 
"I thought it was good," he said. "I enjoy coming out there with the guys. We've been working really hard during the season. I was just trying to put on a show, try to play with as much intensity as I can and not try to showboat or play for anyone else, just play within our limits for the team and for God."

Sacred Heart coach Ralph Graves gave him – and the whole team, really – high marks for their intensity.

"I thought he played well, extremely well," Graves said. "This is his stage, everybody else now they get to see it. Now he'll be known as the Australian kid who scored this right here because everybody got to see him. A lot of buzz will be going around. He's equipped for it."
 
Stone came to Sacred Heart in the summer after the school he was attending in Birmingham shut down basketball. He was bringing his considerable talents to a program that has won four straight Class 1A state championships, but has taken the star mantle of the Big 3 before him — Diante Wood, D.J. Heath and Kevion Nolan — and fit right in.
 
"That doesn't really faze me," he said. "Whatever I go into I just try to go in with the favor of God and play as best as I can. No matter what the reputation is or the outside noise you just stick in and confine into your box. That's what I try to do."
 
Jacksonville's Kyrie Maynor did what he could to keep up the Golden Eagles in the game. He kept up with Stone's scoring and wound up leading all scorers in the game with 33 points.

"He has been a good jolt for us all season," Jacksonville coach Cordell Hunt said. "All aspects of his game have improved. Stone is one heck of a player who will play on the next level. Kyrie may not have the size as Stone but he has a big heart for the game."

After Thursday night, the crowd undoubtedly will be looking forward to seeing more of Stone Friday night against Anniston.
 
"I'm sure everyone knows my name or is querying to see what my strengths in," Stone said. "You hear the 'overrated' at times, but we're just sticking with my guys and in a box and that's all I can do, just take one game at a time."
 
Sacred Heart 71, Jacksonville 60
JACKSONVILLE – Kyrie Maynor 11-18 9-11 33, DeMarien Stewart 6-12 0-2 13, Yessman Green 2-6 2-4 7, Donavon McCain 1-5 3-4 5, Omarion Adams 1-3 0-0 2, Jay Davis 0-5 0-0 0, Nathan Barnwell 0-1 0-0 0, Hudson Harvey 0-1 0-0 0, Carter Landers 0-0 0-0 0. Totals 21-51 14-21 60.
SACRED HEART – Jayden Stone 13-26 3-5 30, Khalil Watkins 6-8 1-4 15, Aaron Moore 7-9 0-0 14, Caleb Brown 4-5 0-1 8, Mastrianni Marshall 1-1 0-0 2, Kendarious Harris 1-2 0-0 2, Cade Landers 0-2 0-0 0, Jack Miller 0-1 0-0 0, Spencer Wigley 0-0 0-0 0. Totals 32-54 4-10 71.
Jacksonville     13        14        16        17        –          60
Sacred Heart    21        23        18       9          –          71
3-point goals: Jacksonville 4-15 (Maynor 2-5, Stewart 1-5, Green 1-4, Davis 0-1); Sacred Heart 3-11 (Stone 1-5, Watkins 2-3, Brown 0-1, Harris 0-1, Miller 0-1). Rebounds: Jacksonville 26 (Stewart 4); Sacred Heart 37 (Stone 14, Watkins 7). Fouled out: Moore. Total fouls: Jacksonville 15, Sacred Heart 20.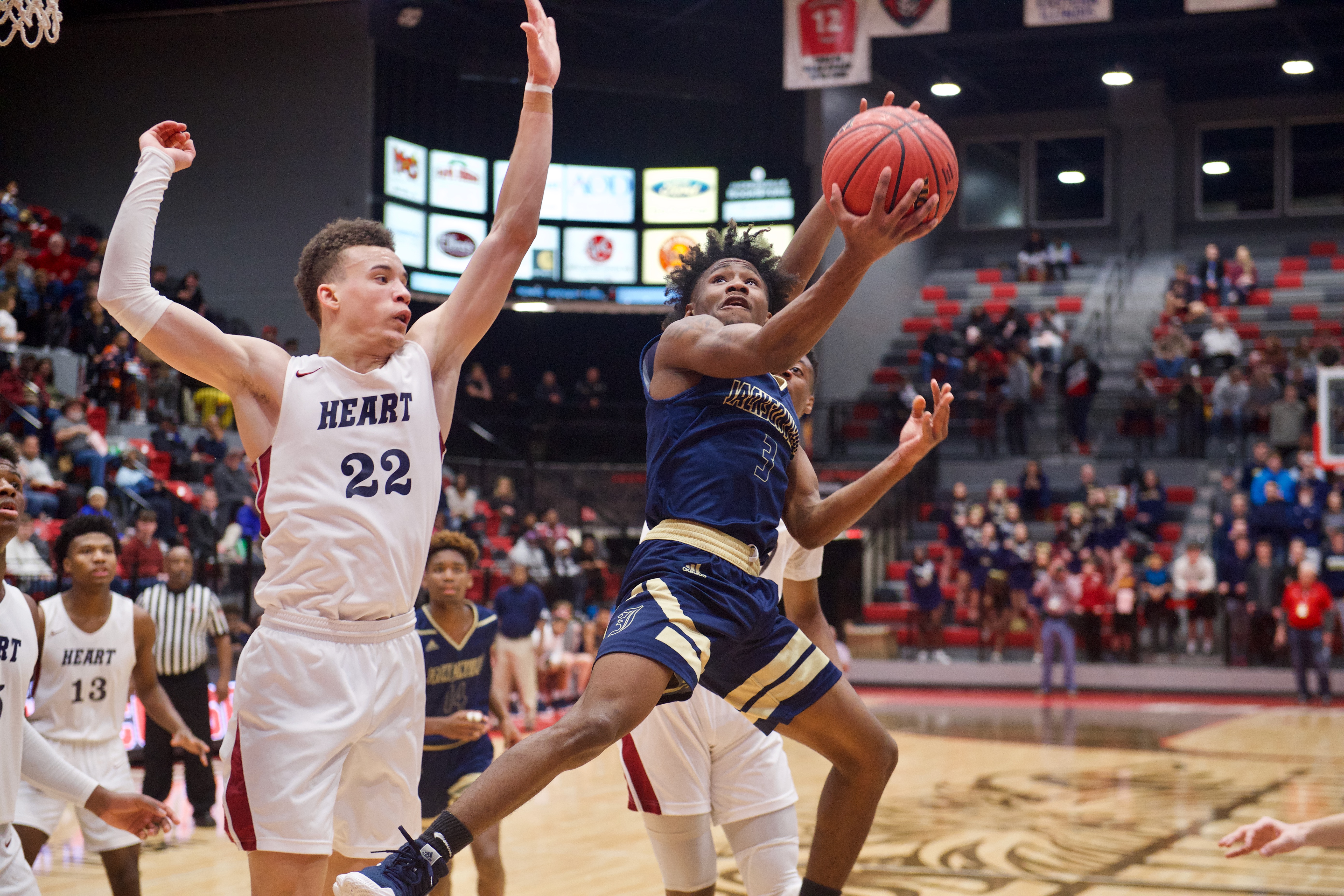 Kite, Bulldogs live to play again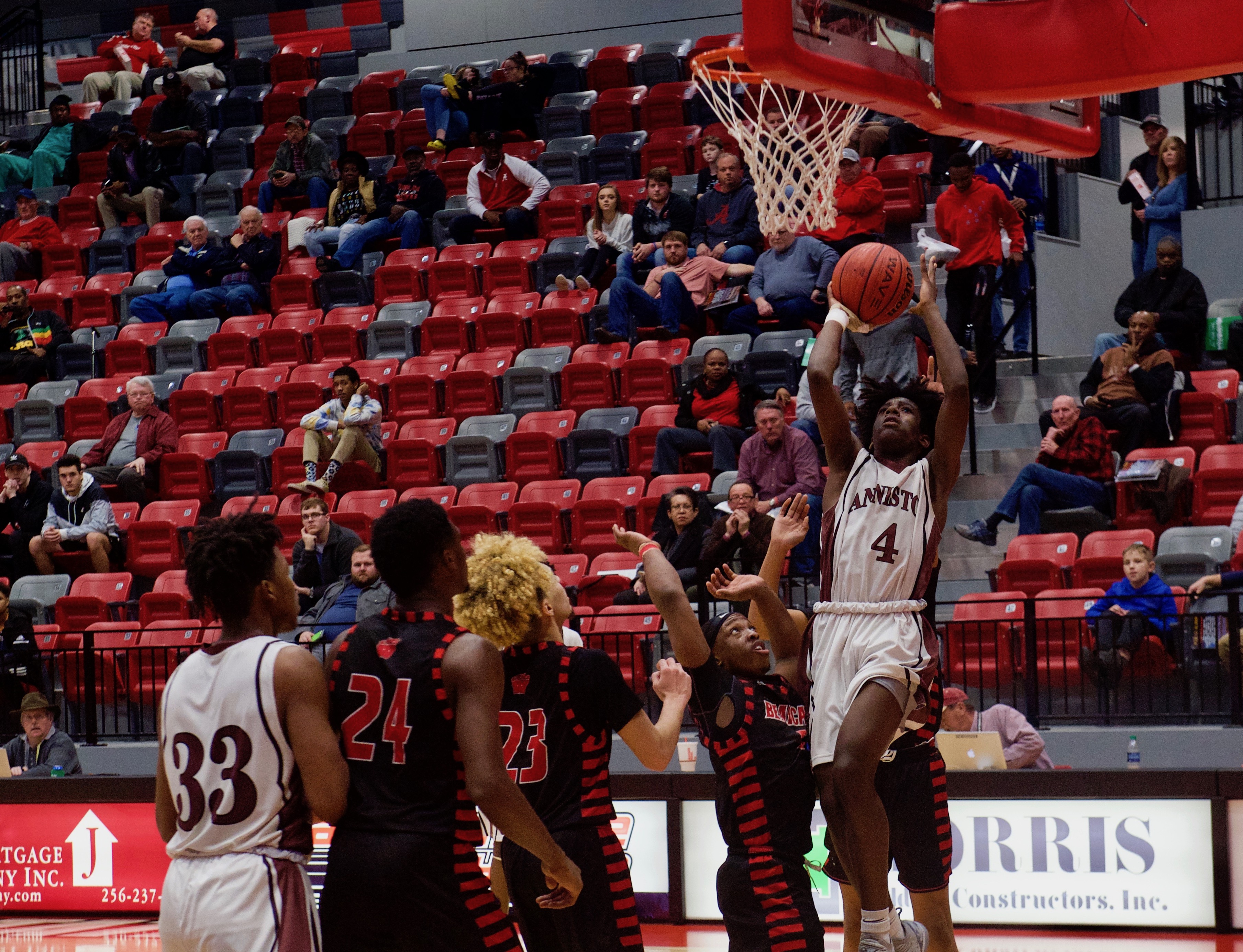 JACKSONVILLE – Having not played in nine days, Anniston coach Torry Brown was expecting to see a lot of energy from his team in its Calhoun County Tournament opener.

It wasn't quiet as he hoped, and the best he could say after the Bulldogs edged Weaver 47-45 for their sixth straight win Thursday was "we live to fight another day."

"I'm happy we won the game, but I'm really disappointed in our effort," Brown said. "I thought we'd come out with more excitement for the tournament. I don't know if we came out with the energy level that we needed. The tournament is different. The intensity goes up."

The game featured several individual matchups worth watching, most notably Weaver's Shamar Spinks against Antonio Kite and Anniston's Theron Montgomery against Amardric Elston. And neither disappointed.

Anniston's Kite led all scorers with 21 points and made several baskets at key points in the game. Montgomery had 10 points and 10 rebounds. Spinks led Weaver with 18 points. Elston had 10 points and 11 rebounds.

Another reason for anticipated high energy was more than half of Anniston's roster was experiencing the County Tournament for the first time. One of those was Kite, who moved back from Baltimore this year after leaving following his seventh-grade year.

"I knew about it a lot because I had a lot of family members who played in it, but it's great to be in it," Kite said. "I was comfortable, but still a little nervous."

There was reason to be nervous. The game was tight throughout with nine ties and seven lead changes. Nobody led by more than five, and that didn't last long. But Kite was one of the few Bulldogs to make plays when they needed them most.

Anniston led 46-45 with 1:11 to play. Weaver had three fouls to give and used the leeway until the final 30 seconds. When the Bulldogs finally did get to the line, William Fairley missed the front end of a one-and-one and Elston rebounded.

Robert Gaines leaned in for a go-ahead layup but missed. The ball was tied up under the basket and the possession went to Anniston. Ledreka Hall was fouled on the inbounds and hit the first of two free throws with 9.6 seconds left to make it 47-45.

Hall missed the second shot and Elston rebounded again. The Bearcats had a shot for the tying or winning basket, but Taylor Deck's off-balanced 3-pointer with a second left missed the mark.

"We had a little rough start, but in the second half we started to fight more and giving effort," Bulldogs' Kwame Milton said. "And at the end of the night we came out with the win. I think we'll play a better game tomorrow."

The Bulldogs now play the Sacred Heart, where there is much anticipation for the matchup between Kite and Cardinals junior Jayden Stone.

"I know there are a lot of people out there expecting me to do big things," Kite said, "but I just have to play my game."

Anniston 47, Weaver 45
WEAVER – Taylor Deck 0 0-0 0, Brandon Heath 1 0-0 2, Robert Gaines 4 2-2 11, Shamar Spinks 6 6-8 18, Austin Bryant 0 0-2 0, DeAndre McCain 1 0-0 3, Amardric Elston 4 3-4 10. Totals 16 11-16 45.
ANNISTON – Antonio Kite 9 2-3 21, Ladreka Hall 1 1-2 3, Tahj Jones 0 0-0 0, Kwame Milton 3 0-0 8, Malcolm Harvey 0 0-0 0, William Fairley 1 0-0 2, Hunter Rouse 0 1-2 1, Theron Montgomery 6 0-0 12. Totals 20 4-7 47.
Weaver 12 10 9 14 – 45
Anniston 10 12 13 12 – 47
3-point goals: Weaver 2 (Gaines, McCain); Anniston 3 (Kite, Milton 2).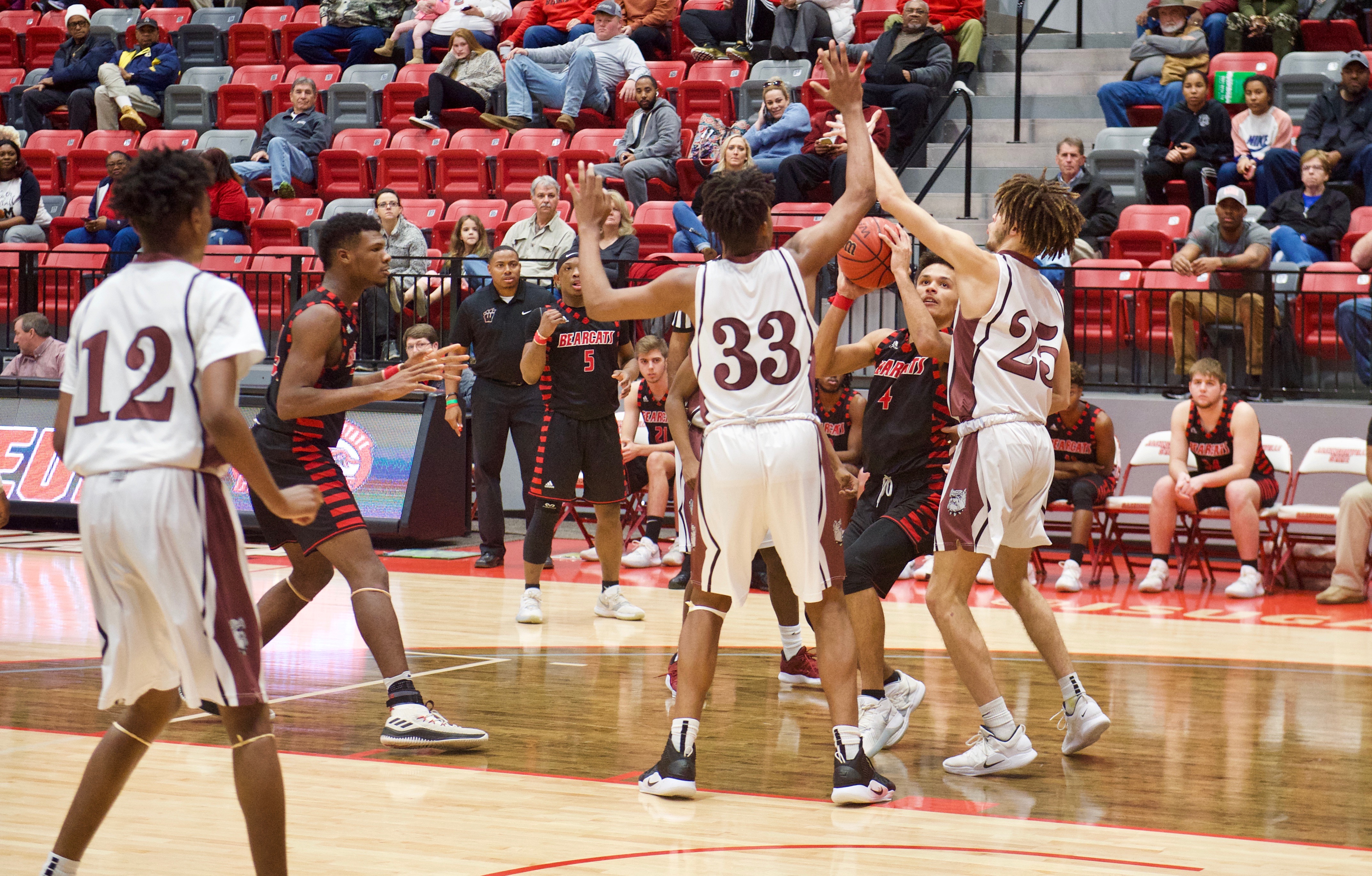 Here is the boys' lineup for Friday's F&M Bank 3-Point Shootout:

Halftime of 4 p.m. game
Antonio Kite, Anniston
Jayden Stone, Sacred Heart
DeMarien Stewart, Jacksonville
DeAndre McCain, Weaver
Evan Keller, Ohatchee
Beau Conley, Faith Christian
Kobe Messer, Jacksonville Christian
Khavion Wesley, Wellborn

Halftime of 7 p.m. game
Mont McClendon, Oxford
Carl Myers, Piedmont
Simeon Shadrix, White Plains
Landon Comer, Alexandria
Zaejuan Johnson, Saks
Josh Ballew, Pleasant Valley
Seth Ford, Donoho