PV edges familiar foe
Girls roundup: Pleasant Valley tops area rival Piedmont in county tourney opener; favorites Oxford, White Plains, Alexandria also win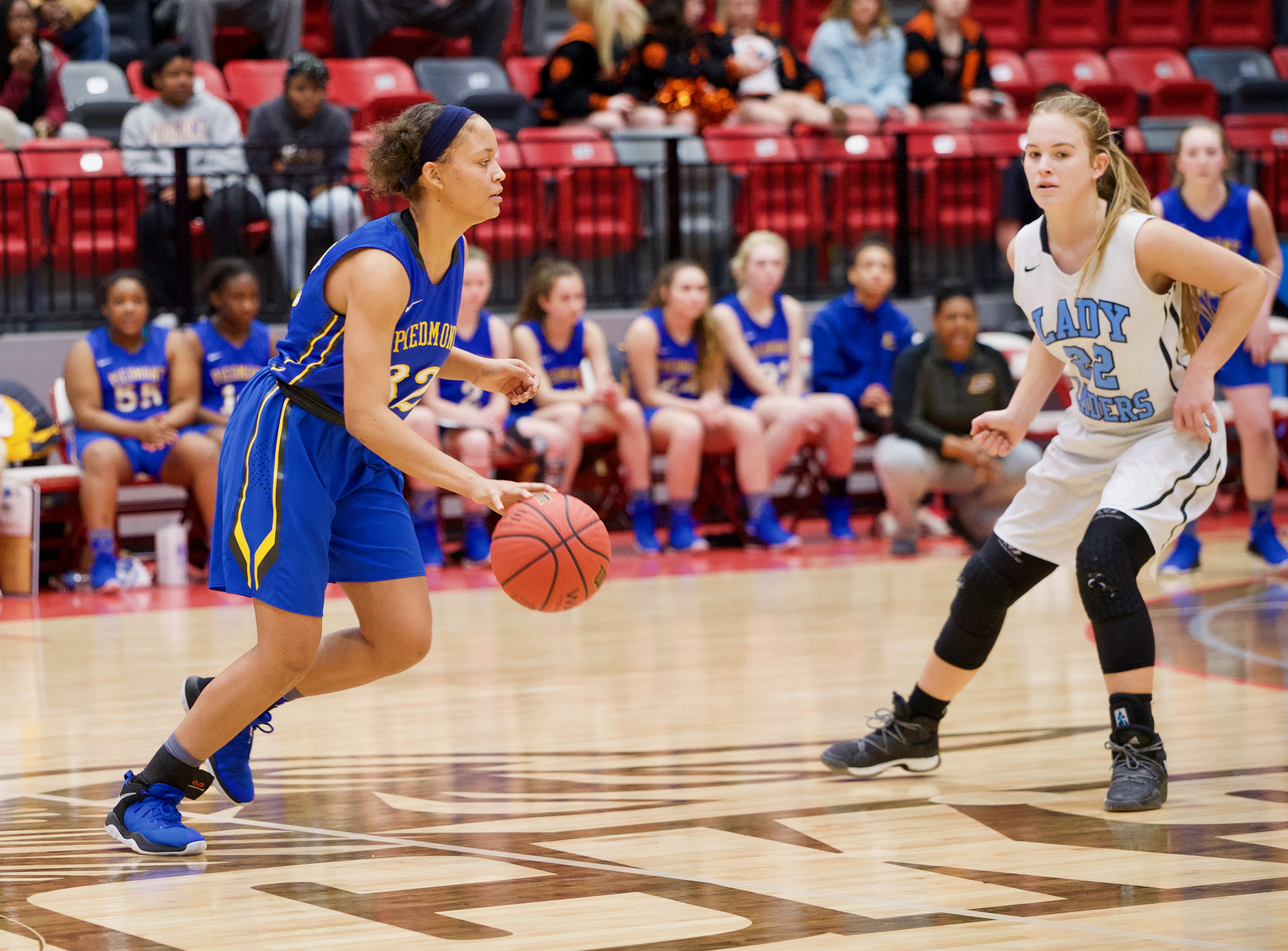 CALHOUN COUNTY TOURNAMENT
Girls Bracket
Monday's results
Pleasant Valley 51, Piedmont 48
Oxford 63, Faith Christian 44
White Plains 47, Jacksonville Christian 43
Alexandria 46, Ohatchee 29
Tuesday's games
Oxford vs. Jacksonville, 4 p.m.
Pleasant Valley vs. Anniston, 7 p.m.
To see photos from Monday's games visit www.bjfranklin.smugmug.com
By Al Muskewitz
East Alabama Sports Today

JACKSONVILLE – It was a Pleasant Valley Monday at the Calhoun County Basketball Tournament.

The Lady Raiders opened the second day of the 68th annual tournament with a 51-48 win over an all-too-familiar opponent, area rival Piedmont.

"It's Round 3 of 4, and we know it," PV coach Brad Hood said. "This next one is the only one that matters."

Don't worry about a scouting report. The teams met twice in area play already and will meet in the opening round of their area tournament in a couple weeks.

"That was the third time playing them," PV's Emma Hood said. "It was a little close for comfort, but we know them very well, so I guess we used that to our advantage."

The game was tight early, as expected in the 8-9 seed game, with Piedmont leading 25-21 at halftime.

The Lady Bulldogs were still leading 28-24 early in the third quarter when PV went on a 18-0 run that carried into the fourth quarter for a 42-28 lead. Brooke Perry hit a bucket right before the buzzer to end the third quarter and had another that marked the end of the run.
Later in the game Perry made a steal and drove the length of the floor for a layup to keep the Lady Bulldogs at arm's length.

"Once a certain person scores on our team it motivates others and we all start scoring," Perry said.

Piedmont came back under a barrage of three 3s from Madison Tyree and got it to 50-48 with 15 seconds left.

PV's Chandler Dorsett hit a free throw with 10.9 left to make it a three-point game. Kayley Kirk took a deep 3 for the tie at the buzzer that missed the mark.

"I knew we were going to get them, there wasn't a doubt in my mind," Emma Hood said. "We started playing defense little better in third quarter and pulled ahead a little bit, then they started hitting 3s from people we didn't expect. They came back, but we had it. I knew we could do it and pull it out."

Hood led PV with 17 points. Perry had eight – all in the second half. Dorsett had nine – all in the second half.

Hood scored her 1,000th career point last week in a last-second loss at Ohatchee.

"It was cool to get because my dad said he didn't know many 11th-graders who had gotten it before," she said. "And then he said I did it off defense and hustle it wasn't like I'm a solid 3 shooter out there scoring 1,000 I'm getting them off rebounds and stuff. I had no idea (she'd be that prolific a scorer). In ninth grade I just moved up to varsity at the end of the year and I was like I really like basketball so I just started playing a lot."

Tyree's three fourth-quarter 3-pointers produced all of her nine points. Sydney Prater had 17 and 17 rebounds, and Kirk had 18. Lele Ridley had nine rebounds and three blocked shots.
The Lady Raiders will now play top-seeded Anniston Tuesday at 7 p.m.

Pleasant Valley 51, Piedmont 48
PIEDMONT – Kayley Kirk 7 1-2 18, Lele Ridley 1 2-4 4, Armoni Perry 0 0-0 0, Madison Tyree 3 0-0 9, Z'Hayla Walker 1 0-0 2, Sydney Prater 6 5-6 17. Totals 18 8-12
PLEASANT VALLEY – Brooke Perry 4 0-0 8, Lindsey Pritchett 1 0-0 2, Ava Boozer 2 0-0 5, Rylee Haynes 3 1-5 8, Chandler Dorsett 3 1-3 9, Emma Hood 4 8-13 17, Kamryn Sparks 0 2-4 2. Totals
Piedmont 6 19 3 20 – 48
Pleasant Valley 13 8 16 14 – 51
3-point goals: Piedmont 6 (Kirk 3, Tyree 3); Pleasant Valley 4 (Boozer, Dorsett 2, Hood).
Total fouls: Piedmont 17, Pleasant Valley 12.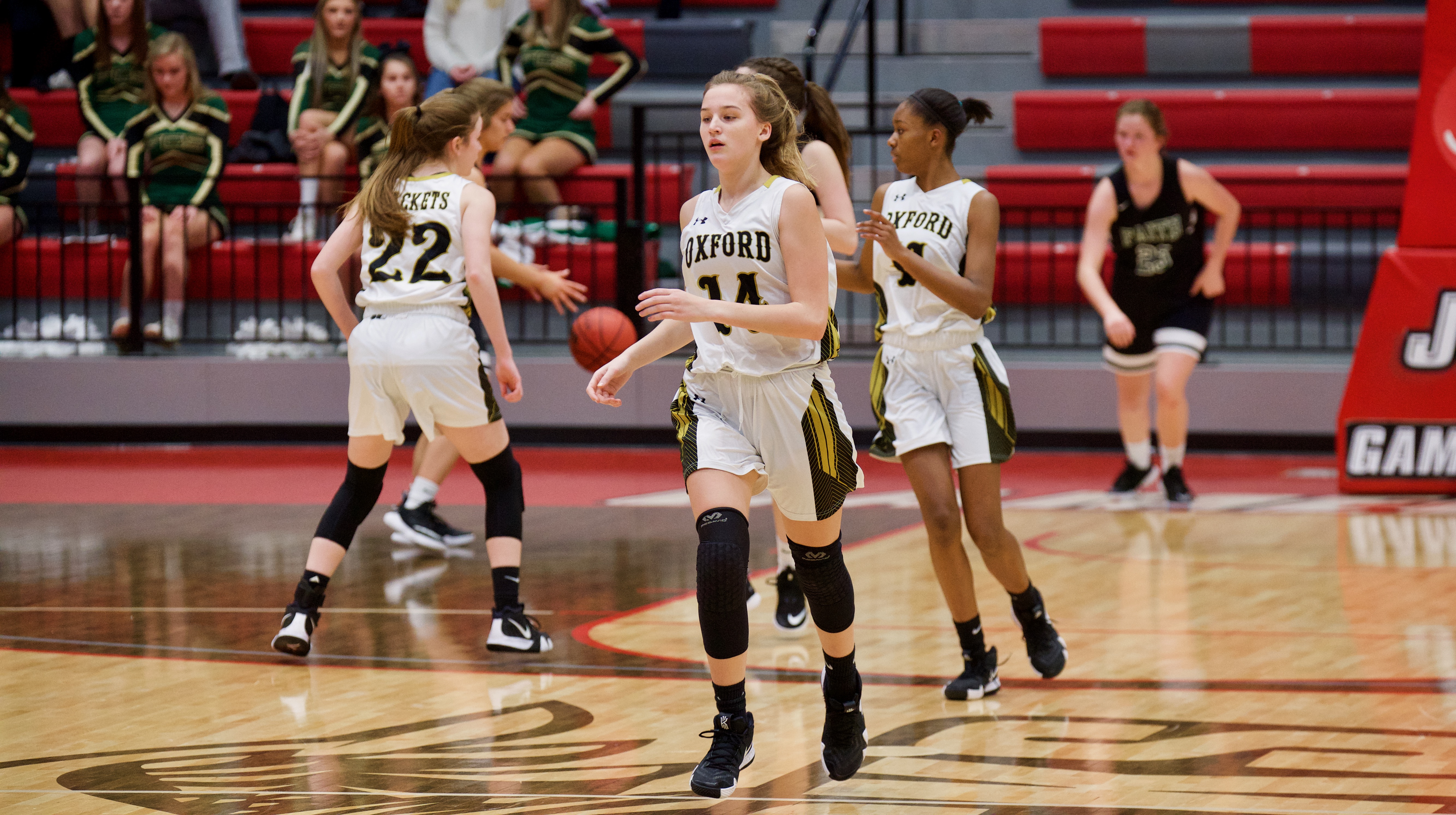 Lady Jackets start fast
JACKSONVILLE – The Oxford Lady Jackets, inspired by the spirit of the season and comments in various media, played like the No. 5 team in the girls field and toppled Faith Christian 63-44.

Ashleigh Jackson led the Lady Jackets with 18 points and 15 rebounds in 18 minutes of work.

"It's just county, it's just the best time of the year," Jackson said. "I've played good all season but not really where I've had my best game and I think today was probably one of my best games I've ever played."

"I don't know if she ate her Wheaties this morning or what," Oxford coach Melissa Bennett said, "but that's the Ashleigh Jackson that we've been expecting all season because we've seen that potential."

The Lady Jackets jumped way ahead early and stayed there. They play fourth-seeded Jacksonville next Tuesday at 4 p.m.

"Yesterday we got a quote from them saying their No. 3 (Emily Sills) hit two 3s and she was planning to hit 10 more and it really just fired us up," Jackson said. "And our assistant coach, Coach (Bob) Phillips (former Faith principal), was talking to one of their players' parents and he said we should be nervous about playing them."

The Lady Jackets' seeding may have come into question based on their record at the time of the seeding meeting. But they don't play a lot of teams in the county during the year, they are the biggest school in the county and the schedule they do play is a demanding one.

"We are inspired because it's the county tournament," Bennett said. "This means a lot around here. People are still talking about our county performance last year (a 59-55 loss to Anniston). This is also a really important point in the season because it can really kind of boost you through the end of the year, give you a lot of confidence, give you a lot of positives to go off of. We're always inspired when its county tournament time." — Al Muskewitz

Oxford 63, Faith Christian 44
FAITH CHRISTIAN – Kristin Covington 6-17 2-2 15, Sydnee Johnson 3-11 5-12 14, Emily Sills 3-10 4-5 12, Sarah Kate McVeigh 1-8 0-0 2, Elizabeth Bedford 0-2 1-2 1, C.J. Setters 0-1 0-0 0, Savannah Gibbons 0-0 0-0 0, Kassidy Nix 0-0 0-0 0. Totals 13-49 12-21 44.
OXFORD – Ashleigh Jackson 8-17 2-2 18, Justyce Smith 5-10 5-5 15, Amirea McLeod 6-6 0-0 12, Lisa Montgomery 2-5 2-2 6, Akiera Robinson 2-7 1-3 5, Kiki Woods 1-4 1-4 3, Kaleah Taylor 1-4 0-2 2, Sara Paulson 0-2 0-0 0, Luaren Ellard 0-3 0-2 0, Jamya Gibson 0-0 0-0 0, Emma McCullough 0-2 0-0 0, Others 1-6 0-0 2. Totals 26-66 11-18 63.
Faith Christian  2              9              15            18            –               44            
Oxford                16            19            11            17            –               63
3-point goals: Faith 6-17 (Covington 1-6, Johnson 3-6, Sills 2-6); Oxford 0-9 (Jackson 0-1, Montgomery 0-1, Robinson 0-2, Paulson 0-1, Ellard 0-2, McCullough 0-1, Others 0-1). Rebounds: Faith 40 (McVeigh 7); Oxford 50 (Jackson 15, Smith 8). Fouled out: Johnson. Total fouls: Faith 16, Oxford 18.

White Plains rallies behind Harris
JACKSONVILLE — Jocelyn Harris scored nine straight points in the latter part of the third quarter and early fourth quarter to help White Plains rally from a three-point deficit and hang on to beat Jacksonville Christian 47-43.

The Lady Wildcats trailed 32-29 when Harris started her run. They led 44-37 with a little over two minutes to go when the Thunder scored five points in a matter of seconds to cut the lead 44-42.

A 3-point basket by Mia Morales and a steal and a basket by Elizabeth Goss got the Thunder in striking distance. Sidney Hancock's free throw cut the margin to one point, but the Lady Wildcats got some clutch free throws from Callyn Martin and Harris to seal it.

It was an unusual first quarter in that only one player scored for each team. The quarter ended in an 8-8 tie with Kylie Cupp scoring for the Thunder and Martin for White Plains.

The Lady Wildcats enjoyed a 19-17 halftime lead. Martin sat out the second quarter in foul trouble while Cupp ended up with 15 of the 17 Thunder points at the half.

Harris led sixth-seeded White Plains (9-12) with 11 points and eight rebounds, while Martin and Angel Bozarth also had 11 each. Cameron Wilson grabbed nine rebounds before fouling out.

"Cameron had a great game and did a lot of things for us and was getting the ball to Jocelyn in position to score," White Plains coach Chris Randall said. "Harris played like a senior for us, from making shots and rebounding and making good decisions."

The Lady Wildcats will meet third-seeded Weaver in the quarterfinals Thursday at 5:30 p.m.

Cupp led the Thunder (14-9) with 23 points. Hancock had 13 points, with 11 coming in the second half. – Brant Locklier

White Plains 47, Jacksonville Christian 43
JACKSONVILLE CHRISTIAN – Karli Barnwell 0 0-0 0, Kylie Cupp 6 10-16 23, Kara Grace 0 0-0 0, Kristen Walker 0 0-0 0, Amelia Morales 1 0-0 3, Jacie Brackett 0 0-0 0, Riley Sanders 0 0-0 0, Elizabeth Goss 1 0-0 2, Rebekah Carter 1 0-0 2, Sidney Hancock 4 3-6 13. Totals 13 13-22 43.
WHITE PLAINS – Callyn Martin 3 3-4 11, Cheyenne Cochran 0 0-0 0, Camden Wilson 0 1-1 1, Lily Ponder 4 0-1 8, Adriana Sotelo 0 0-0 0, Jocelyn Harris 6 2-5 14, Angel Bozarth 4 0-0 11, Kaylee Johnson 1 0-0 2. Totals 18 6-11 47.
JCA 8 9 15 11 – 43
White Plains 8 11 14 14 – 47
3-point goals: JCA 4 (Hancock 2, Morales, Cupp); White Plains 5 (Martin 2, Bozarth 3). Fouled out: Cupp, Carter, Wilson. Total fouls: JCA 16, White Plains 17.

Lady Cubs find their range
JACKSONVILLE — Alexandria emerged from a shooting slump by drilling eight 3-pointers in a 46-29 victory over Ohatchee. The Lady Cubs (5-13) also used a good defense to shut down the Indians' offense and create turnovers.

"We had not been shooting well lately, so it was good to see the shooting come around tonight," Lady Cubs coach Craig Kiker said. "We shot real well in practice and had a good night tonight."

Sarah Pelham hit two of the Lady Cubs' buckets from behind the arc. Kayleigh Steen and Kaitlyn Harvey each had three.

The Lady Cubs also held Ohatchee leading scorer Tori Vice to seven points. Vice was prohibited from wearing the black lace-up headband that created an issue in Saturday's opening round under penalty of technical foul.

The cold-shooting Tribe could not get any shots to drop as they fell behind 17-4 early in the game. Alexandria held them to seven points or fewer in three of the four quarters.

"We hang our hat on defense," Kiker said. "We feel like we have a chance to win if we play good defense."

Alexandria led by 16 at the half. Ohatchee got the margin back in single digits a couple of times in the second half, but great 3-point shooting kept the Lady Indians at bay.

Alexandria will take on second-seeded Sacred Heart Thursday at 8:30 p.m. – Brant Locklier

Alexandria 46, Ohatchee 29
OHATCHEE – Gracyn Snow 1 1-2 3, Jazmine Adams 0 0-0 0, Tori Vice 3 0-2 7, Baylee Alward 0 0-0 0, Morgan Foushee 0 0-0 0, Marli Hanks 0 0-0 0, Gracie George 3 0-0 6, Millie Rainwater 2 0-0 5, Regan Snow 1 0-0 2, Jorda Crook 2 2-3 6, Karson Coppock 0 0-0 0. Totals 12 3-7 29.
ALEXANDRIA – Sarah Pelham 3 0-0 8, Kayleigh Steen 4 0-2 11, Kaitlyn Harvey 3 4-8 13, Madison Jones 0 0-0 0, Kameron Simpson 1 0-0 2, Tori Brewster 0 0-0 0, Aleirra Bradford 0 0-0 0, Ashley Phillips 3 1-2 7, Makenna Smith 0 0-0 0, Latoria Brewster 0 1-2 1, Maggie Phillips 0 4-5 4. Totals 14 10-17 46.
Ohatchee 4 5 13 7 – 29
Alexandria 14 11 9 12 – 46
3-point baskets: Ohatchee 2 (Vice, Rainwater); Alexandria 8 (Pelham 2, Steen 3, Harvey 3). Fouled out: Vice.T