Cubs play with purpose
Boys roundup: Alexandria playing with a lot to prove; White Plains, Weaver, Jacksonville all advance as favorites win again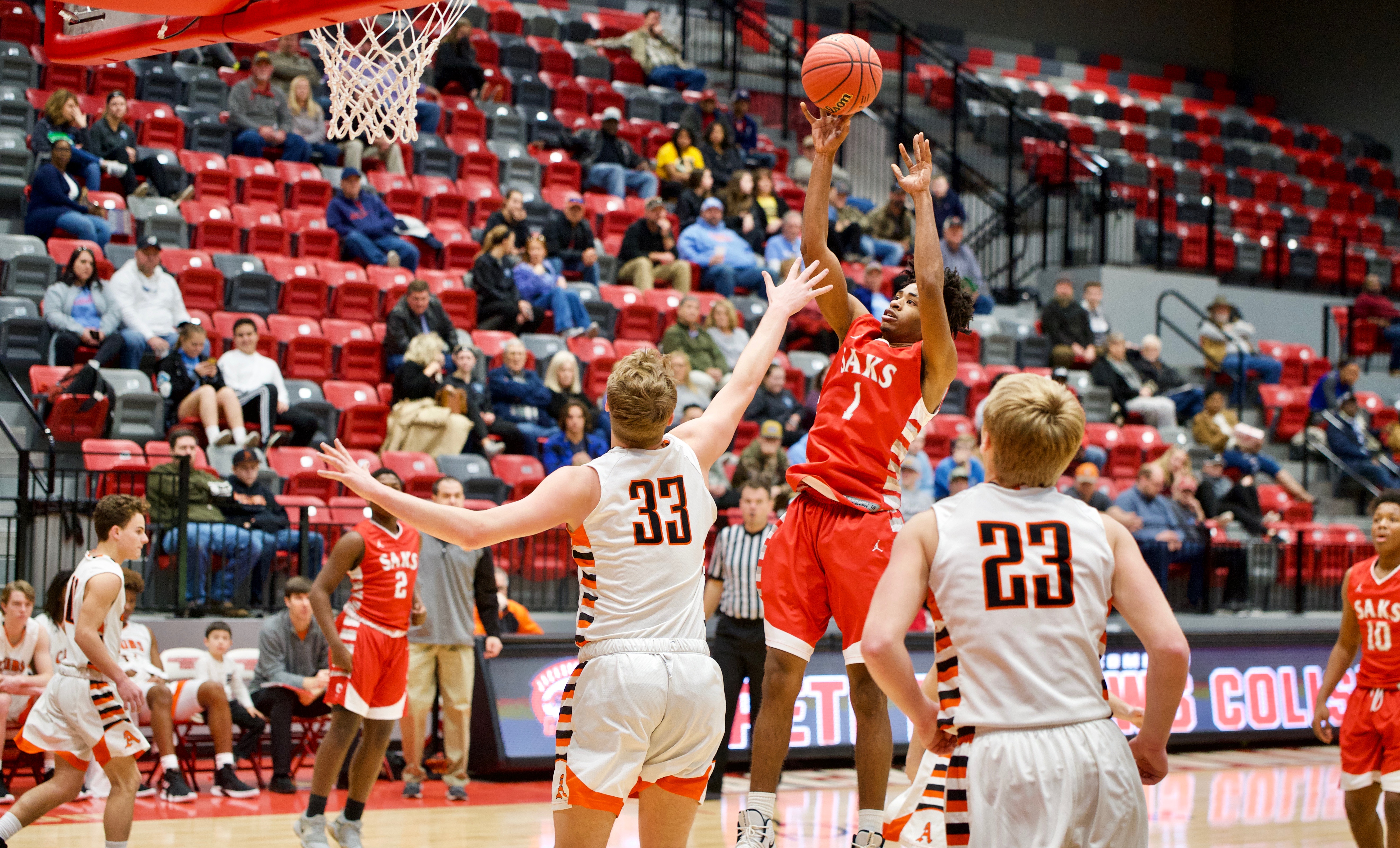 CALHOUN COUNTY TOURNAMENT
Boys Bracket
Monday's results
Alexandria 58, Saks 40
White Plains 84, Donoho 53
Weaver 70, Ohatchee 48
Jacksonville 74, Jacksonville Christian 59
Tuesday's games
White Plains vs. Piedmont, 5:30 p.m.
Alexandria vs. Oxford, 8:30 p.m.
To see photos from Monday's games visit www.bjfranklin.smugmug.com
By Al Muskewitz
East Alabama Sports Today

JACKSONVILLE – The Alexandria Valley Cubs came into their Calhoun County Tournament opener with a lot to prove.

First, they've silently carried a chip on their shoulder for about two weeks now about being the No. 8 seed, the last man standing in a five-team Yahtzee cup for the last of the top eight seeds. Then, they wanted a bit of revenge on the team that knocked them out of the opening round last year.

They settled both scores Monday, bouncing back from a slow start to beat Saks 58-40 and earn a spot against top-seeded Oxford, Tuesday at 8:30 p.m.

"Last year we got put out in the first round so had to come out with a little more energy," Cubs senior Kahlil Francis said. "We didn't think we should've been the eighth seed. I was very mad about it, but I came out here with something to prove."

The Valley Cubs were at the end of the seeding line in a group that included Piedmont, White Plains, Weaver and Jacksonville. They had beaten Piedmont and lost to Jacksonville before the seeding meeting, then beat Weaver and Jacksonville since.

"It was important for our seniors," Alexandria coach Jason Johnson said. "They saw how it hurt last year to get beat by these guys in the first round, so they wanted to try to redeem themselves. I thought they did a good job of it, although we struggled a little bit early on. It's going to be a great honor to play the No. 1 seed. They're as advertised … all the great adjectives. We're just going to go out there and give it our best."

Alexandria was slow out of the gate and Saks took a 16-11 lead in the first quarter. But the Valley Cubs came to life in the second, going on an 11-3 run to open a seven-point halftime lead, then outscored the Wildcats 17-4 in the third quarter to take complete control.

"They were in a zone trying to keep us from getting the ball inside and we struggled with the outside shot early on; I think we were 3-for-17," Johnson said. "But then we found some creases in that zone that gave us some passes inside and I thought our big guys did a good job finishing around the basket and our guards did a good job of getting the ball inside."

Landan Williams led Alexandria with 20 points and 10 rebounds. Francis finished with 12 points behind three 3-pointers. Romeo Dye had 10 points and Jared Ponder scored only three points, but he grabbed 10 rebounds.

Alexandria 58, Saks 40
ALEXANDRIA – Landan Williams 7-11 6-6 20, Kahlil Francis 4-8 1-1 12, Romeo Dye 3-11 2-2 10, Julian Wright 3-7 0-2 6, Joe Tucker 1-6 3-6 5, Jared Ponder 1-7 1-1 3, Jalen Borders 1-1 0-0 2, Adam Young 0-2 0-0 0, Landon Comer 0-1 0-0 0, Seth Slaton 0-1 0-0 0, Dustin Warren 0-0 0-0 0. Totals 20-55 13-18 58.
SAKS – Jordan Cosper 3-9 1-2 9, Daveon Dukes 4-10 1-1 9, Tyler Smith 4-10 0-0 8, Zaejuan Johnson 3-9 0-0 8, Zay Elston 2-12 0-0 4, Connor Martin 1-1 0-0 2, Kyle Goedde 0-0 0-0 0, Ahmir Hardy 0-2 0-0 0, Miles McLaughlin 0-1 0-0 0, Patrick Williams 0-0 0-0 0, Benji Wilson 0-2 0-0 0. Totals 17-56 2-5 40
Alexandria 11 25 17 5 – 58
Saks 16 13 4 7 – 40
3-point goals: Alexandria 5-26 (Francis 3-6, Dye 2-8, Tucker 0-5, Ponder 0-4, Young 0-1, Comer 0-1, Slaton 0-1); Saks 4-25 (Cosper 2-7, Dukes 0-2, Johnson 2-7, Elston 0-6, Hardy 0-1, McLaughlin 0-1, Wilson 0-1). Rebounds: Alexandria 56 (Williams 10, Ponder 10); Saks 25 (Cosper 6, Smith 6). Total fouls: Alexandria 7, Saks 13.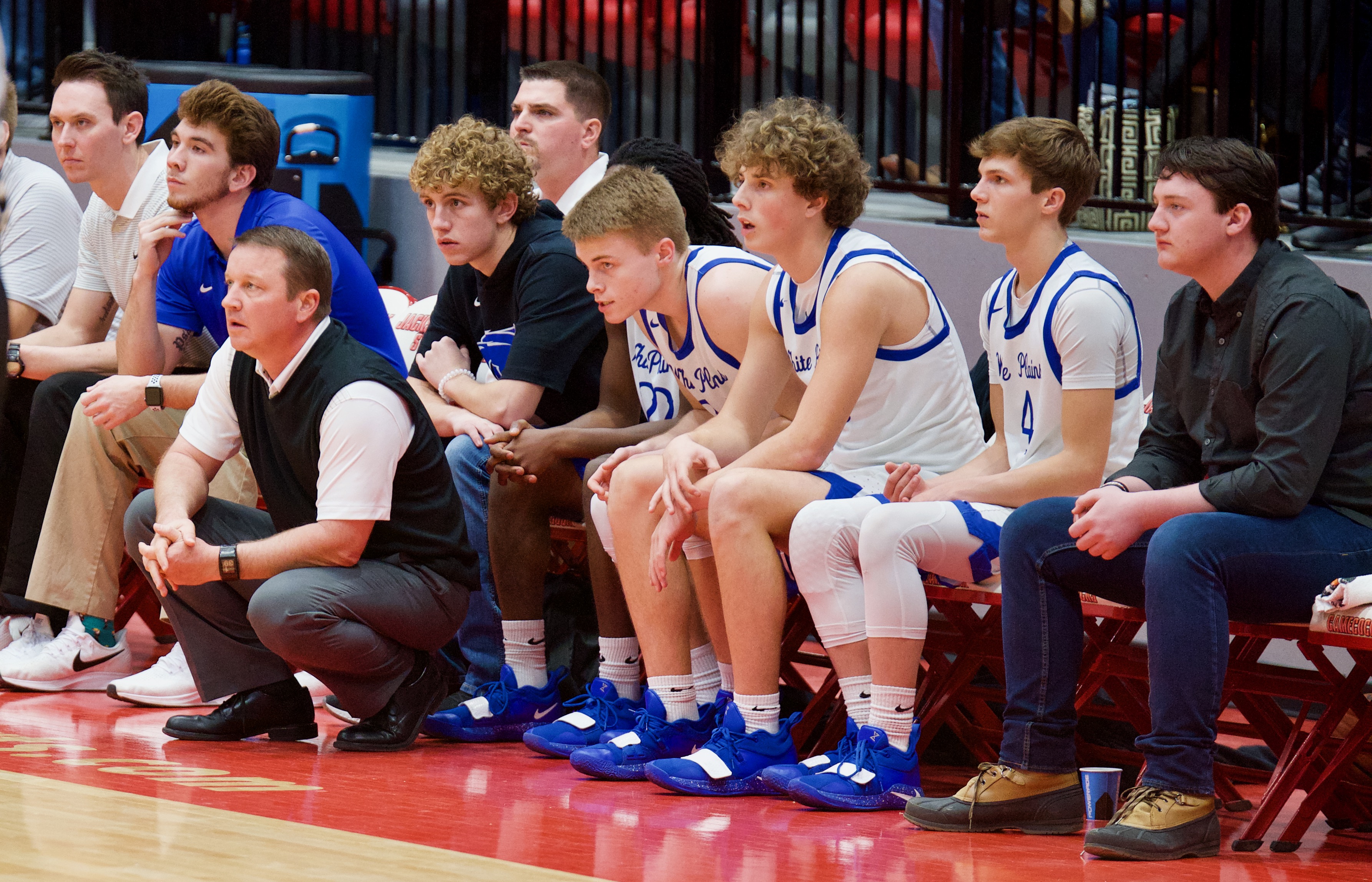 Wildcats don't Messer 'round
JACKSONVILLE – Matthew Clay had a double-double and Coleman Messer did not miss a shot from the field in the second half leading fifth-seeded White Plains to an 84-53 win over Donoho in the Calhoun County Tournament.

Clay scored 23 points and grabbed 12 rebounds. Messer went 9-for-9 from the field in the second half, scored White Plains' first 10 points of the third quarter and finished with 20 points.

"I was in my bag for a minute, but my teammates found me when I ran the floor," Messer said. "I just kept running and my teammates kept finding me.

"It was probably the best game I played this year. I knew we needed to score so somebody had to do it. Matthew got hot and I ran the floor and everybody found me."

Donoho, riding the wave of its first County Tournament win in 17 years Saturday, jumped out to an early lead. White Plains led only only led 19-18 with 4:36 left in the second quarter when it 12-1 lead to take control. The Wildcats led 32-25 at the half before Messer came out in the third quarter and went wild.

"Nine for nine is really good," Clay said. "Him and Brody run the floor so good. As soon as he sees one of us get the rebound he's racing and he did that four or five times for easy layups. Good hustle."

"I just felt like in the first half we settled too much," White Plains coach Chris Randall said. "The second half we really put pressure on the rim and did a better job in transition finding the open guy. It all started on the defensive end by getting in a stance and keeping them in front of us."

The Wildcats now play fourth-seeded Piedmont Tuesday at 5:30 p.m.

White Plains 84, Donoho 53
DONOHO – Seth Ford 7-17 3-5 22, Amari Smedley 4-8 2-4 12, Jacob LeCroy 3-8 1-2 8, Rod Elston 2-8 2-4 6, Reid Williamon 1-8 3-4 5, Connor Goodson 0-0 0-0 0, Chandler Armstrong 0-0 0-0 0, Dekerri Garrett 0-0 0-0 0. Totals 17-49 11-19 53.
WHITE PLAINS – Matthew Clay 9-18 4-5 23, Coleman Messer 10-12 0-1 20, Jaden Harris 3-5 4-4 11, Simeon Shadrix 4-10 0-0 11, Brody Baker 3-5 0-0 6, Quin Wilson 2-2 2-2 6, Houston Conger 1-3 0-0 3, Jaden Chatman 1-5 0-0 2, Gavin Burrage 1-7 0-0 2, Kahlil Williams 0-2 0-0 0. Totals 34-69 8-10 84.
Donoho 12 13 13 15 – 53
White Plains 17 15 21 31 – 84
3-point goals: Donoho 8-23 (Ford 5-12, Smedley 2-4, LeCroy 1-2, Elston 0-2, Williamon 0-3); White Plains 8-20 (Clay 1-4, Harris 1-1, Shadrix 3-7, Baker 0-1, Wilson 2-2, Conger 1-2, Chatman 0-1, Burrage 0-2). Rebounds: Donoho 28 (Ford, Smedley, Williamon 5); White Plains 48 (Clay 12, Messer 8). Fouled out: Elston. Total fouls: Donoho 13, White Plains 16.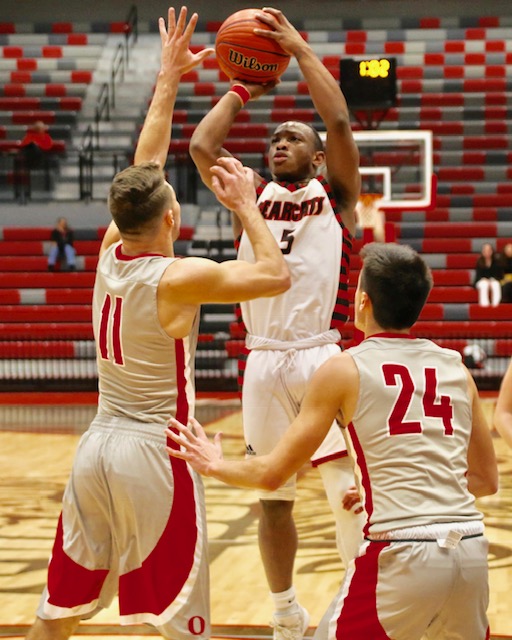 Bearcats claw past Ohatchee
JACKSONVILLE — When Weaver's Big 3 are clicking on all cylinders the Bearcats are fun to watch – and hard to beat.

The three – Amardric Elston, Shamar Spinks and Robert Gaines – were on pretty much all night Monday and led the Bearcats to a 70-48 win over Ohatchee in the second round of the Calhoun County Tournament.

Gaines went for 16 points, Elston dominated the post with 15 points and Spinks ran the show with 13.

"It opens the floor for everybody" when those three are playing well, Weaver coach Marcus Herbert said. "Amardric at the beginning set the tone. When he's going and Robert's in his mojo and Shamar is breaking down people and getting DeAndre (McCain) open for 3s or just anything, they're tough. They're fun to watch when they're actually playing on all cylinders."

Elston did get it going early, scoring Weaver's first 10 points after Ohatchee jumped out 5-0. Gaines and Spinks scored strategically throughout the game. They combined for 15 points in the fourth quarter, the scoring margin in the period that put the game away.

Evan Keller kept Ohatchee in it with 23 points. His twisting layup in the lane got the Indians to within 27-26, but Elston matched it on the other end to keep the Bearcats out front. Keller made it 31-30 in the third quarter then Spinks touched off a nine-point run that signaled the beginning of the end.

"We're very hard to stop when all three of us have the hot hand and we're all playing together," Spinks said. "We don't win unless Amardric's on the block working, so I try to get him the ball as much possible because I know when he's there nobody's gonna stop him on the block."

The Bearcats now play third-seeded Anniston at 4 p.m. Thursday.

Weaver 70, Ohatchee 48
OHATCHEE – Parker Alexander 0 0-0 0, Nathan Higgins 3 0-0 7, Grayson Alward 4 0-0 8, Cameron Foushee 0 0-0 0, Todd Dover 1 0-0 2, Evan Keller 9 2-4 23, Bayley Tillison 1 0-0 2, Austin Wyatt 0 0-0 0, Briley Hale 3 0-0 6. Totals 21 2-4 48.
WEAVER – Taylor Deck 0 0-1 0, Brandon Heath 2 1-2 6, Robert Gaines 8 0-0 16, Shamar Spinks 6 1-2 13, Marcello D'Ambrosia 0 2-4 2, Austin Bryant 1 0-0 2, DeAndre McCain 7 0-0 16, Amardric Elston 7 1-3 15. Totals 31 5-12 70.
Ohatchee 11 15 16 6 – 48
Weaver 18 11 20 21 – 70
3-point goals: Ohatchee 4 (Higgins, Keller 3); Weaver 3 (Heath, McCain 2). Total fouls: Ohatchee 14, Weaver 10.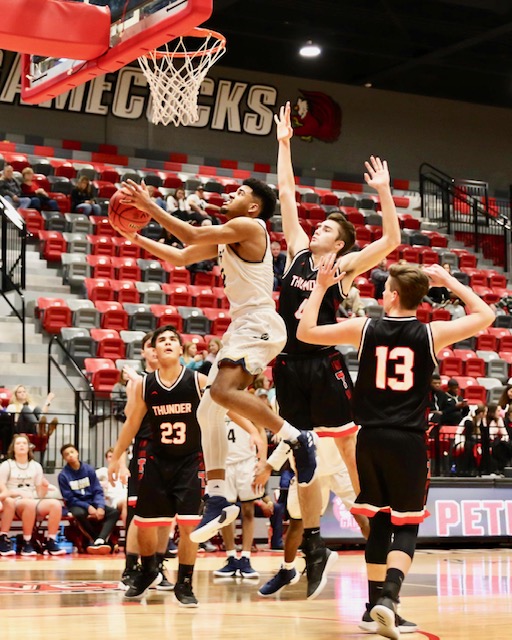 Jacksonville turns up heat on JCA
JACKSONVILLE – Donavon McCain converted steals into layups on three straight defensive possessions and late-arriving Omarion Adams scored 10 points over the crucial final six minutes as Jacksonville pulled away from a tight game and turned back Jacksonville Christian 74-59 in the final game of the night.

The Golden Eagles plugged in their press with six minutes to go down 50-49 and it proved to be the right fix at the right time.
It sparked a 21-4 run, during which they limited JCA to just four free throws, to open a 70-54 lead with 2:11 to play.
 
"We stepped it up right there in the fourth quarter," Jacksonville coach Cordell Hunt said. "We got in the press, turned up the heat and it really gave them fits."
 
Highlighting the run were three straight steals and layups by McCain to extend the lead. The Golden Eagles would score, McCain would steal and layup. The Thunder would score on the other end and Jacksonville and McCain would repeat the process. McCain had eight points in the run and finished with 21 points and 11 rebounds.
 
"When we get in our blue press we get a lot of steals," McCain said. "I was in the middle of the press and if somebody throws the ball in the middle it's mine every time."

Adams arrived at JSU with just about six minutes to play – he had been attending a year-end football banquet in another part of the county – and provided instant energy. The coaches provided him constant updates on the progress of the game and when he arrived he got right into it.

He scored seven of his 10 points in the decisive run – a 3-pointer right before McCain's second steal and two baskets. He made the first basket and was fouled, missed the free throw, but followed the shot and scored again.
 
"I saw we were up, but I wanted to keep the feeling going," Adams said.
 
"He's just energy for us," Hunt said of Adams. "Everybody's seen him in football. Everybody knows who he is. He's the same guy in basketball. He is fast as lightning and when he plays we're a different team."

Chase Vinson led JCA with 28 points and 10 rebounds, and as Hunt observed, "when he wants to score, ain't nobody stopping him," but there were times when the Golden Eagles made him disappear. Like in the last three minutes of the first half when Jacksonville went on a 9-0 run to close the half and take a 35-25 lead and Vinson only touched the ball once — when he was trying to save it from going out of bounds. 

"We made some adjustments and did better in limiting his touches at certain parts of the game and then we stopped doing it," Hunt said. "With somebody like that you just don't let them touch the ball and we're good."

Jacksonville will play second-seeded Sacred Heart Thursday at 7 p.m.

Jacksonville 74, Jacksonville Christian 59
JACKSONVILLE CHRISTIAN – Chase Vinson 10-16 7-9 28, Kobe Messer 4-13 2-4 11, Nash Messer 3-6 4-4 11, Eli Fair 2-4 0-0 5, Jonathan Carter 1-1 0-1 2, Brady Shaddix 1-4 0-0 2, Jeremy Cockrell 0-0 0-0 0, Tanner Wilson 0-0 0-0 0, Johnny Alford 0-0 0-0 0. Totals 21-44 13-18 59.
JACKSONVILLE – Donavon McCain 8-19 5-6 21, Kyrie Maynor 4-12 3-6 13, DeMarien Stewart 5-11 0-0 13, Jay Davis 5-11 0-0 12, Omarion Adams 3-4 3-5 10, Yessman Green 1-4 0-0 3, Nathan Barnwell 1-4 0-2 2, Carter Landers 0-1 0-0 0, Hudson Harvey 0-1 0-0 0, Luke Jackson 0-0 0-0 0. Totals 27-67 11-19 74.
JCA                      13            12            21            13            –               59
Jacksonville      19            16            12            27            –              74
3-point goals: JCA 4-16 (Vinson 1-2, K. Messer 1-7, N. Messer 1-3, Fair 1-2, Shaddix 0-2); Jacksonville 9-28 (McCain 0-5, Maynor 2-8, Stewart 3-6, Davis 2-5, Adams 1-1, Green 1-3). Rebounds: JCA 32 (Vinson 10); Jacksonville 41 (McCain 11). Fouled out: K. Messer. Total fouls: JCA 16, Jacksonville 19.This story will be updated.