Wardrobe malfunction
Home gold has Golden Eagles seeing red
By Al Muskewitz
East Alabama Sports Today
JACKSONVILLE – Cordell Hunt's afternoon ended a whole lot better than it began Friday.
Hunt's Jacksonville basketball team picked up a quality 73-68 win in overtime over Sylvania, but not before a uniform controversy that is sending the Golden Eagles to look deep into their closest to find proper attire.
"It ended w-a-a-a-y better," Hunt said after the game. "We just didn't play well; we flat out didn't play well. It was an ugly win and we love it – we love wins – but we didn't do the little things we have done over the last year or two to win games. The kids kept fighting through it and I'm proud of them for that – we found a way to get it done – but we've got to be better. That game shouldn't have been close."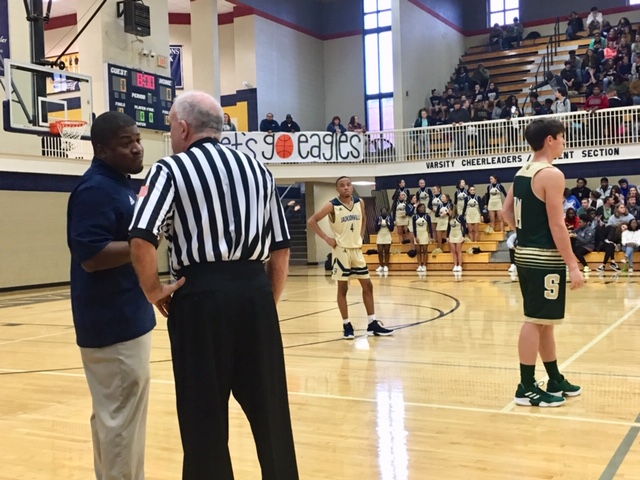 The Golden Eagles (5-1) found themselves behind the eight-ball even before the game started. Just prior to the opening tip they were assessed a technical foul for failing to wear traditional white as the game's home team.
High school federation rules, adopted by the AHSAA, specify home teams in basketball must wear white, and the game officials held them to it. The Golden Eagles played in their new gold uniforms and after a brief discussion were promptly assessed a technical foul, which, if they don't find a solution, will be the penalty every game they wear the golds at home.
They had played two earlier home games (against Alexandria and Pleasant Valley) and a neutral site tournament game as a home team in the golds without incident. What made it more relevant Friday is Jacksonville's gold (with navy blue shoulder accent) was a match for the wide shoulder accent on Sylvania's green road uniforms.
Hunt said he had received approval from "powers that be" at the school he declined to identify to purchase the new sets of gold and navy uniforms – at an estimated cost between $4,000 and $5,000 – and didn't think twice of any issue because gold is the school's secondary color. Athletics director David Clark, however, said he was not aware of any waiver being granted by the state for the Golden Eagles to wear gold at home and acknowledged the officials' decision Friday "is the right call."
So, Sylvania's Josh Tinker went to the free throw line and sank both shots to give the Rams a 2-0 lead before the clock ever left 8:00. And in a game as tight as this one became they could have made the difference in the outcome.
As it was, the Golden Eagles needed DeMarien Stewart's deep 3 with 15.3 seconds left in regulation and Tinker's missed 3 at the buzzer to send the game into overtime. Additionally, because of the technical foul, Hunt was relegated to coaching the game from a seated position on the bench.
"I've got to get in the rule book; I need to call the state and figure out what the deal is," Hunt said. "Gold and white? You can call white gold, what does it matter? I guess because they're green and gold, too. I get that, but in my eyes does it really make that much of a difference? Rules are rules, I get that, but you're going to give a team a two-point advantage, which is a big deal in a game like this, because I thought gold was OK to wear?
"I wouldn't have ordered those if I wouldn't have gotten permission, I promise you, because I know how much they cost and I know I can't back up from this. Once I'm in I'm in. Me being the head of this program I take the blame, but I would not have done that if I wouldn't have gotten permission. We'll fix it. That's the least of my worries. I've got to get us playing better."
Sylvania didn't escape game administration wrath, either. In the second quarter the Rams were assessed a technical for an incorrect player number in the scorebook. Jay Davis made both of those technical free throws to give Jacksonville a two-point lead so you could say given the hubbub at the start of the game it was all a wash.
The game was tight throughout. No more than a point separated the teams at the end of any quarter. Jacksonville led by nine early in the fourth, but Sylvania rallied behind shooters Jared Higgins and Grant Atchley to tie it at 54 with less than a minute left in regulation.
A free throw by Jarrett Hill put the Rams up 58-55 with 24 seconds to go, but Hill missed the second shot and Luke Jackson rebounded to set the stage for Stewart's game-tying 3.
"I knew I could hit the shot I just had to make sure I was prepared to shoot the ball," Stewart said. "It felt great."
The Rams did have the final possession of regulation, but Tinker's shot missed the mark.
Sylvania led 62-61 with 2:30 left in overtime, but over the next two minutes Higgins fouled out, taking out the Rams' big scoring threat, and the Golden Eagles ran off eight straight points to move comfortably ahead.
Stewart led four Jacksonville players in double figures with 19 points; he also had six rebounds and seven steals. He had 15 points in the fourth quarter and overtime, including two 3-pointers and 7-of-10 from the free throw line.
"I was frustrated that we weren't playing as good as team, so I felt like I had to do something to pick us up and make us play together," Stewart said. "I wanted to get mad but I couldn't get too mad because I didn't want to get myself out of my game, so I had to calm down and just play my game."
Davis finished with 18 points for the Golden Eagles and Yessmen Green and Kyrie Maynor had 11 apiece. Sylvania's Higgins led all scorers with 29.
The Golden Eagles have at least until a week from Monday to either find white uniforms or a suitable alternative. That's their next home game against Anniston.
"There's going to be white in there somewhere," Clark said. "It's not like they don't own white — unless they gave it to another team."
Jacksonville 73, Sylvania 68
SYLVANIA (4-2) – Jared Higgins 10-20 7-9 29, Grant Atchley 6-14 1-3 16, Joshua Tinker 1-8 6-8 8, Jarrett Hill 2-5 2-4 6, Drake Justus 1-2 0-0 3, Trevor Butler 0-1 2-2 2, Winston Wilks 1-1 0-0 2, Jaxen White 0-3 1-2 1, Nathan King 0-1 1-2 1. Totals 21-55 20-30 68.
JACKSONVILLE (5-1) – DeMarien Stewart 4-8 9-14 19, Jay Davis 5-10 8-11 18, Kyrie Maynor 5-7 1-2 11, Yessmen Green 4-6 3-4 11, Jayden Barksdale 3-6 2-4 8, Donavon McCain 0-5 2-4 2, Luke Jackson 1-5 0-0 2, Hudson Harvey 1-3 0-0 2, Nathan Barnwell 0-4 0-3 0, Carter Landers 0-0 0-0 0. Totals 23-54 25-42 73.
Sylvania 14 9 15 20 10 – 68
Jacksonville 14 10 15 19 15 – 73
3-point goals: Sylvania 6-23 (Higgins 2-6, Atchley 3-9, Tinker 0-3, Hill 0-1, Justus 1-2, White 0-2); Jacksonville 2-9 (Stewart 2-5, Maynor 0-1, Barksdale 0-3). Rebounds: Sylvania 35 (Higgins 11); Jacksonville 46 (McCain 9). Technical fouls: Jacksonville bench (administrative), Sylvania bench (scorebook). Fouled out: Higgins, Atchley, King, Green, Jackson. Total fouls: Sylvania 27, Jacksonville 26. Officials: Bellew, Ashew, Hall.