County seedings
Sacred Heart boys, Anniston girls installed as top seeds in their respective Calhoun County Tournaments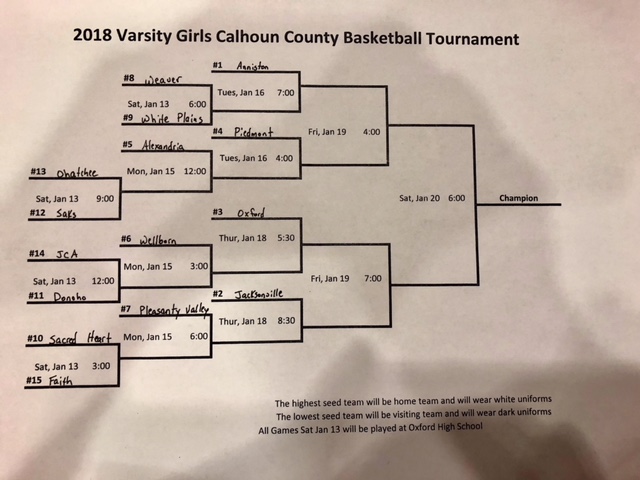 Calhoun County Tment Brackets2017-2018
By Al Muskewitz
East Alabama Sports Today
OXFORD — Even though he has what's been recognized as the best team in the county, Sacred Heart boys basketball coach Ralph Graves never goes into the Calhoun County Tournament seeding meeting expecting to come out as No. 1.
Not that he loses any sleep over it. He's more concerned about being No. 1 at the end of Championship Saturday.
The Cardinals (10-10, 5-0 county) were installed as the No. 1 seed in this year's tournament at the seeding meeting Sunday at Oxford High School. Oxford (9-9, 2-0) was No. 2, with Alexandria (12-4, 4-1), Jacksonville (13-4, 9-1) and Anniston (5-10, 2-1) rounding out the top five.
Anniston, 11-5 overall and 4-0 against county competition, was installed as the No. 1 seed in the girls tournament. Jacksonville's winningest team against in-county competition (12-4, 8-0) was No. 2, with Oxford (9-8, 1-0), Piedmont (10-5, 5-0) and Alexandria (11-5, 4-0) rounding out the top five.
"I really don't come in here expecting to be No. 1," Graves said. "I'm just expecting to leave the tournament No. 1. We've been like the No. 1 team the past two years and we've lost it (the championship)."
Sacred Heart went into the meeting with only a 10-10 record, but is undefeated against county competition, plays a challenging non-area schedule that includes some of the best teams in the southeast and has the best player in the county in Alabama signee Diante Wood. After his team's showing in recent tournaments in Atlanta and Mississippi, Graves has seen signs of his team "turning the corner" as it heads into the stretch run.
The team is starting the jell and the players are "really competing hard for each other" — something, he said, they didn't have at the beginning of the season.
"I think we're turning the corner really well at the right time of the year," Graves said. "You don't want to peak too early and you don't want to peak at the wrong time of the year. I just think right now we're turning the corner and hopefully we can go through these next couple of weeks here we keep turning that corner so we can make another run at winning a (fourth straight) state championship."
Both seeding meetings featured some lively debate. The top of the boys bracket was expected to be tight and the middle of the girls bracket enjoyed some spirited debate.
"I think we had a shot at the 1, just like a few other teams," Jacksonville girls coach Tres Buzan said. "But it doesn't really matter where you end up in the long run — you still have to show up and play your best to move on. It doesn't matter who the 1 is before the tournament. It only matters who the 1 is after it's over."
Oxford earned the No. 2 boys seed over Alexandria by virtue of its win in the TV24 Holiday Showcase at Jacksonville State in November. Anniston was nominated for the Nos. 3 and 4 seeds before settling into the No. 5 slot.
"It was either going to be us or Oxford (for No. 1), we knew that; everybody knew that," Graves said. "You can kind of tell how the year plays out how who's going to be at the top and who's not. Us two were at the top and everybody thought we should be No. 1."
Because of a conflict at Jacksonville State, Saturday's opening day of the tournament will be played at Oxford High School's Sports Arena. All other games will be played at JSU.
Interestingly, two of Saturday's opening-round boys games and two of the girls games are matchups of area rivals. The boys area matchups are JCA vs. Donoho and Ohatchee vs. Wellborn, while the girls area matchups are between Class 1A private schools JCA-Donoho and Sacred Heart-Faith Christian.
Typically, the seeding meeting has taken place a couple weeks before the start of the tournament, but the coaches seem to favor it where the seeds would be more reflective of where the teams would man them at tournament time.
"I think if you did the seedings in like, December, I think it would be, for a better word, fraudulent," Oxford coach Joel Van Meter said, "just because a month later you're playing completely different. I think that's a huge carrot to throw to the principals or whoever decided when the meeting was. That makes our tournament that much better than a lot of other tournaments."
"It's the biggest and best county tournament in the state of Alabama," Oxford athletics director Larry Davidson said.
On the cover: Oxford boys basketball coach Joel Van Meter goes through the final details for the Calhoun County Tournament bracket Sunday after the seeds have been determined.
CALHOUN COUNTY TOURNAMENT SEEDS
(Records: county, overall)
Boys seeds
Sacred Heart 5-0, 10-10
Oxford 2-0, 9-9
Alexandria 4-1, 12-4
Jacksonville 9-1, 13-4
Anniston 2-1, 5-10
Saks 3-3, 8-4
Piedmont 2-2, 11-6
White Plains 3-4, 7-9
Weaver 2-2, 11-5
Ohatchee 1-6, 5-13
Donoho 4-2, 7-6
Faith Christian 3-4, 7-10
Pleasant Valley 2-3, 3-13
JCA 0-4, 4-8
Wellborn 0-6, 0-11
Girls seeds
Anniston 2-0, 13-3
Jacksonville 8-0, 12-4
Oxford 1-0, 9-8
Piedmont 5-0, 10-5
Alexandria 4-0, 11-5
Wellborn 3-3, 8-6
Pleasant Valley 4-3, 10-9
Weaver 4-5 9-8
White Plains 5-5, 7-8
Sacred Heart 3-0, 5-9
Donoho 2-4, 7-6
Saks 0-6, 1-9
Ohatchee 0-8, 5-12
JCA 1-4, 3-9
Faith Christian 1-6, 1-10
BOYS COUNTY TOURNAMENT SCHEDULE
Saturday's Games
(At Oxford H.S.)
No. 13 Pleasant Valley vs. No. 12 Faith Christian, 10:30 a.m.
No. 14 JCA vs. No. 11 Donoho, 1:30 p.m.
No. 10 Ohatchee vs. No. 15 Wellborn, 4:30 p.m.
No. 8 White Plains vs. No. 9 Weaver, 7:30 p.m.
Monday's Games
(at Jacksonville State)
No. 5 Anniston vs. PV-Faith winner, 1:30 p.m.
No. 6 Saks vs. JCA-Donoho winner, 4:30 p.m.
No. 7 Piedmont vs. Ohatchee-Wellborn winner, 7:30 p.m.
Tuesday's Games
(at Jacksonville State)
No. 1 Sacred Heart vs. White Plains-Weaver winner, 8:30 p.m.
No. 4 Jacksonville vs. Anniston/PV-Faith winner, 5:30 p.m.
Thursday's Games
(at Jacksonville State)
No. 3 Alexandria vs. Saks/JCA-Donoho winner, 4 p.m.
No. 2 Oxford vs. Piedmont/Ohatchee-Wellborn winner, 7 p.m.
Friday's Games
(at Jacksonville State)
No. 1 seed semifinals, 5:30 p.m.
No. 2 seed semifinals, 8:30 p.m.
Saturday's Game
(at Jacksonville State)
Championship game, 8 p.m.