Let's talk
Reigning SKCC champs Cole, Wigington prove playing well and having a good time not mutually exclusive, talk about defending, setting records
By Al Muskewitz
East Alabama Sports Today
Who says you can't play high-quality golf in an intensely competitive situation and have a good time at the same time?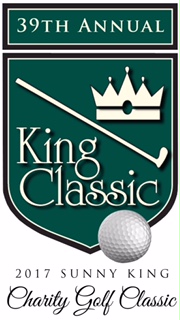 When players win a major on the PGA Tour, they look like they've just gone through the wringer. When it comes to the Sunny King Charity Classic, the biggest tournament on the local golf calendar in size and prestige, it's not all about the grind.
Ty Cole and Gary Wigington enjoyed every bit of it last year when they won the Classic by eight shots with a record 43-under-par. Sure, it's a lot more fun when every putt falls, but even if the weekend didn't go their way, these partners would have enjoyed the experience just the same.
Here's a conversation with last year's champs as they talk about balancing the intensity of competition and the fun, defending their title against an increasingly challenging field and how low the record can go. The 39th annual Classic starts Friday at Silver Lakes (for the championship flight), Cider Ridge Golf Club and Anniston Country Club.
EAST ALABAMA SPORTS TODAY: OK, you guys won last year in record fashion and thoroughly enjoyed the weekend, so it must be a myth that you can't play good and have a good time at the same time?
TY: Twig and I have a good time. We go play golf, we kind of feed off each other and then we go to the parties and we have a good time at the parties. We're not going to go home at 8:30 and go to bed and all that. We're going to enjoy the whole deal.
I'm not showing up to a golf course to play golf and not drink a beer. If I've got to quit drinking when I play golf I'll go fishing or bowling. I've done the grinding and the serious and Twig's done the grinding and the serious and trying to do the mini-tours and trying to make it. We're both in our 40s, we'd rather drink a beer, play golf, have fun and if we play good, we play good and if we don't play good, then we'll drink a beer, we'll enjoy it and come back the next year.
"There's a good chance we may not be feeling too good on that Saturday tee time or that Sunday tee time, but we're not going to go and just throw it away at night. We're going to go enjoy the whole experience of the Sunny King. And they've got it figured out. They've got something for everybody.
TWIG: You definitely can play at a high level and still have a good time. Last year we had a great time playing and we played really good, too. It kind of goes hand-in-hand – if you're playing good, you're typically in a better mood; you can have fun, get more excitement into it.
When you play good it's a whole hell of good time. If you put too much pressure on yourself and not have fun you shoot yourself in foot; there's enough pressure out there without you beating yourself. It's not all 100 percent grind and business because we have a lot of fun, too.
EAST: What's your feeling about being defending champs? If you guys win this year, Gary will become the winningest player in tournament history (seven titles). Of course, his former partner, Randy Reaves, will be chasing a seventh title this year, too, playing with Sandals Resorts pro Rich Gibson.
TWIG: There's always little bit added pressure (as defending champs), but we're looking forward to it. Last year we just played so good. It was just a great year altogether and this year hopefully we'll be somewhere close to the same and see how it goes.
EAST: It seems every year the championship flight gets bigger and there are more teams capable of challenging for the title. Have you noticed that as well?
TWIG: It's so much harder now. Before if you were 30-under you were a shoe-in to win. Now, you've got to be 40-under. The competition is so much more fierce as opposed to 10 years ago. Years ago there were two or three teams that had a legitimate chance and you could count on them winning. Now, it's really seven to 10 teams that have a legitimate chance. There are so many more teams that have a legitimate chance of winning it's so much harder to winning it now.
People see it's such a big tournament and so many people watch it and follow it and it's for a great cause and you get so much notoriety if you do win it attracts more and more people from farther away. This area is so strong with amateur golf anyway; so many people from other areas don't have what we have they like to be a part of it. About any tournament you play unless it's a state-sponsored tournament you have a couple different teams who are probably gonna win it. Outside of those, there's not a tougher field at all.
EAST: So, if there are so many contenders, what's the difference maker to determine the champion?
TY: It's putting and patience. You have to be patient enough not to press every single hole, but you've got to make the putts because everybody is going to be hitting it in there close. I know they give you the mulligans, but you only get so many of those and if you get in there early and start missing putts and you have to use the mulligans and all of a sudden you're on the sixth hole (and you have no mulligans).
We got kind of fortunate last year we played well enough to where I think I still had two mulligans when we finished Cider Ridge or Silver Lakes and we get to 18 at Anniston and we both still have a mulligan and we shoot 13? That's stupid.
EAST: There was a time when 40-under seemed an untouchable number in the Classic under the current scoring system; now, it's been the winning score each of the last two years. Are we at the limit or can it go lower?
TWIG: When (Ott and Dalton Chandler) shot 42 the year before I told you that was gonna stand for a long, long time, then we go out and shoot 43 the very next year. It's hard to put two days together much less three. It's tough to fathom that being beat.
TY: I told you last year I wanted to shoot 50, but I can tell you right now as good as we played last year and shot 43, if somebody gets to 45, 50, my God. He played great (at Silver Lakes) and I helped a little bit. I played great at Cider Ridge and he helped. And then we both lit Anniston up and shot 43. That's 11 off of birdie-par (54-under); I mean, my God. If somebody shooting at 45 or 50, even though I said that last year as kind of a joke, I don't know that we could've shot any better than we did. We played that good. Dalton and Ott would probably tell you the same thing. When they shot 42, they didn't miss a shot.
Everything is set up as a charity event, so for a good player it's Katie-bar-the-door. If you're hitting it good and you're putting good, you're gonna shoot nothing and especially if you have partner who's a good player who's hitting it good and putting good.
Ty Cole and Gary Wigington open the defense of their 2016 Sunny King Charity Classic title Friday at noon at Silver Lakes.