J'ville reaches 4A girls final
UPDATED: Kidd, Poe play pivotal roles in Golden Eagles reaching state finals
By East Alabama Sports Today
BIRMINGHAM — Big players step up in big games and Angel Kidd did that Tuesday night.
Kidd, a senior guard, scored 25 points and Jacksonville made eight straight free throws in the final minute to turn back UMS-Wright 49-38 for a spot in the Class 4A girls state championship game.
The Golden Eagles (29-4) will play top-ranked Deshler (33-2) at 7:15 p.m. Friday in the BJCC. Jacksonville last won a state championship in 2012 when its current crop of seniors was freshmen.
"That was a tough game," Jacksonville coach Ryan Chambless said. "They played extremely hard, they played to win. You never feel like you're giong to lose coaching this team. You always feel like you're somehow going to win a game and that's what we did."
Kidd consistently hit big shots for Jacksonville. She was 3 of 6 from 3-point range and 10 of 14 from the foul line. Every time UMS-Wright mounted a threat, it seemed Kidd was there to turn it back.
Her 3-pointer early in the fourth quarter gave Jacksonville a six-point lead. The Bulldogs got within 41-38 with 1:09 to play, then Kidd hit six straight free throws over the next three possessions and Kyra Williams hit two with two seconds left for the final margin.
"(Kidd) is an outstanding player," UMS-Wright coach Terry Canova said. "They took advantage of it when we had to take Molly (Sokol) out of the game and that really ended up being the difference when you think about it."
Virginia Poe added 12 points for Jacksonville and 6-foot-1 sophomore Sierra Stone held her own in the battle with Bulldogs post Ashley Scott with 13 rebounds and six blocked shots.
Poe and Kidd combined for 18 points in the first half as the Golden Eagles opened a 22-16 lead.
"I'm a senior and I'm a leader on the team," Kidd said. "I feel like if I have a good game everybody else will come along and come together and play."
McKenzie Courtney did all she could to keep the Bulldogs in it, especially in the second half, and finished with 15 points. Emani Mhoon had 12 points and 6-3 junior Scott grabbed 20 rebounds and blocked seven shots.
"We noticed she liked the handle the ball," Chambless said of Scott. "We wanted to try to make her be point guard as much as we could."
Deshler earned its spot in the final with a 63-40 victory over Sipsey Valley. After coming out sluggish early, the Lady Tigers started rebounding better in the second half and pulled away with a 26-9 fourth quarter.
"It's going to be a tough game Friday and you kind of expect that out of a state championship game anyway," Chambless said. "We've got a little work to do before Friday."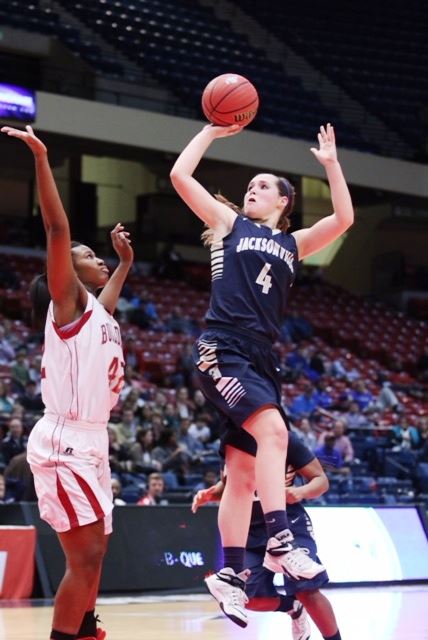 Jacksonville 49, UMS-Wright 38
JACKSONVILLE (29-4) – Virginia Poe 5-16 1-5 12, Angel Kidd 6-17 10-14 25, Destiny Easley 0-1 0-0 0, Sierra Stone 1-1 0-0 2, Dasia Kirksey 2-8 0-0 4, Kyra Williams 2-7 2-3 6, Ataliya Morgan 0-0 0-0 0, Brandi Canady 0-0 0-0 0, Kelsey Ervin 0-0 0-0 0, Quenteeria Mooney 0-1 0-0 0. Totals 16-51 13-22 49.
UMS-WRIGHT (24-10) – Molly Sokol 1-9 0-1 2, McKenzie Courtney 3-14 7-9 15, Emani Mhoon3-13 6-9 12, Lauren Lomax 0-3 0-0 0, Ashley Scott 3-8 1-1 7, Sarah Morris 1-2 0-0 2, Lindsey Baker 0-0 0-0 0. Totals 11-47 14-20 38.
Jacksonville 9 13 10 17 — 49
UMS-Wright 7 9 13 9 — 38
3-point goals: Jacksonville 4-11 (Poe 1-3, Kidd 3-6, Williams 0-1, Mooney 0-1); UMS-Wright 2-8 (Sokol 0-1, Courtney 2-4, Mhoon 0-3). Rebounds: Jacksonville 35 (Stone 13); UMS-Wright 46 (Scott 20). Total fouls: Jacksonville 19, UMS-Wright 18. Fouled out: Courtney. Officials: Musslewhite, Brown, Jones.