On the same page
Updated: November 30, 2014
Jacksonville scoring tandem looking to share the wealth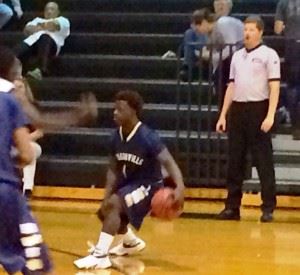 By Al Muskewitz
East Alabama Sports Today
JACKSONVILLE – Cam Horton and Sid Thurmond may have been wearing the same uniform but there were times last season when it seemed like they were on different teams.
It's not that they weren't playing for Jacksonville — they were in the lineup every game — but they had different agendas to reach the same objective. But a tweet and a heart-to-heart conversation two days before the season opener changed all that. Now they're on the same page and the Golden Eagles are benefitting from it.
Horton and Thurmond are still the Golden Eagles' main threats, but both readily admit they weren't always together on the floor.
"Last year we were being selfish to each other; we were trying to see who could score the most points and all that," Thurmond said. "A couple days ago I sat him down, talked to him and said we've got to play together so we can get wins and get everybody else involved.
"I told him if we were going to win we've got to pass the ball to each other, get the ball to the open man, get everybody else easy shots. People are going to guard us, they're trying to stop us two from beating them by ourselves. We can't do it all by ourselves, we've got to get the team involved. Everybody has to do their roles and we'll come out with a win."
They couldn't have been more together in the season opener. Both went for 30 against Alexandria, but the Golden Eagles lost because they were the only threats. The next game Horton had the hot hand and hit 30 again.
They found that balance the next day with four scorers in double figures as the Golden Eagles took down Ashville. In what amounted to the championship game of Lincoln's Thanksgiving tournament, Horton went for 22, Thurmond 18 and they combined for 21 points in the fourth quarter – 8-for-8 from the free throw line – to spark a come-from-behind victory over the host team.
"Last year we really weren't on the same page, there was a lot of selfishness, like 'I want the ball, I want the ball, I want 30,'" Horton said. "If we want to win we just can't try to each score 30. We tried to say if we share the ball we can do something good with this team."
One might think the kind of conversation Thurmond had with Horton would have been prompted by coach Ryan Chambless, who agreed whatever disconnect there was last year probably came from the typical learning curve that goes with understanding a new head coach, but it wasn't. This was something initiated by the players.
Even though they're friends and teammates, Horton said he and Thurmond don't really talk a lot away from the game, so when the senior guard reached out for a sit down the junior knew it was serious.
It didn't take him long to embrace what Thurmond was saying.
"I was a young dumb kid last year," Horton said. "I just wanted to score. I wanted to see my name in the paper. But I know that stuff doesn't matter as long as were winning. You can be in the paper every week but if you're not winning, it's nothing.
"When we play together I see a team that can't be stopped. If we just play together like we do I can see we can make it far."