The family that swims together …
Updated: September 12, 2014
Wins together. Young Tiffner sisters make a big splash on YMCA Blue Dolphins swim team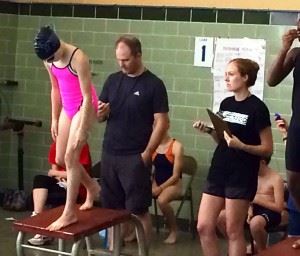 By Al Muskewitz
East Alabama Sports Today
They came to the pool as part of a team – that's what attracted them to the sport in the first place – but they just as easily could be a team unto themselves.
You could call them Team Tiffner – and some people do.
The four Tiffner sisters, ages 11 to 7 – Anna, Molly, Margaret and Susan — have become a formidable bloc for the YMCA Blue Dolphins swim team. Even mom and dad — Katie and Seth — get into the act, most recently serving as timers in Lane 2 at last weekend's Spectacular September Splash at the Anniston Y pool, where the girls had another strong showing.
"We're just a family," Seth said. "Nothing special about us."
Maybe outside the pool, but in the water they are exceptional.
Molly, the 10-year-old, was the overall high-point scorer in last weekend's meet, which included teams from the Anniston Aquatic Center and Roundtree (Ga.) Recreation. Margaret, 8, was high scorer and 7-year-old Susan the runner-up in 8-and-under girls, and Anna, 11, was points runner-up in 11-12 girls.
"All the girls are very versatile and they bring a great work ethic every day," Blue Dolphins assistant coach Johnnie Pearson said. "They are the kind of swimmers that make you look like a great coach because they are highly in tune with their technique and thrive on being challenged.
"I'm looking forward to seeing their progression because they already understand at a young age that you get out of swimming whatever you put in it."
The Tiffners aren't the only family with multiple siblings on the Blue Dolphins' team, but they are the largest.
The Reaves (James, Susanna, Joshua), Skaggs (Maddie, Toby, Annie) and Hilbun (Trace, Cade, Kellie) families all have three brother-sister combinations on the team.
"It's neat to have close-knit families like that," head coach Brandy Sanders said.
There wasn't any particular history that drew the Tiffner girls to the sport, it's just, Katie said, "what worked at the time" the Oxford family was deciding on activities. The older girls were introduced to the team through swim camp and the younger girls followed several months later. Now, they're all in it together, inseparable.
"One of the things we as a family did not want to do is have everyone in every other sport, running every which way," Seth said. "Family unity is a big issue with us and making sure we're not being pulled in every direction.
"Swimming was one (activity) we could all be there all at the same place. They could all compete and it's an individual sport, too, so they could progress at their own rate. That's the biggest thing we saw and what we liked about swimming."
And the girls like the idea of swimming together.
"It's fun to have someone you know really well and are able to talk to," Anna said. "You can watch your sister and learn."
"I like to see them swim and get better," added Molly.
As a foursome, the sisters could make their own relay team if so inclined and on at least one occasion they've done just that.
They swam in a 200-meter freestyle relay at the Crossplex in Birmingham last year. Anna swam "the fastest I ever swam to get a good head start for them" on the leadoff leg, followed by Margaret and Susan, with Molly "trying to get up there" on the anchor leg for a high finish. They didn't win the race, but held their own.
"It was really neat when they allowed them to do that," Seth said. "Susan had to come up to a higher age class to do that, but it was neat to see that."
"I would like to do it a lot again," Margaret said before bounding off for another event.
Sadly, unless it's just for fun, the girls likely won't get the chance in competition until Susan gets to be 15 – and by then Anna will have aged out of youth swimming.
With their versatility they'd make a formidable medley relay team, too, with Molly swimming the backstroke, Margaret the butterfly, Anna the breaststroke and Susan freestyle.
While the girls occasionally hear comments about being their own team, that's not the most frequent thing they're asked when people discover they're sisters. That question would put them in another category – maybe even another sport (basketball) — altogether.
"They ask if we have brothers," Molly said with a smile.
Al Muskewitz is Content Editor/Senior Writer of East Alabama Sports Today. To comment on this story or pitch a story idea, contact him at musky@wrightmediacorp.com and follow him on Twitter @easportstoday1.