Chandler's 67 leads County Senior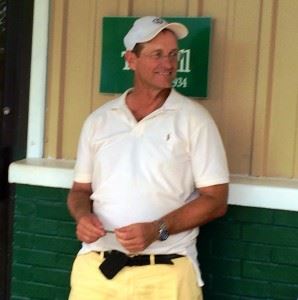 By Al Muskewitz
East Alabama Sports Today
Just like players on the PGA Tour look forward to extending their careers on the Champions Tour, Ott Chandler couldn't wait to become eligible for senior golf.
He still is competitive with the younger set, contending regularly on the Calhoun County Golf Tour – and even having a chance to win Player of the Year next week — but there were parts of his game he knew had trouble keeping pace.
Chandler played in his first competitive senior stroke play event Friday and immediately rose to the top of the leader board. He birdied three of his last seven holes at Anniston Municipal Golf Course to shoot 3-under-par 67 and grab the first-round lead of the Calhoun County Senior Championship.
He holds a two-shot lead over David Sanders as the event moves to Cane Creek Golf Course for the final round Saturday. James Beavers and Allen Mangham were tied for third after posting 72s.
"I enjoy playing golf and I like being competitive," Chandler said. "I'm just as competitive as I was at 35 and I can compete on that other level, but it's really hard.
"I've just got to play absolutely perfect golf to have a chance to win and I don't play perfect golf, so therefore me winning is very seldom."
Chandler, who turned 50 in June to become eligible for Senior play, opened Friday's round with 11 consecutive pars before going on his closing run. He clipped shots off par with birdies on the par-3 16th and the par-5 18th and third.
"I hit the ball really well and I just didn't putt well," he said.
Sanders also made a strong closing rule to climb into contention.
The 60-year-old program manager for BAE System guessed he hadn't played at The Hill in nearly 10 years, but the way he played Friday it looked like he played there every week. Even 54-year-old playing partner Allen Mangham called him "Mister One-Putt" for the way he was able to get it up and down.
Sanders was 2-over through his first 10 holes, then birdied four of his last eight and nearly made an ace on the par-3 fourth – the hole he double-bogeyed the first time through as the par-4 13th.
"It played exactly the same as the last time I played it; I remembered it like it was a week ago instead of 10 years ago," he said. "Never changes up here. Great fun."
Beavers, 63, moved up the leader board by taking advantage of the par-5s – he birdied all three of them. He also birdied 7 and 13. But the three-tiered par-3 2/11 exacted some revenge, costing him three shots over the two trips.
"I'm happy with it," he said. "Everybody can say they left something out there. If I can go out tomorrow and shoot a decent score I'll be OK."
Al Muskewitz is Content Editor/Senior Writer of East Alabama Sports Today. He can be reached at musky@wrightmediacorp.com and followed on Twitter @easportstoday.com
CALHOUN COUNTY SENIOR CHAMPIONSHIP
First-round scores
At Anniston Municipal GC
Championship flight
Ott Chandler 34-33—67
David Sanders 33-36—69
Allen Mangham 37-35—72
James Beavers 36-36—72
David Martin 35-38—73
Ted Towns 34-39—73
Steve Davis 35-38—73
Norris Ray 39-39—78
Rick Dickson 39-37—76
Chip Howell 37-41—78
Alan Heedt 38-42—80
Tony Pritchett 40-40—80
First flight
Bill Fincher 34-39—73
John McKenzie 38-36—74
Doug Bragg 37-38—75
Bill Curry 37-38—75
Danny Waddell 40-37—77
Amos Kirkpatrick 41-37—78
Dave Dillman 38-40—78
Terry Brooks 39-40—79
Second flight
Ted Shultz 42-38—80
Mike Fincher 42-39—81
Trapp Wheeler 43-38—81
Bob Mosakowski 40-42—82
David Gilley 36-47—83
Al Muskewitz 40-44—84
Mike Hammonds 47-39—86
Bill Turner 42-46—88
Wayne Welch 45-45—90
x-Players declare for Championship Flight prior to play; others flighted by score
CALHOUN COUNTY SENIOR CHAMPIONSHIP
Saturday's tee assignments
9 a.m. Shotgun
Hole 1 – Ott Chandler, David Sanders, Allen Mangham
Hole 2 – David Martin, Ted Towns, James Beavers
Hole 3 – Norris Ray, Rick Dickson, Steve Davis
Hole 4 – Alan Heedt, Tony Prichett, Chip Howell
Hole 5 – Bill Fincher, John McKenzie, Doug Bragg, Bill Curry
Hole 6 – Terry Brooks, Amos Kirkpatrick, Dave Dillman, Danny Waddell
Hole 7 – Ted Shultz, Mike Fincher, Trapp Wheeler
Hole 8 – Bob Mosakowski, David Gilley, Al Muskewitz
Hole 9 – Mike Hammonds, Bill Turner, Wayne Welch