Sanders wins County Senior in playoff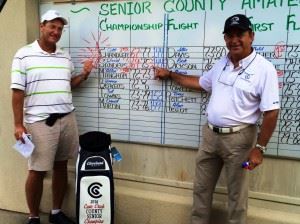 FINAL UPDATE WITH SCORES
Anniston CC player rallies from 5 back with 8 holes to play, wins on fifth extra hole
By Al Muskewitz
East Alabama Sports Today
David Sanders rallied from five shots back with eight holes to play, birdied 18 to force extra holes and won the Calhoun County Senior Championship in a long playoff Saturday at Cane Creek Golf Course.
The 60-year-old program manager for BAE Systems defeated first-round leader Ott Chandler on the fifth extra hole with a two-putt par. It was the fourth playoff in the County Senior since 1999, and by far the longest.
"I'm thrilled to win this," Sanders said. "It's kind of the first two-day Senior event and that's really the reason I signed up. … I was excited about playing because I felt like it was a big tournament and everybody was putting a lot of effort into setting it up.
"But there's nothing for me to talk about. Ott sort of let down for me and I appreciate him giving me a shot to get back in it."
Neither of the playoff adversaries played particularly well compared to the under-par rounds they shot at Anniston Municipal the day before. Sanders shot 75 and Chandler 77 to finish the 36 holes of regulation in 2-over-par 144. Allen Mangham finished third at 145, making birdie on each of his last two holes to miss the playoff by a shot.
Chandler, 50, extended his two-shot overnight lead to four at the turn and added to it when Sanders bogeyed No. 10. But the lead was down to one shot through 14 after Chandler bogeyed the next four holes in a row.
Still, he held a two-shot lead going into 18, but walked off the green needing to play more golf when he bogeyed to Sanders' birdie with an 8-iron approach to a foot.
"I just didn't play well enough, didn't drive the ball good enough," Chandler said. "I can't remember the last time I was 5-over on nine holes (as he was on the back). It was disappointing because I'd actually been playing well."
Both players parred the first four holes of the playoff. Chandler had to make a four-footer on the first hole to keep it going, missed a birdie on 2 that might have ended it and then had a birdie putt bounce out of the hole on 3. Sanders made a nice par save on 4 to extend what is believed to be the longest playoff in the history of Calhoun County majors.
On the deciding par-5 fifth, Chandler hit a bad drive, hit his third shot into the face of a drying bunker, then two-putted from eight feet after finding the green. Sanders hit a good drive and 3-wood just short of the green, chipped on to within six feet and two-putted for his winning par.
The first time they played the hole Sanders birdied and Chandler bogeyed.
"When he was in the bunker I was thinking I've still got to make it because that's Ott," Sanders said. "Ott's the best there is. He can manage that shot. He pulled it a little bit, but it was perfect distance. I was fully expecting I'd need to make my putt."
While Sanders and Chandler were battling it out on the back nine, Mangham was quietly going about his business as the third player in the group and actually put himself in contention. He was six shots behind Chandler at the turn and four back after a bogey at 16 from just off the green, but fought back to narrow the gap with his two closing birdies.
"I'm proud of the way I played, but it was more them letting me back in than my play," Mangham said. "I didn't know where I stood. I was just playing the course and let the chips fall. I couldn't worry about them. I was just worried about playing the best I could play, shooting the best score I could shoot.
"I thought I was playing for third, but I did not realize I was that close to them. I was happy to know I could be in the final group and after three-putting the first hole know that I could come back and compete."
Chip Howell shot the low round of the day. His 2-under-par 70 included seven birdies between a double bogey on his first hole and a bogey on his last. He made four in five holes coming around the turn (7, 8, 10, 11) and three in a row coming back to the front (17, 18, 1).
Bill Fincher won the first flight and Mike Fincher won the second flight.
CALHOUN COUNTY SENIOR CHAMPIONSHIP
Final scores-x
Championship flight
y-David Sanders 69-75—144
Ott Chandler 67-77—144
Allen Mangham 72-73—145
Chip Howell 78-70—148
David Martin 73-76—149
Ted Towns 73-79—152
Rick Dickson 76-76—152
Steve Davis 73-80—153
James Beavers 72-83—155
Tony Pritchett 80-79—159
Norris Ray 78-82—160
Alan Heedt 80-91—171
First flight
Bill Fincher 73-77—150
Doug Bragg 75-77—152
Bill Curry 75-80—155
Dave Dillman 78-78—156
John McKenzie 74-84—158
Danny Waddell 77-81—158
Terry Brooks 79-82—161
Amos Kirkpatrick 78-88—166
Second flight
Mike Fincher 81-79—160
Bob Mosakowski 82-79—161
Mike Hammonds 86-78—164
Trapp Wheeler 81-87—168
Bill Turner 88-80—168
Al Muskewitz 84-85—169
Ted Shultz 80-90—170
Wayne Welch 90-94—184
David Gilley 83-DNS
x-Players declare for Championship Flight prior to play; others flighted by score
First round at Anniston Municipal GC, final round at Cane Creek GC

LEADERS SCORECARDS
Cane Creek 443 453 454 36 443 453 445 36 72
Sanders 453 544 454 38 553 353 454 37 75
Chandler 343 463 544 36 454 563 446 41 77
Mangham 533 454 454 37 444 453 534 36 73
PLAYOFF 443 45
Sanders 443 45
Chandler 443 46