Cheptoek three-peats; Kandie top woman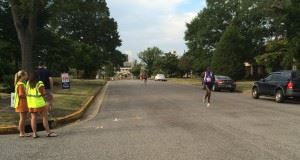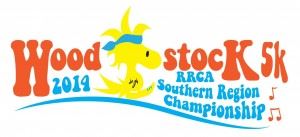 UPDATE Western Kentucky runners sweep Woodstock 5K; no record set this time
By Al Muskewitz
East Alabama Sports Today
There is sure to be a lot of happy race talk in one certain car heading back to Kentucky today. The two winners will have a lot in common.
Patrick Cheptoek and Marion Kandie registered for the Woodstock 5K together. They drove down to the race together Friday night.
And they won together.
The former Western Kentucky runners led a Hilltoppers sweep of the 2014 Woodstock 5K Saturday.
Cheptoek won his third straight Woodstock, coming home in 14:18; it wasn't a record this time, but still nearly a minute ahead of his closest challenger. Kandie won the women's race in 17:52, nearly a minute and a half ahead of her closest pursuer.
"It's going to be exciting," Kandie said of the drive home. "The race was perfect, no pressure, the course was really good, the weather was perfect.
"I knew he was in good shape, so I was telling him (on the trip down) he should break his course record; that it's going to be neat when you break it down."
Cheptoek said "everything was perfect" from a race standpoint to produce his third straight course record – and another $500 bonus. The only thing that impacted him was a sore ankle he hurt in training last week after winning the Chicago Half-Marathon.
"I really wanted the course record, that is what mattered to me most," he said. "I knew I could come and win easily."
He might not have gotten the course record this time, but he may have something more valuable — the deed to the property. Over the last three years, he has won races with times of 14:13, 14:05 and now 14:18. The last runner to win back-to-back prior to Cheptoek was Scott Strand in 2006-07.
Strand and Cheptoek are the only runners to win the men's race three times since 2002.
"He sort of owns this course now," former Woodstock race director and Anniston Runners Club president Brooke Nelson said.
This year race officials decided for budgetary concerns to eliminate the perks for the elite runners like Cheptoek who typically lead the field across the finish. But the 28-year-old Ugandan wasn't missing this for anything and entered on his own, signing up – with Kandie — only a few hours before the pre-registration deadline.
"Like I told you last year, this is one of the races that has added a new profile to my running career," he said. "This race means a lot to me, so no matter the sponsorship or not, I had to come and run this race. … This race is a big deal to me."
Cheptoek led it wire-to-wire. He broke out in an early pack with Nathan Haskins of Atlanta, Josh Whitehead of Madison and 15-year-old Lemuel Heard of Anniston, but by the time the group turned onto Christine Avenue, Choeptoek had his lead well established.
Haskins finished second in 15:12 and Whitehead was third at 15:35. Heard slipped back after his fast start and finished 55th.
"Initially I saw there were not a lot of people who could help me to pace," Cheptoek said. "I knew I had to go all the way out by myself if I was to maybe set a course record. I couldn't rely on anybody else … so I had to try that.
"I think the first half-mile is when I could hear someone breathe behind me, but after that I couldn't hear any footsteps or nothing behind me. I didn't look back to see who was coming. As long as I don't hear steps or any hard breathing I know I'm alone."
Haskins, a Woodstock rookie from suburban Atlanta, said after the first right turn Cheptoek had pulled out in front and after the first mile he knew he was running for second place.
The 54-second spread between first and second was the race's largest margin of victory since Scott Strand beat Joseph Waweru to the line by 1 minute, 11 seconds in 2006.
"I've raced him before and I knew he was a good runner," the former Kennesaw State runner said. "How you have to run this course is you have to go out fast, so my first mile and his were way faster than the pace he ended up running; mine was probably my fastest mile in a 5K.
"(Going) 14:18 on this course is amazing; to imagine him running (14:05) on this course is kind of mind-blowing. He's in a different world. I was always able to keep him within visual sight, but I was starting to race for second because by the time we passed Mile 1 I was already in second place. I was just running off of feel."
Kandie also was a wire-to-wire winner — in just her second Woodstock start. The 28-year-old Kenyan finished fifth two years ago and missed last year's race because of a hip injury.
Ann Thomas (19:11) and Erica Hopper (19:55), two runners from Birmingham, finished second and third, respectively.
"I didn't know what to expect because I didn't run last year, but I thought it was going to be competitive," Kandie said. "After one mile when I looked back there was nobody. I just took it easy and just ran."
Gadsden's Christopher Clements was the fastest East Alabama man, finishing ninth at 17:16. Jacksonville's Benjamin Pryor was the fastest Calhoun County runner, finishing 16th at 18:17.
Rebecca Hearn, a 14-year-old from Anniston, was the fastest local woman, finishing fifth at 20:38.
MEN'S TOP 10
Patrick Cheptoek, Bowling Green, Ky. 14:18
Nathan Haskins, Atlanta 15:12
Josh Whitehead, Madison 15:35
Ben Bryant, Opelika 16:08
Dylan Ogburn, Waverly 16:36
Kane Barrett, Opelika 16:48
Zachary Sollie, Opelika 16:55
Nate Pudner, Auburn 17:01
Christopher Clements, Gadsden 17:16
Chris Edmondson, Southside 17:20
WOMEN'S TOP 10
Marion Kandie, Bowling Green, Ky. 17:52
Ann Thomas, Birmingham 19:11
Erica Hopper, Birmingham 19:55
Emma Garner, Opelika 20:22
Rebecca Hearn, Anniston 20:38
Lori Goldweber, Birmingham 20:41
Natalia Ferguson, Birmingham 20:46
Grace Clements, Bremen, Ga. 20:47
Liz Holcomb, Madison 20:59
Alison Hoover, Birmingham 21:09
Full results can be found on the Anniston Runners Club website (www.annistonrunners.com)