Ross, Thurmond returning to JSU as 'the enemy'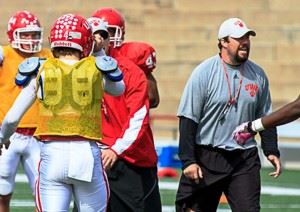 Editor's Note: Jacksonville State held its preseason football media day Thursday. East Alabama Sports Today was denied access to the event by the athletics department as a web-only publication.
By Al Muskewitz
East Alabama Sports Today
Adam Ross and Max Thurmond both admit it will feel "a little weird" walking into Jacksonville State's stadium the third weekend in September and standing on the sideline under the old press box.
For more than 15 years the two had either played or coached in the program that calls Burgess-Snow Field its home turf, basking in the cheers and sharing in the sorrows of the Jacksonville State faithful.
But now, for the first time in their competitive lives, they will be walking into the stadium as one of the enemy, suddenly the target of the slings and barbs that used to fly over their heads each home Saturday.
They're assistant coaches at West Alabama now, and they'll be on the bus when the Tigers come cross state to provide the opposition in the Gamecocks' only home game the first month of the season. Ross is their offensive line coach and Thurmond their special teams coordinator and linebackers coach.
"It'll be different being in the other locker room, on the other side, but I'll see a lot of people with whom I've formed a lot of relationships," Thurmond said. "It will be weird being there, but it'll be a great time. I'm sure they'll have a good environment.
"As long as they keep us on that side and keep them on the student side we'll be all right."
Actually, Ross' career in Jacksonville began in the dressing room the Tigers will occupy for the game. As an unheralded walk-on, he was relegated with the others of his kind to the former band room in the far corner of the stadium. But from those humble beginnings, he went on to earn a scholarship and start three years at center, twice being named all-conference.
When he joined Jack Crowe's staff after playing, he coached the offensive line, tight ends, special teams and was the Gamecocks' recruiting coordinator. Thurmond was a defensive back for JSU and later coached outside linebackers, the secondary, wide receivers and special teams.
Both were released when Crowe resigned after the 2012 season and new coach Bill Clark kept only one full-time assistant from the previous staff.
As if the day won't be emotional enough, the Gamecocks will recognize their 2003 and 2004 Ohio Valley Conference championship teams that Ross and Thurmond helped coach.
"I thought about me being in that other locker room and I started laughing," Ross said. "That's where I first started. I was F-17 in 1997, locker 17 in the visitor's locker room. I might have to ask Coach (Brett) Gilliland for me to dress there; that might be my only request.
"Three of us made it out of that – Adam Pierce, Stephen Holmes and me – but there was a bunch of us in there. I'm excited about the opportunity for our players to go back and to a place that meant a lot to me and taught me lot."
Both teams will have two games under their belts when they collide Sept. 20. The Tigers open practice for the season next week. Jax State, meanwhile, held its preseason rouser Thursday and opens practice Friday evening.
Ross and Thurmond are excited for their players to experience the atmosphere of playing a higher-level program just as they did as players and coaches when the Gamecocks went to places like Kansas, Florida State and Ole Miss.
The one thing neither wants is the day to become something about them.
"All that stuff does is set you up to fail," Thurmond said. "I can't go in there and say 'I want to beat Jax State any more than I want to beat everybody else in the Gulf South (Conference). When you set that approach, you set them all up to failure.
"It's a total difference between playing with emotion and playing with enthusiasm. When you play on emotion you're going to have a roller coaster ride and you don't want to be up and down; you want to play steady. … I've been on both sides of it. You can't let emotions get the best of you. When you play any game don't let any moment be bigger than yourself."
And in some of those games, the smaller team found a way to pull it out. The Gamecocks almost beat Florida State and they did get Ole Miss. On the other side of it, Division II North Alabama came into JSU and beat the Gamecocks, just like the Tigers are going to try to do this year.
That was a "dark moment" for the program, Ross recalled, but it actually proved a wake-up call for the Gamecocks; they went on to win their first OVC crown. It certainly was a coup for the Lions. Still, the former JSU coaches say they won't bring up any of that to their charges playing up in this game.
"All that stuff is relative," Thurmond said. "None of these players were around for that. Most of these kids were playing freeze-tag when that happened. The only football they knew was on the PlayStation."
They're not that far removed from the program so there are several players still on the JSU roster with whom they are familiar and close. To this day Ross says he still doesn't know how he was able to sign Max Holcombe, the Gamecocks' post-grad All-American center.
"I was sitting in a hotel room in Tuscaloosa and their game was on (TV) and he was knocking people on the ground; I want this player on our team," Ross said. "He wasn't highly recruited and we got him and he still is a great player for them – and for me. There are several kids.
"That's why I coach … because I care about the kids and I want to make an impact on people. We had a great group my last year — their offensive line — and they've carried on that tradition. I felt like that's something we tried to pride ourselves on when I was there. We had so many All-Americans."
The group they left behind kept moving forward. They provided the core of the group that carried the Gamecocks through their deepest run in the playoffs since moving to Division I. Both coaches watched it intently and were genuinely happy for the players who made it happen.
"I wish nothing but the best for all the kids I know and recruited and those I don't know because it's my alma mater," Thurmond said. "There are no hard feelings. It's part of the business. It's the nature of the beast."
Al Muskewitz is a Content Editor/Senior Writer of East Alabama Sports Today. He can be reached at musky@wrightmediacorp.com and followed on Twitter @easportstoday1.