Tweaked putter key to crown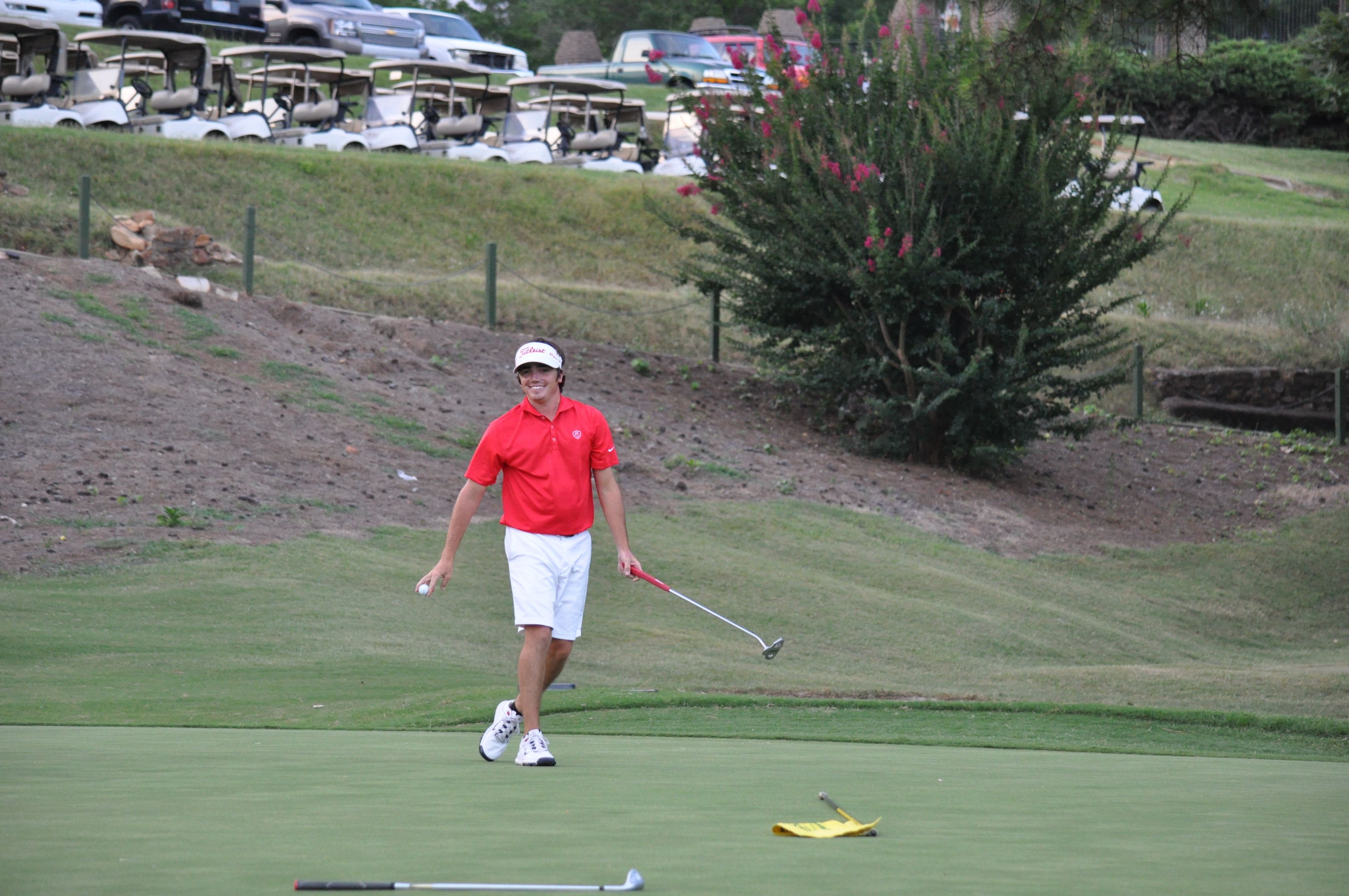 By Al Muskewitz
East Alabama Sports Today
There was a little more than a feeling that went into that feeling Lance Evans and Ryan Howard were going to play well in the 36th annual Sunny King Charity Classic.
There was this little matter of a putter adjustment.
The Oxford partners won their first Classic title Sunday when Howard drained a curling 25-foot birdie putt to beat Gary Wigington and Freeman Fite on the first hole of a sudden death playoff at Anniston Country Club.
Howard, 28, had been playing with the same Ping Craze-E putter for the 10-12 years he's playing the game seriously, but over time the relationship between the two had changed. In a fit of frustration at the County Two-Man in March he whacked a ball off the green with a baseball swing that knocked the blade ever-so-slightly out of alignment.
He liked the original putter so much he bought a belly-style clone of it and had it lying around. Figuring what was there to lose, he had ACC pro Jake Spott cut the shaft to a conventional length. It set up square and the difference to Howard's putting, he said, was "night and day."
"Up to about a year ago I didn't hit the ball very far," Howard said. "I've started gaining a lot of distance and I wasn't make any putts. I told Jake this (belly putter) sets flat, it's just 16 inches too long. Can we cut this off, put a new grip on and it be the same length as the other, and he said, 'Absolutely.'
"So we made it the same length as my putter that was a little closed, let the grip dry and it's a night and day difference. I played 18 holes with it, was 3- or 4-under par and made a lot of putts; that's when I texted Lance.
"Granted, it probably did change a little as far as the face angle, but … a lot of it just has to be mental. I finally got back to the point where I stood over every putt and I knew in my mind I had a chance of making it versus that old putter – same kind, closed a little – I thought, 'six feet, there's no way I'm making this putt.'"
He made nine for birdie in Sunday's championship round – eight during the team's 10-under-par 60 in regulation (1, 3, 6, 7, 10, 11, 15, 17) and, of course, the clincher in the playoff. Many were with his partner already inside three feet, so he had a free run at it, but he still had to get it in the hole.
"The biggest difference was when it set up square he got his confidence back," Evans said. "There was no difference in the stroke or anything; it was the mindset it was square and he knew it. That made all the difference in the world to him.
"Everything he stood over (we) felt he was going to make. … If we had a putt inside 15 feel you would look down and think, 'Good gosh, he's not going to miss that.' It's a pretty cool feeling."
Three teams were tied for the lead at 33-under starting the back nine. Fite put his team in the lead with a long birdie putt on the par-3 12th. They lost the lead on a two-shot swing at 15. Burgess-Hathorn fell behind by not making birdies on 14 and 15.
Wigington and Fite, who set the tournament scramble record on Friday, birdied their last two holes of regulation to force the playoff. Wigington nearly holed his sandie from the greenside bunker for eagle on 17 and Fite sank a five-foot putt on 18 to draw them even.
Chandler-Bennett tied the modern-era best-ball tournament record Sunday with a 12-under 58 that at one stretch included seven birdies in a row. Chandler, who already owns a share of the record with Gary Wilborn, twice missed a 15-foot eagle putt on 17.
"The last two days (Bennett) drove that ball as good as anybody who breathes air," Chandler said. "If he drove it Friday like he did the last two days we would've won by two or three shots."
Al Muskewitz is Content Editor/Senior Writer of East Alabama Sports Today. He can be reached at musky@wrightmediacorp.com