Geeting, Wright return to scene of record round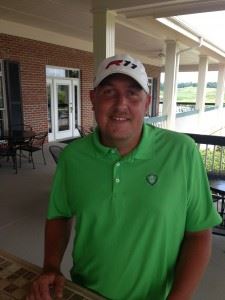 By Al Muskewitz
East Alabama Sports Today
Adrian Geeting and Kenny Wright have played enough golf not to expect the same kind of start they had in last year's Sunny King Charity Classic.
But if they could capture that lightning in a bottle again, they'd sure find it fun.
For the first four magical hours of last year's Classic, Geeting and Wright could do no wrong. Playing a Silver Lakes course with the reputation of yielding hard pars and easy bogeys, the first-time Classic partners played birdie golf all day long and ultimately set the tournament's modern-era scramble record with an 18-under-par 54 that gave them the first-round lead.
It's a round they are reminded of "all the time" and one that will give them confidence when they return to the site shortly after noon on Friday to open the 36th annual Classic.
"That was probably the best I've ever played where it all came together," Geeting said. "It's the best I've ever putted, I'm sure. We didn't have many gimmes. We were just making putts."
"It was a lot of fun," Wright said.
The partners went into the round thinking they had to shoot 14- or 15-under to stay afloat with the strong field that was playing behind them. And Wright "felt strong" they could do it because there were going to be a lot of opportunities for birdie with the way they play and the course set up.
They hit their target with four holes to play – and kept going. Wright chipped in for eagle on Mindbreaker 3 and Geeting eagled Heartbreaker 7 with a 50-foot putt. The only holes they didn't birdie or eagle were pars on Heartbreaker 4 and Mindbreaker 6.
It materialized, Wright said, because the partners complement each other so well. Geeting is the consistent, even-keeled one and that plays well for the times the long-hitting Wright gets "more amped up" or upset. Both are former junior champions.
"We knew we were going to make a lot of birdies, we just didn't have any idea, obviously, we were going to shoot 18-under," Wright said. "I was hitting the ball pretty good and 'Goob' was hitting it great. And he is such a good putter. If I missed, he was automatic."
It can now be revealed they had a little help that in no way infringed on the Rules of Golf. Playing in the first group of the day, the dew and sand were still evident on the greens, so the first putt they attempted on every hole left a little track for the other partner to follow.
"Kenny would barely miss putts and I'd just go right in that line and I'd make them right after," Geeting said. "It was just a slight adjustment. It was perfect."
"It definitely left a great trail," Wright said. "But you know as well as I do, you can have a line all day and if you don't go straight back-straight through it doesn't matter. Goob made everything; if I missed it, he made it. He did that every hole but one, and that was one we should've birdied, but it was the first hole we didn't hit it up there really close."
The fast start gave them a two-shot lead over Garrett Burgess and Cypress Hathorn, whose 16-under matched the standing record, but they couldn't keep it going. They backed up their record round with a 7-under 65 in the scamble at Cider Ridge and closed with a 3-under 67 in the best-ball format at Anniston Country Club.
They wound up tied for eighth with Cory Etter and Marcus Harrell. Burgess and Hathorn won it by five strokes.
"We came in full throttle on that day and we might have peaked," Geeting said.
Wright lamented his partner's partner just couldn't get on track at the Oxford course.
"The second day he didn't have a lot of help from me," Wright said. "On the first hole we had 70 yards to the green and I hit a 60-degree wedge 40 yards over the green; it was that kind of day. The third day we just couldn't put it together.
"But it sure was nice going down to the club that Friday night leading it for the first time."
It would be understandable if the partners stepped onto the first tee Friday with a good feeling. Neither have an expectation of repeating last year's score, but that won't keep them from trying to hole out everything they stand over.
"You definitely can't expect that," Wright said, "but it's like anything — when you do something that's above and beyond what you expect and accomplish that, you know you have the ability to do it again.
"The probability is not that high, but you know you can do it, so why not? You did it once, you can do it again, but you don't expect to go out and do it.
"In other words, if we don't shoot 18, I'm not going to be mad."
Al Muskewitz is Content Editor/Senior Writer of East Alabama Sports Today. He can be reached at musky@wrightmediacorp.com. Follow him on Facebook (East Alabama Sports Today) and twitter (easportstoday1).