39 to battle in championship flight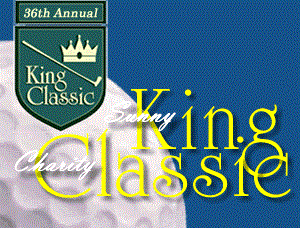 By Al Muskewitz
East Alabama Sports Today
A horse race of 39 teams will battle it out for championship flight honors when the 36th annual Sunny King Charity Classic gets underway Friday.
Flight breakdowns have been determined and soon will be posted on the tournament website (www.kingclassic.com).
A total of 187 teams will be competing in eight flights, including a newly established Scion FRS flight for the 20 teams of 20-handicaps or above. The championship flight, named Ford Mustang in honor of the 50th anniversary of the classic muscle car, has teams in the handicap range of 0 to 5.
Tournament officials declined to disclose the handicap ranges of the other flights.
To ensure competitive balance, all the other flights have between 19 and 23 teams. Teams are placed in their flights based on the lowest handicap within the two-man team.
"It just worked out best with the way the handicaps broke down," tee time chairman Keith Howell said of the splits. "I like it better this year than in prior years … I seem to have folks grouped where they ought to be.
"We had 44 in the championship flight last year before the (A&B) split and I tried to keep about 20 to 23 teams in each flight. You don't want to have a flight with 30 folks in it; that hurts your chance to be competitive."
There were 38 teams in the Championship flight in 2012, 33 in 2011, 23 in 2010, 30 in 2009 and 33 in 2008. The flight was split into A and B divisions each year.
Once again, tournament observers are calling this the strongest field in tournament history. Within the championship flight this year, there are 11 teams of 0 handicap – five where both players are 0s – five teams at 1, three at 2, five at 3, nine at 4 and six at 5.
"It's just a matter of who's going to do it combined for three days," said Pine Hill's Cory Etter, who with two-time past champion Marcus Harrell is considered one of this year's team favorites. "It's a knock-out, drag-out shootout for three days. You've got so many good teams, you've got to play your best for three days or you're not going to win."
Here is a team breakdown of the flights –
Ford Mustang 39
Acura MDX 23
Honda Accord 23
Toyota Avalon 23
Ford F-150 20
Honda Civic 19
Toyota Tundra 20
Scion FRS 20
Al Muskewitz is Content Editor/Senior Writer of East Alabama Sports Today. He can be reached at musky@wrightmediacorp.com and followed on twitter at @easportstoday1.