Playoff roundup
Updated: November 18, 2023
Cornejo makes Cherokee County history as Warriors beat Haleyville, advance to quarterfinals. Oxford, Handley suffer second-round losses.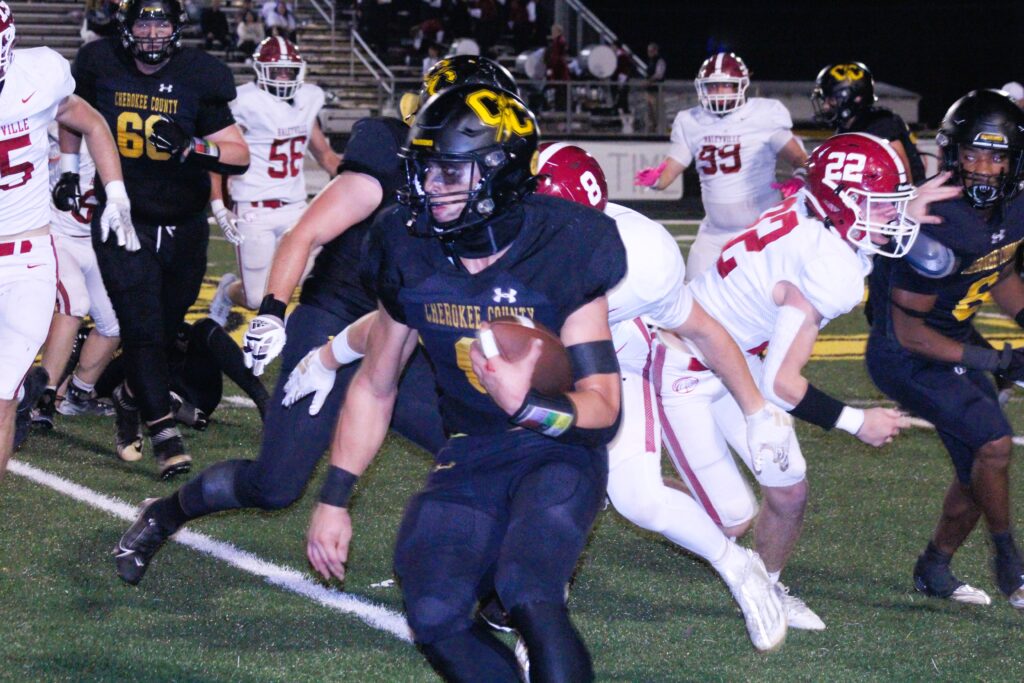 Football playoffs
FRIDAY, Nov. 17
CLASS 6A
A.H. Parker 21, Oxford 14, FINAL
CLASS 4A
Cherokee County 49, Haleyville 14, FINAL
Jacksonville 28, Bibb County 21, FINAL
Booker T. Washington 22, Handley 9, FINAL
CLASS 3A
St. James 41, Randolph County 6, FINAL
Lauderdale County 35, Piedmont 30, FINAL
CLASS 1A
Wadley 81, South Lamar 27, FINAL
Quarterfinal pairings
CLASS 4A
Cherokee County at West Morgan
Catholic-Montgomery at Jacksonville
CLASS 1A
Wadley at Pickens County
By Shannon Fagan
WEIS Sports Director
CENTRE – Cherokee County High School senior running back Jacob Cornejo thought it was just a normal drive in the second quarter. Little did he realize that was the drive in which he made Warrior rushing history, eclipsing the 5,000-yard barrier set by Michael Johnson.
Cornejo had just scored his third touchdown of the game with 7:42 remaining in the second quarter of the second round of the Class 4A state football playoffs against Haleyville. He was coming toward the Warrior sideline when he was met by head coach Jacob Kelley.
"I was like 'Yeah, we just scored' and Coach Kelley was like 'Look,'" Cornejo said. "I looked up and it was on the screen (of the scoreboard). It's a great honor. I'm glad to share this with my teammates. I'm definitely glad to be part of this team."
Cornejo finished the half with 148 yards and three touchdowns on 18 carries. He finished the game with 176 yards on 22 totes with four scores in the Warriors' 49-14 rout of the Lions.
Cornejo's record-breaking run came on a 21-yard scamper down to the 1-yard line. He scored a play later with 7:42 remaining in the first half.
What's all the more remarkable about Cornejo's run to Warrior history is he eclipsed the 5,000-yard barrier in just two seasons at Cherokee County. He collected 2,580 yards and 33 touchdowns for the Warriors last season. He stands at 2,455 yards rushing this season
for a two-year total of 5,035.
"It wasn't a matter of if, but when," Kelley said. "We had a pretty good feeling early on he was going to be able to get it. He just ran extremely hard.
"Jacob is Jacob. I just hope everybody who watches him knows how special of a player he is. To be here in his second year, to break the school rushing record for a career in the time he's been here, it's a testament to what kind of player he is and what kind of team he has surrounding
him. He'll be the first to tell you the guys he has around him are the reason why he is what he is. He sells himself short, but he really is a tremendously great football player."
Cornejo scored on runs of 11 and five yards to give the Warriors (11-1) a 14-0 advantage at the end of the first quarter. His record-breaking rushing drive, of which he accumulated 39 yards in four plays that resulted in his 1-yard score, gave the Warriors a 21-0 edge.
The Warrior defense got in on the scoring act as well less than a minute later. Senior defensive back Haden Wheeler picked off a Cooper McNutt pass and returned it 33 yards for a touchdown, giving the Warriors a 28-0 advantage.
Wheeler said he didn't think his score would count when he saw a flag on the play.
"There was one kid in front of me," he said. "I made a move on him, and then there was nobody. I was running, and then they threw a flag.
"I was like 'They called a late hit on the quarterback. It's coming back.' I didn't celebrate, but then it ended up counting. The guys just blocked well after I picked it."
Wheeler's pick-6 was the Warriors' second interception of the game. Jace Turner had the first pick. Turner also had a fumble recovery in the second quarter that led to Cornejo's third touchdown.
It was the second straight week Turner had an interception and a fumble recovery.
Turner said the Warrior coaches got on the defensive unit pretty hard this week after last week's 56-28 victory over Central of Florence.
"We knew last week we didn't perform. We gave up 28 points and allowed the most yards we allowed all year," Turner said. "Tonight we had to come in with a new attitude and be the team we want to be. I felt like we had a good defensive game. Everyone on our defense wants to be the best defense in 4A. I feel like our drive and our coaches' drive really help us out."
Haleyville (8-4) gained some momentum heading into halftime. McNutt led a 12-play, 77-yard drive, resulting in his 5-yard scramble score at the halftime buzzer.
The extra point made it a 28-7 game.
That little momentum the Lions had went away on the second-half kickoff. The Warriors recovered an errant onside kick at their own 40-yard line.
One play later, Carson Chesnut – filling in for an injured Carson Tittle at quarterback – ran in for a score. Ben Frampton's extra point made it a 35-7 game.
Tittle took a helmet to his left knee with 10:55 remaining in the second quarter. He was seen on the Warrior sideline with an ice pack on the bench.
"Initial reports look OK," Kelley said. "Our trainer thought everything was intact. We'll get him in to get an MRI. The good thing is he went out there and held later on a PAT after he'd gotten hurt.
"He's gotten some movement there. It's just a little painful."
Cornejo scored his final touchdown of the game on a 2-yard run with 8:16 remaining in the third quarter to put the Warriors up 42-7.
Tae Diamond delivered a 6-yard score with less than eight minutes to go in the fourth.
McNutt tossed a 13-yard touchdown pass to Eli Cagle with 2:19 remaining for the final. McNutt completed 20 of 36 passes for 186 yards and a touchdown. Brett Coleman was his top receiver with eight catches for 88 yards.
With the win, the Warriors will now have a quarterfinal matchup at West Morgan (12-0). The Rebels defeated Corner 35-14 in other second-round playoff action on Friday.
It's the second straight season the two teams will meet in the playoffs.
The Warriors defeated West Morgan last year 42-28 in last year's second round.
"I know the team we're playing is hungry," Kelley said. "They were a good football team last year. They have a lot of guys back. We kind of felt like we'd run into each other. It's here and the time is now.
"There's a lot on the line. It's about who can embrace the moment better, who can play clean. It should be a good environment next week on Black Friday. It's always a great feeling when you're practicing on Thanksgiving week. It's a blessing."
PARKER 21, OXFORD 14: Malik Muhammad's 40-yard, catch-and-run touchdown gave Parker the lead with two minutes left, and the Thundering Herd eliminated Oxford.
Jaydon Thomas' 5-yard run tied the game 14-14 with 7:12 to play, and Mason Mims' 15-yard touchdown pass and falling-backward catch by Camre Hampton tie the game 7-7 with 15 seconds left in the first half.
Oxford finished 9-3 with a second-place finish in Class 6A, Region 6.
"Couldn't be prouder of our group of seniors," third-year Oxford coach Sam Adams said. "They played their guts out for each other and for Oxford.
"Parker is a really good football team and made one more play than we did."
BTW 22, HANDLEY 9: Cannon Kyles, playing hurt in the second half, accounted for 12 yards in total offense, but it wasn't enough to get Handley to the second round.
Nemo Askew scored the Tigers' lone touchdown, an 8-yard run in the third quarter. Landon Bozeman hit a 33-yard field goal in the first quarter.
E.J. Goss led all Handley rushers with 63 yards, and Kyles hit on 10 of 16 passes for 97 yards.
Handley finished 10-2 and won the Class 4A, Region 4 title.