Eligible
Updated: October 17, 2023
Jax State rallies to beat Conference USA favorite Western Kentucky, reaches bowl-eligibility threshold in first FBS season.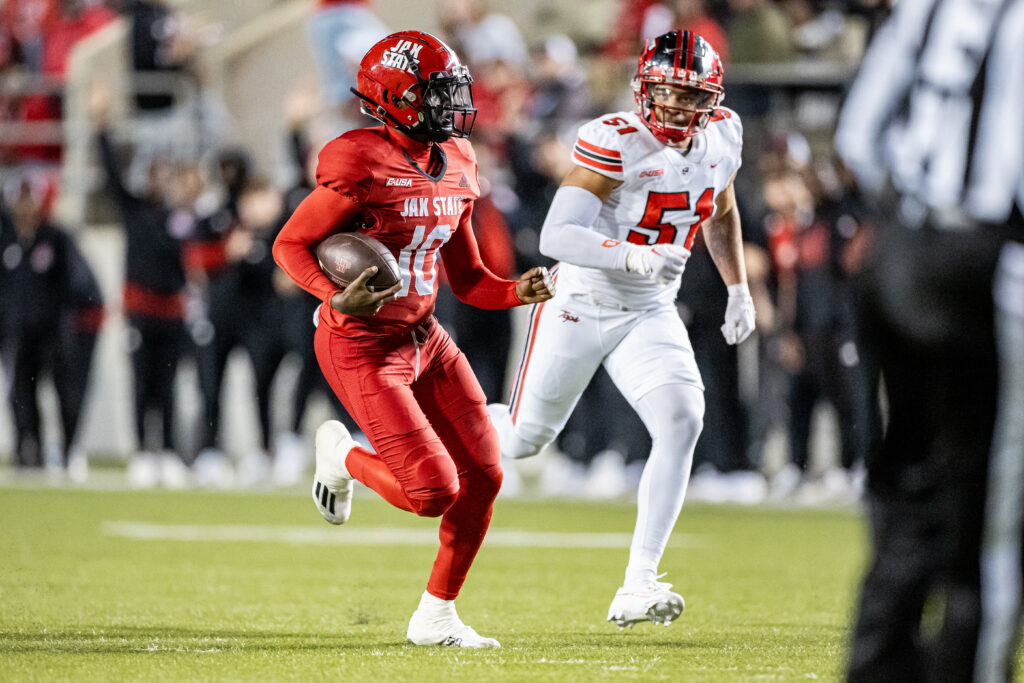 Editor's note: Statistics for Jax State's victory over Western Kentucky can be found on this link. Here are links for postgame player interviews and Rich Rodriguez's postgame news conference. Perspective on a momentous victory for the Gamecocks coming soon.
JACKSONVILLE — Press questions for Jax State players recruited in the program's Football Championship Subdivision era keep reaching new pinch-me levels.
Preseason, ahead of the Gamecocks' first Football Bowl Subdivision season: what does it mean to be an FBS player now?
After beating UTEP in the Jax State's FBS and Conference USA opener: what was it like to win as an FBS player?
Oct. 17, after beating CUSA favorite Western Kentucky 20-17 to reach the FBS bowl-eligibility threshold of six wins: is this beyond even the wildest dream of every passed-over player?
That's where things stand, now that Jax State stands 6-2.
That's where things stand, after Alen Karajic slipped yet hit a game-ending, 41-yard field goal to complete the Gamecocks' rally from a 10-0 hole.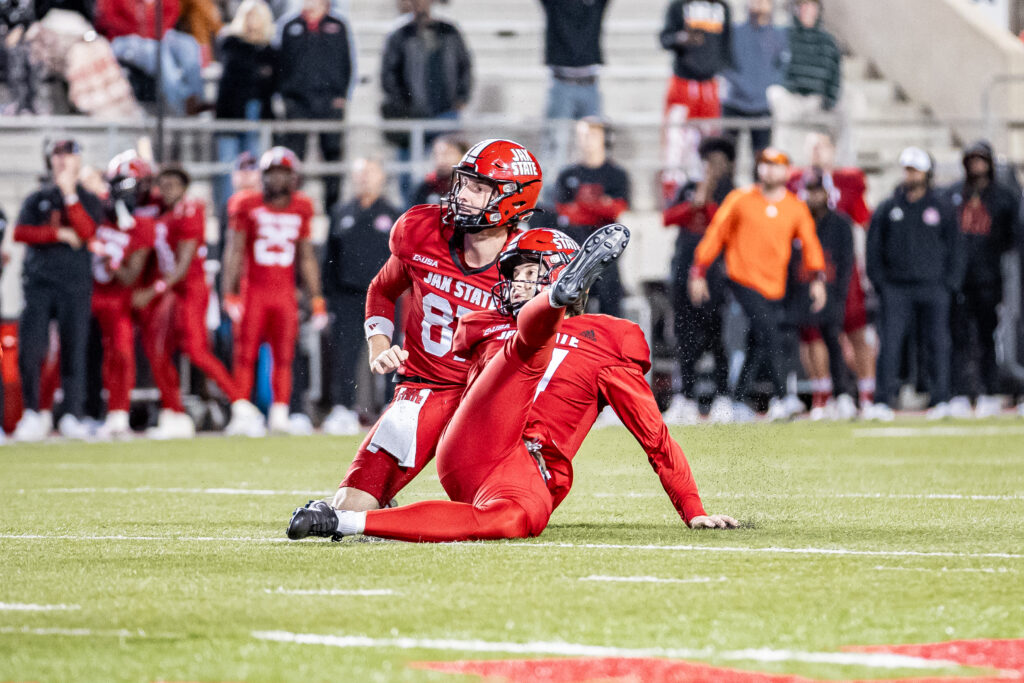 That's where things stand, after Jax State limited CUSA's best offense to 69 yards in the second half and ran 95 plays to gas the Hilltoppers' defense.
This was no miracle. This is little Jax State's version of Deion Sanders' Colorado story, just without watches, receipts and a notable fade after a hype-filled start.
"The 'Hard Edge Bar & Grill' is gonna be open late tonight," said buoyant second-year Jax State coach Rich Rodriguez, the imaginary establishment's version of Norm.
Bottoms up, because Jax State started from the bottom. Now, it's here.
Standard disclaimer: the Gamecocks remain in transition, so no there's no bowl guarantee. There must be more bowl spots available than eligible teams for them to actually go bowling after the regular season.
But transitioning FBS programs reach the bowl-eligibility threshold with less regularity than an early closing time at the Hard Edge these days. Looking down the Gamecocks' remaining schedule, all three CUSA opponents look up at Jax State.
Imagine RichRod's Jax State winning nine games in its first FBS season, after he led the Gamecocks to nine in their last FCS season.
In the all-things-relative analysis, maybe it says a lot about how the line between high FCS and FBS "Group of 5" has blurred. It also says a program that beat Florida State two years ago came more roster-ready than anyone would've predicted, especially after RichRod worked two retooling cycles.
Other shoes drop for programs like Jax State when things reach too-good-to-be-true levels. The thought actually occurs to ask certain questions, like, is it time to sweeten RichRod's contract?
Louisville plucked Bobby Petrino back after his one-season shower at Western Kentucky, and Western didn't even go to a bowl that season. There's always some "Power 5" looking for help with well-lined pockets, all willing and able to pay RichRod's $5 million buyout.
Too soon?
OK, let's live in the moment, starting with the quarterback who came back from concussion protocol to account for 364 total yards and a touchdown Tuesday. Zion Webb came to Jax State closer to the Gamecocks' 2016 FCS title game appearance than their first FBS bowl chase.
Yet, Webb was quarterback of record when Jax State beat UTEP the Gamecocks' first CUSA game and first game as an FBS program. He was quarterback of record when Jax State rallied then routed Middle Tennessee State two weeks ago, and he was quarterback of record when Jax State beat the CUSA favorite.
"It's a big difference, from the standpoint of people not believing in us, people not thinking we're supposed to be in this conference," he said. "We're here, and we're ready to do it. There's no turning back now.
"You've got to watch Jax State. We're making a statement. We belong here."
Former Oxford defensive lineman J-Rock Swain once had to wait for then-FCS Jax State's offer. He initially committed to Austin Peay and stayed home only when Jax State got in on him late.
His six tackles, one tackle for loss, one forced fumble and one pass breakup Tuesday say he's an FBS problem.
'Coach RichRod really brought a different culture," he said. "It's just win. We've got to win. The standards got real high, and we just know we've got to win."
Game updates
A chronological look at important moments in Jax State's 20-17 victory over Western Kentucky on Tuesday,
–Kickoff 6:30 p.m.
–Jax State wins the toss, defers. WKU to receive the opening kickoff.
FIRST QUARTER
–Messer returns to WKU 25. First down.
–Good defensive series for Jax State, allows one first down then stops the Tops. Zion Webb starts at QB for Jax State.
–WKU's second possession hits paydirt … or pay turf. Austin Reed to Dalvin Smith over the middle, 10-yard TD pass. PAT good. Drive: 8 plays, 53 yards, 2:20. WKU 7, JSU 0.
–JSU's Jabari Mack breaks up a third-down pass to the end zone for Craig Burt Jr., and Lucas Carneiro kicks a short field goal at 1:55: WKU 10, JSU 0
SECOND QUARTER
–Webb with JSU's biggest play of the day, a 32-yard scramble down to the WKU 25. … Sets up Webb's 10-yard zone-read keeper for a Jax State TD. Alen Karajic's PAT is good at 12:45. Drive: 11 plays, 75 yards, 4:10. WKU 10, JSU 7
–Fred Perry intercepts a Reed pass, fumbles on the return. WKU recovers at JSU 40. … Leads to Reed's pass to tight end River Helms for a short TD pass. PAT good at 8:36. WKU 17, JSU 7
–JSU's Jwan Evans down after a short pass reception. Jax State doesn't need another injury at running back. Walks off on his own power.
–Webb breaks another big scramble. Felt the blitz coming from his right then took off … 42 yards to WKU's 28. Webb has 91 yards rushing on six carries. … Webb keeps for another 11 yards, over 100 for the night. … Webb throws incomplete on third and goal, and WKU flagged for DPI, first and goal at the 2. Play is under review. Ball was tipped at the line, so no DPI. Ball back at the 5, fourth down. Karajic kicks a 23-yard field goal at 5:35. WKU 17, JSU 10.
–JSU D comes up with a stop, will start at Gamecocks' 9 after a punt with 3:47 left in the half.
THIRD QUARTER
–Defensive struggle so far this half, and Jax State gets a stop on fourth and 2 at midfield.
–Webb throws down field … intercepted by Anthony Johnson Jr. WKU takes over at its 34-yard line.
–Thanks to a fantastic play by Derek Carter to knock away Reed's deep pass, Jax State gets a 3-out and takes over at its 32.
FOURTH QUARTER
–Jax State can't convert on fourth and two at WKU's 26 … bad pitch goes out of bounds for a loss of three.
–Another stop for JSU's defense, which has played an extraordinary half against CUSA's top offense. WKU had 270 yards at halftime and has 55 this half.
–Webb runs for seven yards to WKU's 48, down after the play. … Walks off on own power. … Logan Smothers completes a short pass to convert third down, and Webb back in the game.
–Webb fake reverse, hits a big completion to Sean Brown down to WKU's 26, and sets up Anwar Lewis' 26-yard TD run. Karajic's PAT is good at 4:40. Drive: 11 plays, 91 yards, 3:39. JSU 17, WKU 17
–Jax State D with another stop. WKU punt coming with 2:42 left. Jax State takes over on its 32.
–P.J. Wells with a big catch and run down to WKU's 33. Broke a tackle. There's 1:43 left.
–Jax State has gone pace, pace, pace this game, and it's starting to look like the Gamecocks have WKU gassed. Webb keeps for a first down to WKU's 17. Timeout, WKU, with 1:15 to play. … Webb runs to the middle of the field, so Jax State appears to be setting up the field goal. Timeout, WKU, with 1:11 left.
–Timeout, JSU, with 23 seconds left. Jax State has third down at WKU's 21.
–Timeout, JSU, with 0:04 left. Karajic field goal pending.
–Karajic skips, still kicks it through the uprights.
FINAL: JSU 20, WKU 17.