Weight out
Updated: October 10, 2023
Undefeated Liberty large and in charge in the second half, leans on transitioning Jax State to blunt Gamecocks' momentum in first FBS season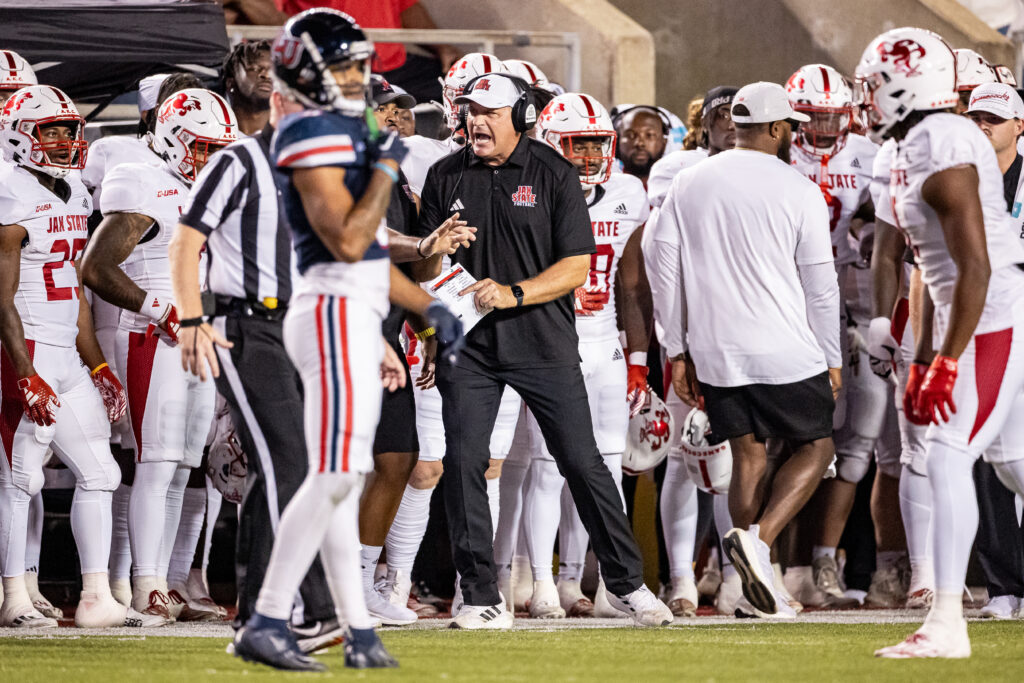 Editor's note: Final stats for Jax State's 31-13 loss to Liberty can be found here. A video of Jax State coach Rich Rodriguez's postgame news conference is available here. A chronological rundown of game details is available below.
JACKSONVILLE — It's not wrong to see Jax State's first Football Bowl Subdivision season as a measure of where the Gamecocks stand on college football's most funded level. What other matter trumps that?
Until Tuesday, all signs had the Gamecocks ahead of schedule.
Jax State trotted out white helmets for the first time since 1984, but Liberty turned a Jax State "whiteout" into an FBS weight out.
The Flames' top-subdivision size wore on Jax State's still-transitioning trim, and it showed in the second half of Liberty's 31-13 victory on Burgess-Snow Field.
Before we get into how Jax State could not stop Liberty in the second half, a note to temper disappointment. Jax State remains ahead of schedule. The Gamecocks are 5-2, one victory away from what's defined as bowl eligibility.
Jax State defeated preseason expectations, reaching five wins with six games to play. So much for that over/under of 4.5 wins.
As FBS "Group of 5" goes, the first-year Gamecocks have held their own.
That said, Coastal Carolina and Liberty clearly showed out as the best groupers Jax State has played. 
Coastal won 30-16 on a night when missed opportunities and coaching drove second-year Jax State coach Rich Rodriguez to colorful language on a postgame radio interview.
Liberty validated the go-to RichRod caveat for every discussion about Jax State's fitness as a first-year FBS team … the Gamecocks' Football Championship Subdivision size on the defensive front.
Liberty's starting offensive line weighed in at 320, 330, 295, 320 and 335.
Jax State's starting defensive line goes 255, 280, 280 and 270.
Not surprisingly, Liberty scored on five of its last eight possessions. The only misses involved a strip sack and two end-of-half possessions.
The Flames scored touchdowns on their first three second-half possessions … one drive covering 16 plays and the other 12. They held the ball 20 minutes and eight seconds in the second half, including the final 1:40 in victory formation.
They mounted a 16-play scoring drive in the first half and were nine plays into the fumble drive.
Size matters in FBS, and there are no shortcuts to having it in sufficient quantity. Even in the transfer-portal era, it takes time to upsize a roster.
Size wasn't Jax State's only issue Tuesday. Zion Webb's early concussion summoned sometimes starter Logan Smothers off the bench, and diminishing returns after early successes for what RichRod called the "banged-up" Smothers prompted the coach to try redshirt freshman Ashton Frye.
Frye drove Jax State to a field goal in his first action and had the Gamecocks in position to score on their final possession, but no go.
A second-quarter injury took running back Malik Jackson out of action.
In the really, really big picture, however, Liberty leaned on Jax State and left the Gamecocks leaning.
It's a reality splash with another potential reality splash coming next week. Conference USA favorite Western Kentucky will come to town after an open date.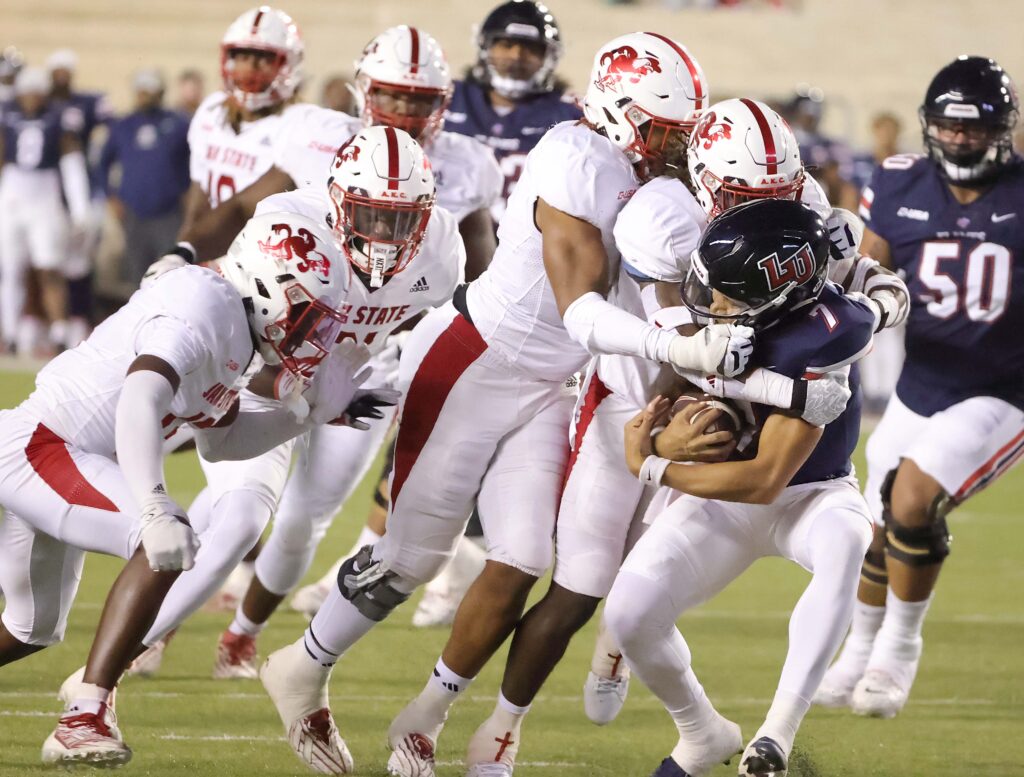 Game updates
–Jax State wins toss, defers to second half. Liberty will receive the opening kickoff.
FIRST QUARTER
–Liberty to start at its 24. … Excellent first series for Jax State's D. Two pressures and a TFL. Punt pending.
–Sterling Galban with a fair catch at Liberty's 49. Zion Webb starts at QB. Holding penalty dooms the drive, and Webb overshoots an open Sean Brown in the seam for an interception … Singleton
–Another 3-out for Jax State's D, and Galban with a fair catch at the Gamecocks' 28. … Webb completes a pass to Perry Carter for a first down then has a nice run, down after the play. Trainers out. Webb up and walking off the field. Logan Smothers in the play QB. … Jax State converts on fourth down and three, screen to Malik Jackson for a first down to LU 28. … Smothers to Carter down to the 2. … On second down, Smothers keeps right for a 1-yard TD run, but flag on the play. Offsides, declined, TOUCHDOWN. PAT pending. Alen Karajic's kick is good. Drive: 11 plays, 72 yards. JAX STATE 7, LIBERTY 0 (7:48)
–LU finally gets its offense cranked up, and a DPI call on Jax State gives the Flames a first down at the Gamecocks' 25. They have their first four first downs of the game on this possession, including a fourth-and-one conversion at their 34. … Salter sneaks to convert fourth and one to Jax State's 14. … Kolbi Fuqua pressures Kaidon Salter into a third-down incomplete, and a field goal will come on the first snap of the second quarter.
SECOND QUARTER
–Nick Brown hits a 31-yard field goal. Drive: 16 plays, 62 yards. JAX STATE 7, LIBERTY 3 (14:56)
–Anwar Lewis with a big run to the LU 36. … Drive stalls at Liberty 13, and Karajic attempts a 31-yard field goal … wide left.
–Liberty drives for the go-ahead TD, 6-yard run. Brown PAT good. Drive: 7 plays, 80 yards. LIBERTY 10, JAX STATE 7 (7:23)
–Liberty didn't have a first down on its first two possessions, no leads possession time 14:06-8:31.
–Malik Jackson two consecutive carries, and is down after the second one. … Smothers to Jordan McCants, diving catch for 28 yards to Liberty's 37. … Smothers with a completion to Carter, first down at LU 21. … Drive stalls at the 22, and Karajic hits a 39-yard field goal. Drive: 11 plays, 53 yards. JAX STATE 10, LIBERTY 10 (4:09)
–With Liberty threatening at Jax State 29, Kamari Stephens sacks Salter, fumble, J-Rock Swain recovers at Jax State's 47 at 1:06. … Smothers' pass down the home sideline into double coverage, Brylan Green with the interception at LU's 4.
THIRD QUARTER
–Salter caps Liberty's first drive of the quarter with a 27-yard TD pass to Treon Sibley. Brown PAT good. Drive: 12 plays, 89 yards, 6:17. Salter hit a 28-yarder to Sibley to get Liberty in scoring position. LIBERTY 17, JAX STATE 10 (5:55)
–Redshirt freshman Ashton Frye at QB for Jax State. … Lewis converts fourth and one to LU's 37. … Frye scrambles to convert third and five to LU's 25. … Two Frye underthrows will bring Karajic out for a field goal, Kick is good. Drive: 13 plays, 54 yards. LIBERTY 17, JAX STATE 13 (2:26) .
FOURTH QUARTER
–Liberty has second and 12 at Jax State's 29.
–Salter throws to the end zone, connects with Aaron Bedgood. Brown's PAT is good. LIBERTY 24, JAX STATE 13 (14:54)
–Cooley in with another touchdown run to cap another 16-play drive for Liberty. Brown's PAT is good. LIBERTY 31, JAX STATE 13
FINAL: LIBERTY 31, JAX STATE 13