Wednesday Webb
Long-time Jax State quarterback comes off the bench, ignites another midweek comeback as Gamecocks score 38 unanswered points to beat MTSU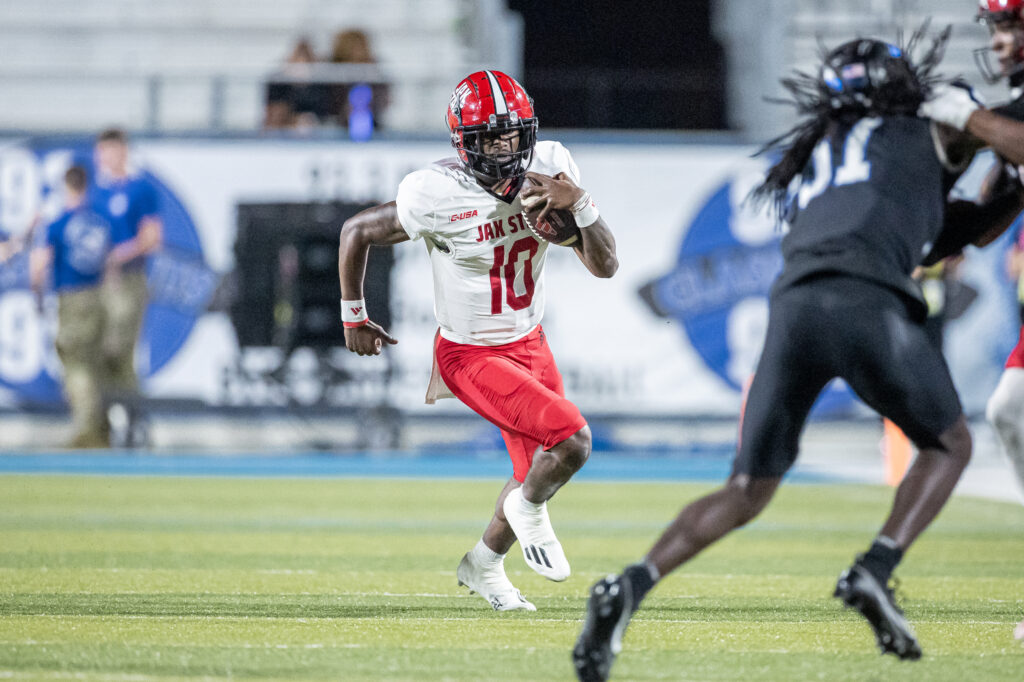 Editor's note: Here are stats from Jax State's victory at Middle Tennessee State. Chronological game details, notes, video and pictures below.
MURFREESBORO, Tenn. — A two-thirds empty Floyd Stadium got an eyeful of Jax State class during a Middle Tennessee State injury delay, the Marching Southerners and Zion Webb on Wednesday.
That's all right, in Conference USA world. A television audience saw it all, too.
So went a church-night Conference USA special for television as Webb came off the bench to reclaim a team that's been his on and off for seven years, and Jax State backed up a 6-day-old comeback at Sam Houston State with a comeback and runaway from MTSU, 45-30.
On the plus side for MTSU, not much of a home crowd saw the Blue Raiders' 23-7 halftime lead evaporate. If not for both bands, call Floyd Stadium three quarters empty.
More people wore pads or carried instruments than wore pullovers and carried koozies.
CUSA's midweek games are all about getting on TV, and Jax State has turned into midweek comeback 'Cocks. They erased a 21-7 halftime deficit to win 35-28 in overtime at Sam Houston State on Thursday, and 38 unanswered points at MTSU on Wednesday got them to 5-1 in their first Football Bowl Subdivision season, 3-0 in their first CUSA season.
That's one half-game better than preseason predictions. Betters had Jax State at an over/under of 4.5 wins.
Jax State coach Rich Rodriguez has an acronym for that.
"I love the way our guys play," he said. "I love their interest. They've got a lot of G-A-S. It's Give A (colorful word).
"We talked about having a lot of GAS all week. We've got a lot of GAS, and they showed it tonight."
The viewing audience saw Jax State's GAS with additives. Viewers saw an eyeful of the Marching Southerners, whose field-filling performance prompted a press-box tender to say, ""I'll take their flag budget and go home."
Then came the show of class in the second quarter. With paramedics strapping MTSU receiver Kellen Stewart to an immobilization board, Blue Raiders coach Rick Stockstill shook hands with Rodriguez then waved to the Gamecocks' bench, where players had spent much of the injury timeout on a knee.
As for the actual football, don't bury Zion Webb's time as a starting quarterback under the Loring and Debbie White Football Complex construction site. Turns out his GAS tank has more than fumes.
Logan Smothers, thought to have taken the job, played Webb's way into the game Wednesday with an interception and fumble.The interception on an end-zone throw ended Jax State's first possession, which started on MTSU's 36-yard line. Jax State recovered Smothers' third-down fumble, but it doomed Jax State's second drive, which started on the Gamecocks' 47.
In came Webb — whose career of battling Power 5 transfers, injuries and medical eligibility appeals started when FBS was a Gamecock pipe dream — rambled 61 yards on his second snap to set up Malik Jackson's 1-yard touchdown to give Jax State its first lead, 7-3.
Webb's touchdown pass to Sean Brown at 11:31 of the third quarter brought Jax State within 23-14.
Another Webb pass to Brown after MTSU muffed a punt set up a Jackson's touchdown run to bring Jax State within 23-21 at 5:21 of the third.
Webb overthrew Michael Pettway on a would-be touchdown on Jax State's next drive, but he'd gotten the Gamecocks close enough for Alen Karajic's 43-yard field goal and a 24-23 lead.
With Rodriguez steadfast in saying he has "two starting quarterbacks," Webb's last Jax State may never be completely his. Then again, he plays with a swell of good will around him.
"I mean, he's what, in year seven right now?" said tight end Sean Brown, caught five passes for 103 yards and a touchdown in what Rodriguez called the best game by a tight end he's coached. "He's got a lot of experience. In games like this, you need somebody with experience.
"It just showed that he's one of the best quarterbacks in this league."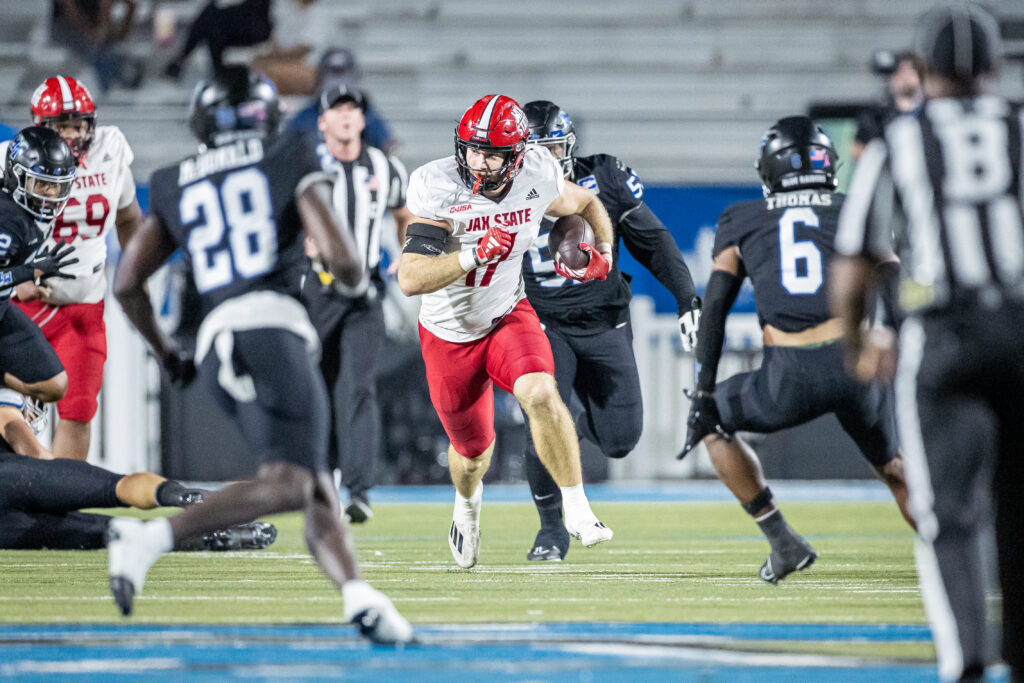 Jax State looked to Webb's team after Bryant Horn finished up in 2017, but Zerrick Cooper transferred from Clemson and rewrote Gamecock passing records.
Jax State became Webb's team after a Cooper injury in the final game of the COVID-shortened fall portion of the 2020-21 season, and Webb led Jax State to victory at Florida International.
Until a non-contact knee injury knocked him out of a second-round playoff loss against Delaware, Webb had had quite a spring 2021 season. He led Jax State to its last Ohio Valley Conference title and appeared to have the Gamecocks on their way to beating Delaware.
With Webb recovering from the knee injury, Cooper came back for the 2021 fall season, but Jax State became Webb's team again for a 9-2 run in 2022. The school claimed an ASUN Conference championship despite being in FBS transition and ineligible, so make it two conference titles with Webb as starting quarterback.
It was Webb's team for Jax State's victory over UTEP in the 2023 opener, the program's first game as an FBS program and first CUSA game.
Then came the mysterious recurring stomach bug and Smothers' ascension, with the Nebraska transfer making his third consecutive start Wednesday.
Webb was Jax State's quarterback again, beginning in the second quarter. It was Webb's team for all 45 of its points. He was Jax State's quarterback for 38 unanswered points.
He passed for 186 yards and two touchdowns and ran for 101 yards and another score.
Looks like Webb's long college career still has some career left.
"Just be patient, man, and wait until time," Webb said. "That's what I've been preaching to myself since a freshman. Be patient. Wait your time. Your time will come.
"When the opportunity comes, you just maximize every opportunity you get."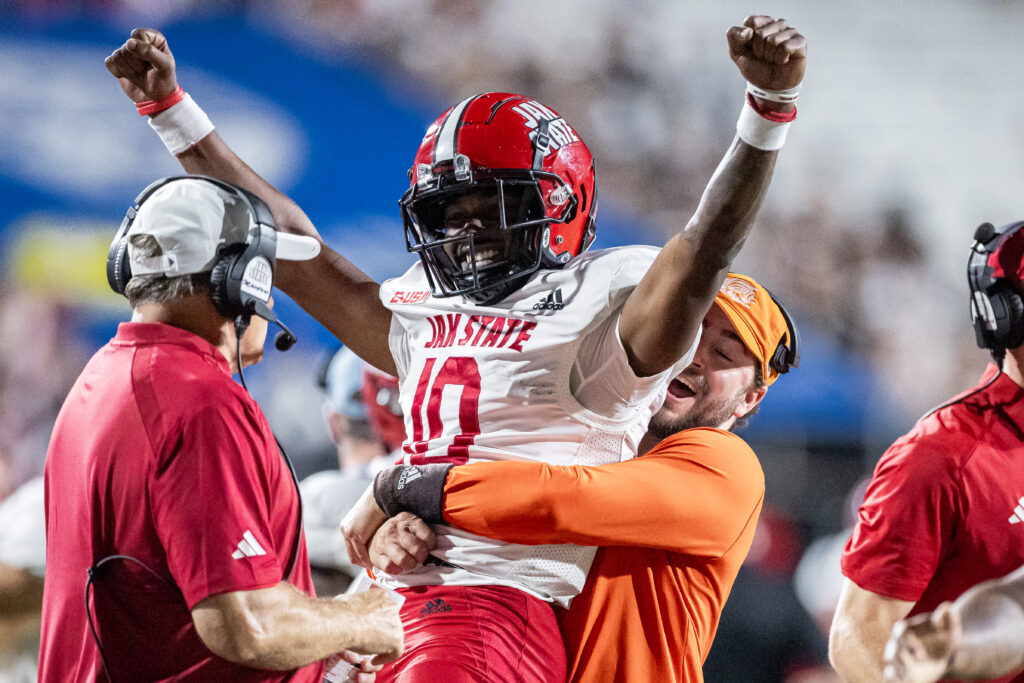 Game updates
–Jax State wins toss, defers. MTSU will receive the opening kickoff.
FIRST QUARTER
–Touchback. MTSU starts on its 25.
–MTSU lost 15 yards in three plays, including a sack and TFL. Short punt out of the end zone, and Jax State to start on Blue Raiders' 36.
–Jax State was on the move, but Smothers' fade throw to the end zone picked off by Tyrell Raby.
–Add a third-down sack by Kolbi Fuqua. MTSU goes 3-out. Blue Raiders have a net -17 yards so far. Doesn't appear they can block Jax State. Gamecocks take over on their 47.
–Anwar Lewis in the game for Jax State, already having an impact. Big gain on a screen to convert third and long.
–On third and eight, Smothers sacks, fumbles. Jax State recovers, but it's fourth down from MTSU 45. Gamecocks punt, and MTSU makes fair catch at its 9.
–First explosive play of the game. Justin Olson takes a screen and goes 43 yards to Jax State's 48. A holding penalty on third down dooms the drive, and MTSU to punt. Ball downed at the Jax State 1. Gamecocks came up empty on two great chances on field position, but MTSU just flipped the field.
–Jax State goes 3-out. Punt pending from Gamecocks' end zone. MTSU will take over at midfield. … A horse-collar call on Derek Carter helps MTSU convert third and long to Jax State's 10. They had Nick Vattiato's scramble stopped. … Gamecocks force a field goal try, and Zeke Rankin connects from 25 yards to put MTSU up 3-0 at 0:43. MTSU 3, JAX STATE 0.
–Touchback. Jax State to start on its 25.
SECOND QUARTER
–Smothers pops up pooch punt 19 yards, and MTSU gets a short return to start at its 42. … Jax State forces 3-out, and punt pending. … Sterling Galban makes a fair catch at Jax State's 15.
—Zion Webb in at QB for Jax State. … Jackson with a 23-yard fun, followed by Webb's 61-yarder to the MTSU 1. … Jackson in with a 1-yard TD run. Alen Karajic PAT good at 11:21: JAX STATE 7, MTSU 3.
–Fair catch, and MTSU to start on its 25. … We're in a delay with an MTSU injury. Didn't see who it was, but both teams now down on a knee. Player has been down a while. It's WR Kellen Stewart. He caught a pass and was tackled immediately. Larry Worth made the tackle, and there didn't appear to be anything out of the ordinary. … Stretcher is on the field as MTSU team lines up in concern. Jax State players on a knee. It appears they have strapped Stewart down to an immobilization board here at 8:45. … MTSU coach Rick Stockstill and Jax State's Rich Rodriguez shake hands, and Stockstill points to Jax State's sideline in a thankful gesture. Paramedics are rolling Stewart off of the field.
–Play resumes, and Vattiato hits a wide-open T.J. Brown for a pass to Jax State's 1. … Frank Peasant in the end zone with a 1-yard TD run to reclaim the lead for MTSU. Rankin's PAT is good at 7:49. MTSU 10, JAX STATE 7
–Fair catch, and Jax State starts at its 25. Webb still at QB. … Jax State goes 3-out and punts.
–Fair catch at MTSU's 29. … Vattiato over the top to Elijah Metcalf, 71 yards for a TD. Rankin's kick is good at 6:12. MTSU 17, JAX STATE 7
–Touchback, Jax State at its 25. … Webb hits a pass to Sean Brown to MTSU's 44, 31 yards. … Webb sacked on fourth and six from MTSU's 40, big loss back to Jax State's 48.
–Vattiato quick screen to Metcalf, who eludes two Jax State defenders and scores, 19 yards. Rankin's kick is no good at 3:54. MTSU 23, JAX STATE 7
–Touchback, Jax State starts at its 25. … Webb's pass over the middle nearly intercepted on third down, and punt coming. MTSU has time to score again with 3:10 to play.
–MTSU starts at its 25. … D.J. England-Chisolm drops a sure TD pass over the top. … A defensive holding call on third and 12 gives MTSU an automatic first down at Jax State's 47. … After Jax State's Curley Young Jr. gets a sack, MTSU calls timeout with 1:26 to play, ball at midfield. … Incomplete deep, but MTSU receivers keep getting behind Jax State's secondary. … Fourth and 13, and Jax State lucky to get out of this MTSU drive with a punt.
–Gamecocks start at their 18 with 1:02 left in the half. … Jax State goes 3-out, will punt from its 24 at 0:24.
–MTSU to start at its 32. …
HALFTIME
–Comment in the press box, after the Marching Southerners perform: "I'll take their flag budget and go home."
THIRD QUARTER
–Jax State starts the half with a big play on defense, Kekoura Tarnue's intercept and return to MTSU's 40.
–Webb at QB, and Brown makes a one-handed catch of a Webb pass down to MTSU's 19. … Incomplete pass to Jackson in the end zone, and targeting called on Tra Fluellen. Play is under review. … Targeting confirmed, Jax State first and goal at the 10. … Webb passes to Brown for a 10-yard TD. Karajic's PAT good at 11:31: MTSU 23, JAX STATE 14
–MTSU touches a Jax State punt, and Jax State recovers at MTSU's 27. … Webb passes to Brown gets Jax State to the 3. … Malik Jackson up the middle for a Jax State touchdown, and Karajic delivers the kick at 5:21. MTSU 23, JAX STATE 21
–Webb drives Jax State in position again. He overthrew Michael Pettway on a potential touchdown, but Karajic delivers a 43-yard field goal at 1:03: JAX STATE 24, MTSU 23.
FOURTH QUARTER
–Webb throws a quick sideline pass to Perry Carter, who breaks free to complete a 63-yard, catch-and-run touchdown. Karajic's kick is good at 12:14. Make it 24 unanswered points: JAX STATE 31, MTSU 23
–Chris Hardie catches a tipped Vattiato pass and returns it to MTSU's 17. … Sets up J'wan Evans' touchdown jog-in. Karajic's kick is good at 7:52: JAX STATE 38, MTSU 23.
–Add Curley Young Jr.'s 26-yard fumble return for a touchdown. Karajic's kick is good at 3:42: JAX STATE 45, MTSU 23.
–MTSU breaks Jax State's string of 38 unanswered points with Terry Wilkins' 75-yard run at 3:29. Rankin's kick is good. JAX STATE 45, MTSU 30
Of note
–Stewart, the MTSU receiver who left the field on a stretcher in the second quarter, was reportedly not seriously injured. He reported numbness on the field, hence the precautionary measures, but had full feeling in his extremities. He's believed to have suffered a concussion.