Turley hits 100
After frustrating first half against a top-shelf keeper in Johannson, Donoho's two-time county player of year gets milestone goal
By Joe Medley
East Alabama Sports Today
Erin Turley was like a wet noodle on the bench at halftime of Donoho's area girls' soccer game with Weaver. She sat slouched down, her weary head hanging back over the chairback.
It was all of the things … all of that running down the center of the field, all of those shots on goal that only Weaver's Lena Johannson can stop and did.
Maybe after spending the first half surrounded by a triangle of Weaver defenders, the Michael Jordan of Calhoun County girls' soccer just wanted some time alone.
It wasn't lost on Turley that she came into the match needing two goals to reach 100. A half came and went, and she still needed two.
Meanwhile, Donoho coach Vinny Yslava's halftime words settled on her.
"At halftime, we were just talking about, he said this is the best we've played in a really long time," Turley said. "I didn't really agree, because I wasn't able to score any goals in the first half, so the second half, I was just locked in on trying to finish."
Turley got Nos. 99 and 100.
She dribbled left in the goalie back, spun back right then fired a ball past Johannson 50 seconds into the half.
A minute and a half later, Turley hit from the right side, getting the ball just over Johannson's hand at the upper right corner of the goal for the milestone.
It was all part of big night for Donoho, which won 7-0 after needing an own goal to lead 2-0 in a frustrating first half.
Samantha Wakefield scored the hat trick, including a rebound header in the first half and a 35-yard free kick late in the game.
"Sam is an outstanding player," Yslaval said. "She's one of those players who can play almost any position. She's really been finding her home at the attacking mid spot.
"She's really good there, because she can shoot from long when they're sitting back really deep."
Izzy Romareo scored just ahead of Wakefield's last goal.
Donoho's five second half goals came after a first half that saw Johannson mount 20 saves, including several signature Turley blasts that would've beaten most high school keepers.
"This is the first game we've had with a really athletic keeper with Lena," Turley said about her summer-ball teammate. "She's one of the best keepers since, like, (Donoho grad) Maggie Wakefield.
"We had to change our style of play a little bit, because with all of the other keepers, we've been able to score off of long balls in the air. With her, we had to actually focus on low balls into the goal. It was really a mental block we had to get past in that first half."
Johannson called stopping Turley "difficult."
"I know she can pull a shot from anywhere," said Johannson, also a three-time state champion wrestler. "It's just hard to look through the defense and know that she can pull it as soon as she turns."
When Turley finally broke through, she plopped down on her back and looked to the sky. The second goal, which came in quick succession, put Donoho up 4-0 and prompted Weaver to move Johannson out of the goal so she could bolster the Bearcats' offensive attack.
For Turley, No. 100 brought relief.
Number 100 could've come sooner, but nagging injuries throughout the second half of the 2022 season caused her to miss matches. After four career sprains to her left ankle, she played through a sprain to her right ankle this season.
Getting to 100 goals for the two-time Calhoun County player of the year got her past what she called "the mental block I was trying to get past in the first half."
"I knew this whole game that I was working towards that," she said. "It was just really frustrating that I couldn't finish. In the second half, that goal felt like relief. A weight was lifted off of me.
"I'm just thankful for my teammates and my family and just everybody that's been with me since I came to this school."
Boys
DONOHO 9, WEAVER 1: Missing all-state players Drew Williamson and Logan Melton, the Falcons (5-2-1, 4-0 area) cruised to an area victory with lots of contributors.
Bruce Downey, Sam Johnson and Jack Thomas had two goals apiece, and Downey had an assist. Isaiah Smith also scored a goal. Trey Alexander and Lukas Allen each had an assist.
"We had a couple of people down for school-related issues, so we were able to kind spread the wealth this game," Donoho coach Tim Melton said. "We had some young guys, some seventh- and eighth-graders come out there and really get some opportunities they don't typically see.
"We were able to possess a lot better this game. We played defeat really well, and everybody had a chance to score."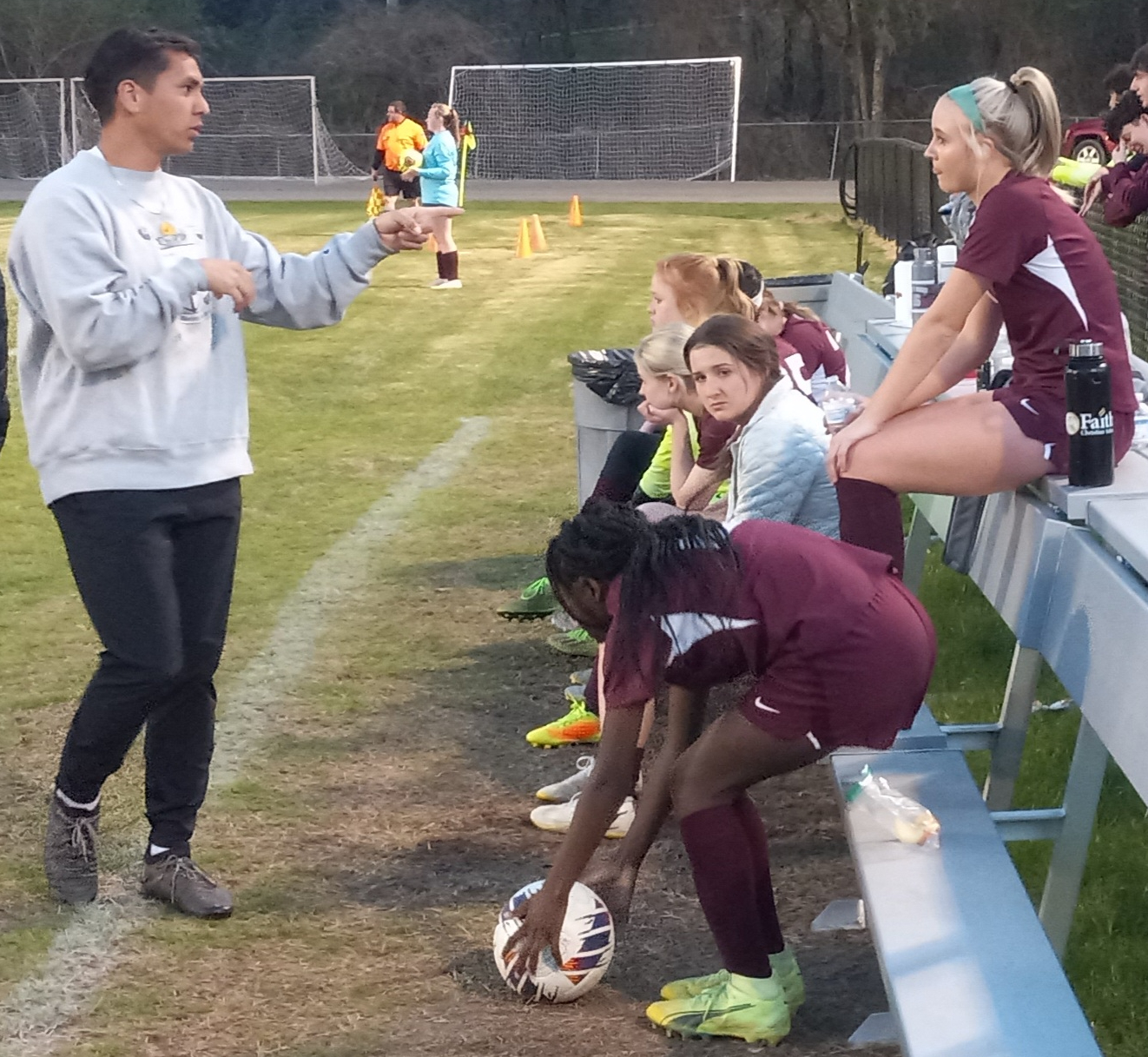 Cover photo: Donoho's Erin Turley scores her 100th varsity goal during the Falcons' 7-0 victory over Weaver on Thursday. (Photo by B.J. Franklin/gunghophotos.com)