Circle of life
Oxford's McGrue follows in Oxford-grad mother's footsteps, signs to play basketball in college; will play for Snead State Community College
By Joe Medley
East Alabama Sports Today
OXFORD — La'Mya McGrue's mom provided more than coaching and an example of an Oxford basketball player who took her game to college. Above all, mom gave daughter a lifetime of motherly reminders to not let bad days become bad outcomes.
"When I mess up, I will like, get down on myself," McGrue said. "She'll be like, it don't matter how many times you mess up. It's the outcome and how I react to it."
With Shavon Wysinger seated to her left in Oxford High School's media room, McGrue completed the circle of life Wednesday, signing to play for Snead State Community College.
She follows in the footsteps of her mom, who played for Oxford and took her game to Southern Union.
McGrue, called up to varsity during Christmas of her eighth-grade year, was a key part of Oxford's back-to-back Calhoun County championship teams. As a junior, she helped the Yellow Jackets break a 16-year drought between county championships and become the first Oxford team to reach the Final Four.
As a senior, McGrue averaged 11.1 points per game with 131 deflections and 83 steals.
McGrue said Snead was her lone offer, but all it takes is one. She had her day to celebrate with family, coaches and teammates.
"This is a special signing, because it's a second-generation signing," Oxford athletics director Larry Davidson said. "I won't say how many years ago, but mom did sit here in the same position here and sign a basketball scholarship herself."
McGrue wore a special gold T-shirt with Snead State across the chest in blue letters with white trim and a basketball on the lower front. A friend of her mom's made the shirt.
Her mom had a lot to do with making Wednesday happen. Wysinger, a 2002 Oxford graduate who played under former Oxford coach Darrell Cline, is not just a former Oxford player but an assistant coach on Oxford's staff.
Wysinger has had plenty to tell her daughter over the years. The two have had their debates about which was the best player.
Wysinger's teams had great seasons but never got past the Northeast Regional, losing to Vestavia Hills in the 2000 final, Buckhorn in the 2001 semifinals and Boaz in the 2002 finals.
McGrue will always have a Final Four to her credit. Oxford lost to powerhouse Hazel Green in the 2022 Class 6A state final.
Known as Shavon McGrue in her playing days, Wysinger said she and her daughter "are the same, but we're kind of different." Wysinger was a more vocal leader, her daughter more "the laid-back leader."
Wysinger told her daughter stories of her teams and how demanding Cline was, no matter how big a lead Oxford had. She wants her daughter to be just as demanding of herself, but with a caveat.
"My biggest thing is — and not just with her; I also tell the other girls that — you're going to make a mistake," Wysinger said. "No doubt about it. You're going to make a mistake.
"It's just what you do after your mistake. It's the big thing I drill on them all, my little children."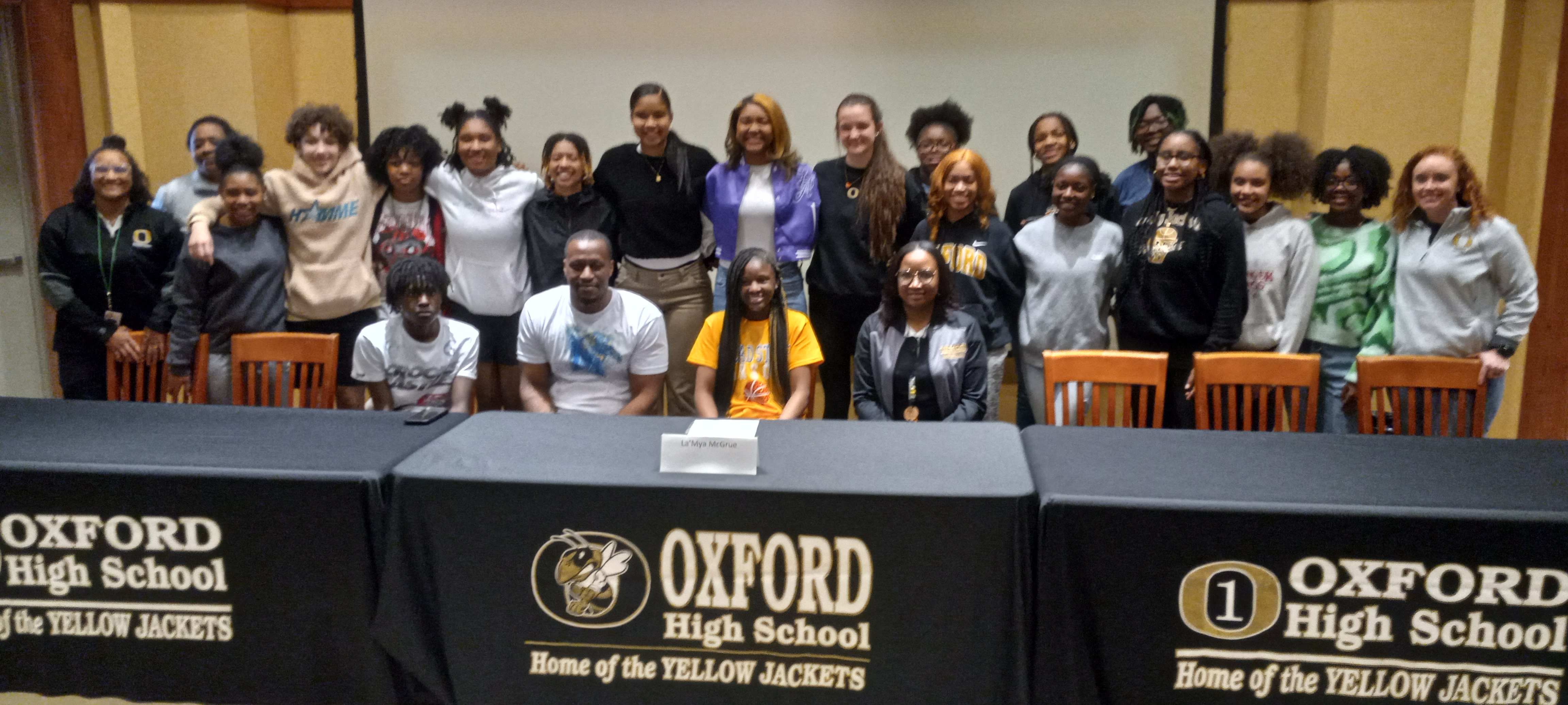 Cover photo: As family looks on, Oxford's La'Mya McGrue speaks Wednesday at a celebration of her signing to play basketball for Snead State Community College. (Photo by Joe Medley)