Miller time for Piedmont
One state's most successful high school football programs turns to proven head coach with Ginn pedigree to replace legendary Smith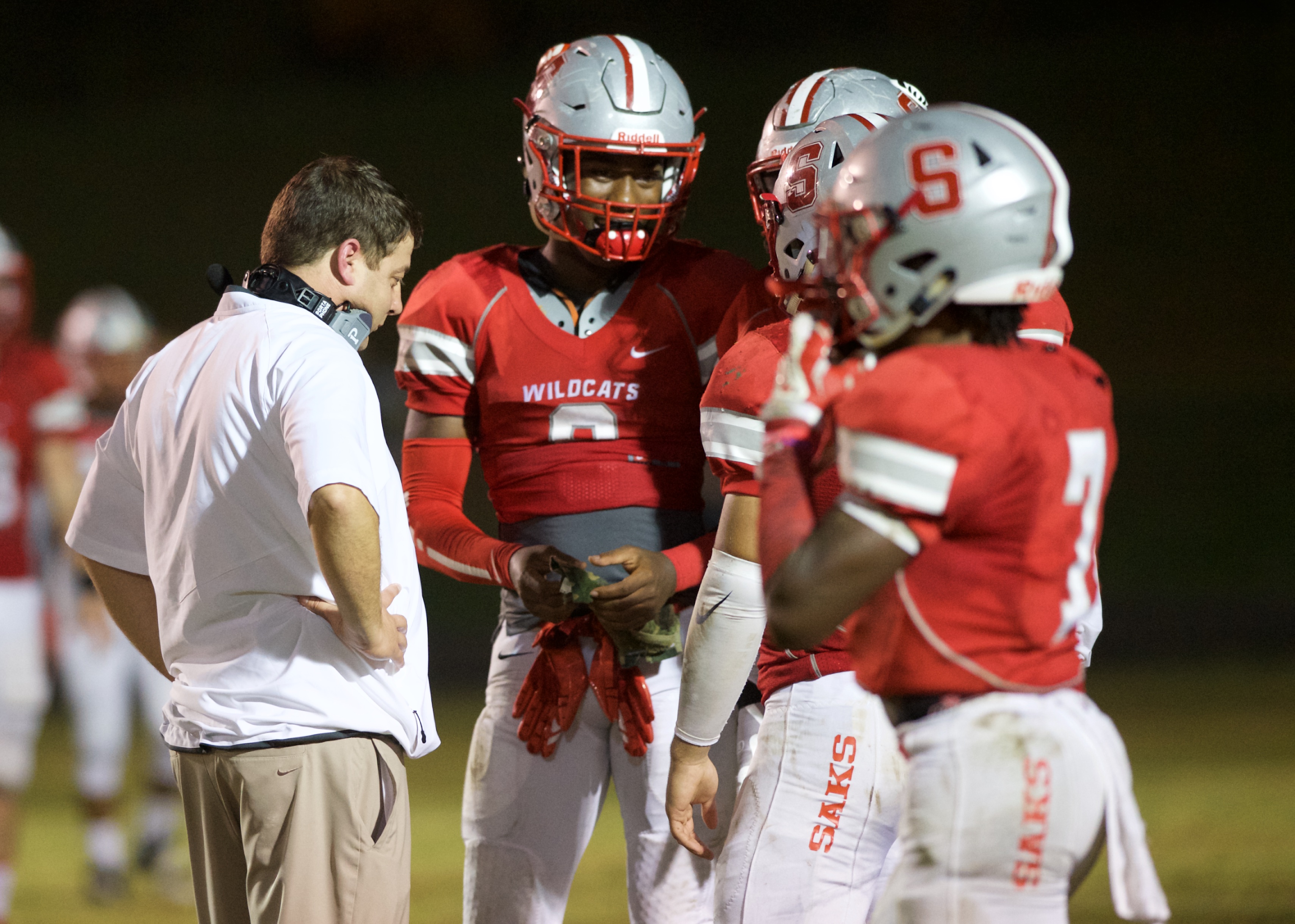 Editor's note: East Alabama Sports Today editor Joe Medley offers commentary on Piedmont's hiring of Jonathan Miller.
By Joe Medley
East Alabama Sports Today
PIEDMONT — Jonathan Miller's Saks teams had their successes against Steve Smith's Piedmont teams, and Miller will be Smith's successor at Piedmont.
The Piedmont City Schools Board of Education voted unanimously to approve Miller's hiring as head football coach and athletics director Monday morning, and Miller informed his Saks players shortly thereafter.
Smith announced in December plans to become Westbrook Christian's head football coach and athletics director. He will remain at Piedmont as athletics director through the end of the school year.
Miller was chosen over 46 applicants and was one of three finalists, Piedmont principal Dr. Adam Clemons said.
"Coach Miller had an impressive resume as a head football coach that stood out to us," Clemons said. "His record since 2012 of 100-32, his numerous awards as 'Football Coach of the Year,' and his multiple playoff appearances, including three semifinal appearances, were key factors.
"Additionally, we have watched Coach Miller for numerous years from across the field and always have been impressed by his coaching ability. He is very familiar with Piedmont, and has a good plan to take us forward to conquer and prevail."
Miller, one of the most highly regarded coaches on the Calhoun County scene, will take over what Smith turned into one of the state's most highly regarded and best supported programs. Smith's Piedmont teams won 3A state titles in 2009, 2015, 2016, 2019 and 2021 and reached the 3A semifinals each of the past eight seasons.
Miller, 44, will also extended branches of late hall-of-fame coach Larry Ginn's coaching tree to Piedmont.
A 1996 Alexandria graduate who was a senior on Ginn's 1995 state-championship team, Miller has coached at Saks his entire 22-year career … first as an assistant under Joe Thornton, then defensive coordinator under Clint Smith and then as head coach, after Cllint Smith left for Jacksonville in 2012.
Miller's Saks teams went 100-32 in 11 seasons. He has five seasons with double-digit wins and one losing season.
Saks won region championships and reached the semifinal round of the Alabama playoffs in 2013, 2017 and 2021. The Wildcats did it in Class 3A in 2013 and 2021 and in Class 4A in 2017.
During Miller's tenure at Saks, the Wildcats became one of Calhoun County's top challengers for Steve Smith's Piedmont teams, going 2-5 against the Bulldogs. Ohatchee is the only other team from Calhoun County with two victories over Piedmont teams coached by Steve Smith.
Ohatchee, Pleasant Valley, Weaver and Wellborn have been regular region opponents for Piedmont over that span.
Most notably, Miller's 2021 Saks team and Steve Smith's Piedmont counterpart played one of the county's most memorable games. Piedmont won their Class 3A semifinal 52-44 in overtime and went on to beat Montgomery Academy in the state final.
While Piedmont administrators have expressed admiration for Miller's coaching from across the field, he's noticed a few things from his sideline.
"I see a lot of Alexandria back in the day, when I was in school," he said. "The kids, if you take a look at Piedmont throughout the years, I think they've had one season where they were 15-0. They've had five championships in 17 years, but one season where they were 15-0. That tells me, and that's one thing I've observed from across the field is, those athletes at Piedmont can handle adversity.
"They can handle a setback. They can handle losing a game and learn from it. It makes them better. Usually, they can put the pieces back together and go on and have a very successful season. That was one thing that stood out to me."
Miller has accomplished what he's accomplished at a county school, which shares resources with six other high schools under the same system umbrella. He's done it with teams that had mostly two-way starters … players who start on offense and defense.
At Piedmont, Miller will have the keys to a program that operates under an independent school city school system, and Piedmont's following matches its success.
Steve Smith's Piedmont teams also had depth enough that most of his starters played exclusively offense or defense, an edge in Class 3A football.
"Piedmont really checks all of the boxes that any coach in the state of Alabama would be looking for," Miller said. "You've got, obviously, great facilities. That's one of the first things that jumps off the page at you, then the community is obviously very supportive and behind the football program and really all of the programs there at Piedmont.
"It's a great administration and supportive and cares about the athletic part of things, as well as the academic side of things. There's a commitment to winning in all sports, and football really matters. The kids are great. They obviously care a lot about winning and doing the things it takes to be successful, and being successful not only in the football program but in the entire sports program. Those are the things that drew me to Piedmont."
As for his time at Saks, Miller leaves as the school's winningest coach. He passed Jack Stewart (70-40-4) in 2019.
Miller spent "literally half of my life there."
"I just feel like it was time to experience something different," he said. "I really enjoyed my time at Saks. I had a lot of great success because of all of the talented players and coaches who have been a part of our program over the years, so I've been very appreciative of the Saks community and administration over the years for all of their support.
"The community has been great to my family over the years. They've been awesome to me and my family, so I really do appreciate that. It's been a privilege and an honor to serve that community over the years."
As for what staff Miller might bring or retain at Piedmont, he said it's too early to tell.
"That's one thing about Piedmont," he said. "There's not a lot of people that leave, so we'll just have to see, as far as that goes."
Jonathan Miller file
Jonathan Miller comes to Piedmont with 11 seasons of experience as a varsity head football coach, all at Saks High School. Here are his year-by-year results:
| | | | |
| --- | --- | --- | --- |
| YEAR | OVERALL | REGION | PLAYOFFS |
| 2022 | 7-4 | 4-2, third | 0-1 |
| 2021 | 12-2 | 6-1, first | 3-1, 3A semifinals |
| 2020 | 9-4 | 4-3, fourth | 2-1, 3A quarterfinals |
| 2019 | 4-5 | 3-4, fifth | |
| 2018 | 10-2 | 6-1, third | 2-1, 3A quarterfinals |
| 2017 | 13-1 | 7-0, first | 3-1, 4A semifinals |
| 2016 | 6-5 | 5-2, third | 0-1 |
| 2015 | 8-3 | 6-1, second | 0-1 |
| 2014 | 10-2 | 6-1, second | 1-1 |
| 2013 | 13-1 | 7-0, first | 3-1, 3A semifinals |
| 2012 | 8-3 | 6-1, second | 0-1 |
| TOTALS | 100-32 | 60-16 | 14-10 |
Cover photo: New Piedmont head coach Jonathan Miller poses with wife Lauren, oldest son Knox and youngest son Wynn. (Submitted photo)