Golden again
Second-ranked Jacksonville beats No. 1 Westminster Christian at its defensive, grinding game to claim the Golden Eagles second state title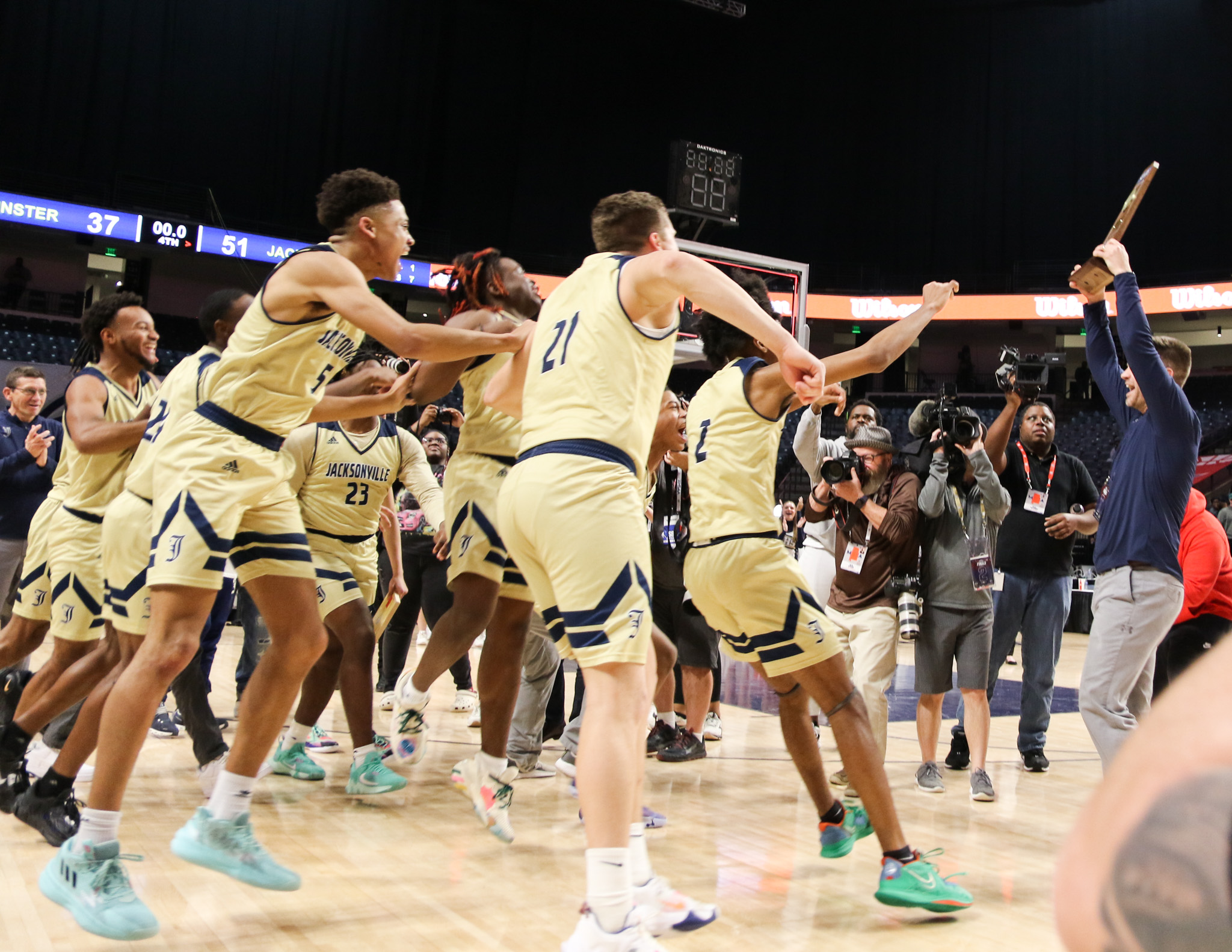 By Joe Medley
East Alabama Sports Today
BIRMINGHAM — John Broom took on the challenge of Chase McCarty, and Jacksonville met grinding defense with grinding defense Friday.
As a result, the Golden Eagles validated themselves as the team to beat two years in a row in Alabama Class 4A basketball.
Broom scored a game-high 20 points to earn most valuable player in his final high school game, and Jacksonville's grind proved strongest as the Golden Eagles prevailed 51-37 in Friday's Class 4A title game in Birmingham's Legacy Arena.
Jacksonville finished 29-6 and became the third team from Calhoun County to win back-to-back state championships in basketball.
With the first two state championships in program history, under two different head coaches, the the Golden Eagles entered elite territory.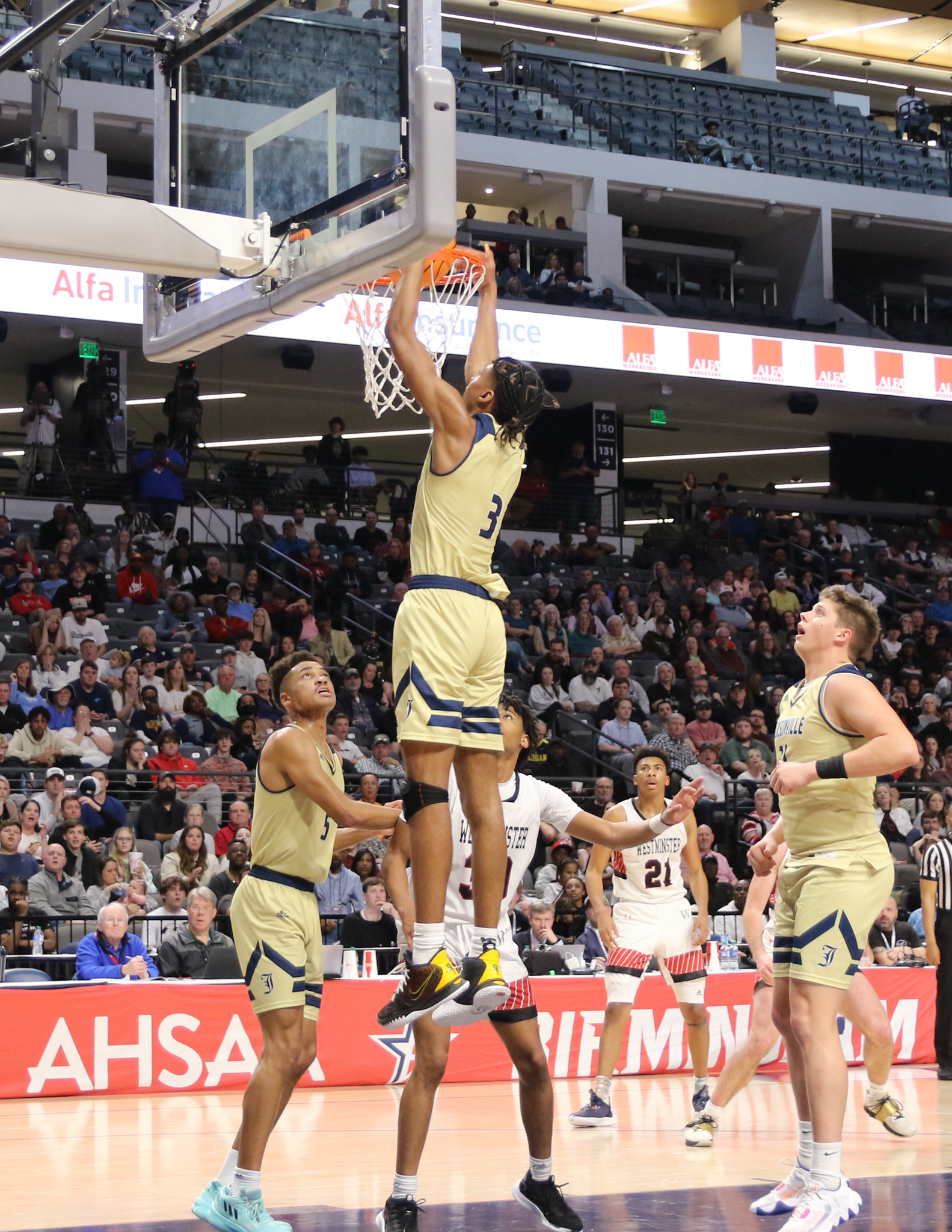 "Back-to-back for them, but first time for me," first-year Jacksonville coach Tres Buzan said. "It feels really great."
Buzan took over in May after Shane Morrow was relieved of his coaching duties for undisclosed reasons.
Buzan took over a program that had just won its first state title and was about to lose one of its star players before his senior year. Cade Phillips, the 6-foot-9 center who transferred in from Westbrook Christian, opted to go the prep school route at Link Academy, in Branson, Mo.
"When I took this job, we had a team meeting at my house this summer," Buzan said. "We said our goal was to be right back here, chasing another 'blue map' …
"We said we weren't defending a state championship. We're a new team, so we're pursuing a state championship."
Broom, who signed with South Alabama, led the returning group that included senior classmates Caden and Cam Johnson core players on last year's team. Sophomore Devin Barksdale continued his emergence at point guard, and Ethan Duke gave the Golden Eagles a lunch-pale presence in the lane.
It worked well enough for second-ranked Jacksonville to get back to Birmingham and beat Westminster Christian at its game.
"I'll say this," Buzan said. "That game right there was a battle, a battle of wills."
Westminster Christian (29-4) got back on defense, chased Jacksonville's shooters off of the 3-point line and outrebounded Jacksonville 28-23, making it hard for the Golden Eagles to get out on the break.
Jacksonville scored just two fastbreak points, same as Westminster Christian.
The Golden Eagles would not have one of its signature days, pushing 100 points with threes and transition dunks. That's OK, because all the dunks and three balls that marked their season belied their underlying heartbeat.
"I felt like the score was more of a Westminster type score," Buzan said. "We like to score higher and be high paced, but they're so well-coached. They're so good at what they do, that we knew it would be a little lower than normal.
"We've got a locker room full of scorers, but what these guys have really bought into this year was the defensive end, and that's what won us the game today."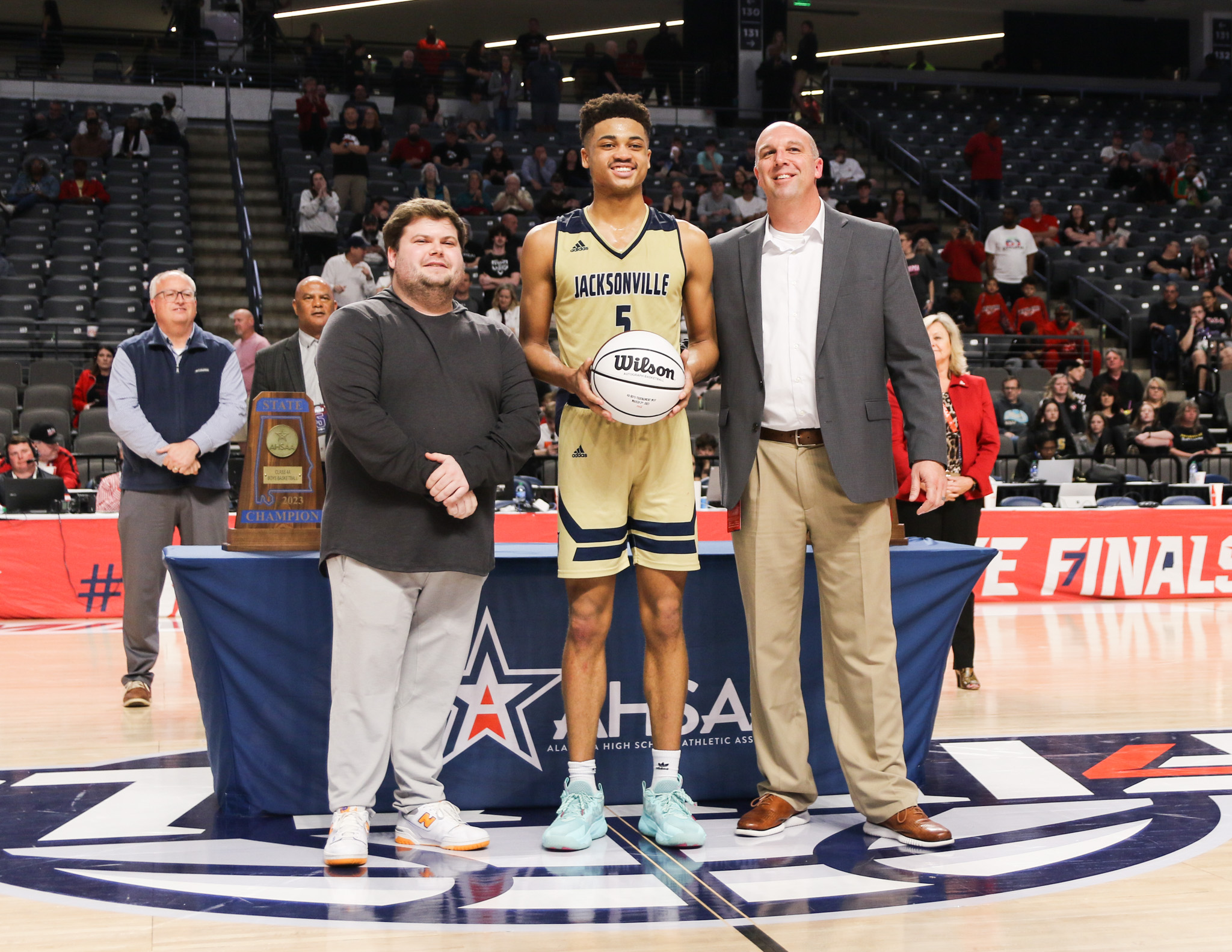 It started with the 6-foot-5 Broom, who went head to head with the 6-6 McCarty, whose college offers include Alabama.
McCarty came determined to chase Broom off of the 3-point line, and Broom went 0-for-2 for the game. Broom was 6-for-9 overall and hit eight of nine free throws.
McCarty finished 5-for-14 and hit three of his four free throws for 14 points,
Taking on McCarty "was definitely the game plan," Broom said. "I personally wanted to guard Chase. He's a great player.
"D-1 on D-1 is what everyone wanted to see, so I just wanted to give them what the crowd wanted to see."
Caden Johnson also rotated on McCarty at times.
Jacksonville held Westminster Christian to 14-for-41 shooting, 1-for-12 behind the 3-point arc.
As much as Jacksonville struggled to pull away, Westminster Christian struggled to gain the edge.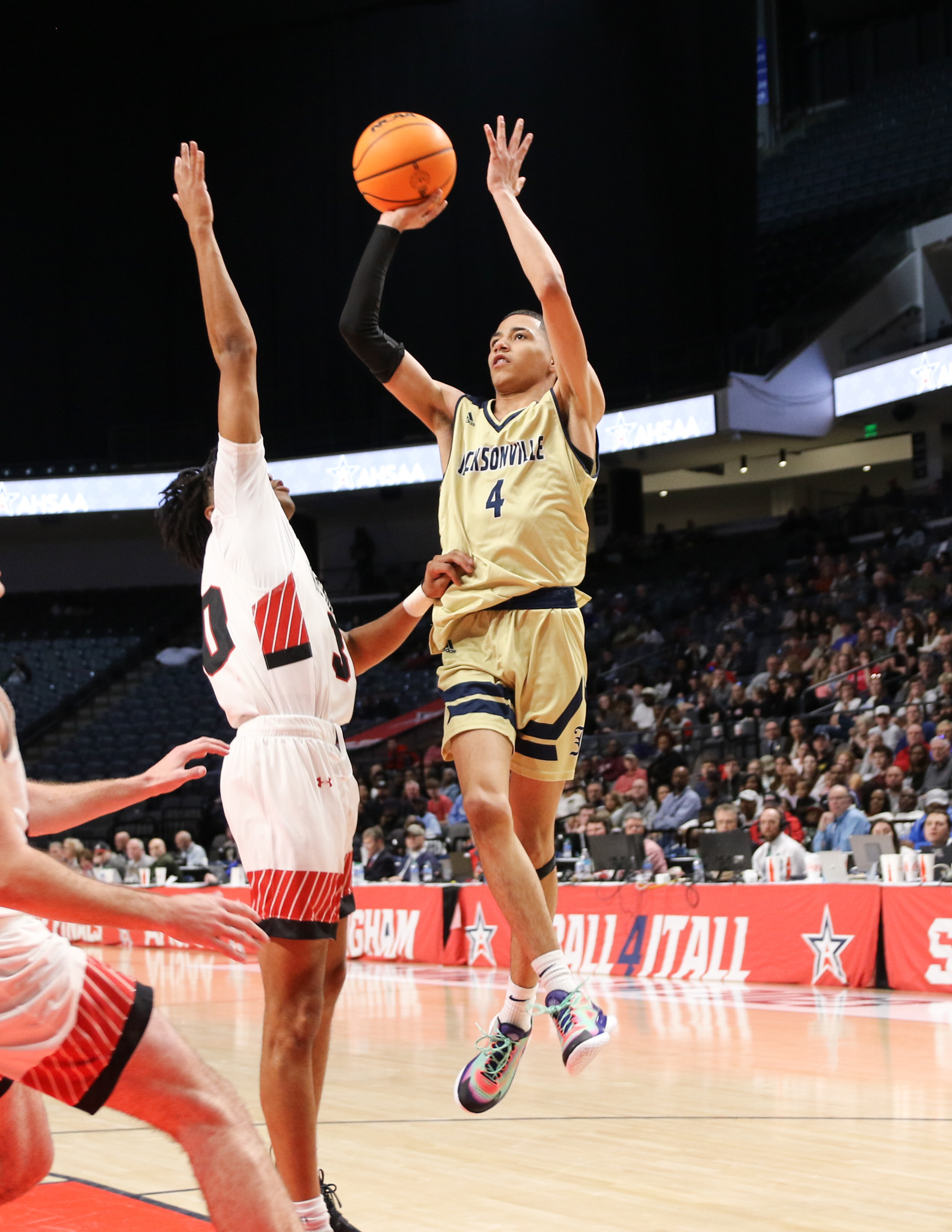 Jacksonville had players step up before Broom found his groove. Barksdale scored 10 of his 12 points, and 10 of Jacksonville's 14 points, in the first quarter.
"Just the intensity built up and the support from my teammates," Barksdale said. "They hyped me up, and it just took off from there."
Down 21-18 in the second, the Golden Eagles went on a 10-0 run that carried into the third quarter.
Westminster Christian closed the gap to 32-28 going into the fourth, and Jacksonville slowed forged its way to a 41-31 edge with 3:43 to play.
And Eric Robinson steal and layup closed the gap to 43-37 at 1:27, but Caden Johnson answered with a jumper,
Broom and Barksdale combined to hit six of six free throws, and Broom provided the slam-dunk finish on the game's final sequence.
The dunk came after the buzzer and didn't count, but "that dunk at the end of the end was just special, special. My teammates coming out and the whole city, it was just awesome."
CLASS 4A FINAL FOUR
BOYS FINAL
JACKSONVILLE 51, WESTMINSTER CHRISTIAN 37
JACKSONVILLE (29-6) – Cam Johnson 2-5 0-0 4, Caden Johnson 5-10 3-3 13, Devin Barksdale 4-8 2-3 12, John Broom 6-9 8-9 20, Ethan Duke 1-4 0-0 2, Monte Sinclair 0-1 0-0 0, Ky'dric Fisher 0-1 0-0 0. Totals 18-38 13-15 51.
WESTMINSTER CHRISTIAN (29-4) – Kaden Rickard 4-11 1-2 9, Chase McCarty 5-14 3-4 14, Tyler Engle 0-2 0-0 0, Jackson Hammond 3-4 1-2 7, Eric Robinson 1-6 3-4 5, Lawson Collier 0-1 0-0 0, Isaiah Cleaves 1-2 0-0 2, Grant Kaufmann 0-1 0-0 0. Totals 14-41 8-12 37.
| | | | | | |
| --- | --- | --- | --- | --- | --- |
| Jacksonville | 14 | 10 | 8 | 19 | – 51 |
| Westminster Christian | 13 | 8 | 7 | 9 | – 37 |
3-point goals: Jacksonville 2-8 (Cam Johnson 0-1, Caden Johnson 0-1, Barksdale 2-3, Broom 0-2, Sinclair 0-1); Westminster Christian 1-12 (Richard 0-1, McCarty 1-5, Engle 0-2, Robinson 0-2, Collier 0-1, Kaufmann 0-1). Total fouls: Jacksonville 11, Westminster Christian 16. Fouled out: McCarty. Technical fouls: none.
All-tournament team: (Westminster Christian) McCarty, Hammond, Rickard; (Jacksonville) Barksdale, Caden Johnson, Broom (MVP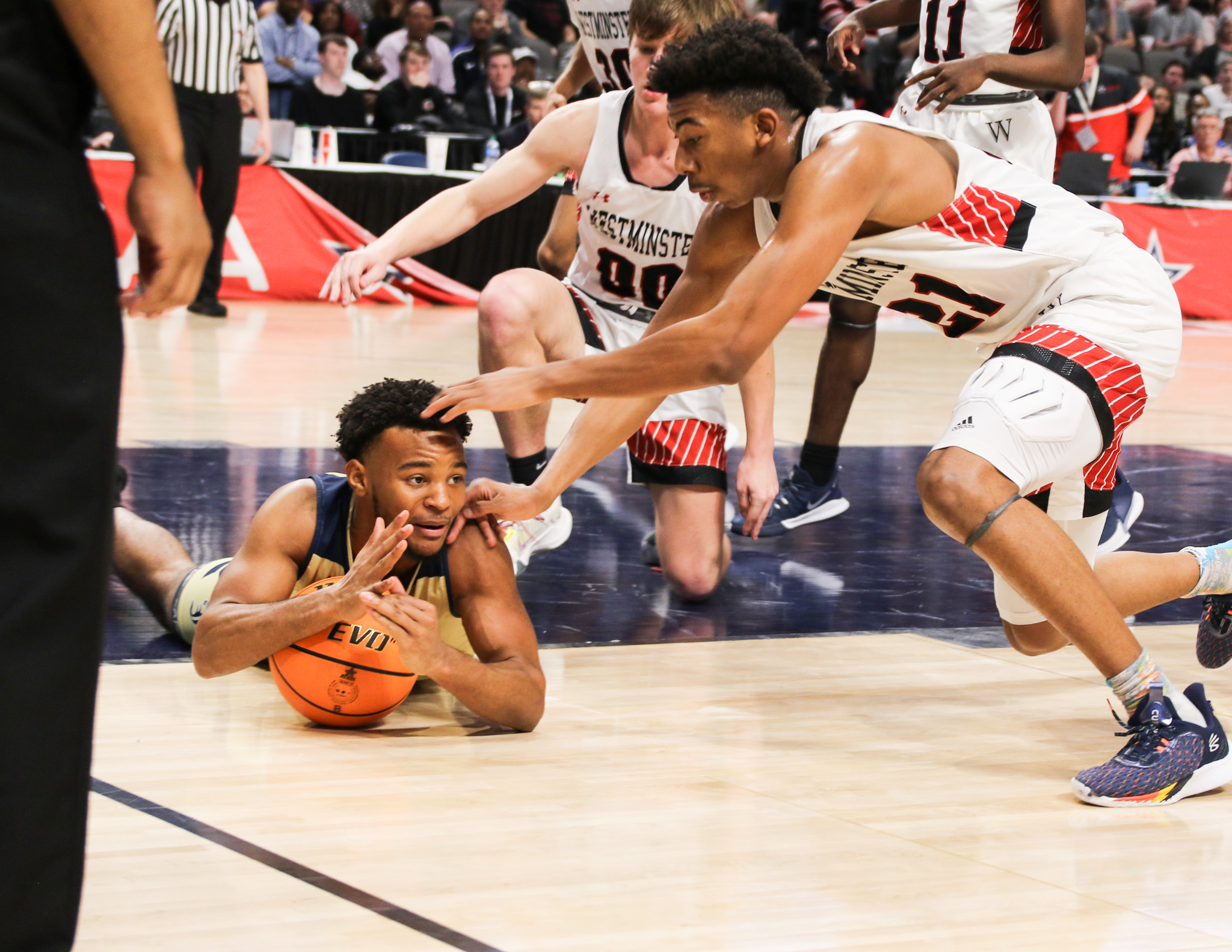 Cover photo: Jacksonville's Cam Johnson dunks against Westminster Christian in Friday's Class 4A title game in Birmingham's Legacy Arena. (Photo by Greg Warren)