Hat's off, Joe's up
Founding editor Al Muskewitz retiring from East Alabama Sports Today, passing the torch to Joe Medley

By Al Muskewitz
East Alabama Sports Today

Almost 50 years ago, on a cold night before Pearl Harbor Day, a naïve high school junior sat down in the newsroom of one of the two daily newspapers in his town and began typing one of those little announcements you find at the bottom of the page about some random youth soccer league holding registration for the upcoming season. Thus began the adventure of a lifetime.

There was one piece of advice about one specific letter of the alphabet the wannabe sportswriter received that night that stayed with him for the near half-century that followed. If "I" was the strongest word in your vocabulary, he was told, find another job.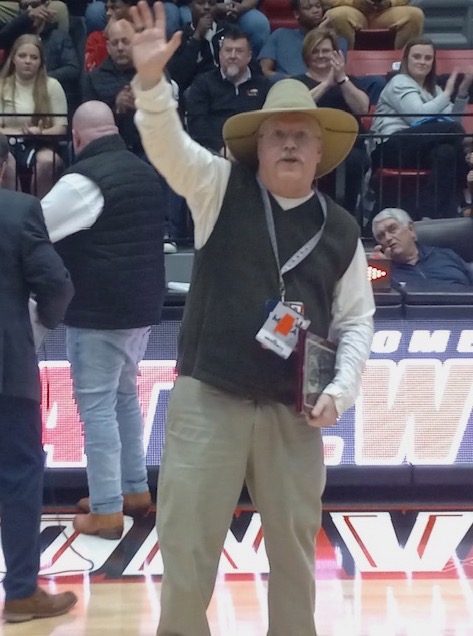 As a newspaper man – and that's what they were called in those days – you learned the story was never about you. Well, sorry to this mentors, this one is about me, by me, for the readers.

I never intended to write what they call in the business a good-bye column, but there is some news we need to share and as you've allowed me the honor of coming into your homes every day through East Alabama Sports Today this is the perfect platform for it.

As many of you probably have heard, your dutiful correspondent (see, no "I") has decided to put away the pen and tape recorder – for now – and retire. After 48 years, seven daily newspapers, one awesome website and a lifetime of games and stories, the notebook will close for the final time at the end of February as we go back where we came from, as they say. All that will remain are unbreakable relationships and a lot of great memories.

With that being said, the torch is being passed to Joe Medley, a well-known documentarian of the local sports trade. Joe was as the Anniston Star about five months before I got there in 1997, at a time when the newspaper was a force not only statewide but nationally. He knows the local sports scene, all the key players and what's important to local sports fans, all prime factors in setting the wheels in motion for this transition and I have no doubt the website will continue to be the go-to in local sports coverage under his leadership. You've already seen some of his work on the website during our coverage of the Calhoun County Basketball Tournament.

There's a tremendous sense of pride in what we have brought to the community with East Alabama Sports Today and it was indeed a privilege and honor to be welcomed into your homes and devices each day.

Of course there are some regrets. With retirement at this time there are some milestones just a little out of reach. Wanted to get to 50 years in the news business. Get to the 50th Sunny King Charity Classic. Even more ambitious, get to the 100th Calhoun County Golf Championship. Some of that still might happen, but just saying that kind of makes you feel like Willie Mays Hayes trying to steal second base and sliding in a few feet short.

There have been a lot of great stories, but there also have been stories missed, still in a notebook somewhere, never written. One of the biggest regrets is having worked in this town for more than 25 years and heading north without ever finding out what's in that famous Valley Dog Sauce on an Alexandria hot dog.

Joe tried to solve the sauce for one of the thousands of stories and columns he wrote in 26 years with The Star. He got vague hints and speculations, but folks in The Valley take pride in the secret almost as much as the sauce.
I worked with Joe for 17 years at the old place, his desk always right next to mine, downtown building and McClellan building. We've collaborated when our capacities allowed, spent hours and covered miles together.
We've not only had Valley Dogs, but we had "Devil Dogs" at halftime of Piedmont's 2020 semifinal football game at Fyffe. Not the same as a Valley Dog. More of a Polish sausage vibe, but a nice local variation on a charming theme.
We're both old salts in this game. No two people or approaches in this line of work come exactly the same, but we share some of the same aches and pains, physically and professionally. We've worked in this market all 25 years of my time here.
He once shared with me that his sports-writing journey started at a naive age, as well. There he stood, outside his freshman English classroom, his face parallel to the floor after having seen a piece of paper showing the names of those who made the basketball team. His name wasn't on it and he knew how Michael Jordan felt.
Before he could wallow long, his English teacher met him at the door and offered encouragement about writing. Joe married that with a passion for sports and came up with a career choice. That career brought him to East Alabama in November of 1996, and we've covered the gamut of local sports interests.
Our bosses over our years at The Star noted Joe's eye for a story with a personal touch. His personality showed through most during his nine years as the paper's sports columnist. He'll bring that along with the deep and irreplaceable knowledge we share of the area's sports and its personalities.

In the coming weeks look for the same coverage you're used to here at East Alabama Sports Today.

One immediate addition is running the Alabama Sports Writers Associations high school polls. Joe has been the ASWA area representative and will bring that with him. There also are plans to utilize the promotional and mass-communication potential of social media, which readers already have seen in the start of regular Facebook Live briefings, and hopes to introduce EA Sports Today's own All-Calhoun County teams.

As for down the road, Joe might throw pebbles in the water from time to time, to see how the ripples flow. Any changes, however, would be about enhancing what's been established for EA Sports Today readers.
As we turn the page, all in all it has been a great ride. The thrill of being on the front row of history has always been a motivator and it has been wonderful to chronicle the many championship moments, disappointments and inevitable changes that have been a part of this vibrant sports community. It really is true what they say, if you love what you do you'll never work a day in your life, and it's been like that since that cold December night way back when. This "I" will see ya around the internet.