Who's who on first
Inseparable Alexandria Johnson twins have confounded baseball coaches for years, now it's Shorter's dilemma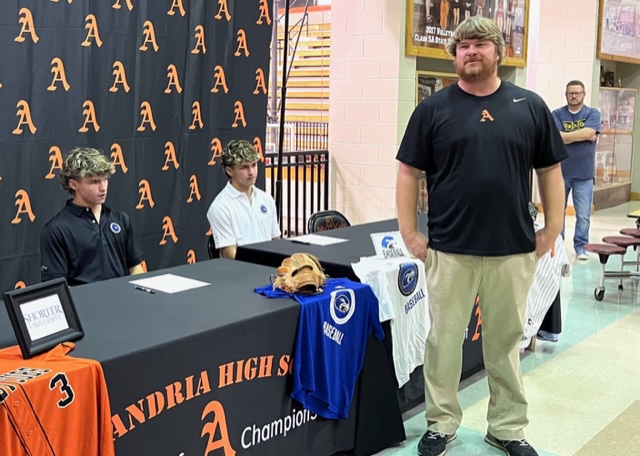 By Al Muskewitz
East Alabama Sports Today
Longtime Alexandria baseball coach Zac Welch has known the Johnson twins, Aaron and Seth, since they were fifth-grade move-ins from Pleasant Valley and he still can't tell them apart.

Hall of Fame former Valley Cubs coach Andy Shaw and the twins' travel ball coach Roby Brooks have the same problem.

"They've played for me forever and I still can't tell them apart," Brooks said. "Both of them are studs. You can write that down."
The folks who gathered for the twins' college celebration Friday in the Alexandria gym weren't much help for the unsuspecting visitor either. They mixed the players and their shirt colors before the twins took their seats (hopefully) behind their proper Valley Cubs jerseys to re-enact their signing — both right-handed — and (presumably) put any doubt to rest.

Now, it's Shorter coaches Wes Timmons and Jake Harrelson's problem to figure out who's on first for the next four years.

"Good luck is what I tell him," Welch said. "You've really got to be on your game to tell them apart."

You can tell them apart on the field. Seth is a right-handed hitting infielder who wears No. 3 and Friday had on the navy polo. Aaron is the two-minutes-younger left-handed hitting outfielder who wears No. 5 and had on the white polo for the festivities. To avoid any embarrassment by calling one by the wrong name Welch just simply calls them "left-handed Johnson" and "right-handed Johnson."

But that's not how some of those in the gallery identified them as the crowd started to gather. (To be honest, this old sportswriter is scared to death he didn't get it right.)

Actually, the brothers Johnson are part of a set of triplets. They lost their first-born brother a few hours after they all entered the game of life.

They look so much alike it's natural for confusion to reign. People come up to them all the time and ask who they've tried to to pull a fast one on. Their parents have a strict rule about fooling teachers or girlfriends. Opposing players, however, are fair game.

There was a time in T-ball when one followed the other in the lineup. After Aaron hit, Seth was just about to step into the box, the catcher did a double-take, took off his mask, scratched his head and asked him if he didn't just bat.

"We had to explain it to him that we're twins and we're not cheating," Aaron said.

The twins are uber-competitive with each other, going so far as to track their progress in the weight room, on the field and in the classroom. The scorecard is "pretty close to a tie," Seth said.

Last season, Aaron hit .333 with eight doubles and 26 RBIs from the leadoff spot. Seth hit .294 with 14 doubles and 28 RBIs from the 9-hole.

"They have transformed our program from the inside out based on the way that they work," Welch said. "These are a throwback to a generation that not many people can really relate to and understand. Kids these days are not programmed like these two boys are. These kids will help out any team that they're on my making everybody around them better players, better workers."

And they're tighter than anything and it was important to them they go to same college together.

They were going to Auburn as students, then Shorter came around with the first and only baseball offer they received and they jumped at the chance to keep playing together.

"That was a dream come true," Aaron said. "We've been inseparable since birth. My mom used to tell me stories that we had our own language when we were really young. Wherever we were going we were going together. If one of us got it and the other one didn't, one of us were going to have to sacrifice. We've been together since birth, so we're going to stay that way."

"All I know is how to play on the field with him," Seth said. "I've played with him my whole life."

The only thing that would've made it better if one played short and one played second. Imagine the looks they'd have gotten from umpires and opposing runners on the base paths.