Dad on her shoulder
Versatile Burns playing for team, school. community and her ailing dad when Oxford play for the state flag football championship Wednesday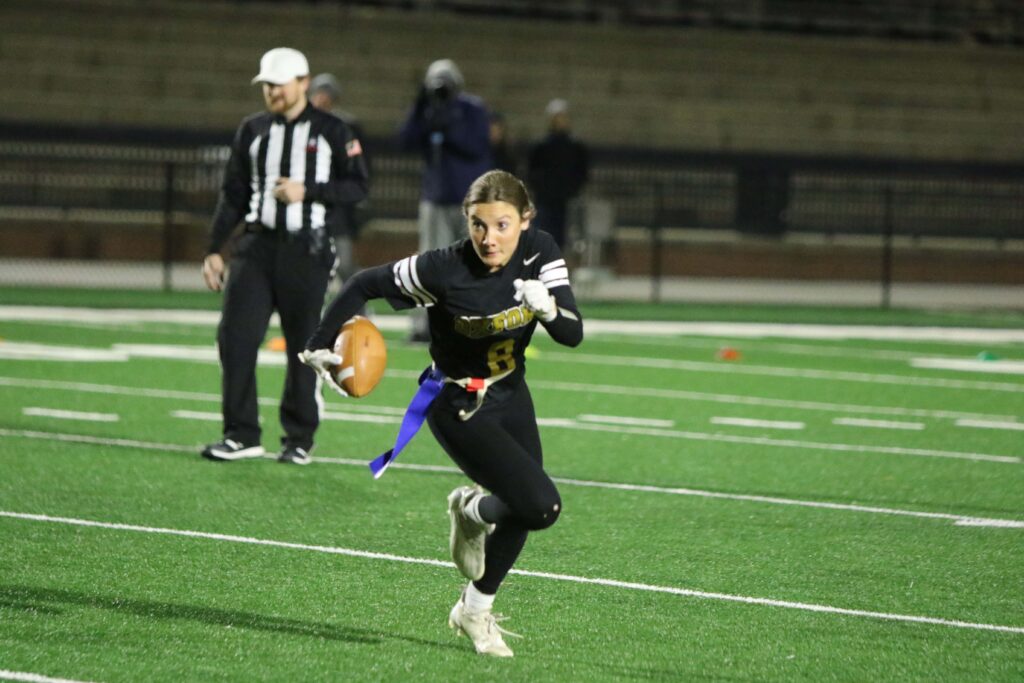 By Al Muskewitz
East Alabama Sports Today

OXFORD – The moment the final whistle blew in their state semifinal victory, all the players on the Oxford girls flag football team rushed to the middle of Lamar Field, surrounded the logo in the middle of the field and symbolically thrust their flag into the artificial turf.

Head coach Wes Brooks reminded them they were playing not only for themselves, but for their school, the 23,000 residents of the city of Oxford and their community.

Ashlyn Burns has been playing for all of that – and a lot more.

If things go right, her dad Andrew will be somewhere in Auburn's Jordan-Hare Stadium Wednesday watching his daughter and her team play Auburn High for the second state championship in the sport in state history.

Ever since the onset of COVID, Andrew has been fighting what doctors finally diagnosed as two rare and incurable autoimmune disorders after months of testing and trials. Friends have set up a GoFundMe campaign to help the family through it.

It's for him she plays the hardest.

"My dad has coached me in every sport I played up to the past couple years because he couldn't be there, so it means a lot to me to be able to play for him knowing he can't be there sometimes," Ashlyn said. "The days he's not there, I get home and he's talking about all the good plays I've had because sometimes they would live stream our games and he'd get to watch them. To know he came out there to watch me while he was in pain means a lot to me."

Andrew Burns had been a supervisor at the Anniston Army Depot, a national championship-winning coach and an active participant in all his kids' activities, but since the onset of his illness he's had to give up all of that. He can't always make the games.

The side effects of his monthly three-hour treatments leave him ill and weak. He has another round scheduled Tuesday and friends have been trying to make arrangements with state and stadium personnel to accommodate him in the event he feels strong enough to make the game.

"I told (Ashlyn), my wife and a few others that no matter what I feel like I'm going to try to go," Andrew said. "After the sessions I don't feel like doing anything, but it's going to be pretty tough to keep me from going to this."

By mid-morning Monday plans had been confirmed to get him a suite in the stadium to watch the game. Former Faith Christian baseball coach Jason Pahman set the wheels in motion and is taking care of all the other arrangements.

"This is awesome," Pahman said. "I'm excited for him and Ashlyn and family for him to be able to go and be a part of this memory of hers. If I could help bring just a little joy in his life and help him feel better this will all be worthwhile. After all, isn't this what high school sports is about – bringing teammates, fans, students and families together as one to accomplish a goal,win or lose that will bring everyone closer together."

The prospect of having her dad in attendance sure got Ashlyn excited.

"It definitely would be a boost to see him up there watching me." she said. "It would push me a lot more knowing that he came all the way to Auburn to watch, and he's a huge Auburn fan."

Andrew did attend the semifinal game two weeks ago and watched Ashlyn make a big catch to set up a touchdown right before halftime and break up a three-point extra point attempt in the fourth quarter that would have kept Vestavia's hopes alive. She caught two passes for 56 yards in that game, ran it six times for 28 yards more and anchored the middle of the defense.

She also caught a touchdown pass and conversion in the quarterfinals win over Hewitt-Trussville, the team that knocked them out in the semifinals last year. She scored touchdowns in each game of the regional tournament as well.

For the season she has 420 yards and 11 touchdown rushing, 399 yards and 11 touchdowns receiving. She's also the team's third-leading tackler (117) and has four interceptions.

"If you've got a utility player in flag that would be her," Brooks said, noting Ashlyn's mother Amy was his starting point guard and Andrew his starting shortstop when he first started coaching at Wellborn in 2000. "She's somebody who you'd want on your fantasy football team.

"Sometimes she's a safety, linebacker, rusher, running back, receiver. She could probably play quarterback, too. I know that I've got to get the ball in her hands eight to 10 times in a game because one of those times she's going to make something special happen."

Andrew has coached Ashlyn's teams for as long as she has been playing sports, no matter the sport. And it has been just about every sport.

It started with T-ball and rolled into an interesting couple years of learning soccer, but it "very quickly" became evident softball was her sport. She's a top 100 player nationally .

Flag football came along as something her parents suggested since her older brother already was in the game on a separate field. It started out as a side comment, but the next season instead of playing soccer she signed up for football and even though she was the only girl in an eight-team rec league took to it as easily as any of the other sports she played.
"Back then we would have never thought that she would be playing flag football as a varsity Alabama sanctioned sport," Andrew said. "She's always been athletic. Seeing where she's come from when she was little … always been super proud of what she does in her free time, which she has none, playing all the sports that she has."

Ashlyn admitted the challenge at home is a lot to deal with but her dad has tried to shield the kids from it as much as he can. Brooks figures the athletic arena is her escape from it all. Through it all, she's excelled. She's also a standout on the Lady Jackets' softball and volleyball teams.
"I'd be lying if my situation hasn't hurt her or held her back some because she's not able to come to her dad and say let's go hit balls and she's having to do a lot of stuff my herself," Andrew said. "To say she hasn't suffered athletically some because of it would be a lie, but I'm super proud of everything she's done and the way I see her working on her own."
But truth be told, he's taught her more than he could imagine.
"He's always pushed me to be more than an athlete, and the things outside of just being an athlete," Ashlyn said. "I've had a bunch of injuries growing up that pushed me back and messed with my head a lot and my confidence tore down. He taught me the biggest thing in a game is the mental game and if you don't have a good mental mindset then you're not really going to do anything better even if you have all the tools for it."
She'll reflect on that advice and her dad before the big game Wednesday. If she ever needed a reminder, all she has to do is look at the zebra ribbons in her hair – and on her softball glove – she wears for the cause.