Signing day
Basketball, baseball, volleyball players confirm their college choices today; several county players signing with Division I programs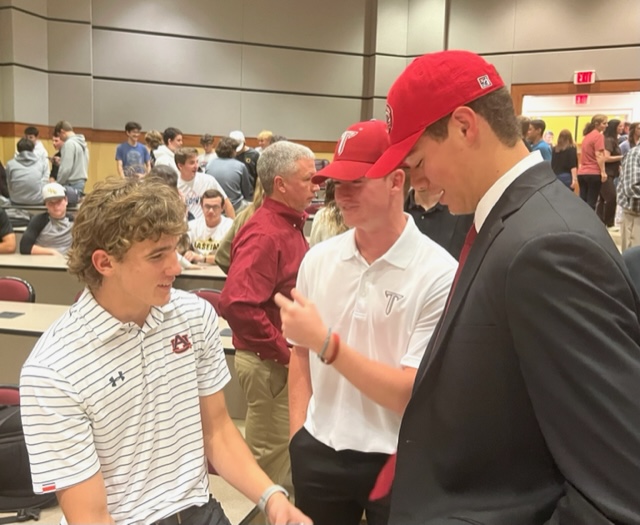 By Al Muskewitz
East Alabama Sports Today

OXFORD — Sam Robertson has been waiting for this day to arrive for 33 months. After the way last season started for him, Drew McCormick wasn't sure it ever would.

Robertson and McCormick took different journeys to get there, but they were among five Oxford baseball players solidifying their college futures Wednesday by signing with the schools of their choice.

Robertson committed to Auburn in February 2020 and made it official Wednesday. McCormick was on track to be the Jackets' Opening Day starter, but suffered a hip injury in January and missed nearly the entire season, but he kept himself baseball ready and signed with Jacksonville State.

They were joined at the signing party by teammates Peyton Watts (Troy), Hayes Harrison (NW Shoals CC) and Jackson Crow (East Mississippi CC). Jackets coach Wes Brooks anticipates as many as three more signees from this class this year, putting it on a par with their 2012 championship team that had five signees in the fall and three over the winter and spring.

"I believe the Lord's plan will happen no matter what and that will prevail," Harrison said. "Through prayer and decisions and working hard is what gets them to that point.

"For Sam, his journey looks a lot different than Drew's journey. They work extremely hard, both of them, and it just happened to end up differently for both them, but that just goes to show you never know when it might be."

Robertson, the Jackets' shortstop, committed to Auburn as a sophomore, shortly after the Tigers' went to the College World Series for the first time since 1997. He never wavered on his commitment and, more importantly through all this time, the Tigers remained committed to him.

He gave the Tigers something to look forward to last year and anticipates even better things this year. Over the last 10 games last season he had 28 hits (13 for extra bases), 24 runs and 22 RBIs.

"I've been waiting for this day for two and a half years," Robertson said. "It was great anticipation. It's never official until you sign that paper, so I've been really waiting on this day to come because I can really say now I'm officially an Auburn Tiger and that's something not a lot of people get to say and I'm really proud and grateful for that."

Brooks often talks about the adversity a player fights through to reach prosperity and McCormick faced his a couple weeks before the season opener.

He had progressed during the offseason to the point Brooks was going to make him the Opening Day starter. But all that changed less than a month before the game when, playing in the umpires' preseason camp, he hit first base wrong and suffered a hip injury.

He returned late in the year and in his first game back "the most nervous I've ever been" he got the final two outs to preserve a series sweep of Pell City. In the limited action he saw coming back, he had four hits and four effective innings pitched.

Coaches saw him at the Alabama Baseball Coaches Showcase with a 6-foot-5 frame and an upper-80s fastball with 16 to 20 inches of horizontal movement and it wasn't long before Jacksonville State offered.

"I had a goal since I was little that I was going to play at the next level," McCormick said. "That's been my dream, that's been what I'm doing, that's what I trained for. Once I got that injury it kind of set me back and I'd been questioning things. It was tough.

"But once I came back then I got to work. Started working out all the time, went harder than I've ever gone. It paid off. College coaches saw it. Before that injury I wasn't the greatest ballplayer; I was just average. Then something just clicked, something got to my head, if I put in the time and the work into it I could get to this stage."

Watts played all three major sports for the Jackets, but steadily whittled it down to baseball only by the time he was a junior. He played football through the seventh grade. He dropped basketball after his 10th-grade year when he realized he couldn't serve two masters.

"I was at a point where I needed to make a decision and that's what it boiled down to," Watts said. "The thing with basketball is it took so much time away from the work I had with baseball and I was behind (when baseball season began).

"I put a lot of emphasis on that when I was playing baskeball, but then I came to realize later that I spent a lot of my time on something I'm doing not later on in my life."

So he focused solely on baseball last year, got stronger and faster, and has been a stalwart ifor the Jackets n the field, at the plate and on the mound.

Crow bet on himself in the offseason and came up a big winner. While many of his teammates were off playing summer ball, Crow turned to increased training. He got stronger, added several mph to his fastball, developed a change-up that's still a work in progress and sharpened his command. 

The player teammates call their CEO – Chief Energy Officer – for his high-rev motor went to Florida Baseball Ranch in Lakeland and the ABCA Showcase where he caught the eye of the East Mississippi coaches, who followed him and McCormick all week.

"I really wanted to invest in myself and my body and just see how can I maximize each body part of mine to throw as hard as I can to get the best spin rate and all that," Crow said. "I knew if I played I wouldn't progress much and I felt like I needed to get an expert's point of view on me and not playing that summer really helped me out with that. I'm so happy I did it."

Harrison hasn't had to overcome any majority adversity, but he has had moments where he needed someone hold him accountable,. Now, he figures he's right where he needs to be; the junior college route gives him a better opportunity for him to play Division I baseball. He'll go to Northwest Shoals as a pitcher and hitter and in time figure out his identity as a college player.

He has demonstrated the ability to do both with the Jackets. Big Papi got three hits in last year's season opener and the next game he went to the mound and gave the Jackets five good innings with eight strikeouts. He hit in 30 of the 38 games he played, collecting multiple hits in half of them, and was the MVP of the Calhoun County Tournament.

"I think the difference was my focus from my sophomore year to my junior year," he said. "My sophomore year I don't think I was as focused as I needed to be and going to my junior year I think I worked pretty hard and that's what I wanted. I'm just looking to continue to work hard and improve."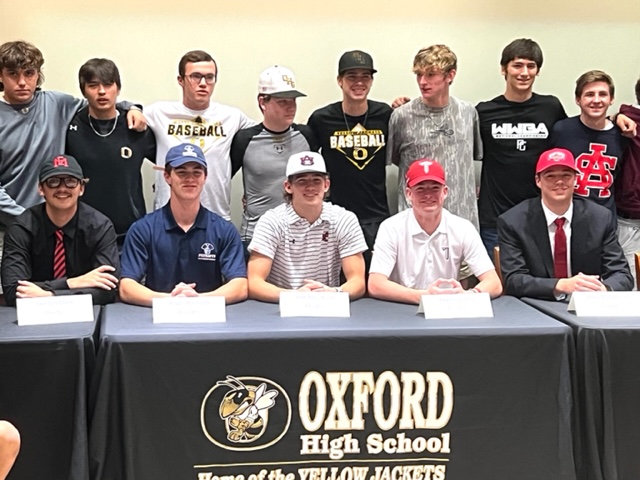 Celebrations continue Thursday
Signing day celebrations continue Thursday with three of Calhoun County's most dynamic high school athletes – basketball players Alex Odam and John Broom and volleyball's Jorda Crook – talking about their college choices.

Piedmont's Odam, one of the state's most prolific scorers, is signing with Jacksonville State on the first day of the early signing period. Broom, the anchor of Jacksonville's Class 4A state championship, is signing with South Alabama. Powerful Crook is signing with UAB.

Odam, who will be playing in his sixth varsity season this year, is Piedmont's all-time leading scorer (2,457). He has averaged 23.7 over the past three seasons and if he maintains that pace this year he will finish with 3,073 points, which would be 13th on the all-time state list.

"I'm excited about it," Odam said about his signing with the nearby D-I program. "Playing for Coach (Ray) Harper and in big-time Conference USA is going to be an awesome experience. It's kind of just an added bonus that it's close to home."

He shoots, scores and passes. Odam led the county in scoring (25.3) and assists (5.5), averaged 5.6 rebounds and 3.0 steals, and shot .789 from the line and .369 from 3-point range.

It's believed Odam will be Piedmont's first Division I basketball signee since Calhoun County Sports Hall of Famer Bob Miller (Class of 2016), who averaged 16.9 ppg and 11.9 rebounds and established several team records in two years at Auburn (1952-54) after starting his college career at Jacksonville State and serving in the Korean War.

Broom is the total package, too. He averaged 18.8 points in the Golden Eagles' state championship season, 6.3 rebounds, 3.3 assists and 1.6 steals. He led the county in free throw shooting (.848) and was second in 3-point shooting (.443).
Crook was the dominant player in the county. She finished the year as the No. 2 ranked player in the state and her career with 2,035 kills, 345 blocks, 873 digs and 264 aces.

Signings will continue next week. Munford softball pitcher Khloe Shears is signing with Columbus State next Friday, Nov. 18.