Simply redemption
White Plains' Conn wins the Class 4A girls state title race that got away from her last year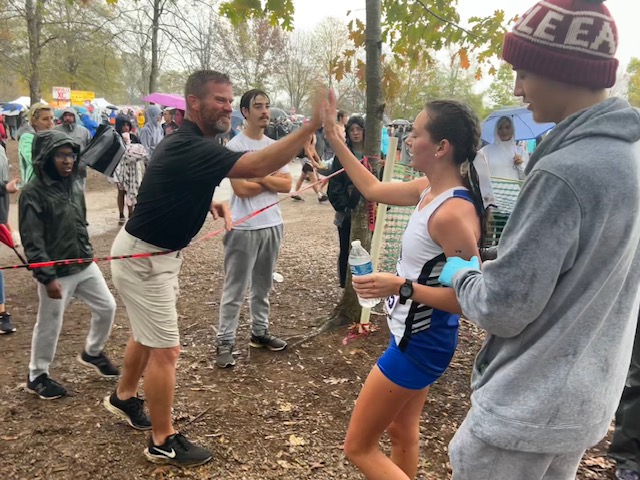 By Al Muskewitz
East Alabama Sports Today
OAKVILLE — Maddyn Conn waited all year for this.

After missing out at the wire in last year's race, the White Plains sophomore left no doubt Saturday, winning the Class 4A girls cross country championship that eluded her by an eyelash.

She won the race in 18:59.61, and won by 27 seconds. Her time was 28-hundredths of a second faster than the one she posted a year ago, a time that came up 54-hundredths of a second short.

"I didn't have the time I wanted, but I got first, so that's OK," she said. "It just felt good to get redemption, yeah."
The memory of last year's state title race where she had the lead until the final 200 meters stayed with her all year. It drove her training. It drove her sprints.

Last year she went out fast and slowed down. She went out fast again this year and went with it. She stayed fast through the rain that fell steadily throughout the race and picked up right at the finish.

"Last year was a little disappointing," she said, "so I just wanted to push a little harder this year and do this."

When she reached the spot where she was passed last year, she reflected on it briefly, then kicked into another gear. When she hit the tape she immediately collapsed to the ground. After regaining her feet, she made her way to the exit where she got a high-five and a big hug from former coach John Moore.

"It was bringing back memories," she said.
Conn became the day's second state champion from the area. Munford's Dakota Frank won the 4A boys race about an hour earlier.

The White Plains girls team finished sixth. Jacksonville, with two runners in the top 20 counters, was ninth. Providence Christian won the team championship.
| | | | |
| --- | --- | --- | --- |
| CLASS 4A GIRLS | PTS | TOP 15 RUNNERS | TIME |
| Providence Christian | 69 | Maddyn Conn, White Plains | 18:59.61 |
| Houston Academy | 88 | Millicent Talmadge, Providence Chr. | 19:26.16 |
| Priceville | 128 | Kenlee Williams, Madison County | 19:48.50 |
| Hamilton | 129 | Anna K. Hopkins, Priceville | 19:53.73 |
| Orange Beach | 160 | Elizabeth Cain, Priceville | 19:56.22 |
| White Plains | 174 | Madelyn Patterson, Providence Chr. | 20:12.20 |
| Westminster | 178 | Lily Hatton, Brooks | 20:20.44 |
| Deshler | 180 | Olivia Bonetti, Westminster | 20:31.07 |
| Jacksonville | 190 | Brooke Barnett, Orange Beach | 20:33.45 |
| St. Michael | 242 | Joy Kistler, DAR | 20:36.82 |
| Ashville | 281 | Brianna Hart, Houston Academy | 20:41.77 |
| DAR | 305 | Rudi Derrick, Good Hope | 20:46.23 |
| Bibb County | 317 | Emily S. Pineda, Houston Academy | 20:51.88 |
| Oneonta | 328 | Emma Easterling, Jacksonville | 20:55.38 |
| Haleyville | 370 | Taylor Knight, Ashville | 20:56.29 |