Frank-ly, he's a champion
Munford's Frank wins state 4A boys cross country title, less than 12 hours after kicking for the Lions football team.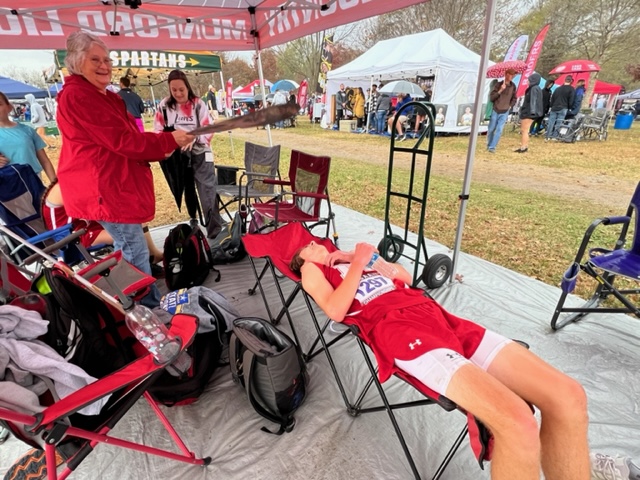 By Al Muskewitz
East Alabama Sports Today
OAKVILLE — Dakota Frank made his way back to Munford's team tent a short walk from the finish line and immediately crashed on the canvas bench. He was tired, but it was a satisfied tired.

The Lions' junior kicked two field goals and an extra point in the football team's playoff loss in Tuscaloosa Friday night. Less than 12 hours later he was raising his arms in triumph as a first-time Class 4A State cross country champion.
He won the race on the Oakville Indian Mounds Park trail Saturday in 16:00.86.

"This feels great," he said. "I made it to state before but I never really thought how it'd feel to win a state championship. I never thought I'd be doing it."
It was hectic 24 hours. After the game — a heartbreaking last-minute loss to a No. 1 seed — while the football team was headed back to Munford in a charter bus, Frank and his dad loaded up the car and headed to Cullman to prep for an 8:50 a.m. race and an even earlier wake up call.
Luckily he spent most of that ride sleeping in the back.
It's a lifestyle to which he has become accustomed — kicking field goals on Friday and then "making the haul" to cross country races on Saturday. He has only missed one football game because of the schedule — earlier this year against Cherokee County, which conflicted directly with a big race in Birmingham — but with Munford in the playoffs for the first time in five years, there was no way he was going to miss.
Even if the first round playoff game was in Mobile.

"I just sort of weighed it," he said. "Our football team hasn't been to the playoffs in like five years and I got to be a part of that, but there's also the year I've had there's a good chance of winning state, so I thought about it. I decided football, first year in five years is pretty special, so I decided to do that and kind of make it the best I can."

Lions football coach Michael Easley makes accommodations for Frank's two-sport commitment. On the charter bus down to the game Friday he gave his kicker the whole row to stretch his feet and legs.

"Dakota is so dedicated to his craft," Easley said. "He works his tail off as a kicker and is really good at it, but like I tell people, he's a better runner than he is a kicker. Just watching him train every day, which starts with him getting in all his kicking and then heading to our cross country course, is fun to watch.

"He kicks and runs like it's the state championship every day. Nothing fazes him; he just goes out and does his job. Even last night right before halftime as he lined up for a 36-yard field goal, their student section was yelling all kinds of things at hime and he just laughed at them. And then he booted a kick that might have been good from 50 to give us the halftime lead.

"His willingness to do two sports this fall and be a part of our football program the last two years is another reason why our football program was able to take a big step forward this year. He makes it real easy on us to make participating in both sports work because he is so dedicated to being great at both of them."

As for the race, Frank planned to lay back at the start and let others set the pace, then pop out with about a mile to go and "book it to the finish line."

That's exactly how it played out and he won by 5.5 seconds.
He won the race on the Oakville Indian Mounds Park trail Saturday in 16:00.86.
| | | | |
| --- | --- | --- | --- |
| CLASS 4A BOYS | PTS | TOP 15 RUNNERS | TIME |
| Providence Christian | 48 | Dakota Frank, Munford | 16:00.86 |
| Hamilton | 106 | Agustin Lemuz, LAMP | 16:05.52 |
| LAMP | 137 | Joe Stevens, Ashville | 16:06.36 |
| Priceville | 161 | Bailey Kendrick, DAR | 16:31.72 |
| Ashville | 162 | Adam Taylor, Priceville | 16:37.27 |
| St. Michael | 165 | Cole Smith, Providence Chr. | 16:41.43 |
| Westminster | 178 | Landon Perdue, LAMP | 16:42.94 |
| White Plains | 203 | Coston Korotky, Westminster | 16:43.28 |
| Handley | 234 | William Stanley, Providence Chr. | 16:51.46 |
| Wilson | 248 | Joshua Webb, Hamilton | 17:06.66 |
| Oneonta | 274 | Hudson Jordan, Providence Chr. | 17:09.06 |
| Cordova | 281 | Banks Folger, Providence Chr. | 17:09.40 |
| Deshler | 291 | Maclain Lawson, Priceville | 17:14.88 |
| Haleyville | 320 | Eli Peebles, Westminster | 17:16.55 |
| Northside | 353 | Jesse Baldwin, Handley | 17:27.22 |