Lady Cubs electric
Alexandria wins County Volleyball Tournament for second year in a row and fourth time in the last five, edges Ohatchee team playing in its third final ever 3-1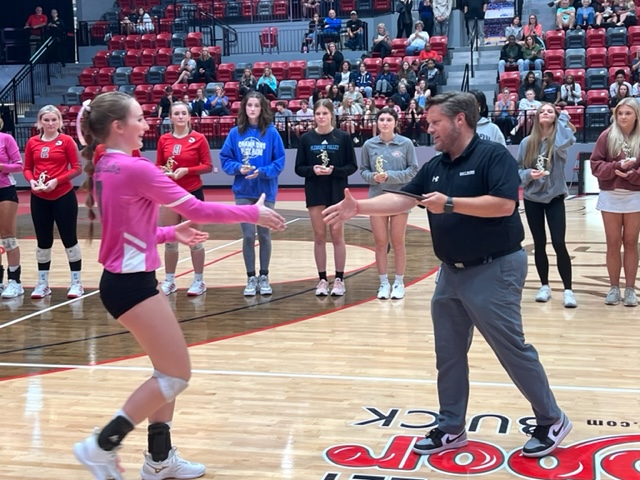 By Al Muskewitz
East Alabama Sports Today
JACKSONVILLE — The Alexandria volleyball team always plays its best when the energy is flowing.
Coach Whitney Welch was a little concerned about the energy level Monday considering trips to the Calhoun County Volleyball Tournament finals have become an annual excursion for the Lady Cubs lately, but the juice kicked in for libero Devan White at least around 2 p.m. and it stayed with them the rest of the day.
The Lady Cubs won the county tournament for the second year in a row and fourth time in the last five years when they took down Ohatchee 3-1 at Jacksonville State. The set scores were 25-20, 25-16, 20-25 and 26-24.

"Our energy contributes a lot to how this team plays," White said. "I feel like when everybody's excited is when we perform our best. It doesn't matter what team we play, if our team doesn't have energy we don't play to our full potential. Being loud, being obnoxious, just coming in with the most energy really helps our team perform at its fullest potential."

The Lady Cubs were playing in the county finals for the 21st time in tournament history and sixth year in a row, matching their longest such streak since 1976-81, with a team that had lost seven seniors from the year before. It would be easy to get complacent in that kind of run, but Welch was glad to see her team not taking it as just another day.

"It's important they keep getting excited about being here," she said. "This team is a little bit even-keeled sometimes, where you don't know if they're high or low, so I was a little worried they weren't super excited about it. They really came out the first two sets and played well."

The top-seeded Lady Clubs came in with a plan to keep the ball away from Ohatchee's Jorda Crook as much as they could and try to make as much hay as possible with the powerful senior on the back row.

They took control of the match by winning the first two sets and scored enough points in them with Crook on the back row to effectively win one whole set. In the four sets they scored 48 points when the Ohatchee ace was on the back row.

"When she's on the back row that's when teams are going to try to execute what they can do," Ohatchee coach Rebecca Hughes said. "But we knew we have to have well-rounded people on the front row when she's on the back who have to make plays and then she has to push hard from the back row as well."

Alexandria's Kailey Dickerson was named tournament MVP. White was the Defensive MVP and Ohatchee's Crook was the Offensive MVP.
Dickerson did it all for the Lady Cubs, delivering 21 kills, 10 digs and five aces. White had 11 digs and was on the receiving end of several of Crook's bombs from the other side of the net. Crook had 28 kills in 47 attempts, but White was determined to do everything she could to keep shots coming from her swings alive.

"This morning we were talking as a team and I was like I'm going to try my best that none of Jorda's back row attacks are going to hit the ground," she said. "Whether I shank the ball or it's a perfect pass I'm going to try my best to get my hand on every single ball she attacks. I think we wanted to try our best to get a hand on every ball and not let anything hit the ground without giving all our effort."

When Dickerson was off the front line, Eryn Spradley and Brie Troup kept things going. Spradley had 14 kills and four blocks, including two back-to-back for points that got the Lady Cubs to 22-22 in the clinching fourth set. She then hit a cross-court winner that put them position for their first match point. Troup had five kills and three blocks.

"I'm obviously proud of (being the MVP), but I'm more proud of my team," Dickerson said. "It takes way more than just me on the team. Everybody on our team has been a huge part of this."

And that's all the way down to the assistant coaches, Kelli Johnson and Toni Hess, who kept the Lady Cubs together in the two weeks Welch was out on maternity leave.

While Alexandria didn't have a player who didn't know a year the Lady Cubs weren't in the county finals, Ohatchee didn't have a player who did. The Lady Indians were in the championship match for only the third time in school history and the first time since 2009.

When the Lady Indians rallied to win the third set, it was their first-ever set win in a county finals. They had leads of 21-19 and 22-20 in the fourth set.

"I just told them we're not a team that should go down 0-3," Hughes said. " I feel like they deserve better, they play better, we're better than that, so I think they made up in their mind there was no way they were going down 0-3.
"We did not play well the first two sets. You wish you could take those back but you can't, so I'm proud of them for coming out and at least fighting and clawing their way back and almost even taking that fourth set."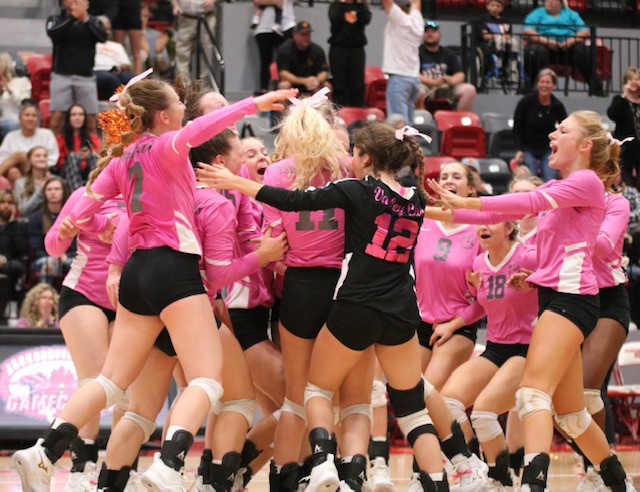 Alexandria's finals streak
Lady Cubs were playing in the Calhoun County Volleyball Tournament for the 21st time and sixth in a row.
| | | |
| --- | --- | --- |
| YEAR | OPPONENT | RESULT |
| 2017 | Pleasant Valley | L, 3-2 |
| 2018 | Faith Christian | W, 3-1 |
| 2019 | Jacksonville | W, 3-1 |
| 2020 | Jacksonville | L, 3-2 |
| 2021 | Donoho | W, 3-1 |
| 2022 | Ohatchee | W, 3-1 |
Ohatchee's finals history
Lady Indians were playing in the Calhoun County Volleyball Tournament for the third time in school history
| | | |
| --- | --- | --- |
| YEAR | OPPONENT | RESULT |
| 1998 | Pleasant Valley | L, 2-0 |
| 2009 | Jacksonville | L, 3-0 |
| 2022 | Alexandria | L, 3-1 |
Alexandria 3, Ohatchee 1
| | | | | | | | | | | | |
| --- | --- | --- | --- | --- | --- | --- | --- | --- | --- | --- | --- |
| OHATCHEE (36-9) | K | A | SA | D | B | ALEXANDRIA (37-12) | K | A | SA | D | B |
| Jorda Crook | 28 | | 2 | 16 | 1 | Kailey Dickerson | 21 | 1 | 5 | 10 | |
| Gracyn Snow | 2 | | | 14 | | Brie Troup | 5 | | 1 | | 3 |
| Hannah Fitch | 1 | 14 | 1 | 18 | | Eryn Spradley | 14 | | | | 4 |
| Rebecca Henderson | 3 | | | 14 | | Christian Hess | | 37 | | 7 | |
| Alanah Fitch | | 10 | | 14 | | Devan White | | 2 | 2 | 11 | |
| Brett Finn | 2 | | | 1 | 1 | Ava Johnson | 2 | | 1 | 10 | |
| Ellie Carden | | | | 6 | | Brenlee Sparks | | | | 7 | |
| | | | | | | Cassidy Hartsfield | 1 | | | | |
All-Tournament Team
Tournament MVP: Kailey Dickerson, Alexandria
Offensive MVP: Jorda Crook, Ohatchee
Defensive MVP: Devan White, Alexandria
Lily Grace Draper, Donoho
Abbie Mitchell, Oxford
Caitlin Clark, Jacksonville
Ta'Leah Ridley, Piedmont
Lily Henry, Pleasant Valley
Allie Bryant, Pleasant Valley
Calla Hayes, Wellborn
Delana Stephens, Wellborn
Rebecca Henderson, Ohatchee
Alanah Fitch, Ohatchee
Gracyn Snow, Ohatchee
Brie Troup, Alexandria
Eryn Spradley, Alexandria
Ava Johnson, Alexandria