Quite an encore
Wigington, Cole top Montenegro, Bussey in a four-hole playoff to win Sunny King Charity Classic that at least matched last year's tournament in intensity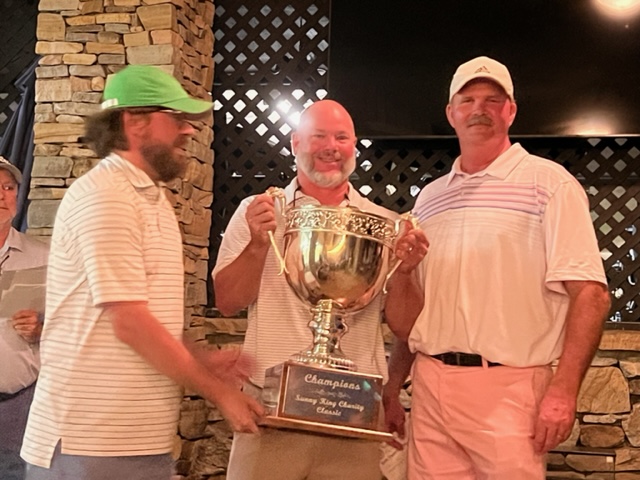 | | | | | | |
| --- | --- | --- | --- | --- | --- |
| SKCC LEADERBOARD | | | | | |
| x-Gary Wigington-Ty Cole | 58 | 54 | 59 | 171 | -43 |
| Jesus Montenegro-Layton Bussey | 58 | 55 | 58 | 171 | -43 |
| Brennan Clay-Jeremy McGatha | 58 | 59 | 60 | 177 | -37 |
| Randy Lipscomb-Dane Moore | 57 | 59 | 61 | 177 | -37 |
| Taylor McCollum-Kyle Daugherty | 57 | 59 | 62 | 178 | -36 |
| Jackson King-Freeman Fite | 59 | 58 | 62 | 179 | -35 |
| Cody Robinson-Jack Stumpfig | 55 | 63 | 61 | 179 | -35 |
x-Won on fourth hole of a playoff
By Al Muskewitz
East Alabama Sports Today

They said last year's Sunny King Charity Classic would never be equalled or topped. Too emotional, they said. Too exciting. Too dramatic. Never could be matched or bettered.

The trouble with never is it's too danged definitive.

Ask any of the 300 or so golfers and fans around the 16th green at Anniston Country Club Sunday if this year's Classic wasn't better than last year's for intensity and excitement.

The Classic went to a twilight playoff for the second September in a row. This time, Gary Wigington and Ty Cole beat Jesus Montenegro and Layton Bussey when Cole made a four-foot birdie putt on the fourth extra hole. Last year, Ty and Twig lost a playoff that went six holes to Ott and Dalton Chandler.

It was Wigington's ninth Sunny King title all-time and first since 2018. It was Cole's fourth and their fourth together.

"It topped (last year) for us because we won it this time," Wigington said. "Playing it six times in the dead dark never probably will happen again, even though we did it four times today, but for us, obviously, this was the topper over last year."

The round was a classic duel in the September sun. It was a birdie-fest that had one team putting one on top of the other and, late in the round, the two best iron shots Cole has hit under pressure maybe ever.

Wigington-Cole shot 11-under-par 59 in the best ball format and Montenegro-Bussey 12-under 58 to finish regulation in 43-under 171, six shots clear of their nearest challengers. They were the only two teams to shoot three rounds in the 50s. Jeremy McGatha-Brennan Clay and Randy Lipscomb-Dane Moore tied for third.

The two finalists combined to birdie every hole except 6, 15 and 16 in Sunday's round. The winners birdied nine of their first 11 holes and led by three after 3. The runner-ups made eight straight in the middle of the round (7 through 14) to get back into a tie and had 11 in 12 holes at one point

Cole forced the playoff when he hit one of the best recovery shots in Sunny King history over the tall trees from near the tennis courts to four feet, giving it some more-demonstrative Hal Sutton at The Players verbal encouragement along the way. He then made the birdie putt after Montenegro, a PGA Tour winner, missed two 15-foot birdie attempts that would have given his team the victory in regulation.

"For him to hit that shot where he was at was just amazing," Wigington said. "It was a great shot."

"When I hit it (off the tee) I thought I was going to be in a totally different place," Cole said. "I shoot the number, 94 yards, and as high as I would have to hit it over the trees, it's a perfect, full-out, hit-it-solid lob wedge and putt it. As soon as it comes off I holler 'go in the (bleeping) hole' and it just worked out."

"I told Jesus he's about to do something crazy and one of us are going to have to make (on 18 to win)," Bussey said.

One shot the winners didn't take almost cost them. One of the games being played at ACC during the tournament was a Beat-The-Pro promotion with Symetra Tour player Madison Barnett where for a certain donation players could get a five-foot birdie putt on the challenging par-3. The two teams agreed beforehand to play the hole straight and then Bussey made a 30-foot birdie from just off the green to get his team within a shot of the lead.

The two former JSU teammates drew even two holes later and took the lead for the first time on 17 with Montenegro getting up and down from the bunker.

Bussey almost ended the playoff with one swing on the first hole. His tee shot stopped one roll short of being a hole-in-one as the crowd simultaneously held their breath and encouraged the ball to drop. Wigington conceded the putt and then made a clutch 10-footer to keep the playoff going.

"I told Jesus we're going to have to do this again because that joker's not about to miss that putt," Bussey said. "They're so solid, you can't ever think that you've got them, and we never did."

Four times the two teams charged up the hill on ACC's 16th. The fourth time, Cole hit an 8-iron to four feet and then made the putt for the win. He had hit 9-iron the first three times they played it in the playoff.

"It's just nice to win, I don't care how you win," Cole said. "I guess it's a little bit of bittersweet to win it after losing it last year in the same fashion. The ride home tonight will be a lot better than the ride home last year … I think the drama for it this year was a little more unusual than it was last year."

The drama in regulation was as intense as any major on the PGA Tour or a Ryder Cup. Wigington and Cole birdied the first two holes to extend their lead over Montenegro and Bussey to three shots. Then the two 20-somethings made three in a row to close the gap. It was like that all day.

The teams matched birdies on eight holes, nine if you count the first in the playoff. When Wigington and Cole parred No. 4, it ended a streak of 13 straight holes they made birdie or better. When they turned in 27, they had played their last 36 holes in 35-under-par.

"It was just four rounds of good golf," Cole said.

The winners actually were 38-under over the next 40 holes after playing their first nine at Silver Lakes Friday in 4-under. But then somebody turned off the birdie spigot. They parred the next four holes in a row (14 through 17) because they didn't hit it close enough to easily convert before Cole made birdie on 18 to force the 10th playoff in Sunny King history.

The combat the onsetting darkness the tournament committee installed a bank of lights on the tee box. One set of car headlights were brought onto the green in at the start of the fourth playoff hole. Last year, they used cellphone flashlights on the tee and turned Highland Avenue into a parking lot to illuminate the green.

"It was just good to see it competitive again," tournament chairman Brett Key said. "I just think this thing is so much more entertaining and exciting when it's like today as opposed to two, three years ago when (Jacob Harper and Jacob LeCroy) blew it out of the water. It was cool to watch them shoot 51 (under), but nobody cared after the tenth hole that day.

"To be able to do this on 16 at the Club always is a cool thing. I didn't want playoff, but we got done before the car lights tonight. It was just really cool to see Twig and Ty lose it in this fashion last year and then be able to pull it off this year. Last year, to me, nobody did a whole lot for a couple of holes, but this year right out of the gate you've got a guy hit it four inches and somebody hit a 12-footer to extend it. I think this one was a little more exciting."

NOTES: Wigington has been involved in the last four Sunny King playoffs, but Sunday was his first win … Bubba Willingham scored the only hole-in-one in this year's tournament when he aced No. 8 at Cider Ridge from 138 yards Sunday. It also was the first hole-in-one on Cider Ridge's new TifEagle Bermuda greens. He used an 8-iron … The tournament raised $125,000 for its charities … The popular Ted's Abbey Carpet & Floor hospitality station on the 16th tee doled out 153 $25 awards ($3,825) for players hitting the green. They've given out $16,275 to more than 650 winners over the last four Sunny Kings … Nearly 80 groups participated in the Beat-The-Pro promotion at ACC's No. 12, all but five in Sunday's round.

Complete scores can be found on another page on the East Alabama Sports Today website.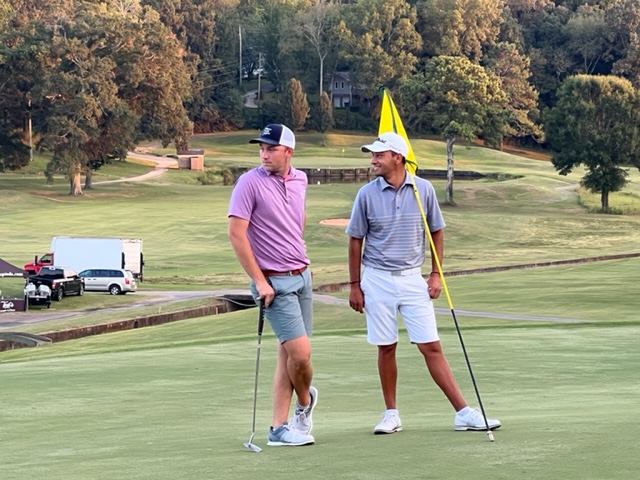 SKCC Playoff History
YEAR
WINNER
HOLES
OPPONENT
1979
Lewis Roberts-Dennis Braden
SC
Wes Nowlin-Bill Phillips
1981
John Norton-Buddy Canup
1
Louie Feazell-Bob Wigington
Bill Ward-Donnie McClellan
1984
Brett Rothwell-Jim Flynn
1
Perry Canada-Larry Deason
1988
Jeff Burns-Wilton Page
SC
John Carrozza-Mike Pinson
1997
Randy Reaves-Jeff Russell
2
Eric Messer-David Messer
Billy Tuck-Mike Brown
1998
Eric Hamilton-Patrick Cushman
1
Chip Howell-Buster Inman
2010
Marcus Harrell-Ott Chandler
2
Randy Reaves-Gary Wigington
2014
Ryan Howard-Lance Evans
1
Freeman Fite-Gary Wigington
2021
Ott Chandler-Dalton Chandler
6
Ty Cole-Gary Wigington
2022
Ty Cole-Gary Wigington
4
Jesus Montenegro-Layton Bussey