High-Lee talented
Family, football and focus proving successful for JCA freshman quarterback Noah Lee

FRIDAY'S GAMES
Anniston at White Plains
Childersburg at Saks
Dadeville at Wellborn
JCA at Tuscaloosa Christian
Piedmont at Ohatchee
Pinson Valley at Oxford
Pleasant Valley at Cleveland
Randolph County at Weaver
Springville at Alexandria
Talladega at Jacksonville
Victory Christian at Donoho

By Mark Everett Kelly
For East Alabama Sports Today
"…and a child shall lead them"
– Isaiah 11:6
JACKSONVILLE – In the Bible, God uses prophets chosen with unique gifts granted at birth. Isaiah's passage speaks of the utopian environment in the Messiah's future realm, where natural predators lie side by side in peace. This season at Jacksonville Christian Academy, a child whose name means "peace" and "comfort" has people believing in his God-given talent.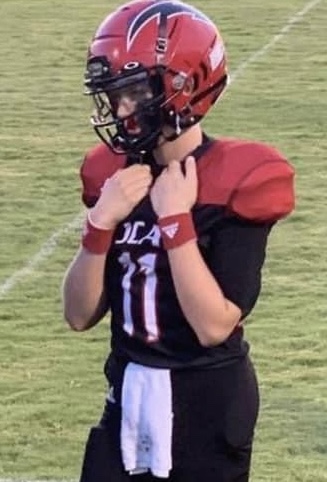 The Thunder plays throwback, iron man football in an eight-man league (Alabama Christian Athletics Association). They recently returned to playing 8-man football after several years trying their hand at the AHSAA's 11-man brand of ball.
"We were in that for 10 years, and we made the playoffs twice, and that was a big accomplishment," JCA coach Tommy Miller said. "However, it became a little dangerous playing seventh graders against seniors times two or three."
Freshman quarterback Noah Lee looks the part of a ninth grader. His skinny body, frizzy hair and braces help make up his 6-foot, 150-pound frame. However, behind center on the football field, he transforms into something extraordinary.
Through four games, Lee's numbers rival those of Tua Tagovailoa during his sophomore and junior seasons at Alabama. Each year Tua threw 25 touchdowns before being intercepted. Lee's 19 TDs, 1,108 yards and 57 percent completion rate are without an interception.

More importantly for coach Miller, the most significant number is four wins, despite being a proud grandad. Last season the Thunder started 0-5. What's the difference?
"The difference is a year of experience. We've grown in experience and physically," said Miller, currently in his 27th season at JCA. "We are getting very good blocking, and we have people catching the ball; we haven't dropped many."
Noah is one of the benefactors of that "experience"; physically and mentally. During the offseason, he grew more than four inches and gained 25 pounds. Another critical factor is Lee's first cousin, Ethan Fair. A senior, Fair is one of Lee's favorite targets.
"This is his first year playing football, and he's catching the ball. He and Noah worked a lot of one on one together," Miller said.
Playing a significant role as a freshman isn't the most effortless adjustment for a team to make. How is the team handling that adjustment?
"I think the players have done a great job accepting Noah as a leader and supporting him," Miller said. "I think it's better than it would have been a lot of other places."
Learning an extensive playbook can provide multiple challenges for a young quarterback. How is Lee adjusting to his responsibility?
"I've been around this team since I was 4, and the coaches made it easier for me to understand the playbook and put up stats like I have," Lee said. "Good coaching and great help with my teammates help us win."
Noah Lee By The Numbers
| | | | | |
| --- | --- | --- | --- | --- |
| 2022 OPPONENT | RESULT | COMP-ATT | YARDS | TD/INT |
| at Success Unlimited Academy | W, 34-0 | 7-11 | 173 | 5/0 |
| at Trinity Christian | W, 49-6 | 12-15 | 239 | 4/0 |
| vs Cornerstone Christian | W, 44-40 | 17-34 | 254 | 5/0 |
| vs Tabernacle | W, 58-52 | 23-43 | 442 | 5/0 |
| Totals | 4-0 | 59-103 | 1,108 | 19/0 |

Football runs in his family. Noah's dad, Steven, is an assistant coach. He kicked for Phil Fulmer at Tennessee before transferring to Jacksonville State. How much is the pot like the kettle?
"Too much in some ways," said Steven. "The passion for the game, for sure."
Despite playing for his dad and grandad, both understand how valuable coaching is for his continued development, especially after such a successful start.
"Being coached by both, a lot of people might see it as preferential, but I think it's more difficult because we both are on him pretty hard," Steven said.
Proper technique and form don't always equal great results. However, Noah's touch and strength using his right arm stand out. Against Cornerstone, facing third-and-20 on their the Thunder's opening possession, Lee lofted a beautiful touch pass to Fair, hitting him in stride for a 66-yard completion. On third-and-goal, the pair combined again, with Lee throwing a bullet for an early lead. The freshman also shows proficiency throwing on the run, something not quickly learned, as many plays put him in motion.
"We are a brotherhood on this team. I play for my teammates, and we are focused on our next game and next win." Noah said.
Playing for a Christian school can quickly come with a reputation for not emphasizing winning or developing a passive reputation, right?
"What I see in the scriptures is you do everything for the glory of God, and you do the best you can," said Miller, who also is the head of school. "If you do all you can and lay it out there, that's all you can do."
For Noah's dad, learning lessons from football off the field is equally important in his development.
"Without a doubt, football has helped me in every aspect of my life – spiritually, professionally, relationally, you name it," he said.
Noah also understands that he represents something special when he takes the field and the importance of sharing it.
"What's No. 1 to me is going out there and glorifying God through everything," Noah said. "We're a family and play for each other out there."