Quietly consistent
Monsters' second baseball Deerman makes All-Sunbelt Baseball League team; Choccolocco Park named SBL Field of the Year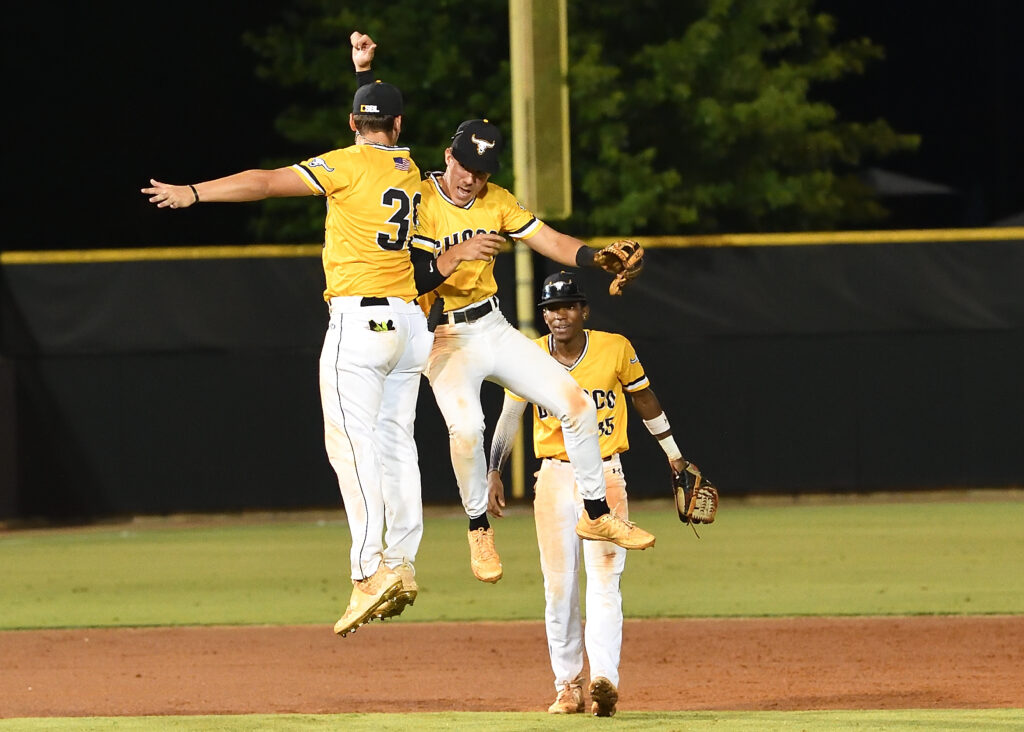 By Al Muskewitz
East Alabama Sports Today

OXFORD – Brant Deerman wasn't the flashiest player in the Choccolocco Monsters' lineup this season, but he wound up being one of its most consistent and that's what a first-year team trying to find its way needed most.

Deerman's consistency was rewarded in a big way Tuesday when he was named the starting second baseman on the 12-man All-Sunbelt Baseball League team.

Once he got comfortable in the SBL environment, the Piedmont product became one of the Monsters' most reliable players. He played in 24 of their 28 games, was their third-leading hitter (.329), led the team in hits (25) and was tied for the team lead in RBIs (11).

"He was a guy who the more he played, the better he got," Monsters manager Steve Gillispie said. "He figured out the league pretty quick and became very steady, which is the key to being a successful player in a league like that in the summer. You get off to a bad start, it's hard to dig out. You can have a hot two weeks and still just be mediocre. He figured out how to do it over the long haul.

"He wasn't in the limelight. (Brandon) Prince was kind of the guy for a while, then (Nate) Shipley was kind of the guy for a while and he was kind of in the background, but he's one of those guys you look up and he was 2-for-3 with a walk. He was never the focal point of our offense, but he showed up every day with consistency."

In the month of July – the final 14 games of the season – Deerman went 18-for-47 (.383) with seven RBIs and had seven multi-hit games. In four games against Brookhaven and Gwinnett he went 9-for-15 as part of a larger season-best five-game hitting streak and led the Monsters to three straight wins, including their first win at home.

He was 14-of-31 (.452) in the nine games the Monsters won with him in the lineup. He was the only player from a non-playoff team to make the All-SBL Team.

"It exceeded my expectations," Deerman said of his year. "I started off kind of slow. It took me a little bit to get used to wood, a couple weeks, but I had a lot of help from (coach) Dalton Cobb and Coach Gillispie. They helped me with a lot of stuff, especially early in the summer.
"Seeing so many good arms in that league, I felt it was a better pitching than in JUCO, so it took me a little bit to get adjusted to that. It was an awesome experience."
Cover photo by B.J. Franklin.
All-Sunbelt Baseball League Team
| | | | | | |
| --- | --- | --- | --- | --- | --- |
| | PITCHERS | W-L-S | ERA | IP | KS |
| SP | Blake Wehunt, Gainesville | 2-1-0 | 2.27 | 39.2 | 56-z |
| SP | Charles Stephenson, Brookhaven | 3-2-0 | 1.84 | 49.0-z | 40 |
| SP | y-Halton Hardy, Gainesville | 5-2-0-z | 2.38 | 45.1 | 52 |
| RP | Ryan Suppa, Atl. Crackers | 5-1-2-z | 0.92-z | 29.1 | 41 |
| | PLAYERS | BA | H | HR | RBI |
| 1B | Micah Morgan, Waleska | .339 | 21 | 2 | 11 |
| 2B | Brant Deerman, Monsters | .329 | 25 | 0 | 11 |
| SS | x-Bobby Boser, Gainesville | .298 | 25 | 8-z | 18 |
| 3B | Brett Blomquist, Waleska | .315 | 28 | 1 | 15 |
| C | Ellis Yohn, Columbus | .306 | 26 | 1 | 11 |
| OF | Scott Campbell, Atl. Crackers | .387-z | 43-z | 0 | 12 |
| OF | Jack Poist, Brookhaven | .368 | 28 | 0 | 10 |
| OF | Jack Herring, Brookhaven | .340 | 34 | 3 | 27-z |
Manager of the Year: Micah Owings, Gainesville; x-Player of the Year, y-Pitcher of the Year; z-league leader