Morrow out at Jax
UPDATED
Basketball coach out less than six months after bringing school its first boys basketball state title, feels 'blindsided' by the decision; 3 varsity teams will be under new leadership this year

By Al Muskewitz
East Alabama Sports Today

JACKSONVILLE — Four months removed from winning the school's first boys basketball state championship and weeks before the start of the school year, Jacksonville High School coach Shane Morrow has been relieved of his basketball head coaching and football defensive coordinator duties at the school.

This late in the process, his basketball successor likely will come from internally and could be named as early as Tuesday and confirmed at the Jacksonville City Schools board meeting Wednesday. It is believed the successor already knows he has the position.

Golden Eagles athletics director David Clark confirmed the change.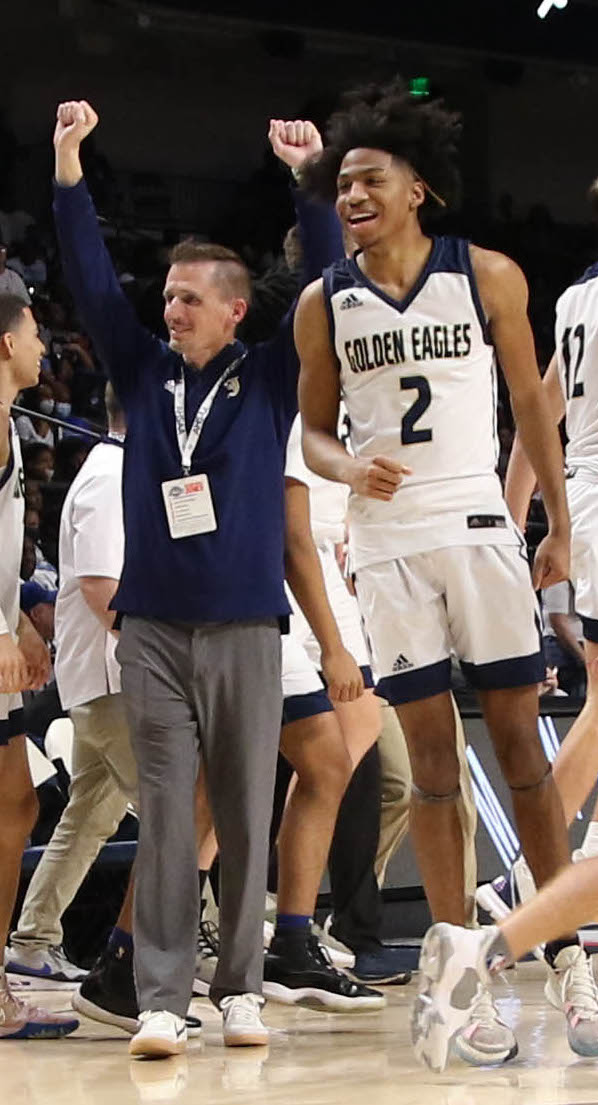 "All I can tell you is all decisions made at JHS are in the best interest of Jacksonville City Schools and our students," Clark said.

Jacksonville principal Russ Waits confirmed three varsity athletics programs at the school will be under new leadership in the coming school year.

"All Jacksonville High School athletic programs undergo a comprehensive annual review and coaching personnel decisions are made in the long-term best interest of our student athletes and athletic programs," Waits said.

The change does not affect Morrow's day-to-day teaching position at the school.

It's been less than 24 hours since the news broke and Morrow is still searching for answers.

"I don't know what to say because I was kind of blindsided by it all," he said Tuesday morning. "I was not given a reason other than 'we just feel like we need to go in a different direction.' Truthfully, I don't know anything other than that.

"I don't really have anything else to say; I've been blindsided by it all. That's kind of where I'm at right now, just trying to figure it out because it's so late in the year."

Sources have told EA Sports Today there was nothing nefarious that prompted Morrow's removal and it was more "some things administratively" that weren't handled to satisfaction. The Golden Eagles last week were recognized as an AHSAA Sportsmanship School for the first time for having no fines or ejections during the school year and those cover eligibility and documentation issues.

"I sleep well at night," Morrow said. "I didn't do anything wrong. I haven't done anything wrong. I don't know what more possibly I could have done. Am I perfect? No. I'm not sitting here telling you I'm perfect by any stretch or I'm Mike Krzyzewski, no, but I didn't do anything wrong. I did everything I possibly could. I've been blindsided by it all, just trying to figure out what to do."

Corey Mize was installed as the interim head coach before Morrow was hired to replace Cordell Hunt, but it couldn't be confirmed that he is being considered for the post. Girls basketball coach Tres Buzan also could be considered and his elevation to boys coach plus the naming of his successor would fill two of three varsity vacancies Waits disclosed.

Sources have indicated Buzan will be moved to the boys head coaching position and Mize will get the girls job.

News of the Morrow change spread quickly through the statewide coaching community and reaction was swift.

"The first thing comes to mind is totally surprise because of how smooth their season seemed to have gone from the outside looking in," White Plains basketball coach Chris Randall said. "The other thing is I really hope Shane and his family is OK. Nobody knows what happened, but for this to happen this late in the summer just took us all by surprise.

"I've always thought a lot Shane. He's very knowledgeable in football and basketball and really paid his dues and got his chance. For it to end like this is really sad."

Morrow was elevated from the junior high team and handed a team with the capability of winning a state championship. The Golden Eagles' prospects improved when 6-9 forward Cade Phillips transferred in from Westbrook Christian.
"This is an awesome opportunity for me and my family," Morrow said at the time of his hire. "We've been a part of the Jacksonville schools/community the last four years and look forward to continuing that relationship.
"Obviously, I've inherited a roster full of great kids and I'm extremely excited to get to work with them."

With a veteran team anchored by Phillips and guard John Broom, the Golden Eagles went 28-5 and swept through to the Class 4A state championship. They routed Escambia County 85-49 in the title game. The majority of those players return this season.

"Phew, I just want to sigh," Morrow said after the championship game. "Because, look, when I got this job I can't tell you how many times I heard, 'You gotta win it, you gotta win it, you gotta win it.' They talk about the expectations that were placed on these 17-year-olds and I'm going to tell you they embraced them, they worked at it, and that's one of the first things we talked about Day One.

"It's one thing to have the talent to win it, it's another thing to do what it takes to get there and these guys embraced it, we got after it every day since October 18 and I'm just proud for every one 1 through 14."