Monsters win finale
Choccolocco Monsters close out inaugural SBL season with 7-3 win over Hoots spiked with local flavor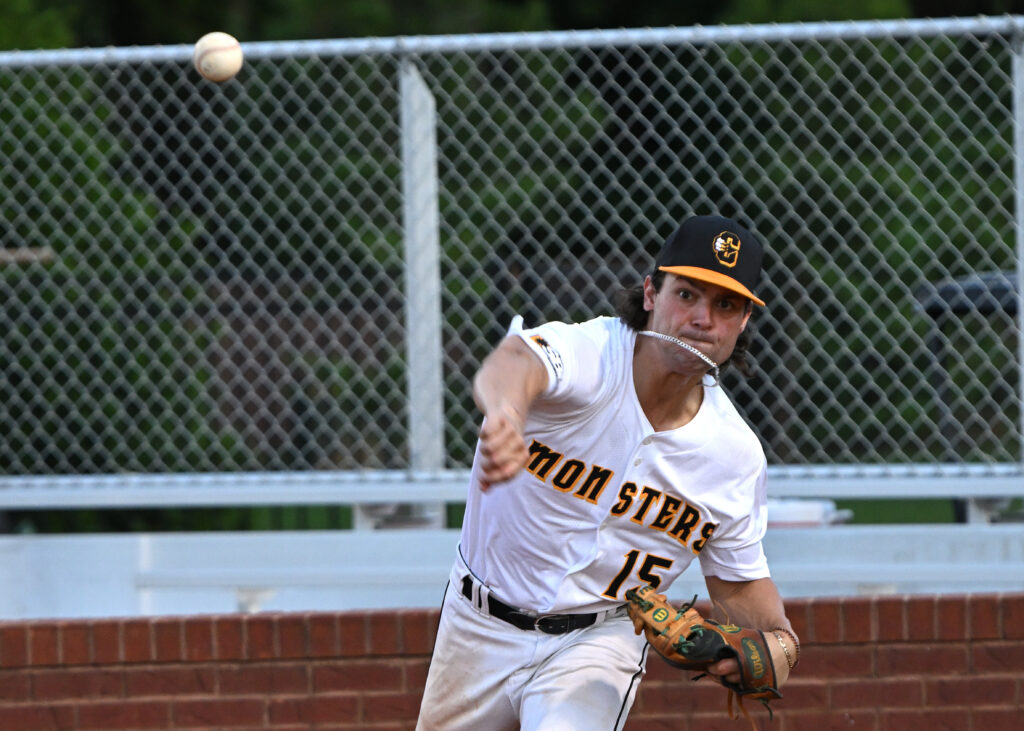 By Al Muskewitz
East Alabama Sports Today

OXFORD – The premise behind the Sunbelt Baseball League was building a roster with players within 60 miles of home plate. The Choccolocco Monsters embraced that idea with the hope of building season-long interest in their first-year club and in Tuesday's season finale they took it to the extreme.
Manager Steve Gillispie's starting 11 featured eight of the team's nine Calhoun County native sons and nine players from within 35 miles of Choccolocco Park. You count bench coach Dalton Cobb (Alexandria) bringing out the lineup card and it's nine of 12.

In keeping with that theme, Piedmont's Weston Kirk completed the list when he stepped into the first base coach's box in the bottom of the second. He later hit a pinch-hit RBI triple and pitched the ninth.

The homegrown players turned out to be a winning combination. They accounted for seven of the Monsters' nine hits and five of their runs in a 7-3 win over Columbus in front of one of their biggest crowds of the season.
"I started thinking about it and with the (Braves' World Series) trophy and the place sold out, it'd be something to be announced to go out on the field," Gillispie said. "And I moved some of them up in the order to get them a couple extra at-bats They were some of the first guys who committed to be a part of this team, I thought it was a good night to (recognize) that."

Brennan McCullough (Oxford) delivered the biggest of the hits, a three-run homer in the fourth inning that gave the Monsters a 3-1 lead. The Monsters added three more in the fifth and one in the eighth.

Brant Deerman (Piedmont) had two hits, Nate Lloyd (Oxford) one, Dawson Winningham (Oxford) was on base three times, Gavin Orcutt (Oxford) and Jake Spivey (White Plains/Oxford) both reach base once, Sean Smith (Piedmont) had a double and right-hander Austin Goode (Alexandria) pitched two shutout innings to open the game.

"I wouldn't call it an all-star team, I'd call it like a dirt-bag team," McCullough said. "These guys around here are just different. They're tough, they're gritty. The guys from around here play the game the right way and, man, they're gritty. Like Deerman and Sean I really didn't know, but from the first game they've been a blast to play with because they don't give up a pitch, they don't give up an at-bat. They just grind. Guys from around here, that's what we do. I call it the All-Gritty team."

"It was an awesome experience to get to play with all these guys and to get one game to have all of us on the field together, it was real special," Smith said. "There's something special about guys who come from this area, just the grit and determination each and every one of us have. It's been instilled in us from coaches. You've had guys who've played for (Wes) Brooks at Oxford, who played for (Andy) Shaw at Alexandria, for (Matt) Deerman at Piedmont. All those guys were coached real hard and they all coached us hard, too."

McCullough's homer – his first of the season – came at a most opportune moment. The Monsters went into the home fourth down 1-0. Nate Lloyd got the rally started with a one-out single and Winningham was hit by a pitch. McCullough struck out his first time up, but he didn't miss his pitch this time.

"I had a bad at-bat the time before and I came back in and was like all right let's settle down and just try to hit a double to left-center field," McCullough said. "The first pitch he grooved it and I was on top of it.

"I told my dad last night I was starting to feel pretty good and another week I'd be locked in; it's too bad we don't have another week. It was a little late to be getting hot, but the last week I felt really good."

Gillispie considered sending McCullough out to start the next inning, then send William Kelley into the game to give the Monsters' first signee a ceremonious exit, but McCullough declined.

"It was a storybook thing, but they didn't want to do it," Gillispie said.

The playoff-bound Hoots scored first with a two-out unearned run in the fourth. Reliever Daniel Swatek got the first two outs of the inning, then the Hoots next three hitters reached with Bradley Smith delivering an RBI single up the middle. Swatek was in the game when McCullough hit his homer and was the winning pitcher.
MONSTERS MASH: With the win, the Monsters will be one of three teams in the SBL to finish their season with a victory … The Hoots used nine pitchers in the game, the Monsters used six … Swatek got the Monsters' first win of the season and their last, and both came against the Hoots … The Monsters finished second in the West Division, a half-game ahead of Gwinnett … The Monsters will be back next year and so will Gillispie. The Monsters are locked in with a five-year contract with the City of Oxford and GM Scott Brand said they're "definitely interested in continuing on." Gillispie absolutely wants back in to give the stakeholders the results they deserve. "We should have had some better results and there wasn't, so I definitely want to make that right and I know I can," he said.
Columbus 000 100 020 – 3 7 2
Choccolocco 000 330 01x – 7 9 2
WP: Daniel Swatek (2-1). LP: Ryan Middleton (0-2). 2B: Jesse Donohoe (Co), Sean Smith (Ch). 3B: Weston Kirk (Ch). HR: Brennan McCullough (Ch).
Sunbelt Baseball League standings
| | | | | |
| --- | --- | --- | --- | --- |
| EAST DIVISION | W | L | PCT. | GB |
| x-Gainesville GolDiggers | 21 | 7 | .750 | — |
| y-Waleska Wild Things | 16 | 12 | .571 | 5 |
| Alpharetta Aviators | 7 | 20 | .259 | 13.5 |
| CENTRAL DIVISION | | | | |
| x-Atlanta Crackers | 16 | 12 | .571 | — |
| y-Atlanta Blues | 14 | 14 | .500 | 2 |
| y-Brookhaven Bucks | 13 | 15 | .464 | 3 |
| WEST DIVISION | | | | |
| x-Columbus Chatt-a-Hoots | 17 | 11 | .607 | — |
| Choccolocco Monsters | 11 | 17 | .393 | 6 |
| Gwinnett Astros | 10 | 17 | .370 | 6.5 |
x-Clinched division, y-clinched playoff spot

Tuesday's Games
Alpharetta 7, Atlanta Crackers 3
Atlanta Blues 8, Waleska 4
Choccolocco 7, Columbus 3
Gainesville 6, Gwinnett 0
End of regular sesaon

Thursday's Playoff Games
No. 5 Atlanta Blues at No. 4 Waleska, 6:05 p.m.
No. 6 Brookhaven at No. 3 Atlanta Crackers, 6:05 p.m.