Bo knows winning
Bo Hayes wins Alabama Open, birdies 18 twice Sunday, once to erase a two-shot deficit and once to beat his two closest golf friends in a playoff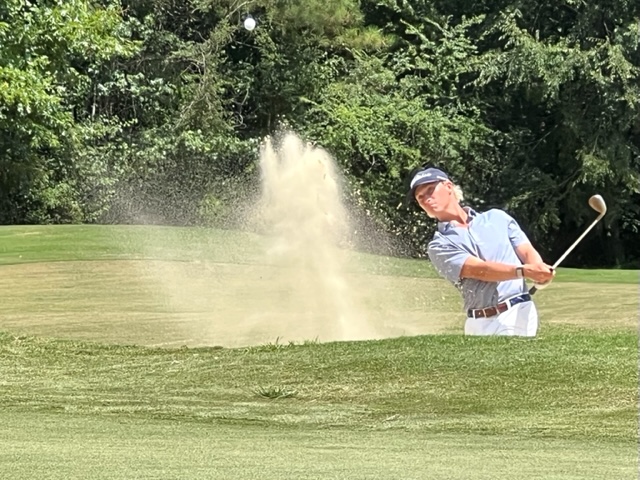 By Al Muskewitz
East Alabama Sports Today

GADSDEN — Bo Hayes drove his cart up the big hill to the Twin Bridges clubhouse after winning the Alabama Open in dramatic fashion Sunday and didn't mind saying he was choking up a little bit.

The hometown pro birdied 18 twice, first to erase a two-shot deficit on the final hole and force a playoff and then to beat his two closest friends on the circuit on the first hole of sudden death to claim the biggest of his three wins as a pro.

There were a lot of reasons for him to get emotional. Maybe it was the first time his father got to see him win as a pro. Maybe it was after working for months to put all the pieces of his game together they finally did. Or maybe it was just because he got one big one over on his best buddies.

"I kind of got a little emotional coming up the hill with my dad just because I've had some good rounds this summer but I've struggled with some consistency and been working so hard on it," Hayes said. "It's the first time this summer that I've seen everything kind of come together, which is a really good feeling. And to do it in Gadsden, where I'm from, with my dad (Bobby) caddying the last round and my mom (Nikki) out there, it's pretty special.

"It's been a tough two years, really. There's been some really good rounds and some other stuff paid off for me, but really nothing to show for it. It's just been super-frustrating and you're almost feeling like you're beating your head against the wall at some point. It kind of got to the point where you didn't know what was going to happen. I knew after the first round I wanted to take advantage of finally putting myself in a good position from the start."

Hayes, who grew up in nearby Southside, is the first player to win the Alabama Open in a playoff since Todd Bailey beat Daniel Burns at RTJ Cambrian Ridge in 2009. He played well on the weekend here last year, but his opening-round 73 just left him too far off the pace.

He couldn't have picked a more comfortable pairing for the final group on a Sunday. He was paired with William Walker III of Tuscaloosa and Drew Mathers of Mobile. They're always traveling together to mini-tour events and when they're not chasing the sun they play regular rounds together at Greystone and Shoal Creek.

"We were pumped when the tee times came out and it was official we were playing together and we knew it was going to be a fun day," Hayes said. "We honestly didn't talk a whole lot today. It was a comfortable pairing, but there wasn't a whole lot of talk, not as much as a normal day we're playing in Birmingham."

"I'd say it was a little more intense; I looked at my WHOOP and my heart rate was like 150-155 at one point," Walker said. "The competition was unreal. Bo and Drew are unreal players. Hat's off to Bo, winning in the playoff. He played great golf all week."

All three had pieces of the lead at various points on the back nine and all shared the lead after Mathers made birdie at 14.

Former UAB teammates Walker and Mathers separated themselves with birdies on the par-5 15th to Hayes' "pretty deflating" three-putt par. Hayes cozied his first putt from the far side of the green to gettable range, then misread his four-footer for birdie, but it forced him to focus better through the close.

Mather pulled away even more with a 20-foot birdie on 17, taking a one-shot lead over Walker and a two-shot cushion over Hayes. It was the last of four birdies in a five-hole stretch, and Hayes admitted the thought briefly crossed his mind he might be extending a hand to one of his buddies at the end.

But then things quickly turned.

Mathers' drive on 18 found the water hazard and it was all he could do to make a seven-footer for bogey to get into the playoff. Walker two-putted for par and Hayes birdied after hitting a knock-down 8-iron from 148 yards to four feet to send them all back to 18 to start the playoff.

"I birdied 17 and thought you've got to hit a good tee shot on 18 and, of course, I didn't," Mathers said. "I'd been missing right all day and on 18 you really can't miss left either, but left would have been a better miss than right. I got quick on the swing. It was just a bad swing and I quite a few of them today."

The three amigos finished regulation in 14-under-par 202. Hayes, the first-round leader, posted a 4-under 68 in the final round — tied for the second-best round of the day — while Walker and Mathers both shot 70.

Hayes went right at the pin in the playoff and nearly holed his three-quarter pitching wedge from 139 yards, then made the winning putt from inside three feet after both of his friends had birdie putts from length break off to the right.

It'll certainly create some conversation when they get together for a casual round again in a couple weeks.

"I'm going to bring it out at some point that I came out on top," Hayes said. "What good is it if you don't have a little bragging rights, you know?"

OPEN NOTEBOOK: Hayes' two other pro wins were a 2018 Open Golf Atlanta one-day and an Emerald Coast Tour event in 2019 at Timberline … Mathers made the most birdies in the tournament (20) … Hartselle's Ross Napier was low amateur (T-5 overall) … Hoover pro Neil Thompson shot the best round of the day (67 with 8 birdies) to finish 3-under for the tournament … The field endured a 58-minute weather delay during the round. When play resumed, Hayes, Walker and Mathers all cleaned up their birdie putts on 13 … There has been no decision on where the Alabama Open will be played next year. Among those in the conversation are Greystone G&CC, the RTJ Trail and Auburn University Club.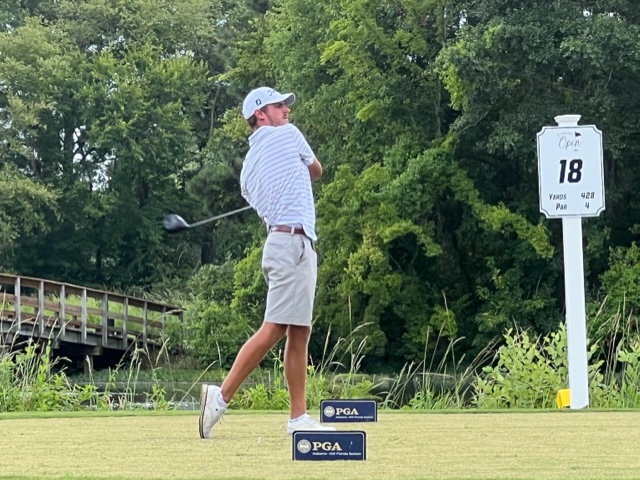 Alabama Open
| | | | | | |
| --- | --- | --- | --- | --- | --- |
| x-Bo Hayes, Birmingham $6,000 | 64 | 70 | 68 | 202 | -14 |
| William Walker III, Tuscaloosa $2,800 | 65 | 67 | 70 | 202 | -14 |
| Drew Mathers, Mobile $2,800 | 65 | 67 | 70 | 202 | -14 |
| Paul McClure, Mobile, $1,800 | | | | | -9 |
| a-Ross Napier, Hartselle $750 | | | | | -8 |
| Christian Bosso, Pensacola, Fla. $1,500 | | | | | -8 |
| Mike Genovese, Loxley $1,500 | | | | | -8 |
| a-Jake DeZoort, Northport $700 | | | | | -6 |
| a-Ty Cole, Albertville $625 | | | | | -5 |
| a-Paul Bruce, Guntersville $625 | | | | | -5 |
| a-Arrington Mooney, Selma $560 | | | | | -4 |
| Colby Odom, Priceville $1,033 | | | | | -4 |
| Noah Dennis, Trussville $1,033 | | | | | -4 |
| Todd Bailey, Daphne, $1,033 | | | | | -4 |
| Neil Thompson, Hoover $850 | | | | | -3 |
| Jacob Greer, Sterrett $800 | | | | | -2 |
| Jordan Smith, Killen $530 | | | | | -1 |
| J. Michael Riley, Birmingham $530 | | | | | -1 |
| a-Gary Glassman, Madison $478 | | | | | E |
| a-Matthew Streitman, Dothan $478 | | | | | E |
| a-Phillip Darst, Mobile $478 | | | | | E |
| a-Price Brown, Mobile $478 | | | | | E |
| a-Jackson Bowman, Gadsden $440 | | | | | +2 |
| Ben Wood, Florence $440 | | | | | +2 |
| a-George Burch, Theodore $440 | | | | | +2 |
| Jammie Lett, Rainbow City $415 | | | | | +3 |
| a-Derick Disch, Montgomery $415 | | | | | +3 |
| a-Luke Couch, Chelsea $390 | | | | | +4 |
| a-Zach Ashley, Killen $390 | | | | | +4 |
| Tee Brown, Attalla $390 | | | | | +4 |
| a-Harrison Hughston, Oxford $370 | | | | | +5 |
| Aaron Jackson, Arab $355 | | | | | +6 |
| Mike Bracken, Alabaster $355 | | | | | +6 |
| Thomas Luther, Birmingham $340 | | | | | +7 |
| David Cooke, Vestavia $325 | | | | | +8 |
| Paxton Tidwell, Decatur $325 | | | | | +8 |
| Ty Zimmerman, Tuscaloosa $315 | | | | | +10 |
| a-Joshua Peters, Birmingham $308 | | | | | +11 |
| a-Braden Lovely, Tuscaloosa $308 | | | | | +11 |
| a-Justin Pratt, Pelham $300 | | | | | +12 |
| a-Nick Sawyer, Centre $300 | | | | | +15 |
x-won on first hole of sudden death; a-amateur