Lone ranger
Anniston's Okins goes it alone as only individual in national championship tournament, shoots 76-74-76 in first three rounds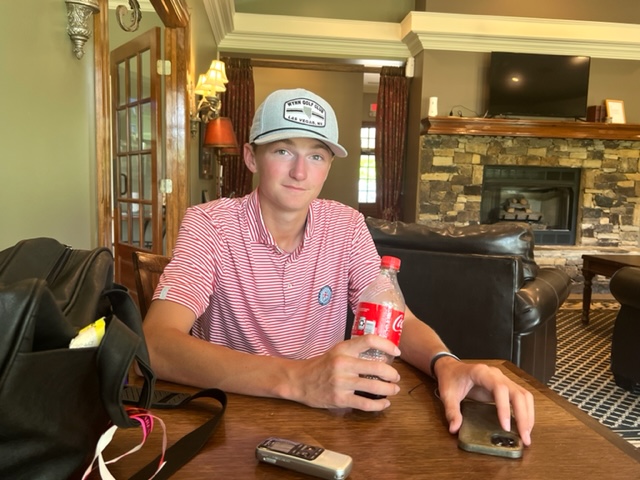 By Al Muskewitz
East Alabama Sports Today

They say life is lonely when you're playing in a college tournament as an individual without your team there for support.

Try being the only one, relegated to the first tee time every day of the event and playing with a non-competing marker who's just out there to make sure you play on the up-and-up.

That's the lot Anniston's Kenny Okins has drawn as the lone individual playing in the National JUCO Golf Championship this week in Odessa, Texas. Everyone else is connected to a team that qualified in the field.

For the past two days the Southern Union freshman from White Plains has been the tournament's dew-sweeper, going out first and basically alone. And he'll do it again Friday in the final round. He went out as a single the first day, but the last in line.

The good thing about going out first and playing by yourself is you get done fast. As the last player out Tuesday, he played a five-and-a-half-hour round. He played in less than three hours and 20 minutes each of the last two days.

Playing with a non-competing marker, he shot 76 for the second time in three days Thursday and when he came off the course before most folks were even thinking about ordering lunch, his 54-hole total of 10-over-par 226 had him tied for 72nd.

"It is pretty lonely, more than the average college round, but it is almost advantageous to a measure," he said. "Because I'm going out and playing in about three hours and 10 minutes and I'm beating a lot of the wind that kicks up in the afternoon.

"One thing I've kind of noticed is I've had to deliberately slow myself down. I've played with two guys from Odessa, on the team there, and they're really just out there to make sure my score is legit and they're getting out of my way. That being said, I've had to slow myself down on the greens and remember I'm playing in the National Championship and take my time."

He's easy enough to find in the list of scores. Instead of scrolling through the entire scoreboard, he's the only player on the list with an asterisk by his name.

The early tee time hasn't completely kept him out of the West Texas winds and they've really done a number of his closing stretch. He has played the front in 1-under-par for three days, but had been 11-over on the back. He's 9-over on holes 14 through 18 that have played dead into the wind.
"I am playing so much better than I'm scoring and it's been frustrating," he said. "The wind is very difficult here. The second day was the most frustrating. I played really well and I didn't finish well."
He'll be looking to finish strong Friday. He goes out first again and hopes to put together a good round to rocket up the leaderboard.