Second OK, for now
Weaver's Nick Ledbetter sat atop leaderboard until late in the round for second straight day, finishes runner-up among Class 3A boys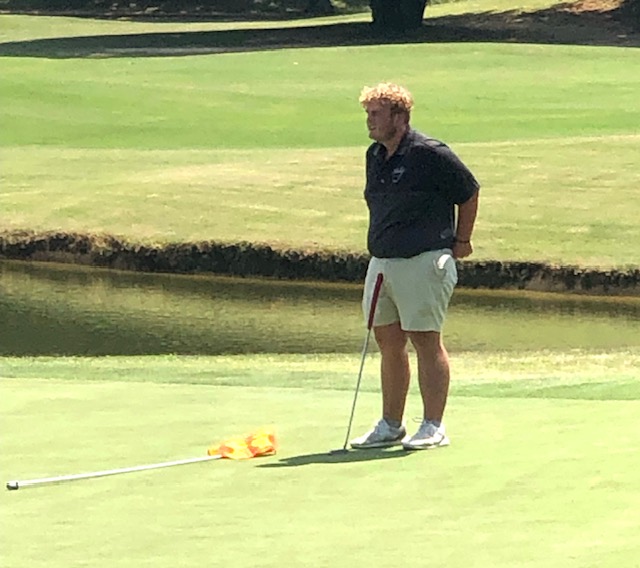 AHSAA GOLF CHAMPIONSHIP
CLASS 3A BOYS (River)
TOP 5 INDIVIDUALS
R1
R2
TOT
Cole Komyati, Bayside Acad.
74
69
143
Nick Ledbetter, Weaver
78
74
152
Elliott Overton, Winfield
83
73
156
Luke Ferguson, Bayside Academy
74
82
156
Landen Rogers, Opp
81
79
160
By Al Muskewitz
East Alabama Sports Today

OWENS CROSS ROADS — Nick Ledbetter sat on the back porch eating lunch after posting a nifty 74 in the final round of the Class 3A state golf tournament and couldn't say the thought of something special happening didn't cross his mind.

For the second day in a row the Weaver junior found his score atop the leaderboard as group after group filled up the scoreboard behind him. For the second day in a row it took all the way to final group to knock him off the perch.

Bayside Academy's Cole Komyati came in with a 3-under-par 69 to snatch medalist honors away from him. But Ledbetter still finished a solid second, four shots clear of his nearest challenger.

"For a minute I thought he might turn in like a 79 and I'd end up winning, but he's a great golfer; it is what it is," Ledbetter said. "Second's OK. It's all right. Take the two triple bogeys out from yesterday and look at where we would be. It'd be a whole different ballgame."

On Monday, Ledbetter shot 78 with triples on 12 and 13 but it still landed him atop the leaderboard all the way until the final two groups posted. When one of the two players who were tied for the lead came in at 82 Tuesday, the Calhoun County runner-up thought there might be a chance he could join Alexandria's Lauren Sechrest and give the county a second medalist on the day.

But Komyati was too strong. He was 3-under at the turn and played the back in even par.

Ledbetter was 5-over through seven holes, then turned his round around. He birdied 8 to turn in 4-over.

"I didn't really have any confidence, even though I should have," he said. "I was hitting decent shots, but I was scared I'd hit a bad shot and let it get to me."

But he learned from what happened on 11, 12 and 13 the day before and was a determined not to make the same mistake again. Instead of taking driver and risking a bad kick into water, he hit 3-wood off all three tees and instead of coming through the stretch 5-7-7, he played it with a birdie and two pars.

"The best word to describe Nick is he is a grinder," Weaver golf coach Justin Brown said. "Since he came in in the seventh grade he has always wanted to be good at golf and has worked hard to be where he is. He's one of the hardest workers I know regardless of sport.

"He and I are very proud of his accomplishment of runner-up, but that's not the end goal. He wants to be a state champion and he has the game and work ethic to be that."

Having survived the mental minefield that was 11-12-13, Ledbetter went on to play the back nine in 2-under and was 3-under over his final 11 holes. He hit eight of nine greens on the back and made a 20-footer to save par on the green he missed.
"I played the best I could to keep it within a distance to win on my last 12 holes," he said. "I kept my head in it. I gave myself every opportunity I needed to shoot what I needed to shoot to win, but I just didn't make as many putts and I would have liked to."
Among the other boys' individuals, Alexandria's Cleat Forrest shot 83 and finished at 171 in 5A and White Plains' Sawyer Edwards shot 82 for the second day in a row and finished at 164 in 4A.