The road back
Pell City pro Willy Wilcox on the comeback trail after opening up about his battle with addiction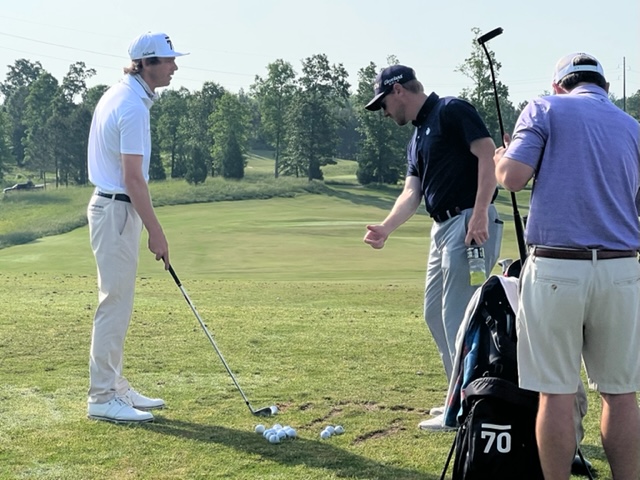 By Al Muskewitz
East Alabama Sports Today
SILVER LAKES – Ask Willy Wilcox how he's doing these days and he'll give you a frank assessment of his life to this point.
"A hell of a lot better" than it was, he says.
Up to about nine months ago his life was, in a word, a mess, and he doesn't mind owning up to it. But Willy's World is looking a lot better through clear eyes on the prize of returning to the game he effectively gave up on.
Wilcox' story of battling addiction, walking away from highest level of the game and subsequent comeback has been well chronicled in the national golf media. A book is forthcoming (and a movie, perhaps?)
The Willy Wilcox Comeback/Redemption Tour took another major step forward Thursday when the Pell City native shot 6-under-par 66 at Silver Lakes to get through local qualifying for the U.S. Open.
"Life's pretty sweet," he said. "Life's good.
"My game's back. My brain's back. I feel good and I really got a good head start on living a nice man life."
But just because this latest step took place at a U.S. Open qualifier, don't think this is some kind of a Tin Cup story with the U.S. Open the end of the tale. While a spot at Brookline would be a nice get — he's played in the Open before, in 2011, and knows how hard it is to get there — the ultimate goal, the truest sign that the comeback is complete, is "to never have a real job," which is a fun way of saying getting back on Tour.

"I've been playing pro golf since I was 22 and I just don't want to stop," he said. "I did before, but I don't anymore."

Wilcox had a regular job back in the dark days. He was a top 80 player on the PGA Tour, one of the best ball-strikers in the world, with millions in endorsements and the Korn Ferry Tour when his status slipped.
On the outside he was on a roll, but on the inside he was in turmoil, fighting the demons of addiction. He was playing well when messed up but he'd always have his "birdie pills" to help get him through. His downward spiral continued until it finally bottomed out during a Korn Ferry Tour event in Utah last August where he made the turn and kept going — straight to the airport — flew back to Alabama and said he'd never play again.
"That was because my head wasn't right," he said. "It was pretty dark and sad."
Once he returned home he tried doing some things golf related, but the pull from inside the ropes was too great. He had to get back out there and set in motion the wheels for the comeback tour.
He arrived at Silver Lakes Thursday looking like a Tour pro. Neatly dressed in khaki slacks, a collared shirt and Sub-70 cap to match the bag Alex Harper was attending while his playing partners and many in the field played in Bermuda shorts.
And he had the smooth, fast swing to match the style. Those who know him best said Thursday his swing and ball flight are back to where it was when he played in 2014 and 2015 when he was at his peak. Even he seems to agree "it doesn't seem too far" off.

"My brain definitely works better out there," he said. "I don't get as angry and my speed's back. Swing speed is pretty key."

Since starting his comeback he has not shot a competitive round in the 70s – 69, 67, 68, 64, 66. Last week he won his first tournament sober when he lapped the field at an Emerald Coast Tour event in Destin, winning by seven shots and capping it off with a double eagle on the final hole. The swing is at 117 mph, which got the ball out there a long way Thursday, both into and with a regular breeze.
He's even made a tweak in his putting which gave him a chance to make everything he looked at Thursday. His round had seven birdies, an eagle and three bogeys.
He turned from the Backbreaker 9 in 31 that legitimately could have been 29 had his tee ball on 8 not found a divot in the fairway. He missed one fairway and the three greens that produced his bogeys. He had 13 putts on the front nine with five one-putt greens.

"I played real good. I played remarkably well," he said. "You go out there and you're just hoping to not do something stupid, basically. I'm just excited to have gotten it done, so, yeah, it was pretty sweet. I'm very pleased."
Part of the credit for his return to form goes to new swing coach, Jammie Lett, the director of golf at Oxford's Cider Ridge Golf Club. New as in like the last week to 10 days.

Wilcox and Lett had known each other from their days playing the old Hooters Tour, but it was a chance meeting over the winter and a swing tip that clicked that brought them back together for a more permanent relationship.
Lett has become a big fan. Wilcox has a lot of people pulling for him, as you could see from all the guys from Silver Lakes who followed him during Thursday's round.
"I still think he's a top 50 player in the world, I really do; his ball-striking and everything, he's that good," Lett said. "It's just a matter of getting opportunities right now, getting opportunities to get out there and play because when he does it won't surprise me one bit if he wins.
"It'll be an amazing story and will be a world shocker, but it wouldn't shock me that much because physically he's there and mentally he's doing amazing. That's the most incredible part of the whole thing how he's sticking to that part of it. He's doing really, really good. You can't help but pull for the guy."