Smith picks Tennessee
Munford's junior 4-star safety finally reveals college commitment after keeping choice closely guarded for about a month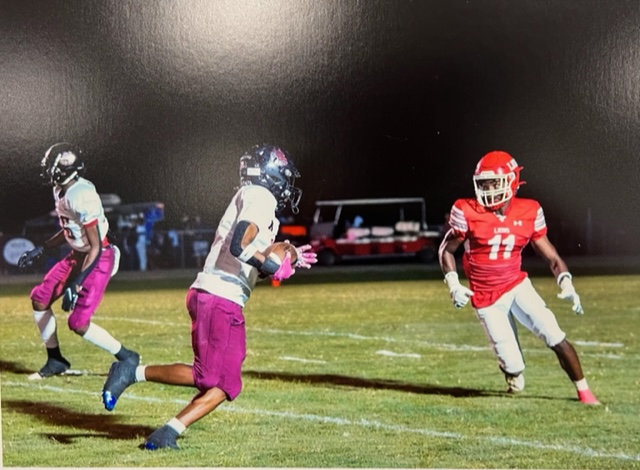 By Al Muskewitz
East Alabama Sports Today
MUNFORD — Sylvester Smith has been walking around with a secret for the last two or three weeks. Keeping it was the hardest thing he's ever done in his life.
But that was part of the fun.
The Munford four-star junior safety had made the choice on his college future earlier this month, but he swore the select few he let in on it to absolute secrecy.
He finally revealed his choice Tuesday and let them all off the hook when he announced his commitment – with a little hat flourish – to Tennessee. He plans to sign in December — after what he promises to be a season "1,000 times better" than his breakout sophomore year — and be on campus in time for the Vols' spring practice.
"It was really hard not to spill the beans, kind of like hiding a diamond," Smith said. "Think about all the people you love and care for. You don't want to lie to them, you don't want to not tell them things.
'It was really hard for me to keep my mouth closed. But I think you can see from the reaction it was worthwhile. It was definitely the hardest secret I had to keep in my life."
That didn't stop him from having a good time people guessing. He'd wear a different team shirt to school every day. He even put out an "I hate Tennessee" post on social media a few hours before making his public announcement to throw people off.
Of course, the Vols' inner circle knew the real story.

"He actually told me about a month ago," said Lions head coach Michael Easley, who adhered to the player's wishes so closely he didn't even tell his assistants. "I'll be honest with you, I thought there would be more people who knew by now.

"He kept his hat under the table, like a lot of recruits do when they go to commit. It's been neat. I've joked around with some of the coaches when they've asked I guess we'll find out April 26."

He stuck to those guns even in the final hour before the reveal, refusing to bite on a reporter's back-door attempts at an answer by asking what color the player will be wearing and whether the school starts with a vowel or a consonant.
The fun continued at the announcement when Smith first pulled a Florida hat from under the table before rejecting it by saying "I like this but it's not the right fit." He then donned a UT hat and pulled off his Munford basketball hoodie to reveal a Tennessee football T-shirt underneath.
Smith has been a starter for the Lions since the fourth game of his freshman season, replacing a senior who had been disciplined off the team. He had a breakout year as a sophomore, making All-State.

He played hurt most of his junior year, which limited his effectiveness, but he promised to return with a vengeance this coming fall.
"It's my senior year and I'm coming back from an injury that held me back really my whole junior year so now it's time to dominate," he said.
The Lions are looking forward to it.
"I hope he has a big year on the field," Easley said. "If he has a big year on the field, we'll probably have a big year."