He's a closer now
Corey Ray emerges from three-way tie with two clutch iron shots down the stretch, birdies 18 to win Gadsden City Championship for first CCGT win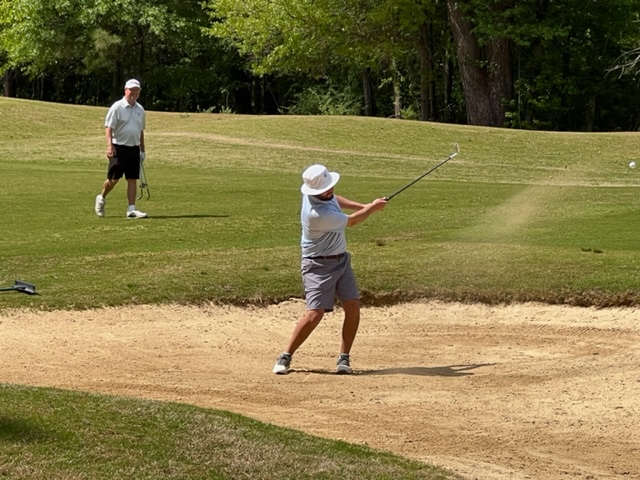 By Al Muskewitz
East Alabama Sports Today

GADSDEN — Corey Ray's golf game the last couple years has taken on a little bit of a Tony Finau-esque quality: Good player, capable of winning, usually in contention, but just couldn't finish it off.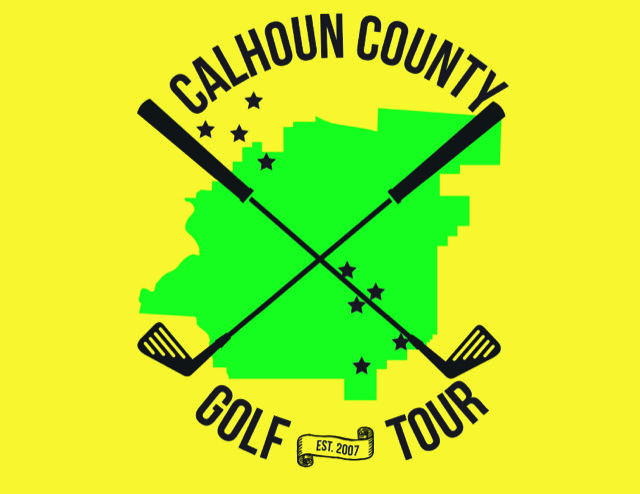 Can't say that anymore.
The 36-year-old Boaz bank president hit two of his best pressure iron shots ever coming down the stretch Sunday and birdied the final hole from three feet to win the Gadsden City Championship at Twin Bridges Golf Club.
Ray shot a final-round 2-under-par 70 for a 1-under 143 total that was one better than Gary Wigington (68) and three better than Chad Calvert (72). All three were tied for the lead with three holes to play.
Ray found the fairway bunker off the tee on 17 and needed to make par from 122 yards out to keep the pressure down going to 18. He hit a pitching wedge off a firm lie to 12 feet and two-putted for par to remain tied with Wigington, who already was in the clubhouse at even par.

Then on 18, needing par to set up a playoff or birdie to win, he hit a 9-iron from 140 yards to three feet and calmly sank the putt for his first Calhoun County Golf Tour victory.
He's finished second three times since joining the Tour — to Randy Lipscomb at Silver Lakes in 2019 (in a situation similar to Sunday) and twice last year — here to Ty Cole and at Silver Lakes to Jacob LeCroy.

"My common theme has been not being able to get over the hump," he said. "Hopefully this will take the lid off."
If he continues hitting focused shots like he did coming down the stretch with the tournament on the line, that shouldn't be a problem. And focus is the operative word.

"Most of the time I try to stay lighthearted and kind of keep it light what I've found is that's not working, so I did the opposite," Ray said. "Down the stretch there, on 15, at that point I locked in and just blocked everything out.

"I just got super serious and that's not something I normally do, but I wanted to try that approach and see if it worked and, funny enough, that's what actually worked."

When Ray birdied 15, he joined Wigington and Calvert playing in front of him atop the leaderboard at even par. Calvert fell back with a bogey on 16. All three parred 17. Wigington posted first, finishing with a par, and Calvert, playing in the next group, bogeyed 18 to drop another shot back and set the stage for Ray's heroic shot.

"That's a game-changer for me because now I know I can do it," Ray said. "I got back into competitive golf a few years ago and I've just slowly gotten more and more comfortable again with it. Hitting those shots coming down the stretch like that knowing what I had to do and to actually do it I can't describe how exciting it is because know I know I can do it."

Calvert climbed into the mix with three birdies in his first five holes, then hit two out of bounds on 6, made triple bogey and had to start over. He birdied 9 and 15 to climb into a tie for the lead, then bogeyed two of his last three holes.

Wigington shared the best round of the day with Championship B winner Dane Moore. He earned his share of the lead with an eagle on 15 and he made a nice up-and-down for par on 16 to keep it, but he could point to several occasions that kept winning from happening.

He made a shocking 9 on 17 Saturday that knocked him from a share of the overnight lead and missed par putts inside 18 inches on 9 and 10 and a four-foot birdie putt on 17 in the final round.

NOTES: For the second day in a row Ray birdied both of the back-to-back par-5s on the front, part of three in a row that vaulted him into the lead. He birdied all four of them Sunday and seven of the eight on the weekend … The player flights moved up to the white tees Sunday and several players took advantage of it. Eight players in the two flights improved over Saturday's score by 10 shots or more. Flight winners C.J. Taylor and Zack Pruitt both improved by 15. The second flight improved by an average of 7.6 shots … The next event on the Calhoun County Golf Tour schedule is next week's Oxford City Championship.
Gadsden City Championship
Final results
CHAMPIONSHIP FLIGHT
Corey Ray
73
70
143
Gary Wigington
76
68
144
Chad Calvert
74
72
146
Kevin Daugherty
71
76
147
Gary Randall
73
76
149
Mason Dennis
Jeremy McGatha
73
71
77
80
150
151
Jody Wooten
76
76
152
Scott Smith
76
76
152
Chase Hollingsworth
75
86
161
Gage Ledbetter
74
88
162
CHAMPIONSHIP B
Dane Moore
77
68
145
Layton Bussey
77
75
152
Chandler Richards
77
76
153
Ty Cole
79
75
154
Chad Hare
77
77
154
Zach Mangum
79
75
154
Patrick Cooper
77
80
157
Michael Lovoy
78
80
158
Clay Calkins
78
80
158
Bumper Jones
77
82
159
Norman Cliffton
78
81
159
Jonathan Swader
77
84
161
Matt Rogers
78
83
161
CHAMPIONSHIP C
Randy Lipscomb
80
73
153
Casey Harmon
80
78
158
Clayton Chandler
82
77
159
Timmy Woodard
82
77
159
Eli Edge
80
80
160
Daily Thomas
82
79
161
Jeremy Burns
82
79
161
Graham Morrow
81
82
163
Andrew Brooks
81
83
164
Hunter Carr
82
87
169
Lamar Carter
81
89
170
Nathan Williams
82
88
170
FIRST FLIGHT
C.J. Taylor
88
73
161
Drey Reeves
86
75
161
Cain Hollingsworth
88
76
164
Alex Beason
83
85
168
Mason Aulsbrook
86
82
168
Greg Hare
88
81
169
Blake Grisham
88
81
169
Brian Williams
85
85
170
Ethan Davis
87
84
171
Jimmy Bogle
86
89
175
Jason Payne
89
89
178
SECOND FLIGHT
Zack Pruitt
91
76
167
Tyrel Tucker
96
83
179
Jeremy Hallmark
91
88
179
Trey Stone
95
85
180
Josh Eldridge
98
90
188
David Carroll
99
89
188
Houston Black
96
95
191
Shannon Isreal
104
92
196
Andy Lang
98
102
200
Adam Benefiel
111
103
214
Chase Thomas
104
NS
NS
SENIORS
Greg Shultz
76
76
152
David Sanders
79
74
153
Gary Hopper
75
80
155
Mark Spurlock
79
78
157
Buster Winningham
85
75
161
Ron McClellan
76
85
161
Derek Jenkins
88
79
167
Larry Gilchrist
84
83
167
Ted Heim
82
85
167