Next stop: Choctaws
Donoho's Haney takes next step in adventurous career signing to play baseball at Mississippi College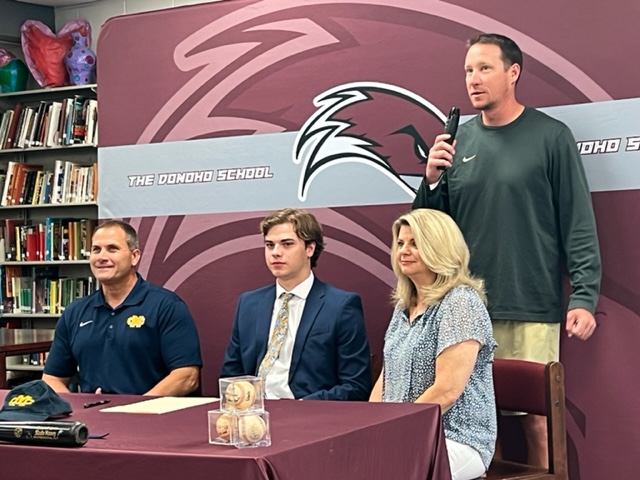 By Al Muskewitz
East Alabama Sports Today

For most high school players who fulfill a lifelong dream of signing a college scholarship, the road to the next level is usually a straight upward climb.
Slade Haney's road was anything but. More like one of Jeffy's excursions through the back yard in those Family Circus panels in the funny papers.

"It is definitely a back road in Piedmont," the Donoho senior said. "It's curvy, it's winding, it's gone up and down. It's definitely no straight line."
His road was dotted with multiple surgeries on his leg and hip that at several turns threw up a stop sign to his plans. But he waited for the traffic to clear, stayed the course and reached the destination Thursday when he signed to play baseball at Mississippi College.

"I think a lot of kids would have said I'm done, four years ago when he first got hurt," Falcons coach Steve Gendron said of the player he has nicknamed Joe after former Mississippi State teammate JoJo Haney. "It just shows you what he's about. His journey has not been a straight hop, it's been all over the place, but I'm proud of him."

Haney's injury first manifested itself in youth baseball and his surgeries seemed to follow a two-year schedule – first at age 11, then 13, then at 15 and the latest for a staph infection in October.

See these links for more on Haney's journey: https://www.easportstoday.com/2020/03/07/donohos-comeback-kid/
https://www.easportstoday.com/2017/11/22/making-a-splash/
He admitted there were times when it didn't look as Thursday's signing day would ever become a reality.

"I always had the desire for it, but I didn't think it was going to happen," he said. "It's been a lot of work, a lot of sacrifices. I was told it wasn't going to happen so many times. This is really special to me.

"I definitely have to thank my doctors, they did a great job getting me back, my coaching staff and, honestly God. I wouldn't have gotten back without Him giving me the strength and healing in my legs. I was supposed to be out for a while and to get back as soon as I did and to be able to play my senior year, all the glory goes to God."

Haney honed his work ethic at an early age as a competitive swimmer for the Anniston YMCA Blue Dolphins and admits he probably wouldn't be where he is today without that experience. He still gets in the pool on occasion for therapy and after seeing a four-lane pool at Mississippi College joked about maybe even helping the Choctaws start a swimming team.
Haney had offers from Piedmont College, Birmingham Southern, Wisconsin Lutheran and Johns Hopkins (he's pre-med), but felt comfortable with Mississippi College almost immediately after stepping on campus.

"I went down there right before a summer tournament this past summer," he said. "They told me there was a really cool college over here, you need to check it out. I went and toured and walking down to the field it felt like something I was going to do a thousand times."
The day he picked to sign with the Choctows was significant as well. It was six months to the day of the last surgery on his leg, an operation he returned from two months ahead of schedule to start in centerfield on opening day, throw six shutout innings in the Falcons' County Tournament opener two days later and lead them to another baseball playoff berth.
Haney is expected to start the Falcons' playoff opener against Skyline Friday afternoon. He is 6-1 with an 0.97 ERA and 49 strikeouts in 36 innings.

He may have made his mark as a pitcher, but his signing table was filled with memorabilia as a hitter — a hitting book by Ted Williams and the first home runs from various points in his playing career.

He is currently hitting .405 with a 1.249 OPS, seven homers and 35 RBIs for the Falcons. He hit .402 during last year's state runner-up season with two homers and 36 RBIs, while going 10-2 with a 1.62 ERA and 75 strikeouts from the mound.
He'll get the chance to put his hitting prowess on display in college as he's expected to play in the outfield for the Choctaws, and he is "completely fine" with that.
"I love the outfield, love being able to hit," he said. "I don't think I'd be able to accept not getting to hit every day."
The Slade Haney File
| | | | | | | | | | |
| --- | --- | --- | --- | --- | --- | --- | --- | --- | --- |
| YEAR | BA | AB | R | H | HR | RBI | W-L | ERA | K |
| 2022 | .405 | 74 | 20 | 30 | 7 | 35 | 6-1 | 0.97 | 49 |
| 2021 | .402 | 102 | 37 | 41 | 2 | 14 | 10-2 | 1.62 | 75 |
| 2020 | .385 | 13 | 5 | 5 | 1 | 7 | 2-0 | 1.91 | 24 |